In:
It looks like one of the most-asked about features in Royal Caribbean's app might debut in the second half of 2020.
A RoyalCaribbeanBlog reader shared a response from Royal Caribbean's app support account to the question of when chat might available. The email says, "we hope to have chat on all of our ships by the third or fourth quarter of 2020."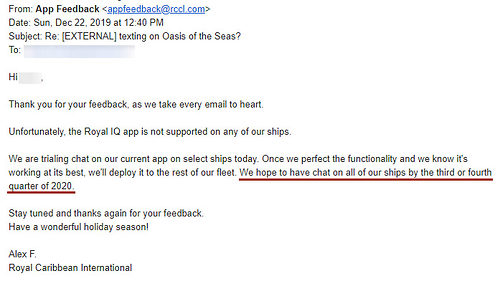 Royal Caribbean Cruises Ltd. SVP Digital Experience Jay Schneider recently shared some insight into the cruise line's digital evolution, and spoke to the fact they are keenly aware of the strong demand for this feature to become available, "We know people want chat. We know it's the number one feature they ask for, and it's something we're trying to rush to the market."
A beta version of the chat feature is currently available on Allure of the Seas & Harmony of the Seas. 
There is no cost to use Royal Caribbean's app while onboard and you do not need an internet package to use the app either.
The app is available on the iTunes App Store and Google Play Store.