In:
A Royal Caribbean cruise is a wonderful way to honeymoon. Everything is taken care of for you, from dining to cleaning, entertainment, and transportation.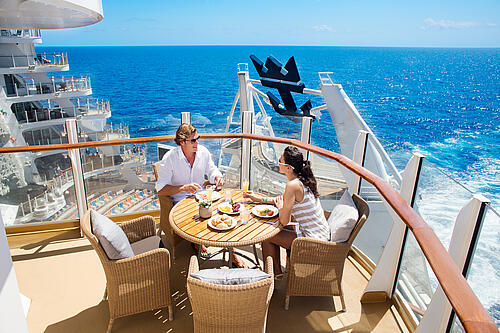 Being able to sit back and relax with your new husband or wife is a stress-free way to kick off your marriage, but there's a lot of planning behind the scenes to ensure you have the best honeymoon cruise possible.
From choosing a ship to splurging on a stateroom and shore excursions, here are our top 20 tips for planning a Royal Caribbean honeymoon cruise.
Choose a cruise ship wisely
The first step to booking a honeymoon cruise is choosing which ship will work best for your preferences. Not all Royal Caribbean ships are built the same, varying in size, amenities, dining options, itineraries, and entertainment.
Reading through our guide on each class of Royal Caribbean cruise ships can be a great starting point to determining which type of ships seem most interesting to you. Smaller ships, like Vision or Radiance Class, may not have as many bells and whistles, but offer fascinating itineraries around the world.
Royal Caribbean's largest ships, like Quantum or Oasis Class, truly follow the mindset that the ship is the destination. From water slides to ziplines, countless bars and restaurants, and unique entertainment venues, big ships offer many amenities not found on other ships in the fleet.
Read more: 8 questions to ask yourself before picking a cruise ship
Each type of cruise ship has its own pros and cons, so determining what you value in a cruise vacation can help you make a decision. Speaking with a good travel agent can be helpful as well, as they will be able to gauge your interests and cruising style to better help you pick the best cruise ship possible for your honeymoon.
Pick the best itinerary for you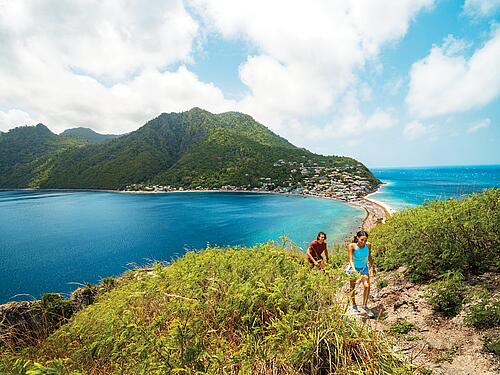 Royal Caribbean offers itineraries around the world, from the fjords of Alaska to the beaches of the South Pacific. It's important to choose your itinerary wisely to ensure you aren't left disappointed while on your honeymoon.
Beach lovers will be pleased with either a Caribbean or South Pacific cruise, but individual islands can vary in terms of what activities are offered. Reading through reviews of ports and shore excursions can be a solid starting point for picking a cruise itinerary.
Read more: How to choose the right Caribbean sailing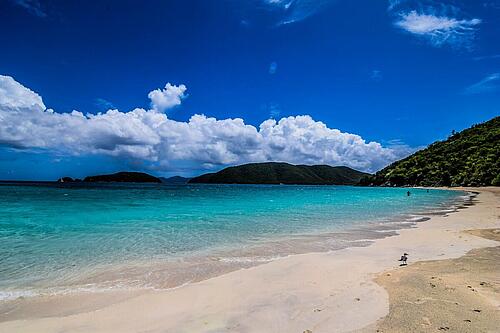 Islands like St. Thomas and St. Maarten offer a totally different experience than the Western Caribbean ports of Costa Maya and Cozumel, whereas some itineraries will focus more on Royal Caribbean's private destinations than others.
If you're not a fan of laying at the beach, look for itineraries in more active destinations. Mediterranean cruises, for example, tend to focus more on visiting historical sites, monuments, and towns along the coast.
There is no "best itinerary" when it comes to a cruise, so taking a look at what types of activities you prefer doing when on shore is the first step toward picking the right itinerary for your honeymoon.
Splurge on an amazing stateroom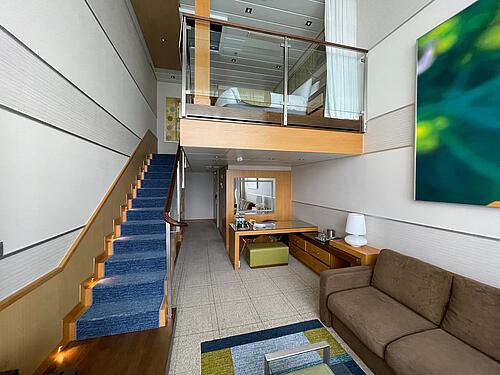 Say goodbye to interior cabins and say hello to balconies and suites. While it's totally fine to cruise on a budget, consider splurging a bit more on your honeymoon. It is your honeymoon after all!
A balcony will be especially nice to have on a honeymoon cruise as it provides a private outdoor area where you and your spouse can relax, have a drink, and enjoy each other's company.
If you're looking to treat yourself even more, though, look into suite options for a more luxurious cruise vacation. Suites can vary by ship, but they all include benefits such as priority boarding and departure, concierge service, Suite Lounge access, priority dining reservations, luxury bathroom amenities, VIP pool deck seating, and more.
Oasis and Quantum Class ships have the Royal Suite Class, which provides all of the benefits above plus complimentary access to the suites-only Coastal Kitchen restaurant and–depending on your suite category–access to a Royal Genie.
If you're wondering whether or not a suite is worth it on your honeymoon, check out our YouTube video:
Use RoyalUp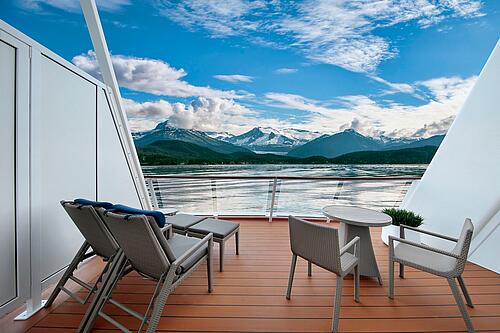 While booking the biggest suite in Royal Caribbean's fleet may sound nice, it's definitely not in everyone's honeymoon budget. If you're looking for the chance to upgrade your stateroom at a lower cost, try bidding through the RoyalUp program.
RoyalUp is Royal Caribbean's bidding system that can be used to make "bids" on upgraded stateroom categories. If you booked an interior room, for example, and are hoping to upgrade to a balcony stateroom, you can make a bid through RoyalUp. If your bid is accepted, you'll be placed in the upgraded stateroom category.
RoyalUp is a bit of a gamble, so it's not recommended to rely on winning a bid every time. However, if you want to try upgrading stateroom categories without spending as much money as booking the stateroom outright, it's worth a try.
Read more: How to upgrade your cabin on Royal Caribbean
Consider an Alaska cruise for your honeymoon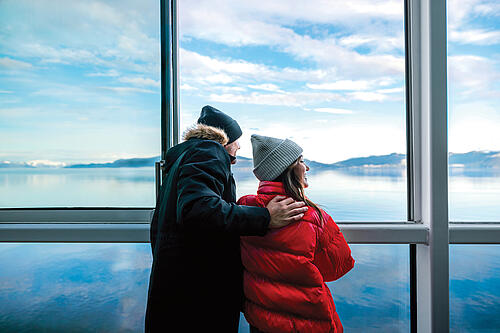 While the word "honeymoon" tends to stir up images of sandy beaches and palm trees, a cruise to Alaska can be an unexpectedly amazing honeymoon idea.
Alaska cruises are undeniably gorgeous, with mountains, lakes, waterfalls, and wildlife around every corner. Unlike in the Caribbean where days at sea will have views of, well, the ocean, Alaska cruises almost always have picturesque scenery surrounding the ship.
Cruises to Alaska sail through the state's Inside Passage, so you and your spouse can enjoy a peaceful morning in bed or on your balcony while viewing colossal mountains and glaciers. Alaska cruises make for some unforgettable shore excursions as well, from helicopter tours to whale watching and kayaking.
The weather on an Alaska cruise may be colder than what you'll experience on a tropical honeymoon, but it offers the perfect excuse to cuddle up with a blanket in bed with your new husband or wife.
Read more: 50 tips for planning your Alaska cruise
Book with a travel agent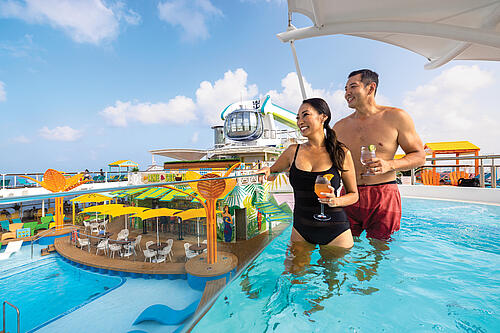 Booking a Royal Caribbean cruise with a travel agent is always a good idea, but especially for a honeymoon cruise. With all the stress that comes with planning a wedding, you don't want to worry about organizing all of the details of your cruise vacation, too.
A good travel agent will cost nothing extra and will be an extremely valuable resource for you and your spouse before and during the cruise. They can offer advice on itineraries, ship choice, things to do in port, and onboard amenities. If you have any questions or concerns for Royal Caribbean, they will be the ones to contact the cruise line, meaning you won't have to waste time figuring out your own solutions and waiting on hold on the phone.
Read more: Top 5 things to look for in a good travel agent for your cruise vacation
Book a specialty dining package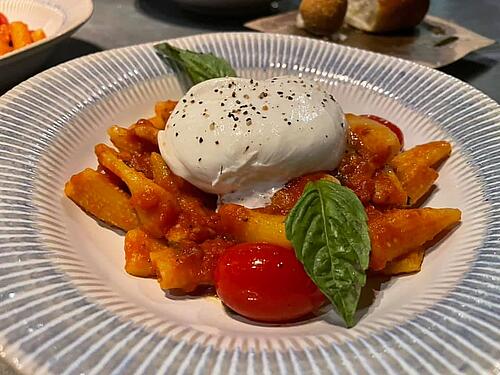 While you can enjoy plenty of complimentary dining options on a Royal Caribbean cruise, celebrating your honeymoon onboard is a great excuse to book a dining package. Whether you book the 3-night Dining Package or Unlimited Dining Package, you'll have the opportunity to try Royal Caribbean's diverse and high-quality specialty restaurants.
Specialty dining venues cover a wide range of cuisines, from Italian to Japanese and classic American steakhouse fare. Some of our favorites include 150 Central Park if you're in the mood for an elegant meal or Izumi Hibachi if you'd rather have a more lively dining experience.
If you're on the fence of whether or not to purchase a dining package for your honeymoon cruise, our video on the pros and cons of a dining package should help you make a decision:
Book a beverage package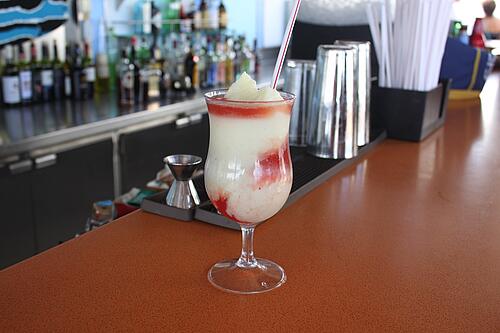 Just like a dining package, a Royal Caribbean drink package will also enhance your honeymoon cruise. Being able to order wine, cocktails, beer, and spirits without worrying about the cost of each individual drink will make your day to day onboard less stressful. Three types of beverage packages are available: the Soda Package, Refreshment Package, and Deluxe Beverage Package.
The Deluxe Beverage Package is best for passengers who drink alcoholic beverages, as it covers all alcoholic drinks up to $13. Nonalcoholic beverages are included in the package as well, such as fresh squeezed juices, soda, and specialty coffee drinks.
If your honeymoon cruise visits Royal Caribbean's private destinations of Perfect Day at CocoCay or Labadee, your drink package will work on shore as well, giving extra value to your purchase.
Read more: Royal Caribbean Drink Package Info, Tips, Pros & Cons
Treat yourself to amazing shore excursions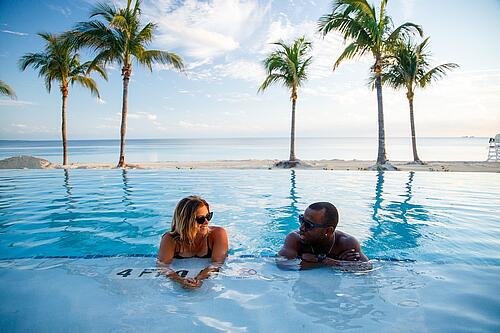 While it's fun to treat yourself onboard with dining packages, an upgraded stateroom, room service, and spa treatments, don't forget about booking amazing shore excursions while in port. Royal Caribbean cruises visit some incredible destinations, each of which has a plethora of activities to fit all interests.
It's important to research the ports you will be visiting and make note of any activities or places that look interesting to you. You want your honeymoon to go as smoothly as possible, so having a general idea of what you plan to do each day will be helpful.
Read more: Guide to picking the perfect Royal Caribbean shore excursion
If you're in the mood for a fun-filled beach day, an all-inclusive day pass at a resort or a catamaran tour may be of interest. Adrenaline seekers may consider ziplining tours, snorkeling, or scuba diving. History lovers will enjoy visiting Mayan ruins, ancient European cities, and local museums.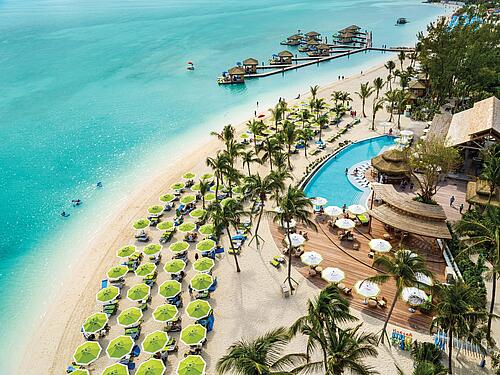 If you're visiting Perfect Day at CocoCay, a day pass at the Coco Beach Club can be a really nice enhancement to your day on shore. If you value having a more secluded, private area to enjoy with your spouse along with a delicious Mediterranean lunch at the Coco Beach Club restaurant, definitely look into spending the day at the Coco Beach Club.
Read more: Coco Beach Club: cost, tips & review
Start a Honeymoon Registry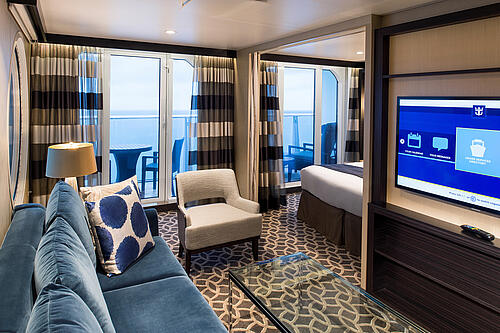 Why book shore excursions, specialty restaurants, and massages yourself when your friends and family can purchase them for you? Royal Caribbean has its own Honeymoon Registry program, where you can start a registry tailored to your specific cruise ship and interests.
You can register for as many activities, room upgrades, shore excursions, dining packages, and other cruise addons as you wish. Your registry will have its own link, which your friends and family can access to purchase items from your wishlist. Purchases will be "delivered" to you via onboard credit during the cruise.
Reserve a private cabana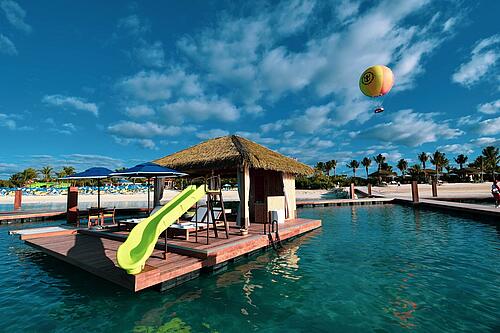 If your honeymoon cruise visits Perfect Day at CocoCay, consider reserving a cabana for your day on shore. Cabanas are available around the island, whether at Oasis Lagoon, Thrill Waterpark, Chill Beach, or the Coco Beach Club.
Cabanas offer a private enclave on the island, with seating, hammocks, shade, complimentary beach mats, lockable storage, cabana concierge service, charging outlets, and more.
If you're really looking to splurge, reserve a floating cabana at the Coco Beach Club. These cabanas feature comfy seating, pool chairs, an over-the-water hammock, waterslide, freshwater shower, drink cooler, and cabana service. They also include lunch at the Coco Beach Club restaurant, which you can enjoy at the restaurant itself or from the privacy of your floating cabana.
Read more: Guide to CocoCay cabanas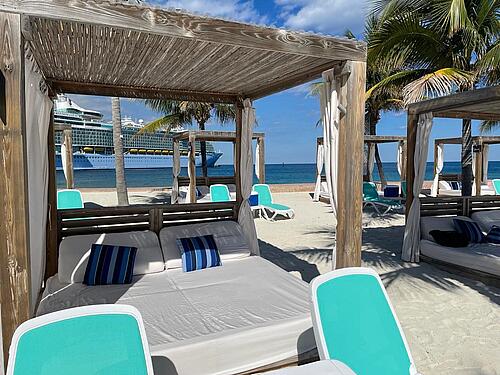 If a cabana is too expensive for your budget, a daybed is a nice alternative, although Perfect Day at CocoCay has so many chairs and umbrellas that spending extra money is not totally necessary.
Cabanas are also available at Royal Caribbean's other private destination, Labadee, and may be available in various ports of call as well.
Consider booking a photo package
Once onboard your cruise, you will notice photographers who are available to capture memories of your cruise vacation. Having your picture taken by Royal Caribbean's photographers is completely free, but purchasing the photos will come at an additional cost.
A photo package can be purchased ahead of time on Royal Caribbean's Cruise Planner website. Prices can vary, but expect to spend around $150-200 for packages with 20-100 photos, which can be delivered in print or digital format.
While you will likely take many photos on your phone, purchasing professional photos onboard can be a nice way to remember your honeymoon and all the fun memories, both onboard and in port, that went with it.
Request a private table in the Main Dining Room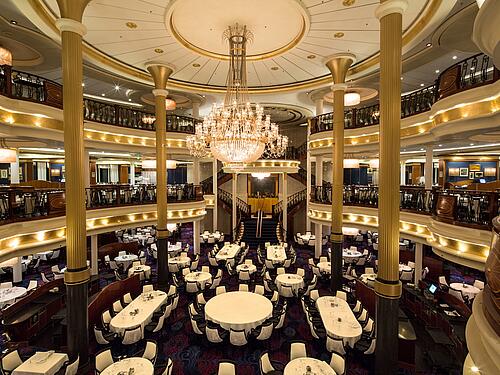 If you're hoping for a more intimate dining atmosphere in the Main Dining Room on your honeymoon, make sure to request a private table for you and your spouse. With so many passengers onboard, it's not always guaranteed that you will, by default, be seated at your own private table.
While dining with strangers and making new friends can be nice, having a private table will mean more quality time to spend together.
Treat yourself to room service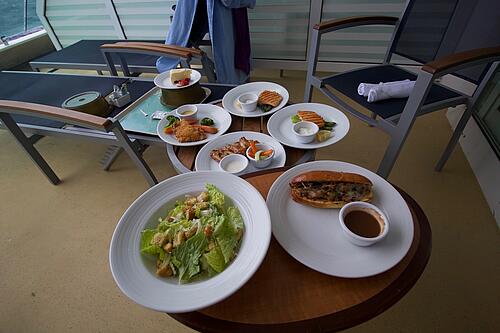 Not much feels more luxurious than breakfast in bed with views of the ocean outside your window. Whether pancakes at breakfast or salmon at dinner, ordering room service on a honeymoon cruise is a must.
Royal Caribbean's room service is not free, with the exception of continental breakfast. However, it comes at a price of only $7.95 per order, per room, so ordering room service occasionally is almost always worth the extra cost for convenience on any honeymoon cruise.
Read more: Royal Caribbean room service guide & tips
Book a spa treatment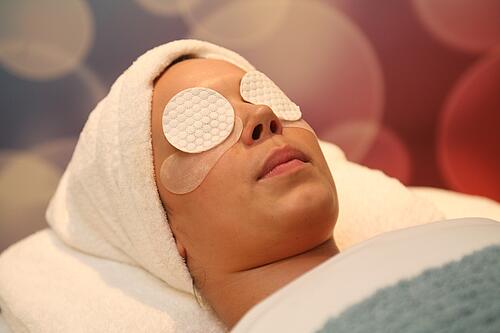 A honeymoon is all about treating yourself and enjoying time together as newlyweds. Why not book a spa treatment together to enhance your cruise? Royal Caribbean offers a variety of couples treatments at the Vitality Spa, from a deep tissue massage to aroma stone therapy. Whichever treatment you choose, you're guaranteed to leave the spa refreshed and relaxed.
If your ship has a thermal spa onboard, this can be another nice splurge on a honeymoon cruise. Thermal spas include hot stone loungers, steam rooms, saunas, and rainforest showers that bring the ultimate feeling of relaxation and luxury to a cruise vacation. Thermal spa passes can be purchased for the week and there's often a discount if you buy a pass as a couple.
Go on a sunset stroll
All of Royal Caribbean's ships offer plenty of places onboard to relax with a beautiful view, and heading outside for a casual stroll at sunset is a nice way to spend an evening on a honeymoon cruise.
The outdoor promenade deck or pool deck make for a nice walking path where you can take a few laps around the ship to take in the ocean and sunset views. Sometimes the most romantic of memories on a cruise vacation are found in the simplest of activities.
Purchase The Key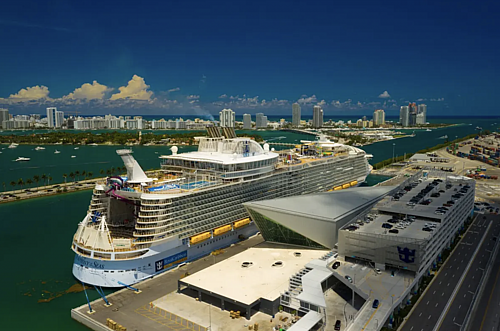 The Key is an addon you can purchase before a Royal Caribbean cruise that gives passengers exclusive amenities throughout the cruise. Benefits of The Key include:
Priority access into the terminal on Day 1
Carry-on bag drop off in the Main Dining Room with stateroom delivery
Exclusive embarkation day lunch in the Main Dining Room with the Chops Grille menu
Private time at onboard activities such as rock climbing and the FlowRider
Early access at entertainment venues
VOOM Surf & Stream internet for 1 device
Exclusive breakfast on disembarkation day and choice departure
There are pros and cons of purchasing The Key, but it can be a nice way to enhance a honeymoon cruise. Priority boarding, exclusive time at activities, and private meals can help bring that feeling of exclusivity to your honeymoon and allow you to experience more onboard with less time waiting in lines.
Surprise your spouse with a treat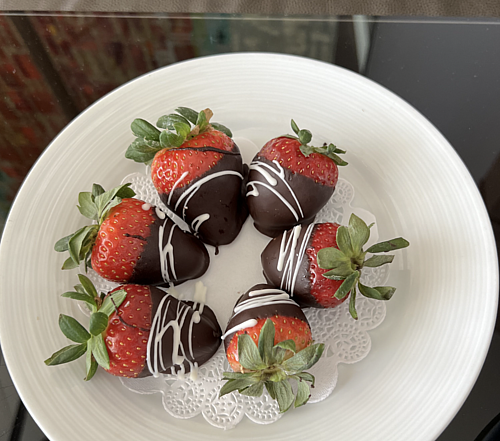 Another addon that can be purchased prior to your cruise are surprises that will arrive in your stateroom on embarkation day. Plates of chocolate covered strawberries, champagne, chocolate cake, cheese trays, wine, and more are available to purchase on the Cruise Planner website.
Purchasing an item ahead of time means it will be delivered to your stateroom on the first day of the cruise, offering the perfect start to your honeymoon and a nice way to surprise your spouse with a treat.
Fly in the day before your cruise departs
One of our top cruise tips at Royal Caribbean Blog is to never fly to your cruise departure port on embarkation day. It's always a better idea to fly in the day before your cruise begins. If your cruise leaves Miami on Monday, for example, make sure to arrive on Sunday.
Weather delays, flight cancellations, technical problems, highway congestion, and other unexpected circumstances can cause you to miss your cruise if you don't leave enough buffer time. Flying in a day ahead of time gives you more wiggle room to catch a later flight or figure out alternate transportation options in case of delays.
It's better to fly in a day ahead of time and spend the night in a hotel than to miss your honeymoon cruise altogether!
Read more: Why you shouldn't fly to your cruise the same day it begins
Spend extra time on land before and after the cruise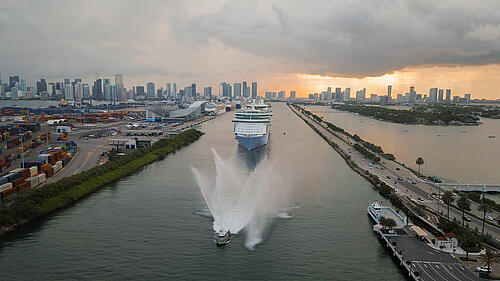 Our last tip is to consider spending extra time in your cruise departure port before or after the cruise to make the most of your honeymoon. Royal Caribbean cruises tend to depart from cities or areas with many activities, beaches, culinary scenes, and nightlife to explore.
Whether sunbathing in Miami, sightseeing in Barcelona, or visiting Disneyland in California, spending an extra day or two prior to your cruise in your departure port can be a fun way to kickstart your honeymoon.