10 tips for an amazing Royal Caribbean wedding
In:
Did you know you can get married on a Royal Caribbean cruise?  It is true and if you want to tie the knot onboard your cruise, these tips may help you in the planning process.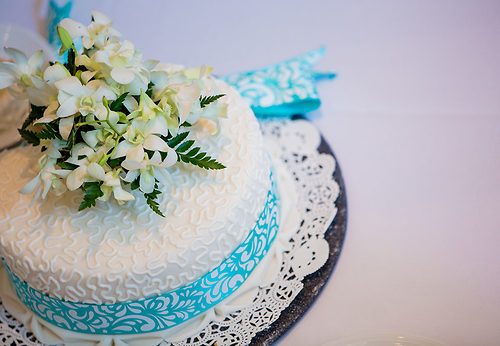 1. Spread the word about your wedding registry but watch the calendar
Royal Caribbean will provide you with a wedding registry, just like most stores.  On there, you can list shore excursions, beverage packages, specialty restaurant reservations and more.
You can also put up your bios on the internet-based registry and it is a great tool to send to guests and friends about your wedding, even the ones who may not be able to join you onboard.
The important thing to remember about a wedding registry is let your guests know that the registry will close one week before your sail date so all the purchases made can be sent to your ship.
This means, all purchases need to be made before one week prior to your cruise and friends and family tend to wait until the last minute to make purchases, so you will want to warn them of the deadline.
2. Wait to make pre-cruise purchases
With the wedding registry, once the gifts start coming in, you might be tempted to start pre-booking things on your cruise but you should wait.
Services, packages and gifts that can be pre-purchased before your cruise, such as spa treatments or beverage packages, should not be purchased until you receive the complete list of who bought you what.
This usually occurs a week before the cruise and if you happen to purchase these items before you get the list, you will have to pay for these items out of pocket.
3. Wait to send thank you cards until after the wedding
When someone purchases you an item off your Royal Caribbean wedding registry, you will usually get an email with a notification that it happened but you should wait for the full list.
While the email notifications are helpful, in practice not all purchases end up generating an email notification, so before you start sending out thank you notes, wait for the complete list of what you received off the registry to ensure you do not omit a gift someone purchased for you.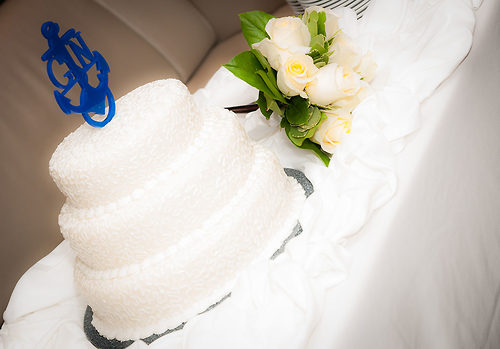 4. Use a travel agent
If you are the bride and groom, you have plenty of things to worry about, so coordinating your friends and family's cruise reservations should not be one of them.
In general, we are big fans of using a travel agent to book a Royal Caribbean cruise but when you are traveling with a wedding party, use a travel agent that can help you and your group all along the way.
Very likely you will have new cruisers, who tend to have lots of questions.  A travel agent will be there to answer those questions and all of this makes your life easier.
Remember, travel agent services are free to you (Royal Caribbean pays them), so you have nothing to lose and lots of your own time to regain!
5. Consider creating a group booking
Along the lines of using a travel agent, if your wedding party is large enough, consider creating a group booking.
You will need to have at least 8 staterooms to get a group.
By having a group, it makes coordinating lots of Royal Caribbean activities much simpler, such as dining arrangements.
In addition, groups can sometimes qualify for lower pricing or other specials.  
When creating a group, be sure to use a travel agent because they should have experience in this and it will be one less thing for you to worry about.
6. Ask LOTS Of questions
As you might imagine, there is a lot that goes into any wedding and a Royal Caribbean wedding is no different.
Be sure to call the Royal Romance department multiple times and ask lots of questions BEFORE you pick your wedding package.
Ask them about every detail and any concerns you have.  You want to ensure what you want is what you are booking.
You should call multiple times to verify what you are looking for.  It is important before you put any money down that you ask all the questions you might have.  
7. Read the marriage certificate requirements
When you are deciding if you want to get married on a Royal Caribbean ship or in port, there are different government requirements depending on where you select.
Some locations (such as at sea), you have to go to the Bahamas within 60 days to get your license.  If you get married in port, such as your embarkation port, you only have to travel to somewhere in the state from where you leave.
8. Consider getting married at one of your port stops
While you can get married on a Royal Caribbean ship or at one of their private islands, you should also at least consider the option of getting married at one of the ports you are visiting.
By expanding your wedding location search to the ports you are visiting, you can not only get more choice in your wedding location, but also more flexibility in price.
As an example, you could pick a resort at one of the ports you are going to and potentially save a lot of money or expand  the options of your wedding location beyond what Royal Caribbean can offer.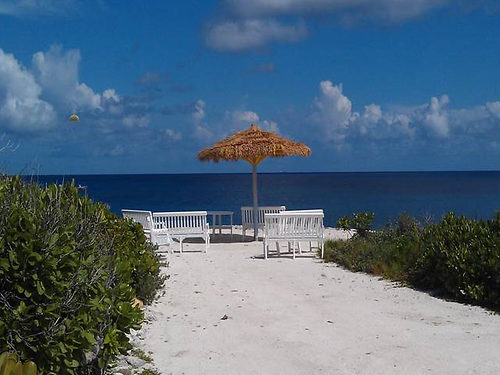 9. Be prepared to plan quickly
When you book a Royal Caribbean wedding, your wedding planner will call you around 30 days before your wedding and then you will have until about a week before your sailing to plan it all.  
This means you have a 3 week window to plan your Royal Caribbean wedding.
You will need to know the details ahead of time so you can plan as quickly as possible.
Your wedding planner is available via phone and email but email might be a better idea so you have your discussions in writing.
10. Be flexible
This may be the most important tip: try to be as flexible and adaptable as you can be with the entire process.
Unfortunately, things can go wrong in the process between your planner at Royal Caribbean headquarters and what ends up on your ship.
You have to be flexible with the process. Perhaps there was a hurricane that means the island you were planning to visit is no longer an option or the cake you ordered is not exactly what gets delivered.
Speak to your onboard wedding representative to coordinate the process.  They are there to help, so try your best to "go with the flow" and understand things can change or be impacted so be as flexible as you can.