In:
A wedding onboard a cruise ship or in an exotic port of call is the epitome of romance.  If you are considering tying the knot or a vow renewal, you may not have any idea where to start.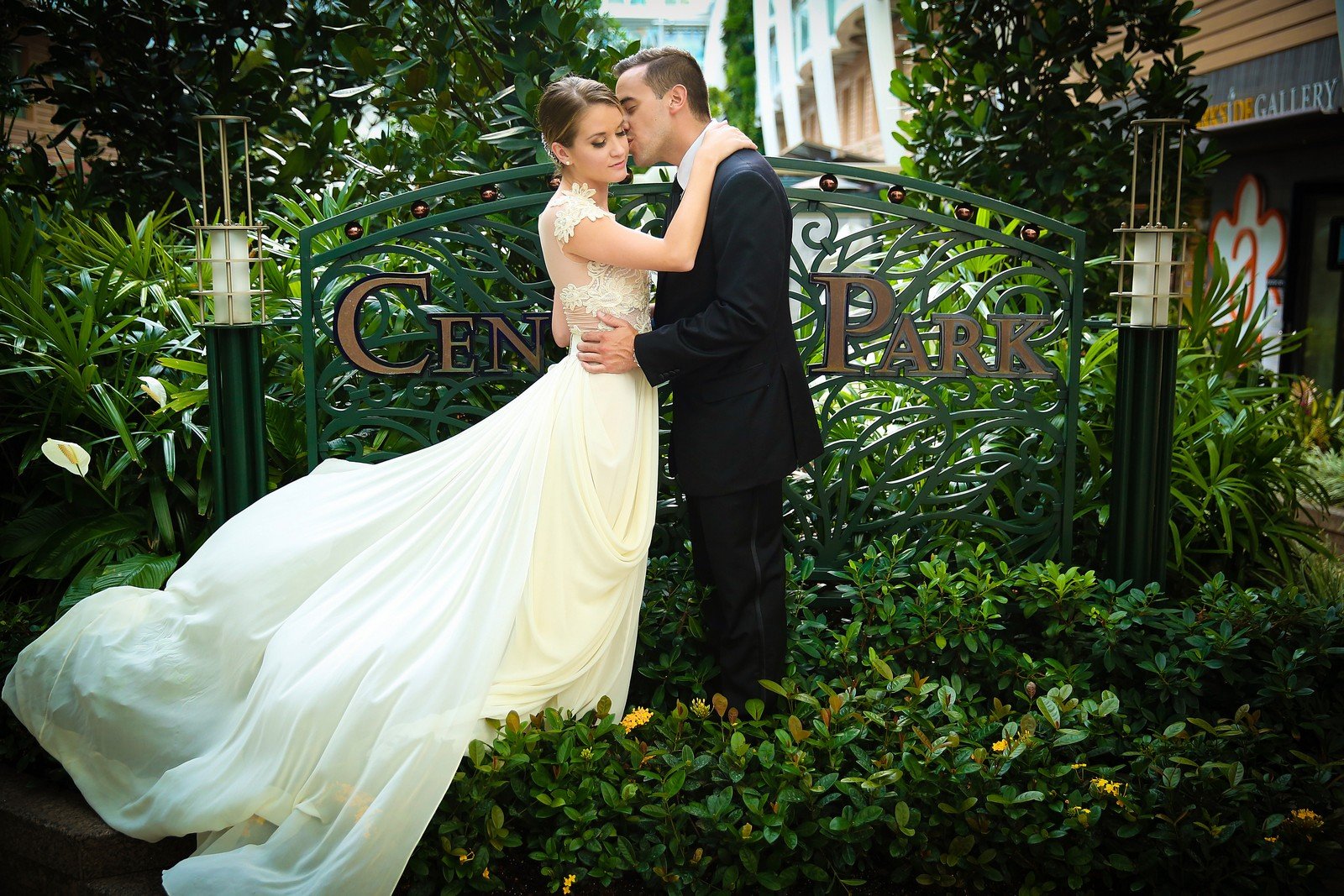 Here are some helpful tips for getting married on a Royal Caribbean cruise
Where to begin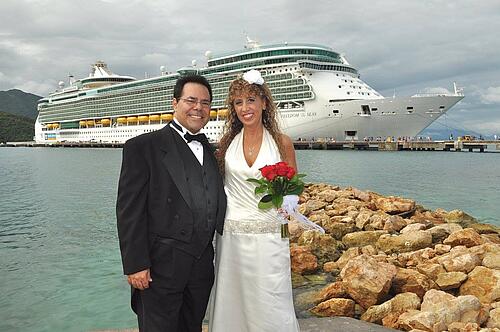 You will first contact the Royal Weddings department.
The weddings department require a minimum of 90 days prior to your sail date but advise that you contact them even earlier than that, if possible.
You will choose your package and any add-ons that you desire.  Then you'll be assigned a shoreside coordinator that will work with you to customize your ceremony and reception to your specific needs.
They can also assist you with getting your marriage license. On embarkation day you'll meet with your onboard coordinator that makes it all happen! 
Who can Royal Caribbean marry?
Pretty much anybody, as long as you're familiar with the rules.  If you get married onboard the ship, your marriage will be legal in the Bahamas as that is where the ship is registered.  Same goes for any port of call you choose to have your ceremony in.  
Same sex marriages can be performed on shore in the U.S. or any other port abroad that legally recognizes them. 
Since the Bahamas does not allow same sex marriages, those could not be done legally on the ship itself.  However, you can have a symbolic ceremony at sea if you wish. 
What does a package include?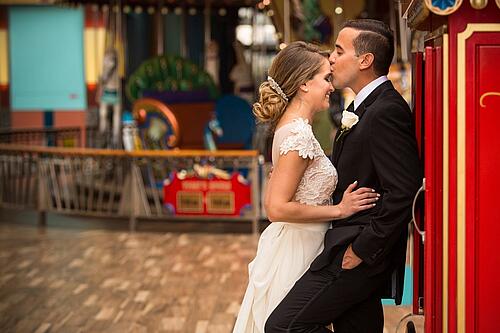 There are many packages to choose from.  A sample can be found on Royal Caribbean's website.  There are a few variations here and there but for the most part you can expect these to be included:
Priority check in at the pier
Non-denominational wedding officiant
Bottle of Moët & Chandon champagne
Pre-recorded musical accompaniment
3 Tier wedding cake
Dinner for the couple at a specialty restaurant
Chocolate covered strawberries
Mimosa breakfast in bed
One hour of photography service
Stateroom decorations
Keepsake certificate with the date, ship or port name
Private wedding venue
Add-ons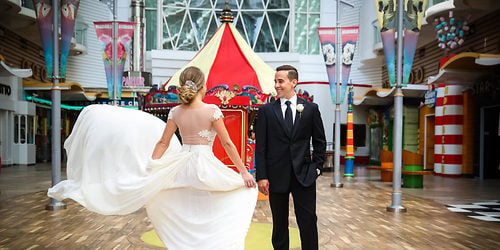 If you really want to go all out you can add on, for an additional fee, salon services that include hair styling and nails for the ladies or hair cuts, shaves and beard trimming for the gentlemen.
You can add more hours with the photographer that includes all of your photos digitally.  You can also arrange for a live band or a DJ at your reception.
Speaking of receptions, you can book a venue and add bar services, hors d'oeuvres or food stations.  You can make it as simple or as elaborate as you wish. 
Vow renewals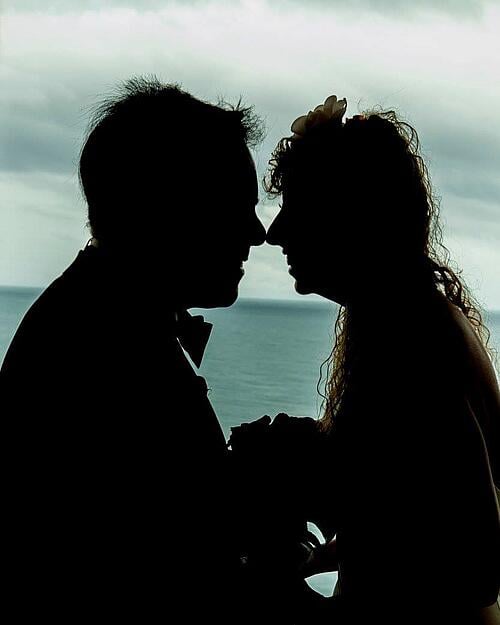 You don't have to be getting married to have a ceremony either!  Why not renew your vows in a picturesque setting?  That's exactly what we did.  We got married on land and had our honeymoon on Freedom of the Seas.  Since we love cruising so much, we decided to celebrate our 10 year anniversary with a vow renewal on the ship we took our honeymoon on.
We wanted it to be just the two of us.  Our onboard coordinator took care of everything! We chose our vow renewal to be held the day we were docked in Labadee.  We added extra time with the photographer so we had photos done on the island before the ceremony. We had the ceremony itself in the Cloud 9 card room on Deck 14 (which is now the suite lounge). 
We provided our own music so we had a sound technician present that played the songs through a speaker system.  Our onboard coordinator also preformed our ceremony.  Afterwards we had a champagne toast. We requested to have the chocolate covered strawberries and the cake delivered to our room.  Next, we took photos around the ship.  Even though it was October 28th, the ship was already decorated for Halloween.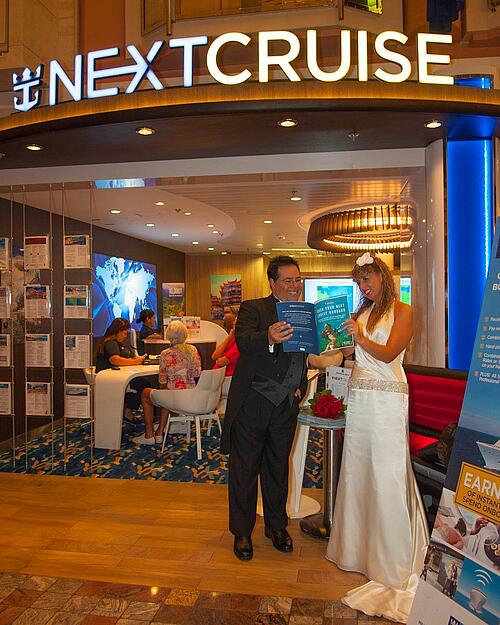 Our amazing wedding coordinator followed us around, deflating the decorations so we didn't have ghosts and vampires in our photos then set them all back up again.
The photographer was happy to take photos in all of our favorite venues: Vintages, Giovanni's Table, The Diamond and Viking Crown Lounges, even the Next Cruise desk!
The one place I suggested that surprised our photographer the most was the main dining room.  I love its three story staircase and the giant chandelier.  It turned out to be some of my favorite photos of the day.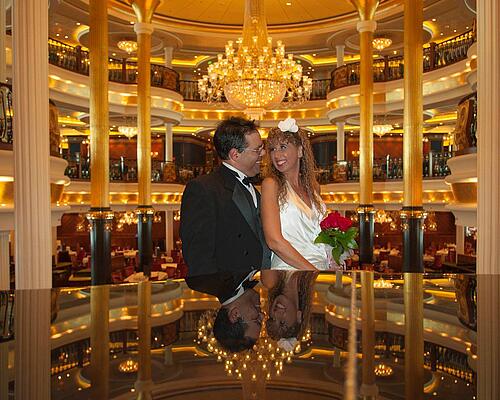 Later in the cruise we had our certificate delivered with our names, the date, the name of the ship and signed by the Captain.  The whole experience was even more perfect than we planned.
But what does it cost?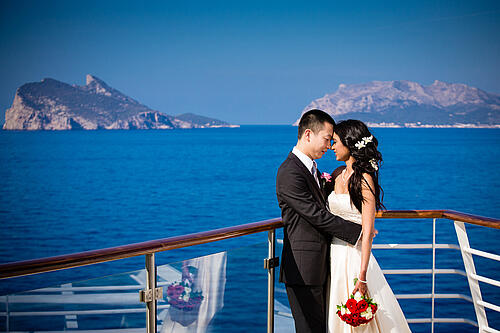 That's hard to answer because there are so many variables that affect the price. 
Packages that include the couple and 10 guests start at $1950.  Packages that include up to 50 guests start at $3850.  Up to 75 guests start at $5600. 
For us, the experience and memories were worth every penny.