In:
Royal Caribbean will offer options in the 2011/2012 season to perform weddings onboard their ships that sail from Brazil. The bride and groom may hold the marriage ceremony on the Splendour of the Seas or Vision of the Seas, with three different package options: the Royal Happiness, the Royal and Royal Romance Eternity.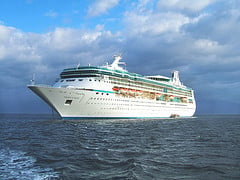 The symbolic ceremony lasts approximately one hour and is performed by one of the officers while the ship is moored in one of the authorized ports - Santos, Rio de Janeiro or Salvador. In addition to the guests who may accompany them on the cruise, the couple can invite up to 40 guests not to attend the celebration and reservations must be made up to two months in advance.
The partners Bedaque Marina Barbosa and Tamara were responsible for all training of the crew that will perform the symbolic ceremony.  There is also the choice of suppliers - as a band, cake and favors - enclosed in the package.