In:
Ready to catch up on what's happening with Royal Caribbean cruises?
With a fleet of 26 ships, there are always going to be things happening and in an effort to keep everyone up to date, here's a quick run through of the latest news from this week.
Think of these as quick hits of changes and news that you should be aware of that changed in the last few days.
Confirmation of the once-daily cabin service
We reported that Royal Caribbean is methodically converting over its ships to once-per-day cabin housekeeping for non-suites, and that looks to be confirmed now.
Instead of cabin attendants servicing a passenger cabin twice per day, it will occur just once per day in either the morning or afternoon (at the discretion of the passenger).
There's been no announcement by Royal Caribbean of a fleetwide change, but our readers confirmed this is going to spread to all ships in the fleet later this year.
RoyalCaribbeanBlog reader Paul VanderDonck shared an email correspondence he received from Royal Caribbean's Executive Office regarding the change.
The email confirms on an executive level that cleaning will go to once a day.
"Recent feedback on housekeeping service, and hospitality industry trends, show us that our frequency is beyond our guests' preference and expectations. In response to this feedback insight and in alignment with our commitment to reducing waste and overall environment impact, daily cleaning service will take place once per day."
"Of course, we've made sure our service stays at our Royal standards, including everyone's favorite, towel animals. During housekeeping service, you'll receive a thorough stateroom cleaning. Your towels and amenities will be replenished. Guests such as yourself staying in a stateroom with 3 or more beds, will have them made up in the evening and stored away during the daily cleaning."
"As always, your stateroom attendant is available for any additional requests throughout  your cruise, like extra towels or soap. Should you require assistance, contact them directly via the extension on their business card. We remain committed to making your time with us as an enjoyable and memorable experience!"
Speaking of the housekeeping change, many readers have been curious what happens if there is a pullman bed or sofa bed that needs to be converted in the morning and afternoon.
RoyalCaribbeanBlog reader Justin Ligas contacted Royal Caribbean and was told if you have multiple people in your room, and you are using the pullout or the pullman beds, you will get a morning service to put the beds away for the day if you wish.
It may not be a full morning service (towels, et al.), but you aren't expected to set up/break down your room daily.  The evening service for re-setting up the bed will be between 6-8 PM ship time, and the morning service to store the bed will be as your schedule allows.
Hideaway Beach update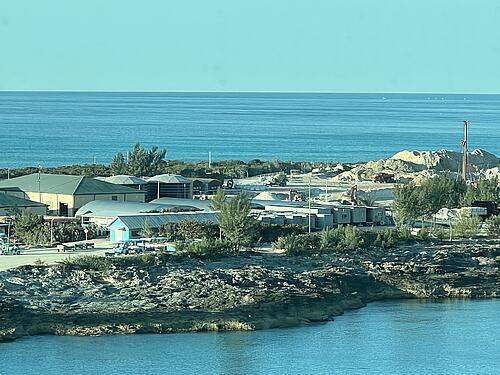 We have new photos to share of the progress being made on the new adults-only beach at Perfect Day at CocoCay.
RoyalCaribbeanBlog reader Colby Burnett took these photos of the work being done.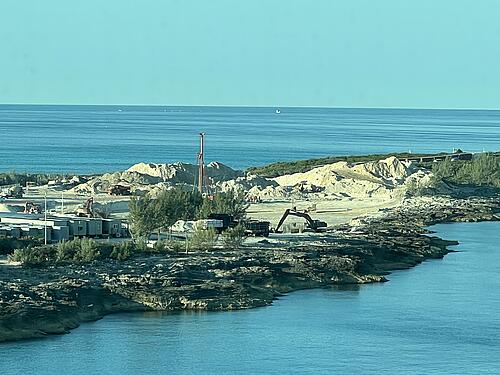 In addition, Robert Dempster took this photo of CocoCay from his airplane that shows the construction progress.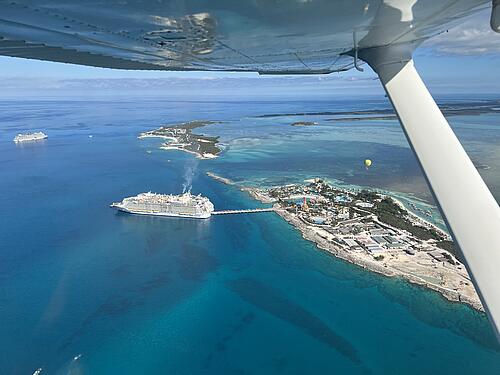 The current estimate is for Hideaway Beach to open in late 2023.
Royal Caribbean's beverage program wins award
Royal Caribbean got recognition for its cocktails earlier this week.
Royal Caribbean International's beverage team has taken home the 2023 Vibe Vista Award for Best Overall: Hotels, Casinos & Cruise Lines.
A panel of Johnson & Wales University beverage faculty, staff and alumni reviewed entries and based the win on a couple of factors including positive sales initiatives, efficient operational innovations, high quality standards and more. Finalists included prominent casinos and hotel chains across North America.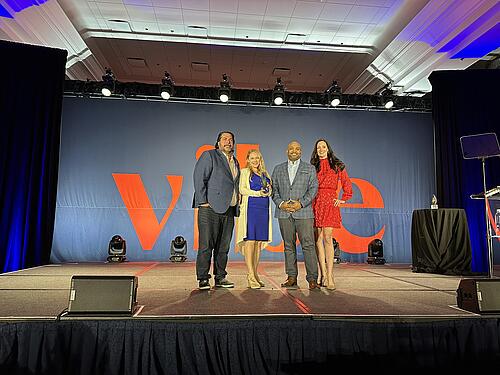 Royal Caribbean's award-winning beverage program was recognized in 2022 with the following award wins:
BevX Beverage Excellence Awards for Overall Hospitality Beverage Program
The Exchange Awards for Idea of the Year in Beverage Excellence
The SIP Award in Beverage Excellence
Latest on Wow bands coming back
It's still not crystal clear if Royal Caribbean is bringing back its RFID bracelets for good, or if they're just experimenting, but there's more information on what you might see related to them.
Known as Wow bands, they re-appeared for the first time in many years on Symphony of the Seas last month and other readers have reported seeing them offered on other Oasis and Quantum Class ships since.
Wow bands can be used in conjunction with a SeaPass card as a convenient way to do similar functions.
On Twitter, @thatchriscarley, shared screenshots from the Royal Caribbean app from his Harmony of the Seas cruise that talks about the Wow bands and that they will cost $9.99. They are complimentary for Sky and Star Class suite guests.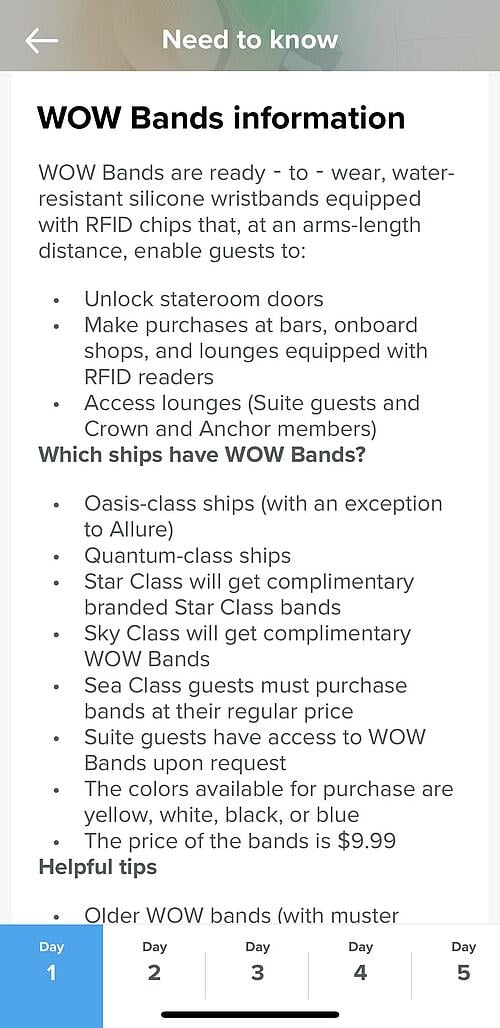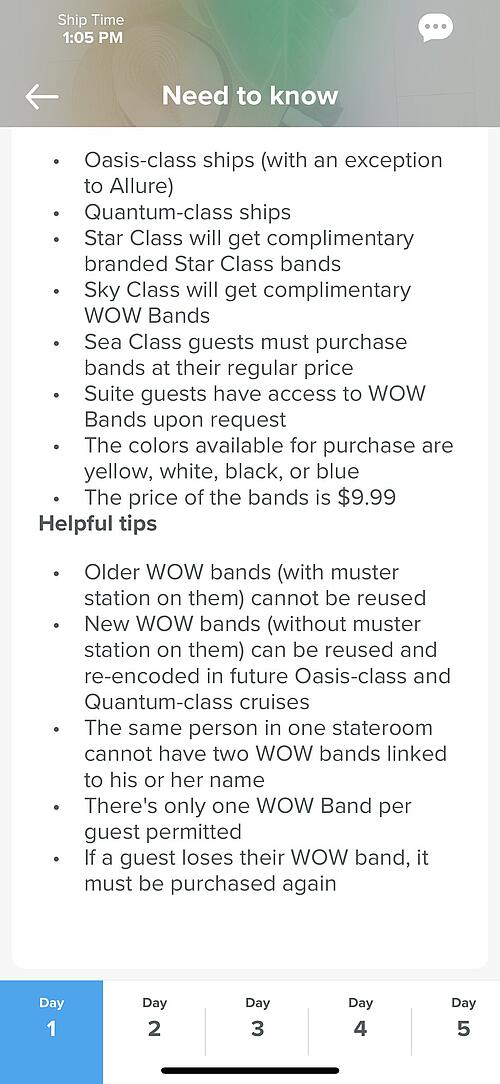 In addition, old Wow bands can be re-used as long as they don't have a muster station printed on them. The earliest Wow bands had that, while more recent bands do not.