In:
The final day of our 7-night Alaska cruise is a sea day, and it was supposed to include a visit to Hubbard Glacier.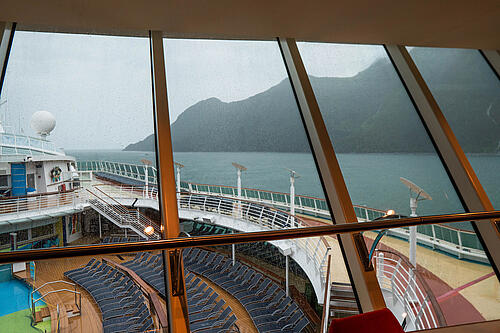 Unfortunately the day did not turn out how we had hoped, but that doesn't mean it wasn't without several fun moments!
I purposely woke up early this morning to get ready for today's scenic cruising around Hubbard Glacier, one of the main highlights of this cruise itinerary. Many Alaska cruise itineraries not only include full days in port, but visits to glaciers from the sea.
Passengers do not disembark the ship on scenic cruising days. Instead, the ship does a full 360 degree rotation near the glacier, allowing guests to enjoy stunning views of the scenery no matter where on the ship they are located.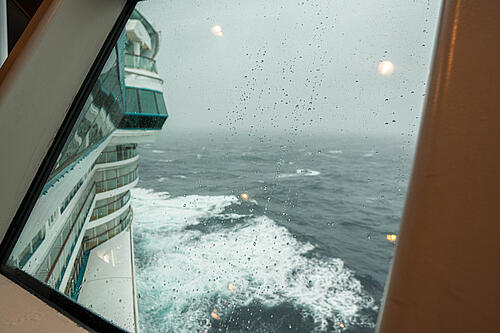 When I stepped outside around 7:30AM, however, the weather was concerning. Visibility was extremely low and winds were high. Because approaching a glacier requires careful navigation around narrow passages and icebergs, it's important to have stable weather before making the approach.
My scenic glacier day to Endicott Arm and Dawes Glacier was affected by bad weather last year, and we could only see the glacier from very far away before turning around. Remembering this, I was skeptical we would successfully be able to approach Hubbard Glacier given the weather conditions.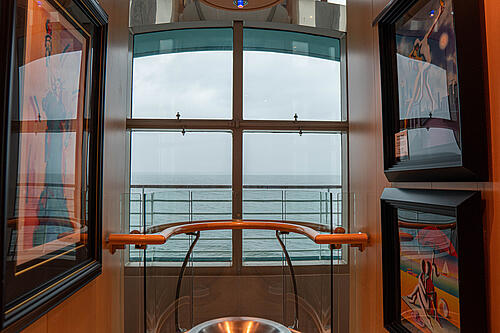 Sure enough, the captain came on the loudspeaker to announce that we would, unfortunately, not be able to make it to Hubbard Glacier.
With that, Radiance of the Seas turned around and started the journey toward Seward through the Gulf of Alaska.
Afternoon in high seas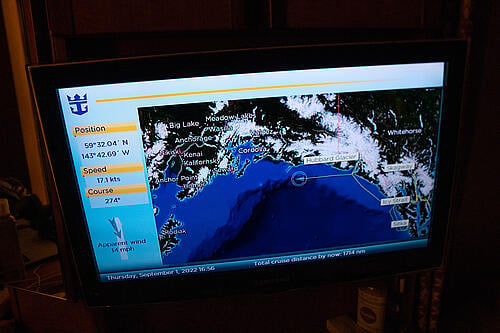 While I was of course disappointed we would not be able to witness the beauty of Hubbard Glacier, safety is of upmost importance, especially when navigating treacherous passages in Alaska. 
I spent the rest of the morning trying to get some work done at the Viking Crown Lounge, but as we entered the open waters of the Gulf of Alaska, things took a turn for the worse!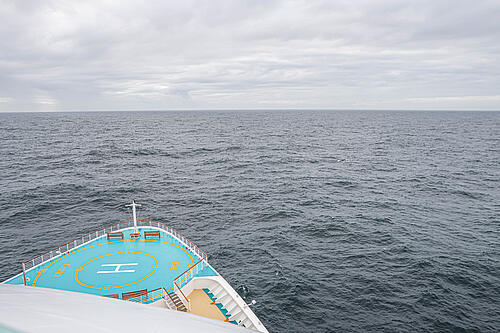 After 12 cruises, I've never felt seasick until today. Even when cruising through the choppy waters of the Bay of Biscay in Spain or through high winds on my Alaska cruise last year, I've always felt okay.
Today, however, I felt terrible throughout the afternoon! After a trip to the Windjammer for lunch, I realized I was not feeling well at all when I couldn't finish my plate.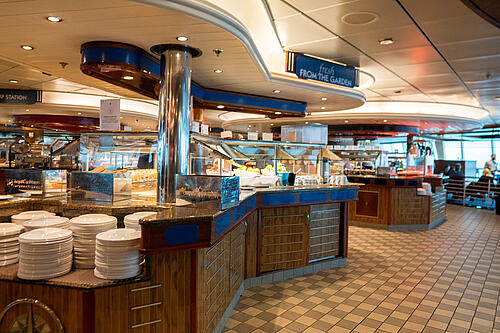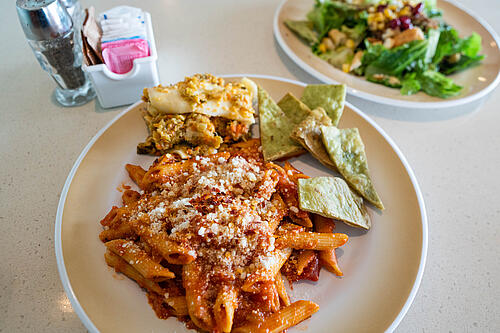 Reeham, who also felt sick, and I sought refuge in our cabin where we hoped lying down in bed and taking a nap would help.
Motion sickness medication and eating a green apple did help a little bit, but anytime I got out of bed I felt nauseous.
For the purposes of this blog being more interesting than me sleeping in my cabin, though, I did manage to attend one event this afternoon: Captain's Corner!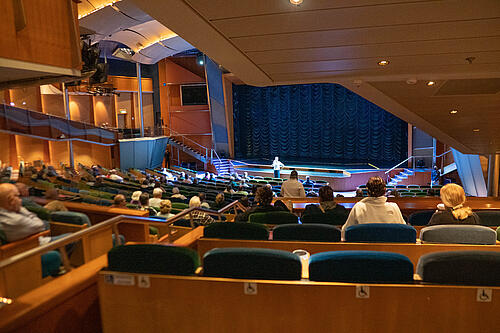 Captain's Corner is a Q&A session with the ship's captain where you can ask him/her any questions you have about the ship, itinerary, daily life onboard, ship navigation, etc.
I found it really fascinating and I was able to learn more about the ship's stabilizers, what it's like in the bridge, how much fuel is used on a cruise ship, and more. I definitely plan to attend more of these on future cruises.
Following Captain's Corner, I went back to my cabin to sleep off my motion sickness.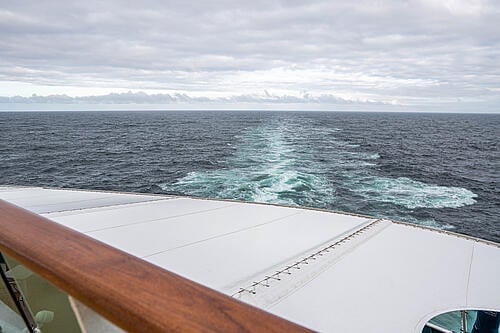 After another hour or two trying to feel better, I figured it was worth a try to see how I felt in another area of the ship. Our cabin is located far forward, so it's prone to more motion.
When I went upstairs to the Diamond Lounge, which is located more mid-ship, I felt much better. Phew! That definitely was not fun and I'm grateful I don't usually feel seasick on cruises.
After a snack and ginger ale in the Diamond Lounge, I took a walk around the upper pool deck. The ship was bobbing up and down, and I was surprised by how much motion I felt, as the weather didn't seem too bad outside.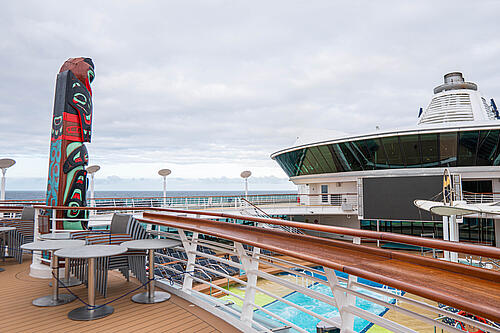 I also made a brief stop to the casino, where I put my $6 free play money to the test. Unfortunately I didn't win today and was in and out within 5 minutes!
Evening onboard
I went back to the Diamond Lounge to relax for a while before making a pit stop in the Viking Crown Lounge. I've been spending time in the lounge (called Starquest on Radiance of the Seas) every night, and I've made friends with two of the bartenders, Ari and Manuel.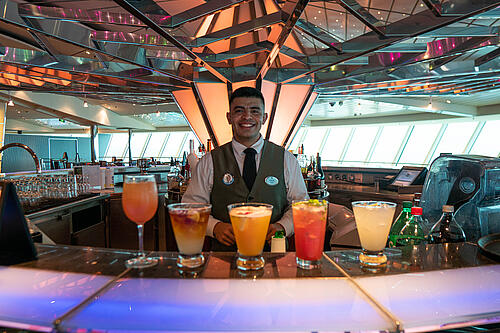 I had great timing because when I walked into the lounge, Manuel was doing a cocktail demonstration! I enjoyed a fruity sangria while chatting with the two of them for an hour or so.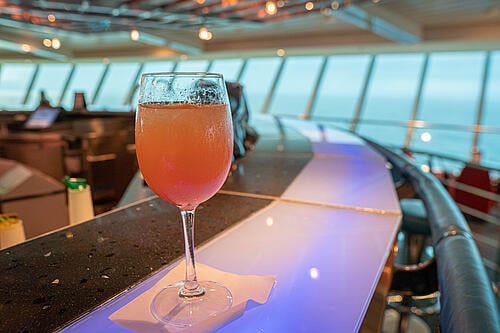 I've had a great time this week meeting and connecting with so many crew members! I've enjoyed talking with Dionata, the Diamond Concierge, Manuel and Ari, and my stateroom attendant throughout the week.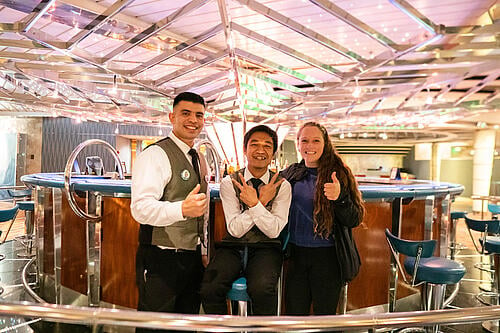 Special shout out to my stateroom attendant, Vevir from the Philippines, for being a Royal Caribbean Blog reader! He's been working on Royal Caribbean ships all over the world for years, from Japan to New Zealand, the Caribbean, and Alaska!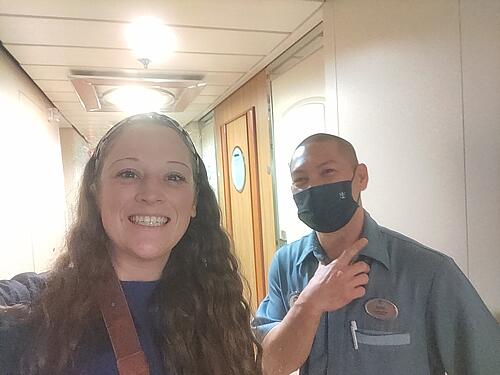 Following the Viking Crown Lounge was a late dinner in the Main Dining Room. Reeham and I have almost missed the dining room every night because we've been so busy chatting and we kept losing track of time.
The Main Dining Room was really great as usual, and the service for late-night seating was really quick!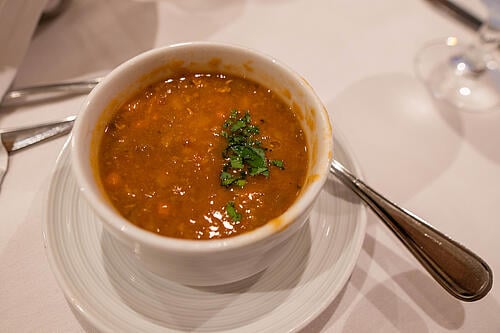 The rest of the evening was spent packing (boo!) because tomorrow is sadly disembarkation day!
Tomorrow we disembark the ship in Seward, Alaska and take a bus to Anchorage. I wish I had more time to spend a few days in Alaska's interior before flying home, but there's always next time!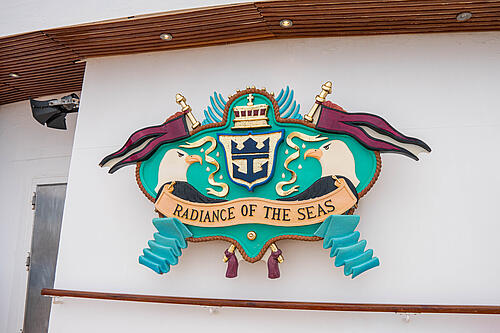 Thanks for following along this week on my Radiance of the Seas cruise! It was a fantastic week overall and I'm always happy when cruising to such a beautiful place. I've learned that my favorite cruise itineraries are those where I can see mountain scenery outside the ship every day.
Stay tuned for a full review of my cruise to Alaska next week AND a full ship tour of Radiance of the Seas on the Royal Caribbean Blog YouTube channel!