In:
It's the final day of our 7-night Alaska cruise! Can't believe the week went so fast.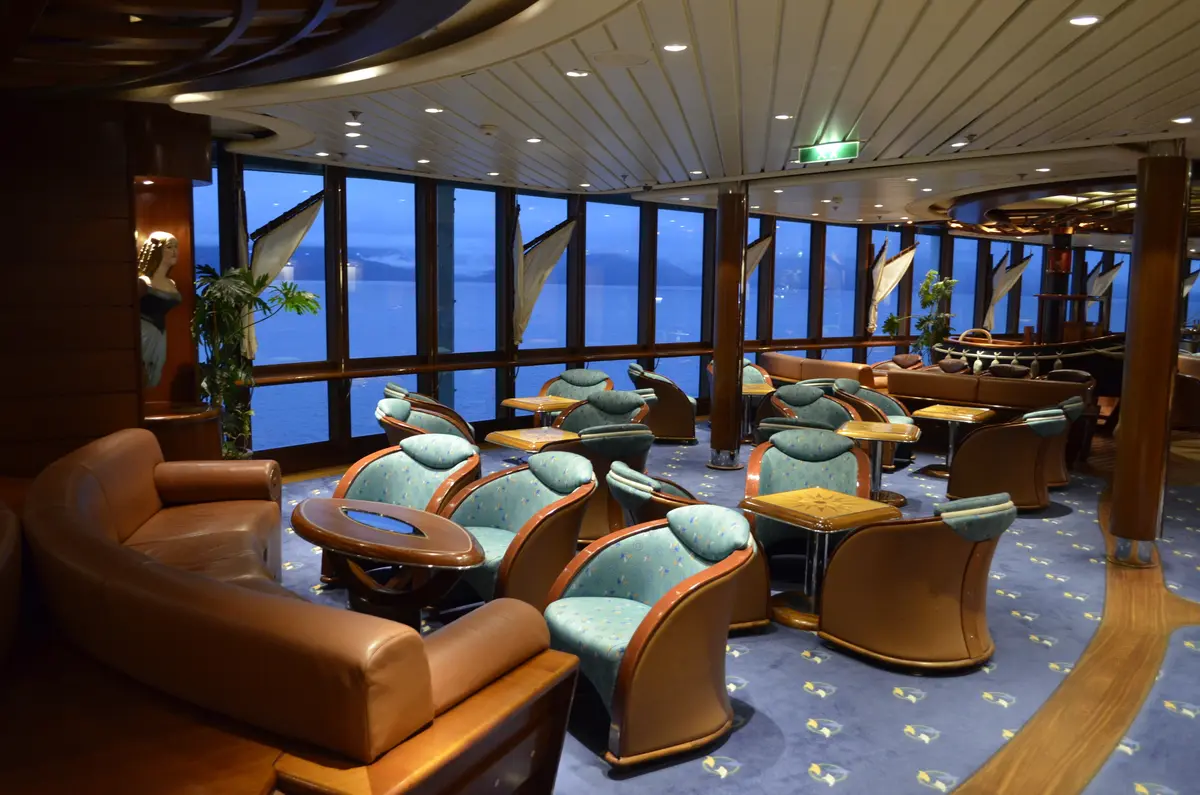 Today we've been at sea - sailing through the Inside Passage and making our way back to Vancouver.
The seas were rough last night so Sydney put on her patch and slept a solid 12 hours. She woke up feeling a little dizzy and had blurred vision, but she said she didn't have any seasickness.
We saw lots of people onboard with patches behind their ears and heard of others who were seasick with the choppy waters.
I worked a little this morning while Sydney slept in. Surprisingly, the Internet connection was strong so I took advantage of this opportunity. I was worried once we went back into the Inside Passage that the Internet would drop again.
Covid Test Onboard
Since the connection was strong, I also decided to do my eMed Covid test in the cabin. I didn't have any issues with the connection and got my negative test result quickly.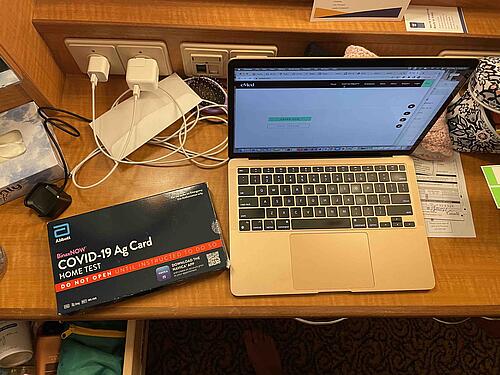 I wanted to take the test onboard the ship in case I had an unexpected positive result. In this case, I'm covered by Royal Caribbean's Cruising with Confidence policy. It felt like the best option since there aren't really any testing options onboard for those of us needing one for travel requirements. 
I saw multiple people taking their covid tests onboard today, so I think there were a lot of us with the same idea. It also makes the disembarkation day much easier without having to worry about taking the test at the airport last minute.
I brought the Abbott home test, but there were other tests that people used as well. I know one couple who used their FlowFlex covid test and did their proctored test through www.azova.com. I saw another couple using the orange branded covid tests who said they followed the proctor link on the box too.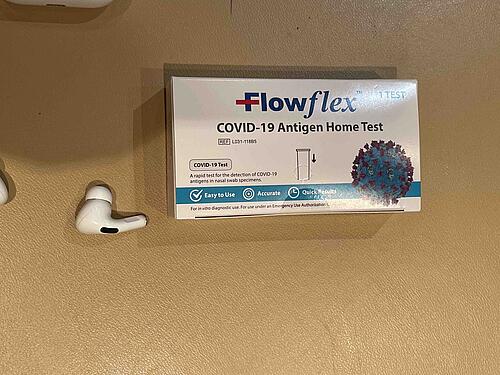 I didn't realize you could have other tests proctored, but it appears that's not the case. Both of these couples I met purchased tests in Alaska since they didn't bring tests onboard and paid online for a proctor ($20)
Breakfast + Spa
We had a time change last night, so the 11:00 AM closing of the Windjammer crept up on us.
I waited in line to talk to the Internet representative to make sure I was on the list of passengers getting refunded for 2 days of internet that didn't work. He processed the refund on the spot, which was nice. I saw a few others taking their covid tests in the Internet cafe area during this time too.
With coffee in hand, we made our way to the top deck to grab a quick bite to eat before they closed down the restaurant. Sydney and I made our way to the spa to try out the thermal suite!
Upon entry, we were given a locker and bathrobes to use throughout the spa.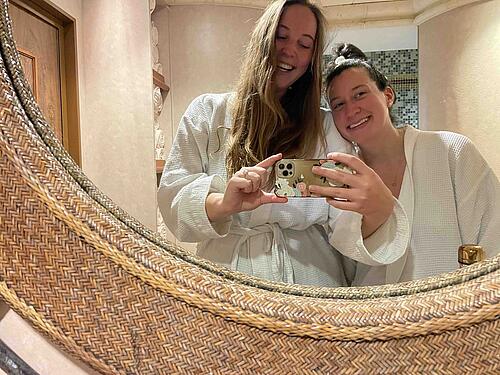 We first started in the thermal chairs and made our way into the steam room, sauna and aromatic room.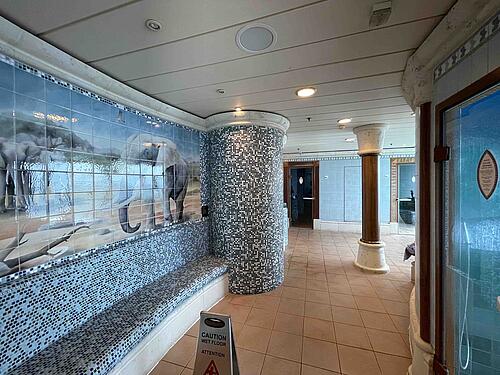 It was pretty quiet in the thermal suite and that doesn't exact fit our vibe. We have a hard time relaxing for an extended time because we like to be on the go. We are always laughing and chatting, so we struggled to be quiet.
It was fun to try everything out, but I am not sure if it's something that I would pay to do just because I am not necessarily a spa person.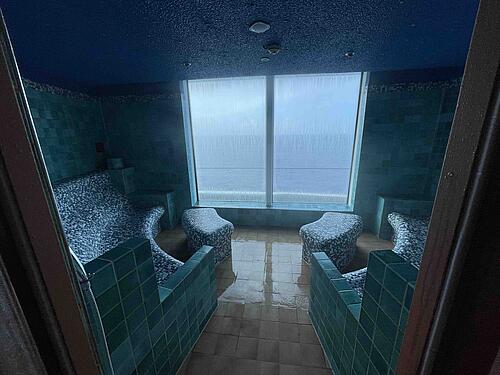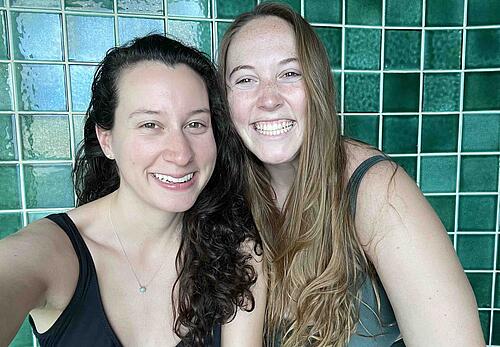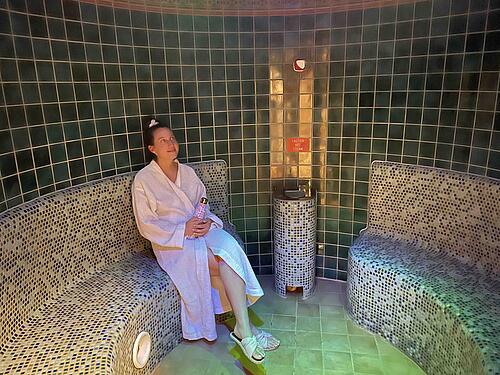 Egg Drop Challenge
This one was a first, but our ship had an egg drop contest! What a concept.
Teams enrolled on the first sea day and had one week to create an egg contraption. If your contraption successfully protected the egg from an atrium drop and the egg didn't crack, your team won a prize.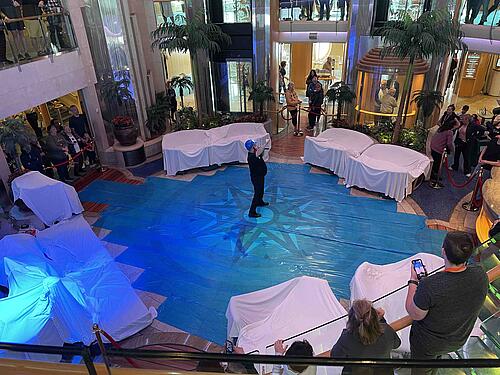 The atrium was pretty busy with spectators. The entire floor and furniture surrounding the bar was covered to protect any scrambled eggs.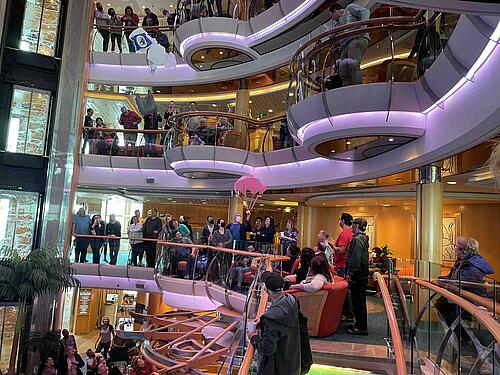 Some teams got really creative with how to protect their egg. Others clearly didn't think about the impact of gravity, drag and force when their contraption plopped right to the ground. The very first drop got caught in some atrium wiring, which was pretty funny.
The cruise director, sporting a hard helmet for the ultimate egg protection, was having a great time hosting the event. One egg splattered all over the bar, which I am sure the bartender did not appreciate.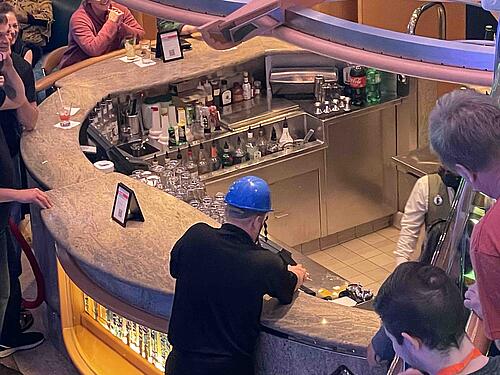 This was a fun event and we both enjoyed watching everyone try to protect their precious egg. I am wondering if this will be a new cruising tradition or if it was just a one-time thing?
Afternoon Activities
By late afternoon, Sydney had a card date with our 'ship mom' from dinner and I had a little bit of work to get done.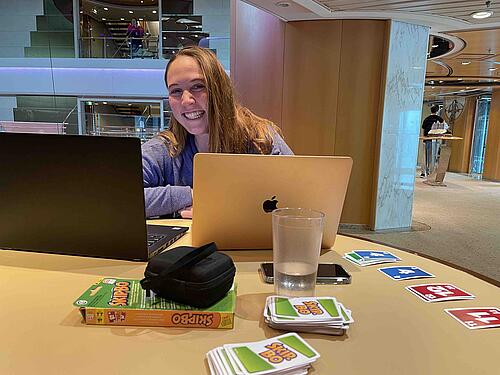 They enjoyed a few rounds of Phase 10. The ship finally entered back into the Inside Passage during this time, so the ocean was a sheet of glass again.
I was feeling deep gratitude for the Internet finally working reliably, which allowed me to get some time sensitive things done, including the covid test. I even created a hotspot with my computer so Sydney and I could have multiple devices connected at once. 
We still had our swimsuits on from the spa earlier today, so we made our way to the Solarium for the hot tub. Unfortunately, there is only one small hot tub in the Solarium and it's been packed almost every time we've tried to use it.
We did grab a snack at the Windjammer since we had forgotten to grab lunch.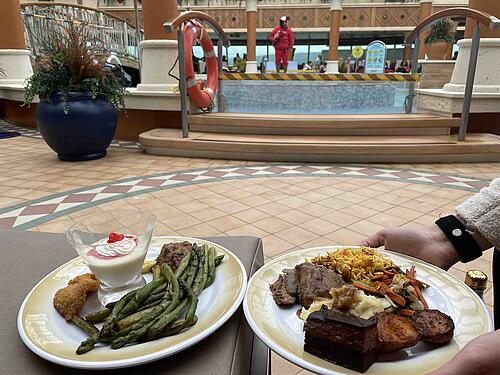 Sydney and I ran into our new ship friends, Mimi and her grandson Bret (who is our age), and we invited them to join us in the outdoor hot tub.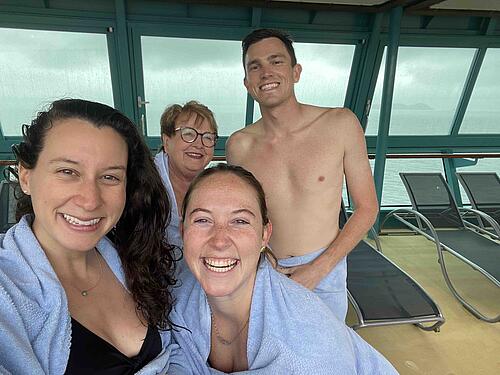 These hot tubs haven't been as crowded, but the outdoor weather also hasn't cooperated much. It was misting and rainy out, but we enjoyed the hot tub and getting to chat.
Final Dinner in the Dining Room
Tonight was our final night in the dining room. The menu tonight featured options of fish & chips, prime rib, roasted turkey, cheese tortellini and lamb.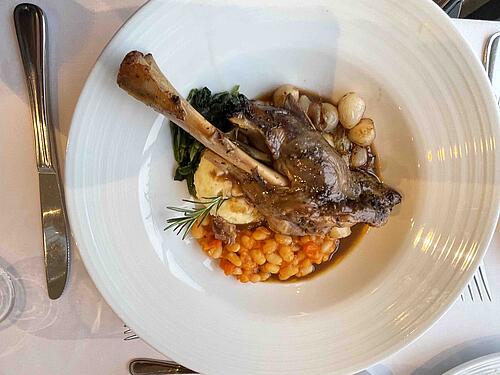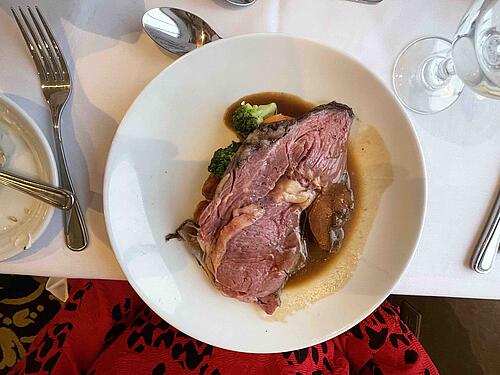 I had one last bowl of French onion soup and Sydney had the lentil soup as a starter. She said the lentil soup was super good.
For dinner, Sydney had the cheese tortellini and I had the roasted turkey. These weren't our favorite meals of the cruise, but they were good!
Dessert was a showstopper for me with the pavlova and caramel brownie, which was topped with a marshmallow meringue. It was super sweet - exactly as I like it! Two desserts is the best way to end a cruise.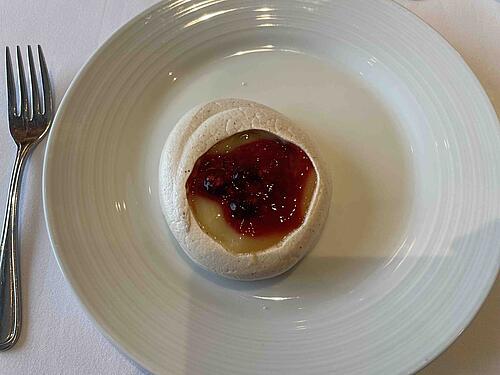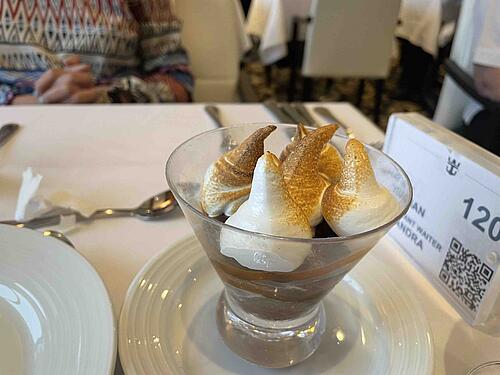 It's always sad to say goodbye to new friends on the final evening. Sydney and I have been blessed with great servers who took good care of us. We also connected with so many people on this cruise and loved seeing familiar faces around.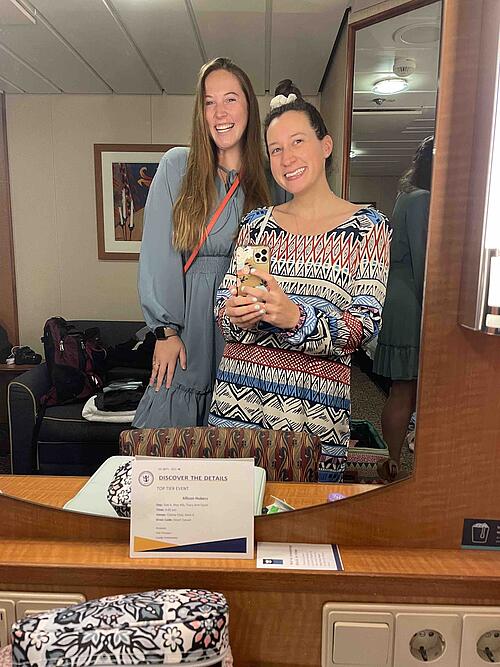 Packing and Cruising with a Carry-On
Another sad part of the last cruise night is packing up your suitcase for the journey home tomorrow. Sydney and I had gotten pretty comfortable in our cabin over the last week, so it seemed like a tornado came through when we started to pack.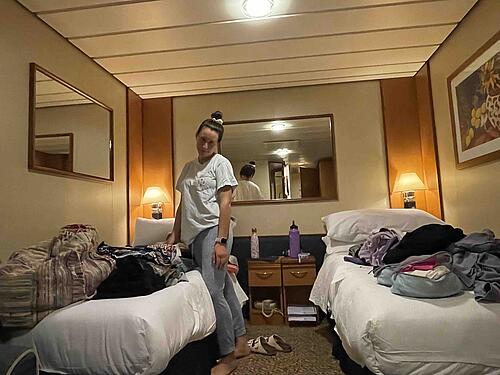 Sydney heads to Seattle and Hawaii for the next week to continue her Masters Celebration adventure. I head to Minnesota tomorrow for a quick stop for my best friend's baby shower before flying back to Florida on Saturday.
I opted to pack for this cruise using just a carry-on, which made it really easy to pack tonight. I used some packing cubes to utilize my small packing space. I think this made a big difference!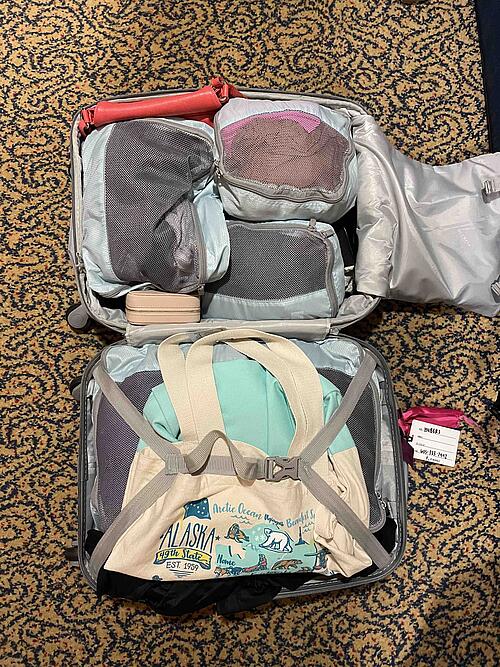 I had a few outfits that I didn't even wear while other pieces were worn heavily. I had to purchase a sweater because I didn't have something warm enough to wear with my leggings. I also bought some gloves in the first port.
Layering was key for me. I packed pieces that could be worn for dinner and during the day, like dark jeans and a jean jacket. I brought 3 dresses for dinners and then wore my dark jeans with various tops the other nights. Some days I didn't even change for dinner.
I packed just one swimsuit, which was plenty for our hot tub visits. Casual clothes included sweat pants, a golf skirt, long sleeve t-shirt and a crewneck sweatshirt. I packed a pair of overalls, which I only wore once so I probably could have left that behind and opt for a heavier coat instead.
For the trip, I only packed 3 pairs of shoes, which included rain boots, dinner shoes and tennis shoes. I wish I had packed some slip-in shoes to wear around the ship, so I did buy a $5 pair of slippers from Old Navy in Vancouver to wear. I might leave these behind if I can't pack them last minute tomorrow.
All of my cosmetics and toiletries I carried in my backpack with me. I still had room for my laptops, umbrella and 2 covid tests.
I really limited myself to just the essentials for this trip. It's nice to not have so much clutter. Packing lightly forces you to only wear what you have packed because you don't have many options. I also think packing cubes made it easier because I can compress my outfits into time little dense cubes.
Granted, I think packing in a carry-on would be much easier for warmer climates. I also don't think I could do any trips longer than 10 days in a carry-on without doing some laundry. 
Disembarkation + Final Thoughts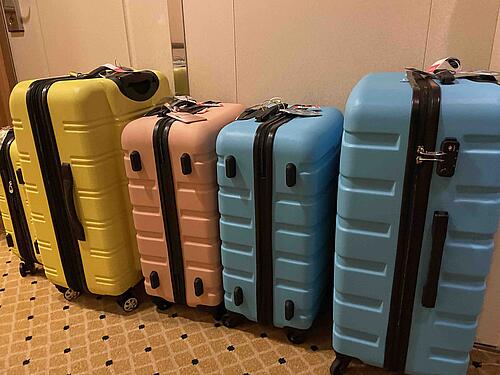 Tomorrow we will get off the ship around 9:30 AM and my flight is at 2:00 PM. I plan to head straight to the airport and hopefully have a painless travel day.
Sydney is taking the Amtrak bus to Seattle before flying to Hawaii on her next big adventure.
We are both sad that our friend-cruise is coming to an end. It was so nice to be able to travel again, especially together.
Our friendship is really special and having this much time together again at sea was wonderful. We loved our time on the cruise and getting to meet such nice people was really a highlight.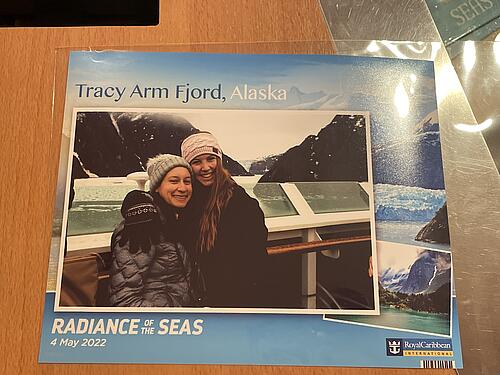 Radiance of the Seas feels like she's been well maintained and the crew are doing their best to get the ship back to a well-oiled machine. We had a few hiccups, but everything was handled with excellent service. I think this is to be expected with any cruise ship returning to service. We've met a lot of crew members onboard who are working for the first time onboard a ship.
That's the end of my live blog for Alaska. Until next time, happy cruising!