In:
The first day of a cruise is always exciting, but it's even more anticipated when you're about to board a cruise to Alaska!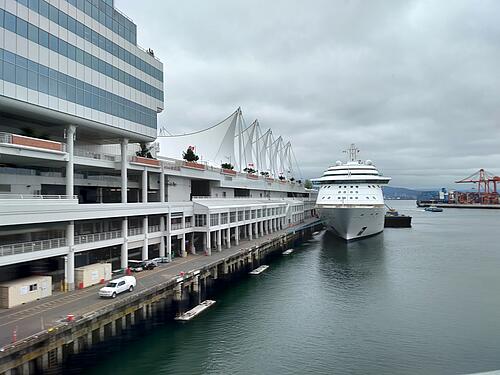 Today is the first day of my one-way, 7-night cruise from Vancouver, Canada to Seward, Alaska on Radiance of the Seas, and I'm looking forward to an amazing week ahead.
Alaska is one of the most scenic places to visit in the world, and I can't wait to sail through the state's inside passage and experience several ports I have not been to yet, including Sitka, Icy Strait Point, and Hubbard Glacier.
Arrival in Vancouver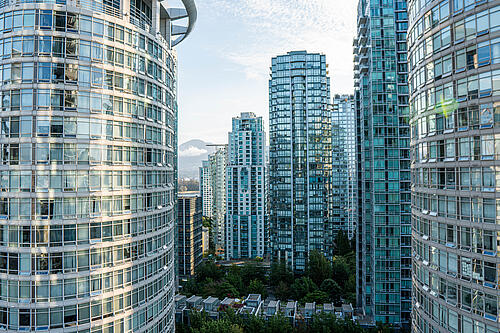 I arrived in Vancouver yesterday morning at 11AM, so I had a full 24 hours to explore the city prior to boarding Radiance of the Seas.
Vancouver's walkable downtown area makes it a breeze to explore on foot before a cruise. Getting to the city center from the airport was only $10 via Vancouver's metro, which dropped me off right in the city center.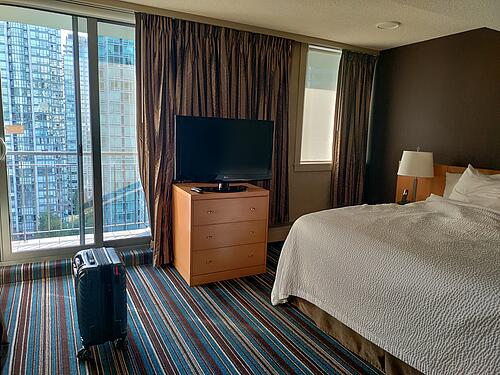 I booked the Blue Horizon Hotel for my night in the city and was pleased with the hotel's location, price, and amenities. The views from my room were fantastic as well!
After 24 hours of delicious food, a peaceful walk through Stanley Park, trying out Tim Horton's, and relaxing near Vancouver's waterfront, it was time to head to the cruise terminal.
Embarkation in Vancouver and first impressions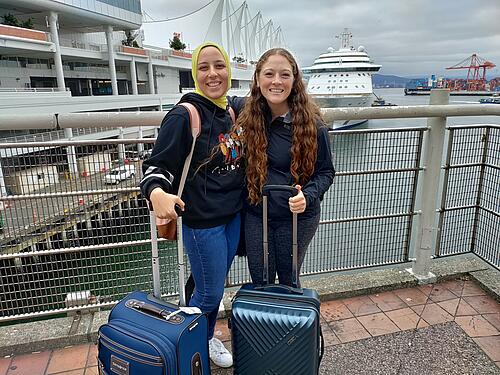 Canada Place is the name of Vancouver's cruise port, and it is conveniently located on the waterfront in the heart of downtown. Walking to the port from our hotel took only 15 minutes.
Embarkation was seamless and we were quickly boarding the ship. While we arrived at our scheduled boarding time of 11:30, no one was checking boarding times.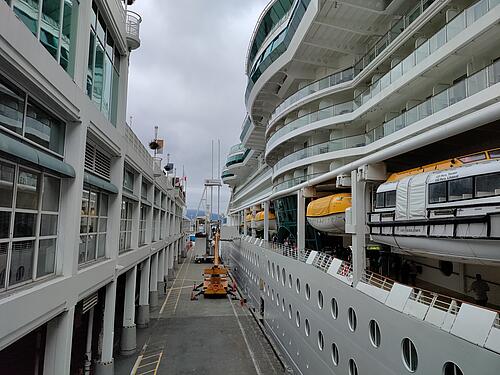 This is my first time on a Radiance Class ship, so I've now officially sailed on every class of Royal Caribbean cruise ships! My first impressions of Radiance of the Seas were that the ship has tons of windows and viewing areas onboard.
I have noticed that certain areas of the ship feel a little more cramped and closed off in its design compared to other classes of ships, even the Vision Class, but this could just be a result of the hectic atmosphere of embarkation day.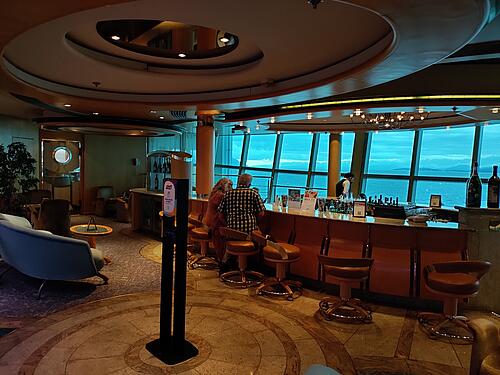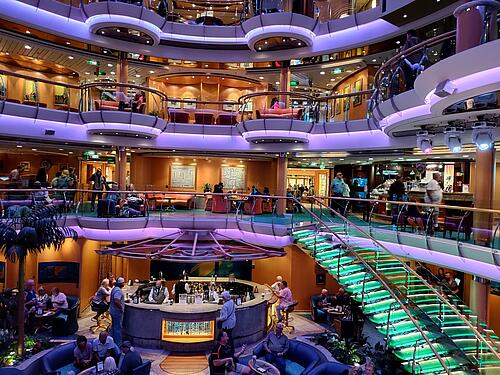 Related: Royal Caribbean ship classes guide & explanation
We headed to the Windjammer once onboard for our embarkation day lunch. Radiance Class ships, like some Quantum Class ships, have an outdoor seating area in the Windjammer, so we took full advantage of British Columbia's beautiful views while enjoying our meal.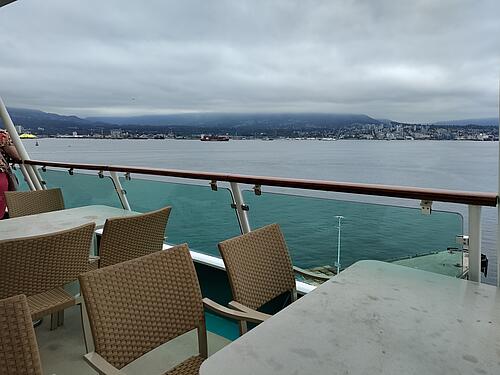 We also put our binoculars to the test to look at Vancouver. I can't wait to use these throughout this cruise! Having binoculars on an Alaska cruise is a must.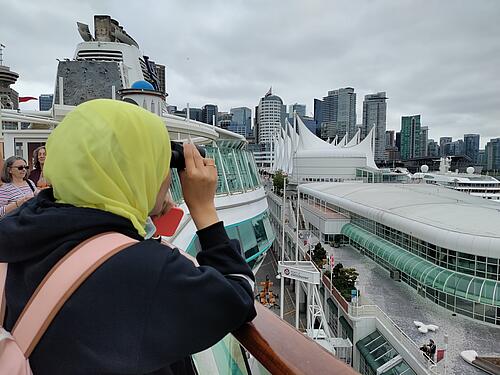 I'm never sure what to do in the time period between lunch and my stateroom being ready, so after our binocular extravaganza we waited in comfy chairs on our cabin's deck for the staterooms to open.
We are staying in an interior room for this cruise. The room is the same size as most other interior cabins I've stayed in and appears well-maintained. Our beds were separated when we entered the cabin, and this was well-appreciated so we didn't have to track down our stateroom attendant!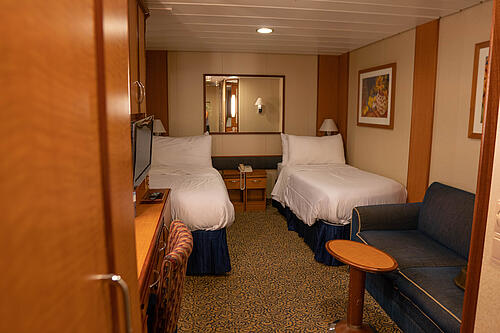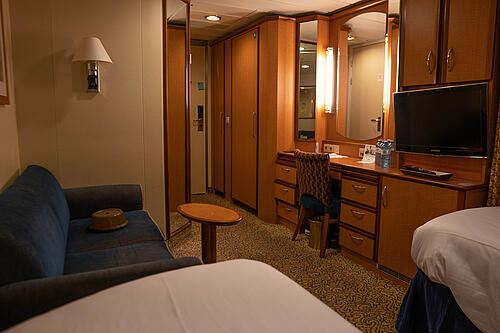 The walls in the cabin seem pretty thin, though, as I could hear the TV in the room next to ours, but this is to be expected on an older ship. Other than that, everything in our stateroom is up to par.
After a quick rest in the room, I decided to try something different and take the spa tour with the selfish goal of winning the spa raffle later in the day. The tour was actually relatively enjoyable (to my surprise) and like the rest of Radiance of the Seas, the spa has wonderful ocean views.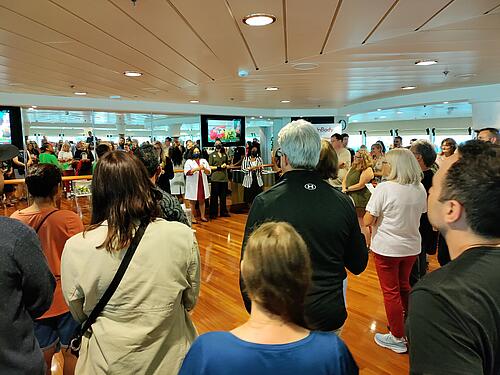 After a quick rest in the cabin, Reeham and I headed to the spa raffle before sailaway. While mostly a sales pitch, it was entertaining enough to pass the time even if I didn't win.
Sailaway and evening activities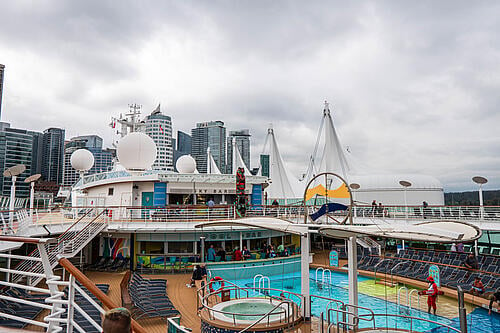 Reeham and I headed aft as Radiance of the Seas departed Canada Place en route to Alaska. Sailing out of Vancouver was beautiful, and my favorite part was definitely passing under the Lions Gate Bridge!  It was an unforgettable way to say goodbye to Vancouver and start the journey up north.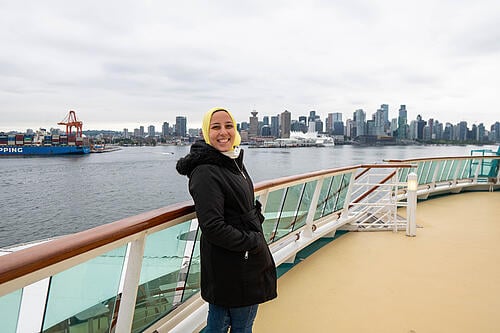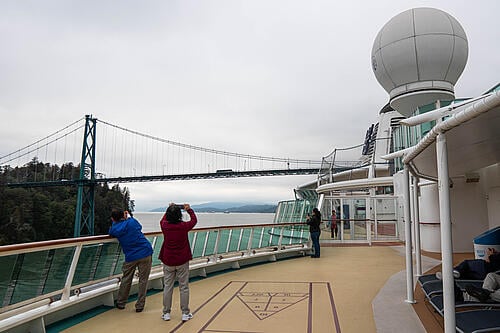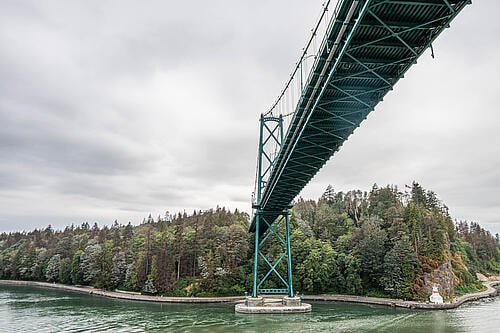 We enjoyed dinner tonight in the Main Dining Room, and I was happy to find out that our table is near a window, so we'll never be too far from Alaska's gorgeous scenery.
We enjoyed arancini, French onion soup, battered seafood, and the warm hazelnut chocolate cake. I had never seen the arancini on the Main Dining Room menu and was impressed!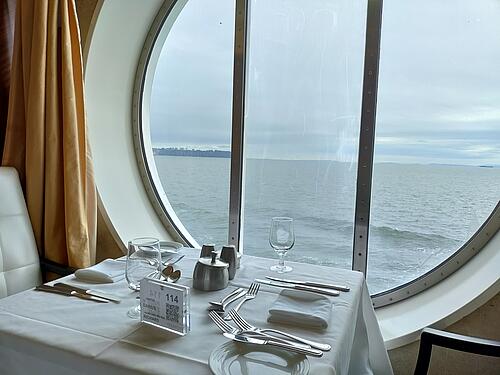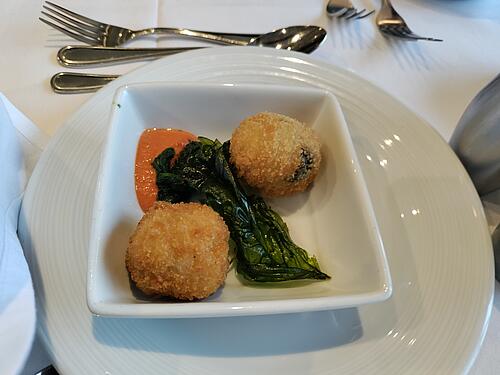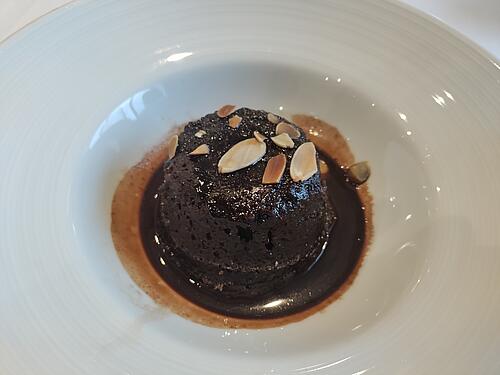 Following dinner was a walk around the outdoor Promenade deck, my favorite spot on any Vision, Radiance, Voyager, or Freedom Class ship. We ventured all the way forward to the helipad, too, which offered a tranquil spot to take in the views.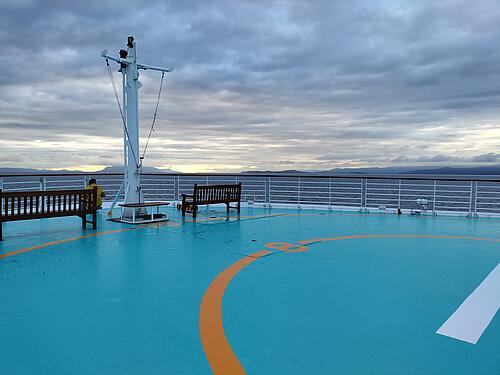 Reeham and I were pretty tired after waking up early to explore Vancouver, boarding the ship, and having a full day of fun onboard, so we crashed in our stateroom pretty early.
Tomorrow is a sea day and I'm excited to explore more of Radiance of the Seas as we make our way to Alaska!