In:
Today was bittersweet as we said goodbye to Alaska's gorgeous scenery and entered the open ocean on our way to Seattle.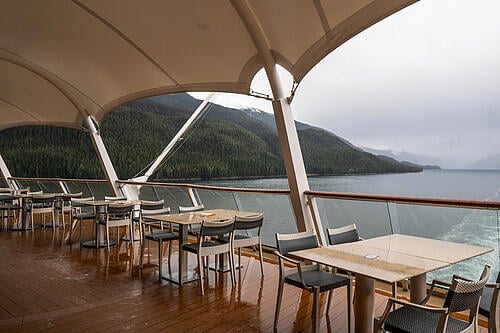 The second to last day of our sailing is technically a sea day, but has a brief stop to view the Endicott Arm & Dawes Glacier from the ship.
Breakfast today was at Cafe at Two70. My favorite area to hang out on a Quantum Class ship is, by far, Two70.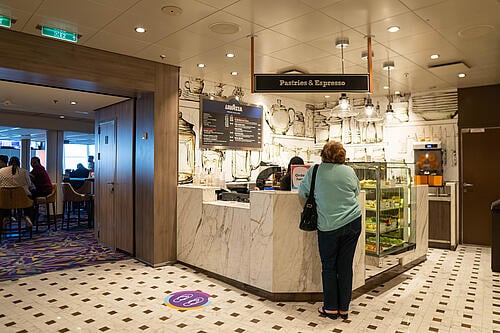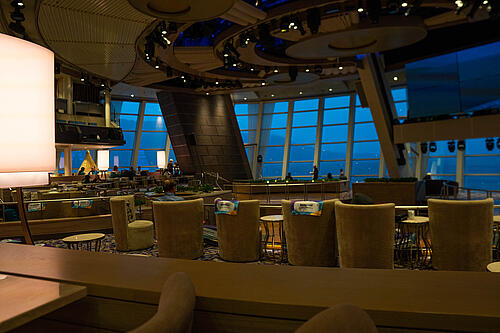 Not much is more relaxing than sipping a coffee in the morning while watching the ship's wake pass through the fjords from Two70's floor to ceiling windows.
Ovation of the Seas was due to arrive at the glacier around 9:30am, so we grabbed a chair at the indoor pool after breakfast to watch the scenery.
Apparently everyone else had the same idea as us. The pool deck was packed with passengers hoping to find a good spot to view the glacier. Waiters even came around offering hot chocolate and Baileys.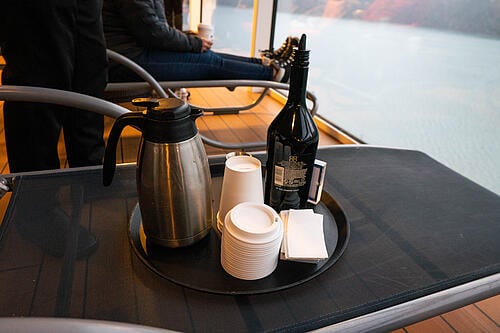 Sailing through the fjord was particularly impressive. Fog and mist covered the peaks and ice began to float along the sides of the ship. A few larger icebergs passed as well.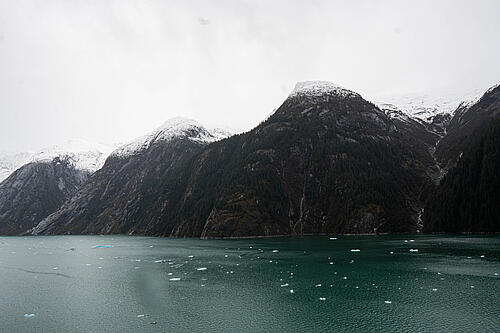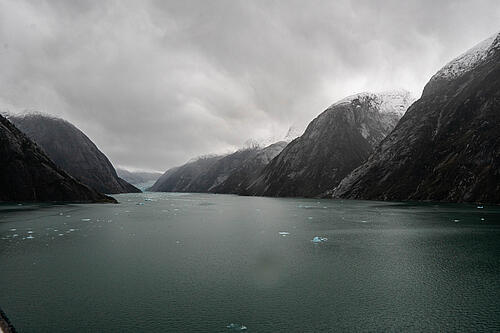 Unfortunately, due to the amount of ice in the water, we were unable to get super close to Endicott Arm & Dawes Glacier, but were still able to snap pictures from further away.
The surrounding scenery was so stunning that it didn't even matter to us if we couldn't see the glacier up close!
The rest of the morning was spent at a table in the Windjammer catching our last close-up glimpses of Alaska through our binoculars.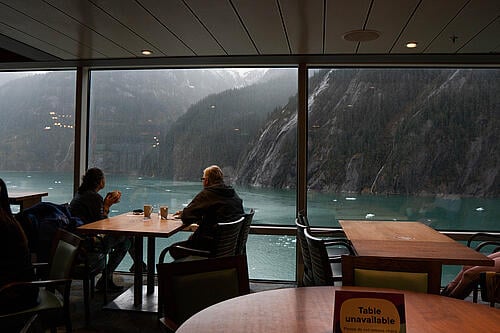 For lunch, we decided to try out something different than usual. Ovation of the Seas has a restaurant offered on only a few Royal Caribbean ships, Fish and Ships.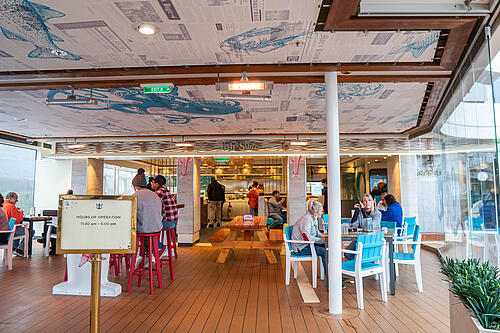 The restaurant is located on the outdoor pool deck and offers classic fish and chips as well as other options like chicken tenders and fish sandwiches. These options are complimentary, although Fish and Ships also offers options like calamari and lobster which come at an extra cost.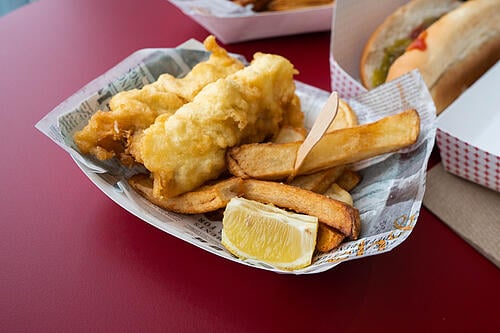 I ordered the fish and chips. It was a nicely sized portion for lunch and I found the meal to be quite tasty! While I think I prefer El Loco Fresh being on the pool deck (who doesn't love tacos?), I enjoyed Fish and Ships and would eat there again.
My dad decided to try lunch at the SeaPlex Doghouse, which offers several types of hot dogs, brats, and sausages to choose from.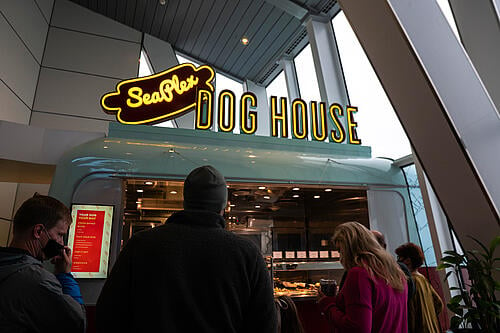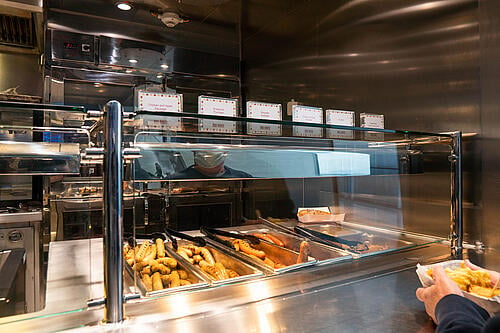 There are a variety of toppings available such as sauerkraut, onions, and condiments as well as a couple sides like coleslaw and potato salad.
After lunch and a quick round of airport code trivia, I decided to explore more of the ship and film content for the Royal Caribbean Blog YouTube channel. Having just been on Odyssey of the Seas to film a ship tour, I could not help but compare the two Quantum Class ships.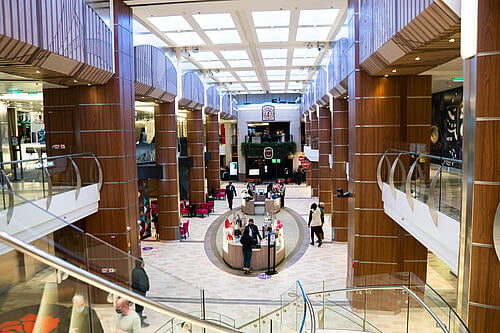 I think I prefer Odyssey's upgraded SeaPlex with a Playmakers inside to Ovation's SeaPlex. However, I absolutely love the outdoor seating area at the Windjammer on Ovation. I also really like the atmosphere of Vintages, the wine bar onboard. These two areas do not exist on Odyssey of the Seas, which has Giovanni's Wine Bar instead and no outdoor seating at the Windjammer.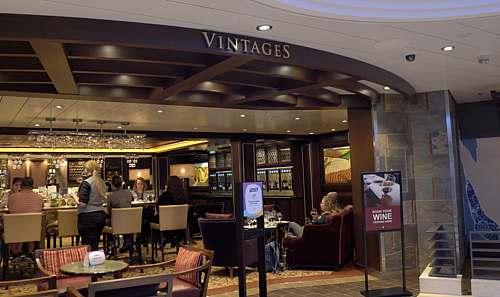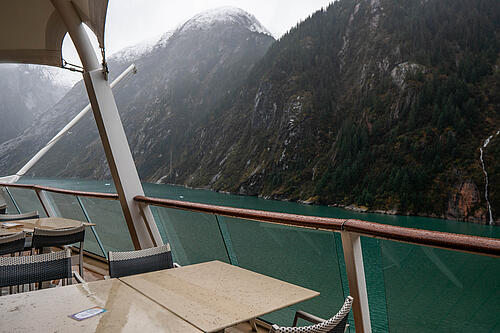 Therefore, I find it difficult to "rate" a ship, or pick the "best" Royal Caribbean ship. Each ship offers a variety of venues and amenities that may appeal to different groups of people. Some guests may never care to step foot in a sports bar like Playmakers, but would love a quiet library onboard, and vice versa.
My final stop while exploring Ovation of the Seas was to Vitality Fitness to get a quick workout in before dinner. Following this, the captain closed off all outside decks for the rest of the day due to high winds, and the ship was rocking a lot for the rest of the evening.
Tonight was formal night in the Main Dining Room and it was a bit busier than normal.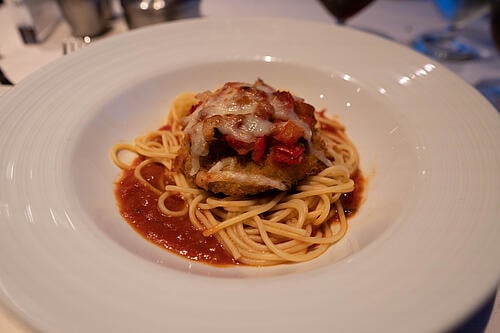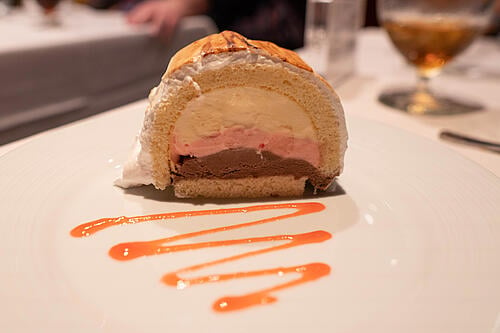 Baked Alaska was one of the desserts offered, and since we are on an Alaskan cruise, we had to give it a try. Strawberry, chocolate, and vanilla ice cream wrapped in cake? Yes, please!
The evening called for a drink and live music. I hadn't been to the Music Hall yet on this sailing, so I grabbed a drink there before heading to this evening's show at Two70.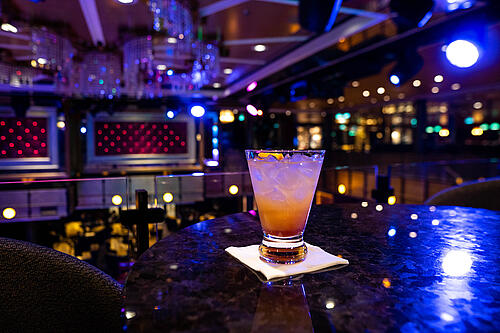 We attended "Jazz & More with the Band" from the Ovation of the Seas orchestra and it was PHENOMENAL. We enjoyed it so much that we stayed for the second show!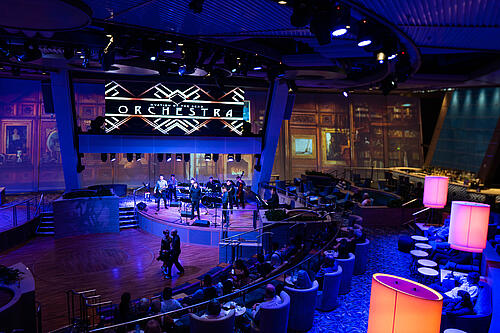 I love listening to jazz and the musicians brought so much energy to the performance. They were clearly having a blast, passengers were dancing, and it was all around a good time. I'd say that tonight's show was the best performance of any kind that I've seen on a cruise ship thus far!
After the show, it was time for bed. Tomorrow is a sea day and is the last day of our cruise.
Stray Observations:
The tables are extremely close together in the main dining rooms. Therefore, there is not much privacy since you can hear the conversations of people nearby. This makes things a little awkward when trying to enjoy a private dinner, although it is great if you plan to chat with people at the tables next to you.
There is a really nice, covered seating area outside on the promenade deck, but it is a smoking section. I wish there was a similar area that is not a smoking section. It would be nice to have covered seating outside on deck 5 for non-smokers.
The live music on Ovation of the Seas has been outstanding! While there is great music on all ships, I've been extremely impressed with the musicians on Ovation. The guitarists, piano players, jazz musicians, and singers have amazing talent.
Live Blog Index