In:
Today is a sea day and the last day onboard Ovation of the Seas. This sailing has been magnificent all around, and while I'm sad to see it coming to an end, I was happy to have one more day onboard.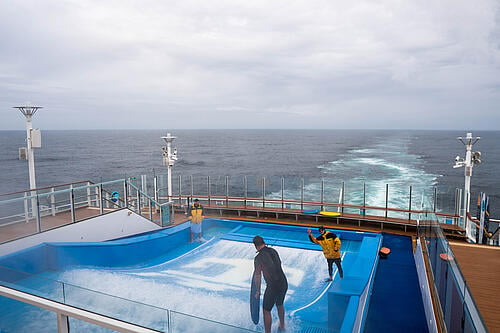 My morning ritual at sea is grabbing a latte from one of Ovation's many coffee bars, such as Cafe at Two70, La Patisserie, or the Windjammer. I purchased the Cafe Select Coffee Card for this sailing, which is a punch card that can be used for up to 15 espresso-based beverages.
I took my latte to the Windjammer to enjoy chocolate chip pancakes. After breakfast came an early morning hot tub session at the indoor pool. I prefer going to the pool decks really early in the morning before it gets too crowded so I can fully relax.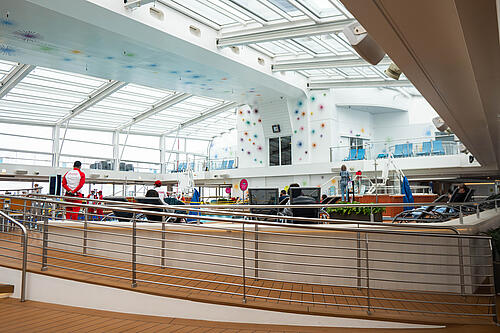 The outdoor decks were closed for most of the day yesterday due to high seas, so I was happy to see that the decks were open again. I took advantage of the somewhat calmer weather and walked around the running track deck.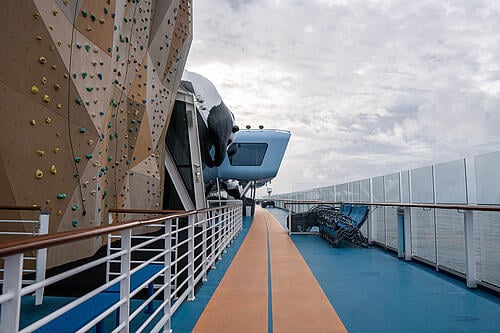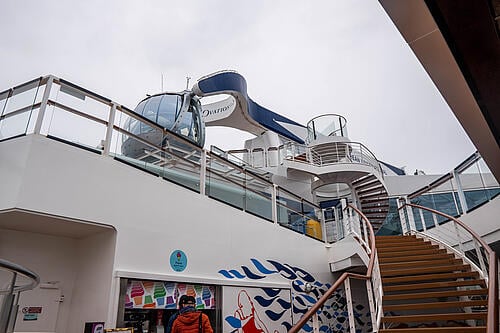 The FlowRider was up and running for one of the first times on this sailing. However, the rock climbing wall and North Star remained closed due to the windy weather.
Today's lunch was in American Icon, one of the dining rooms onboard. American Icon features classic americana decor and offers the standard Main Dining Room menu. Since our dinner table is in the Silk venue, it was nice to try out another dining room onboard.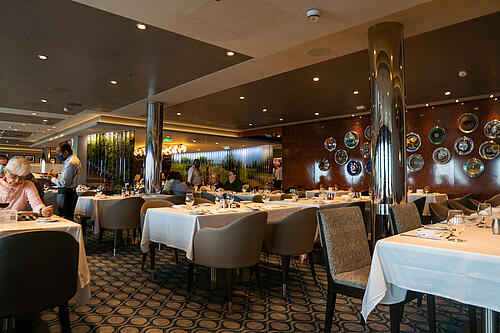 I had never eaten lunch in the Main Dining Room before, but enjoyed the slower pace of a sit-down meal compared to a quick lunch in the Windjammer.
Our lunch included a caprese salad, mozzarella sticks, a hamburger, and lentil chili. For dessert we ordered the Floating Island, which is meringue on a bed of vanilla custard. It was really, really good!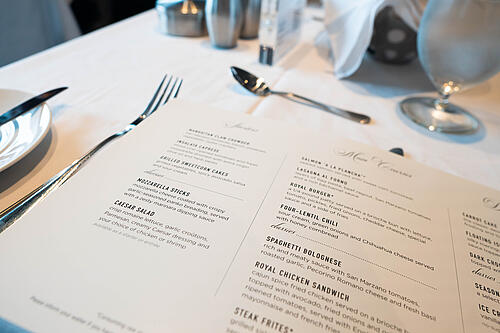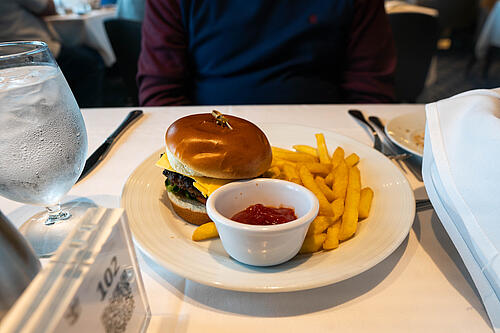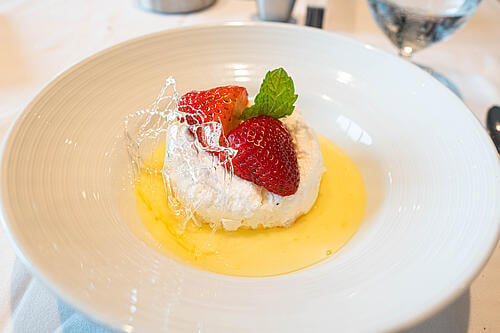 After a long week of exploring and checking out all the fun activities onboard Ovation of the Seas, we were feeling pretty exhausted and decided to take it easy the rest of the day.
The afternoon included attending a virtual concert at Two70, relaxing on the pool deck, and packing our bags for tomorrow's departure.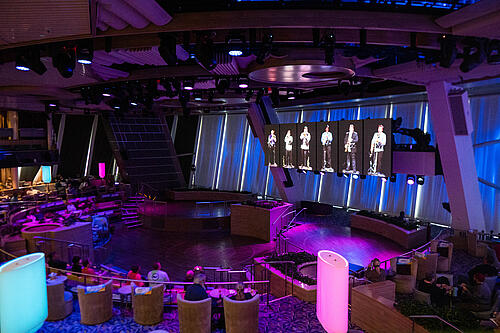 Dinner tonight was at the Windjammer, which may have been the best meal there yet. Tonight was kabob night and there was a large selection of freshly grilled skewers to choose from. There was also a variety of expertly decorated cakes available tonight to wish guests farewell.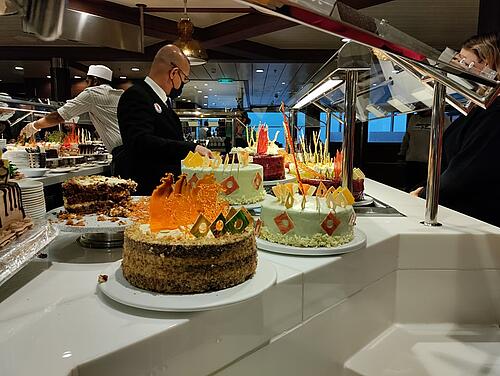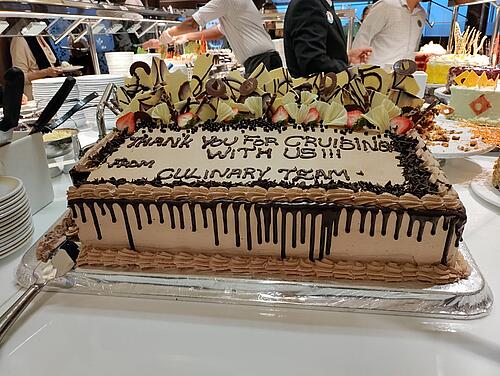 As I packed my suitcase, I could not help but reflect on all the lifelong memories that were made this week. Alaska is an absolutely gorgeous place. Being on a cruise ship meant we were able to sail through scenery completely inaccessible by road and witness the rugged landscape of Alaska through the state's intricate fjords and passages. 
It is certainly a completely different experience than a Caribbean sailing and one that should be on everyone's bucket list. While it did rain quite a lot throughout the sailing, it did not take away from my experience in Alaska at all. I'm so grateful my dad and I were able to experience Alaska's beauty and make such wonderful memories together!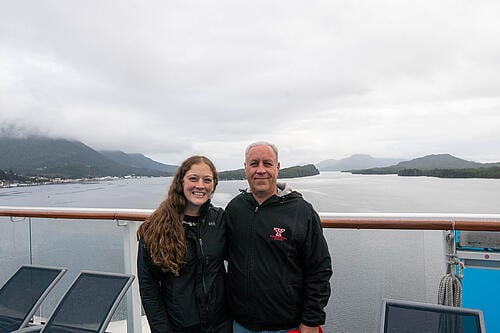 Looking back on this past week, I put together a few final thoughts about this sailing.
Top Port:
My first glimpse of Alaska was Ketchikan and it ended up being my favorite port! The town itself is SO cute and most attractions are conveniently located next to the pier. I enjoyed Ketchikan's short walking path through the forest and exploring historic Creek Street.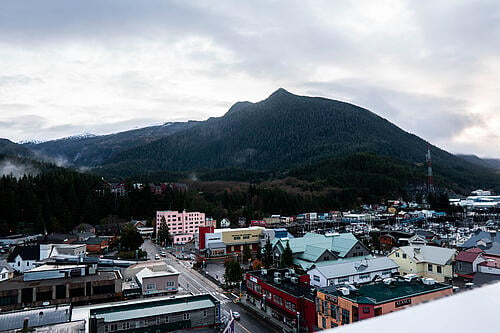 Of course, originally Ovation of the Seas was supposed to go to Sitka instead of Ketchikan. This is one of the reasons to always remain flexible on a cruise. A destination you didn't even plan to go to may end up being your favorite port of all!
Top Establishment:
The Red Dog Saloon in Juneau was extremely fun, with funky decor throughout the building as well as unique drink options. My dad and I have been talking about how good the Duck Fart Shot was for days!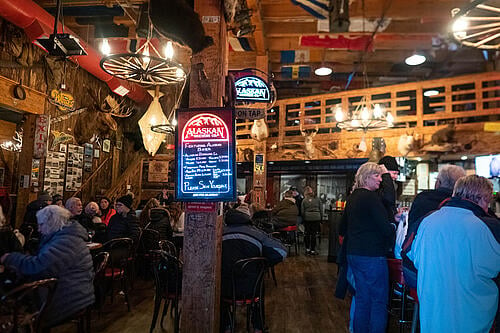 Top Excursion:
I enjoyed each one of my excursions, but I especially loved going on the White Pass & Yukon Railway in Skagway. This is a must do excursion if your cruise docks in Skagway because the views are out of this world. Watching the landscape change from autumn to winter in just a few minutes really put the grandeur of Alaska's wilderness to scale. Plus, since the ride is only about two and a half hours, it leaves plenty of time to explore Skagway on your own afterwards. 
Stray Observations:
I noticed some nice outlets near the comfy couches in the back of the Shore Excursions area. Outlets can be hard to come by in public areas onboard, so this is a great option for those who may have work to do on a cruise.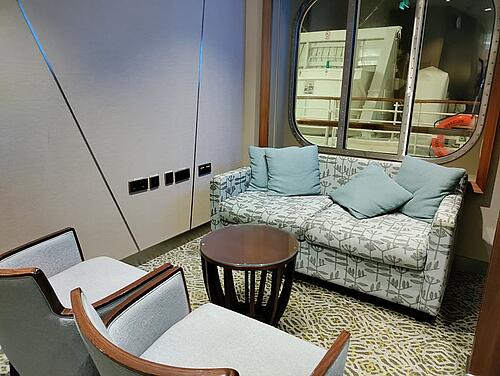 The pools and hot tubs in the Solarium do not open until 9am. As a morning person, I wish they were open a bit earlier. The hot tubs on the pool deck open earlier, though, so there are options for early risers.
The cookies at Cafe Promenade are so good! Today's cookie offerings included a white chocolate chip raspberry cookie and a sugar free chocolate chip cookie. Yum!
Thank you for following along on this week's live blog from Ovation of the Seas! Make sure you are subscribed to the Royal Caribbean Blog YouTube Channel so you can be updated when we post new videos, including the upcoming FULL ship tour of Ovation of the Seas.
Live Blog Index