In:
The time has come to board Ovation of the Seas and begin an adventure from Seattle to Alaska! Over the next seven days, I'll be blogging from the Pacific Ocean on Royal Caribbean's final Alaska sailing of the 2021 season.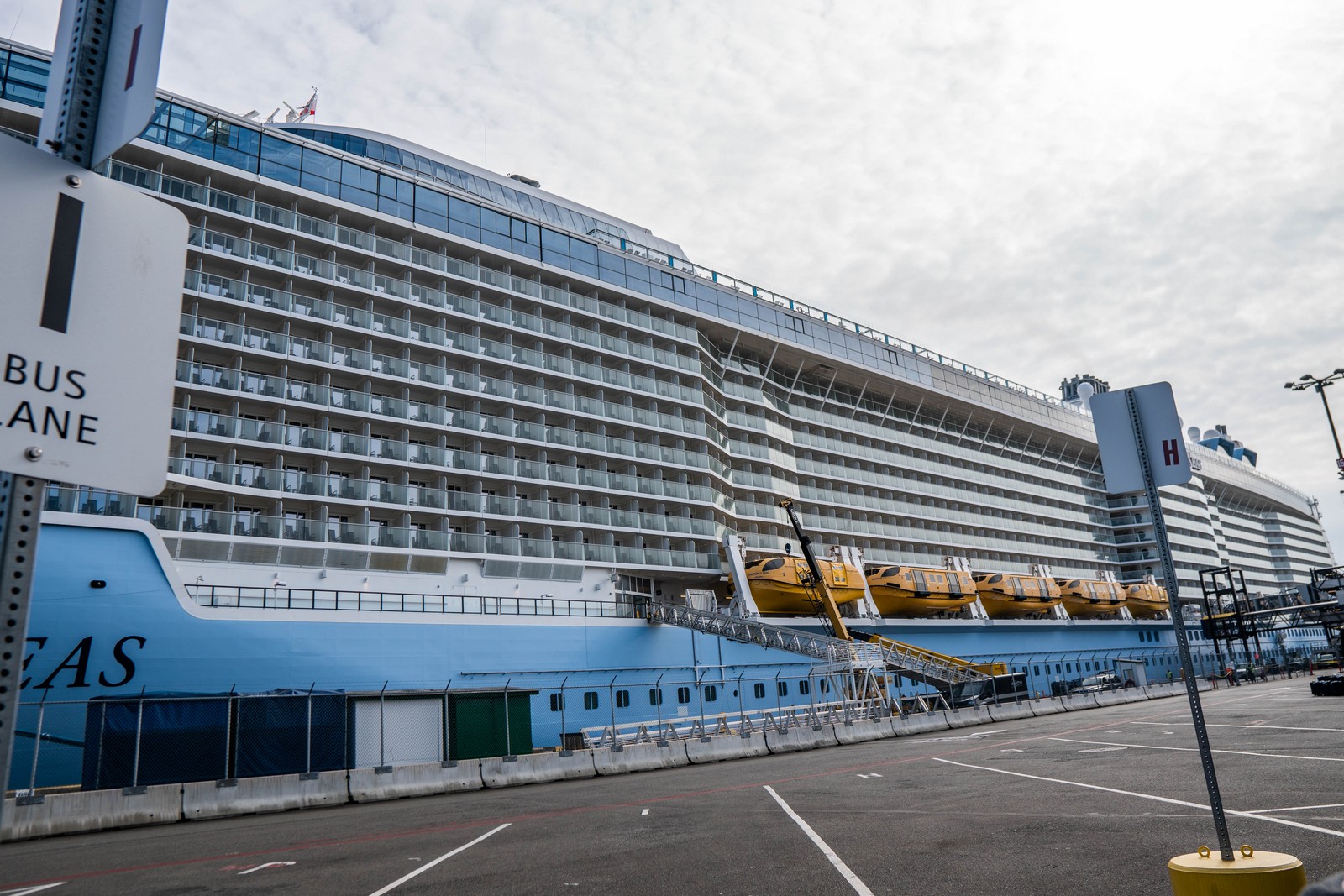 Luckily I had no time difference to adjust to, so I spent the morning exploring downtown Seattle with my dad. He will be joining me on this sailing for his first cruise ever! We enjoyed walking around the famous Pike Place Market before heading back to the hotel.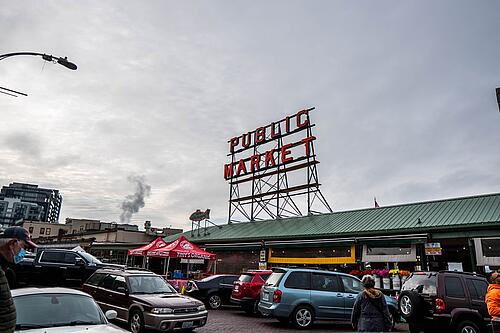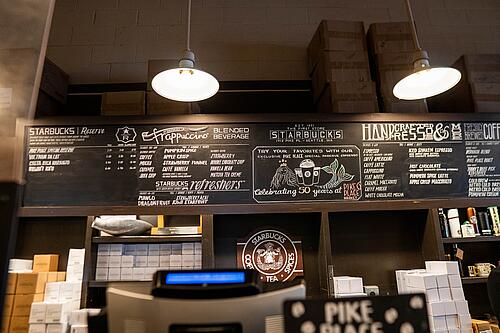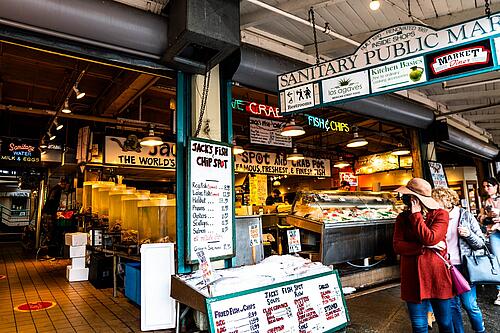 Our hotel arranged a shuttle service to the pier at noon, so we arrived at Pier 91 about forty five minutes prior to our scheduled check-in time. As expected, we were unable to board early, but the weather was perfect and it was nice to look up at the ship before boarding.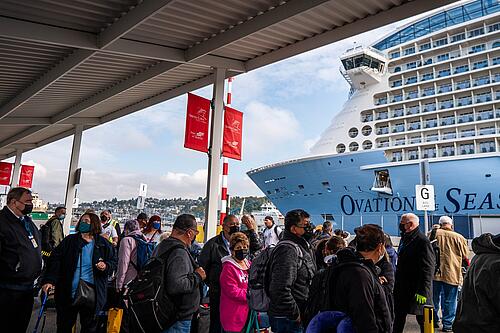 The terminal was certainly much busier than my previous sailings this year. There are around 3,000 guests onboard Ovation of the Seas this week, making it the ship's highest capacity this whole season. With a capacity of 4,180 guests, the ship is around 75% capacity.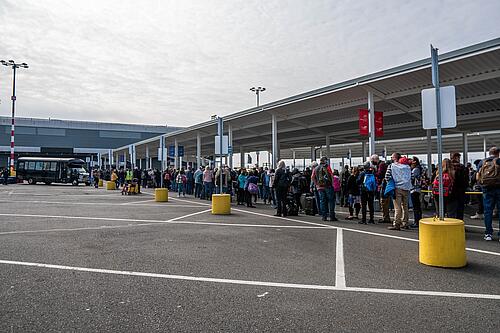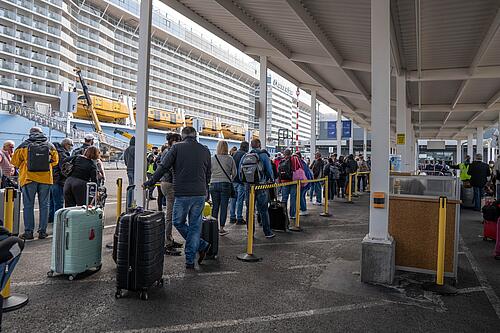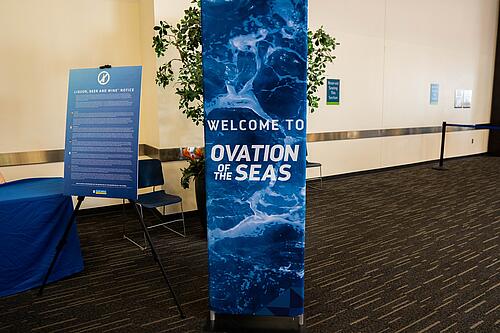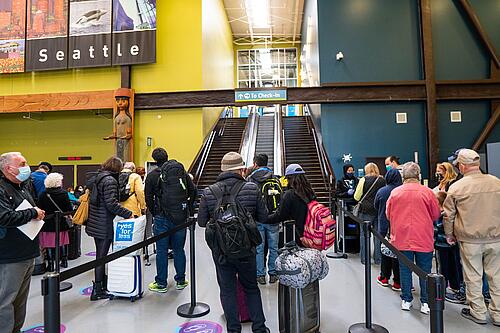 Check-in went smoothly and we were onboard by 1:15. After completing the eMuster drill, we headed to our staterooms. I was excited to see red velvet cupcakes and room decor waiting for us, courtesy of our travel agents at MEI Travel! It was a fantastic welcome gift to kick off a grand adventure. And yes, the cupcakes were delicious.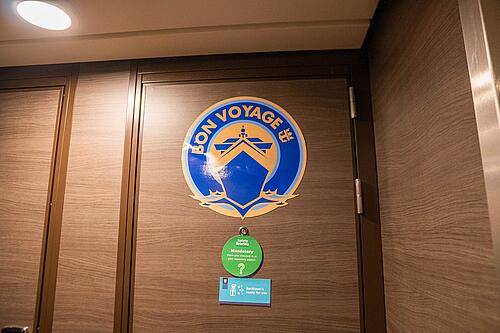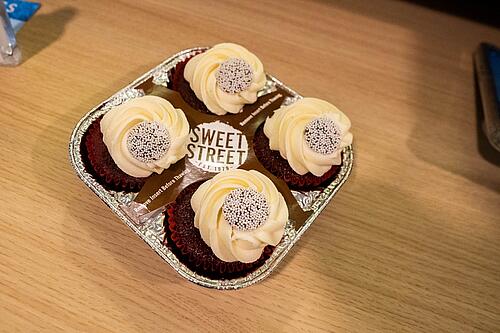 After a quick lunch at the Windjammer, I took advantage of today's sunny and warm afternoon in Seattle and explored the pool deck. I love the blue colors incorporated throughout the pool deck, which help to bring a sea-themed design onboard the ship. Ovation of the Seas also has a large indoor pool area which will be really nice in the chilly weather we are sure to encounter this week.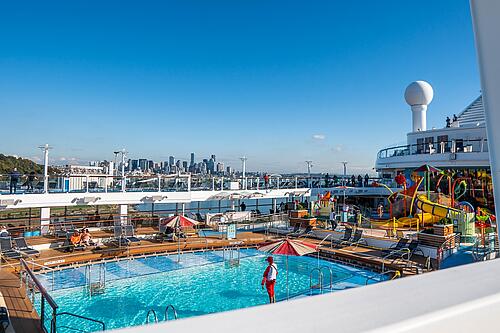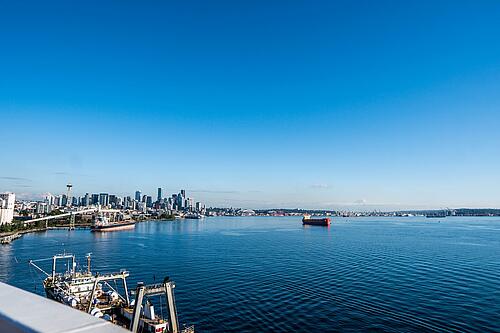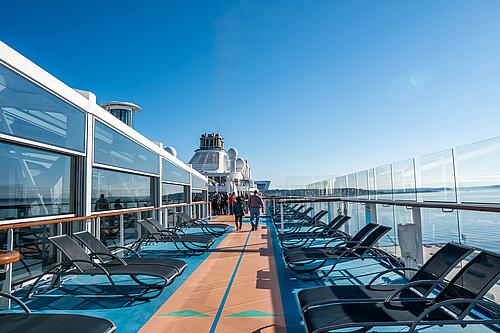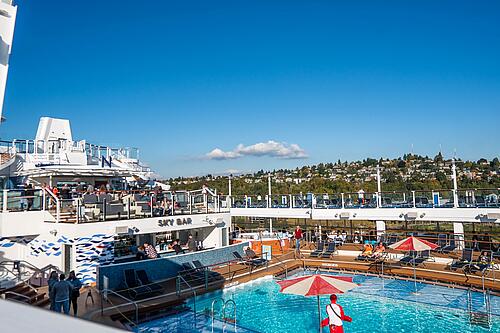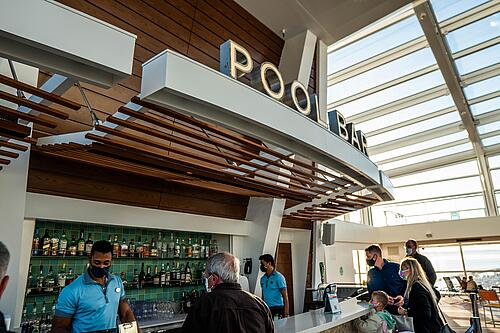 We ended up not exploring a ton of the ship this afternoon because we couldn't stop looking out at the beautiful views around us. Seattle has a gorgeous skyline and it was peaceful to watch sailboats and ships make their way to the city.
The best view, though, was when Mt. Rainer poked out of the clouds. At 14,411 feet, the mountain is mesmerizing and it was the best view I have seen from a cruise ship so far! Therefore, we decided to pull up a couple chairs on the running deck and look out at the beautiful landscape of Seattle.
Sailaway was at 6PM. We got ready for sailaway in the best way possible… by grabbing a drink, of course! We headed down to the indoor Pool Bar, where I ordered a Mai Tai and my dad ordered a Manhattan.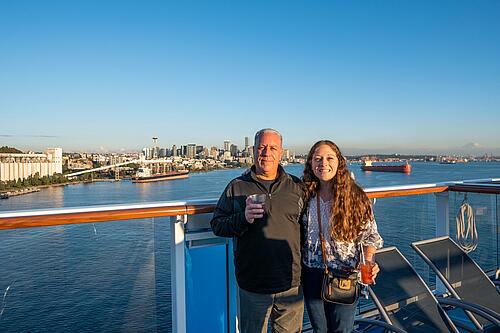 While waiting for our drinks, an announcement from the bridge came on and we found out that our sailing had an itinerary change. We were originally going to visit Juneau, Skagway, and Sitka, Alaska. Due to high seas and wind, we will now be visiting Ketchikan, Juneau, and Skagway. I don't mind the change, and I am excited to see what Ketchikan has to offer!
Drinks in hand, we headed back up to deck 15 just as the ship began to sail away from Seattle. Sailing out of port at sunset with incredible scenery around us made for my favorite sailaway yet.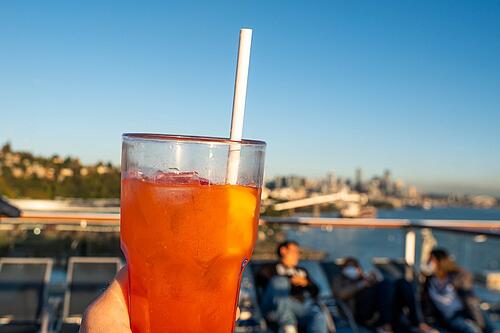 As the sun fell behind the mountains, it got pretty cold outside and we decided to head to the "Main Dining Room" for dinner. I say "Main Dining Room" because, on Ovation of the Seas, there are four different "restaurants" that comprise what would usually just be one large Main Dining Room.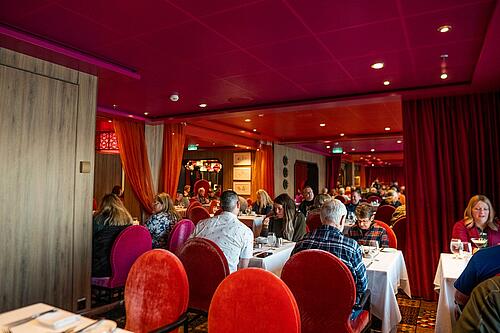 When Ovation of the Seas was built in 2016, Royal Caribbean was testing out a concept called Dynamic Dining. Instead of one Main Dining Room, they built four separate restaurants in its place, each with their own menu and atmosphere. This concept was eventually phased out, though, and Royal Caribbean has gone back to building its ships with just one Main Dining Room.
Nowadays, since there is no longer dynamic dining, the four venues have the same standard menu offered in the Main Dining Room on all ships. We ate in the venue called Silk, which was very colorful with Asian-inspired decor.
On my previous two sailings, I primarily ate at specialty restaurants onboard. Therefore, on this sailing, I wanted to get a better idea of what is available in the Main Dining Room.
We started our meal with a butternut squash soup and artisan cheese plate. I found the soup under "Vegan options" on the digital version of the Main Dining Room menu. So if you're looking for more dinner options, don't forget to check out what vegan options are listed as well (since they don't appear on the regular paper menu).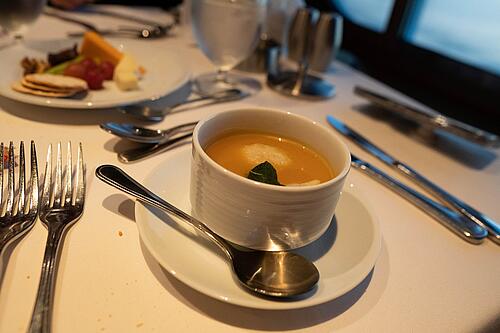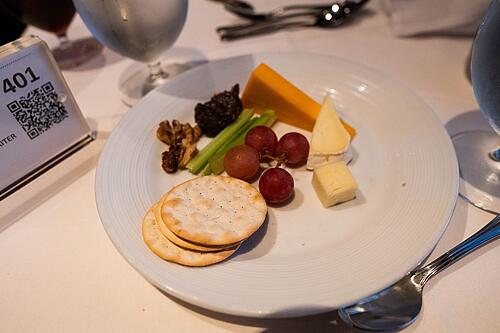 For the main course, I ordered the herb-crusted salmon and my dad tried the spaghetti bolognese. And for dessert, we shared the creme brulée and a tahini banana soft serve.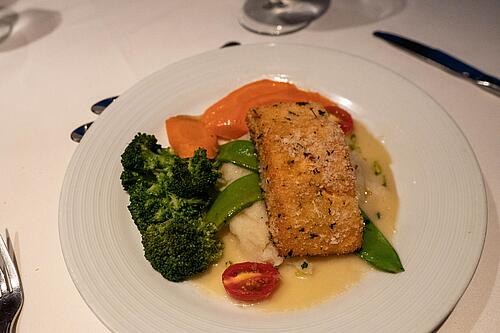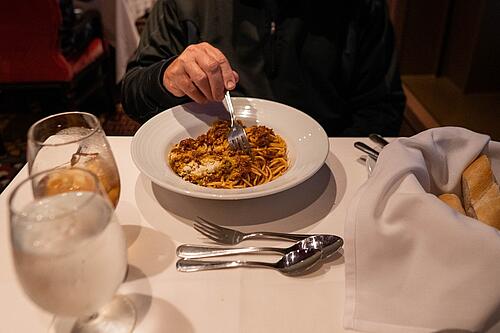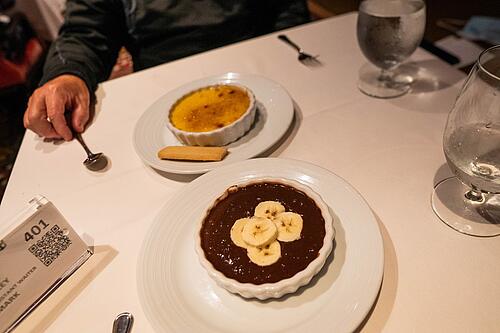 We lucked out with a table right near a window, so we enjoyed our meal with a wonderful view sailing through the Puget Sound.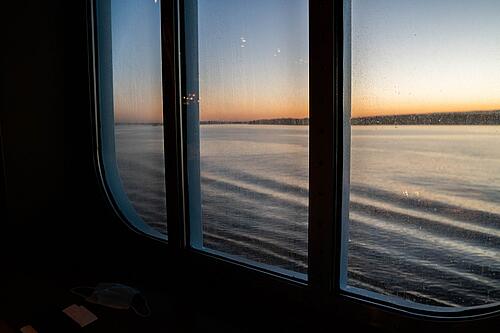 After dinner, I was pretty exhausted from a long day of exploring Seattle and taking videos around the ship for the Royal Caribbean Blog YouTube channel, so I decided to call it a night.
Overall, the trip is off to a great start and I am excited to continue exploring the ship tomorrow during a sea day on the way to Ketchikan.
Stray Observations
The Windjammer on Ovation of the Seas features an outdoor seating area, and I love it! While I don't know how much I will be eating outside on this particular sailing, it is a great option when cruising in warmer months.
Speaking of the Windjammer, it appears to be open for dinner on this sailing! The Windjammer has been closed for dinner on my previous sailings this year due to low capacity. It will be nice to have another dinner option.
This cruise definitely feels more crowded than my other sailings, which were around 25% capacity, but it also feels more lively due to the amount of guests onboard.
The line for the Shore Excursions desk today was insane! I was happy that we booked our excursions ahead of time.