In:
Please welcome guest blogger Don & Heidi! DB and the Princess are a husband and wife duo with 10+ years of cruising history. Their blog, EatSleepCruise.com, provides valuable cruise planning tips and strategies. With reviews on cruise ships and shore excursions, along with a complete photo gallery, they help you "sea the world," one port at a time.
Dynamic Dining was a new program first introduced by Royal Caribbean on Quantum of the Seas that completely changed everything you know about traditional dining. Since the first incarnation of the program, Royal Caribbean has provided more options to cruisers, creating Dynamic Dining Choice and Dynamic Dining Classic.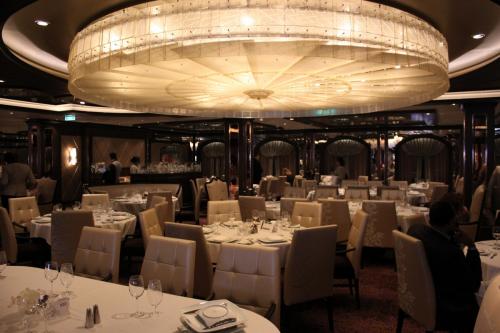 Dynamic Dining Choice functions much like My Time Dining, where cruisers are free to eat at any of the complimentary restaurants at different times, with different table arrangements. This more freestyle approach is essentially the original version of the Dynamic Dining concept that was debuted. Given cruiser feedback, Royal Caribbean has implemented the Dynamic Dining Classic option, a new hybrid offering that includes elements of the original Dynamic Dining and the traditional dining that many Royal Caribbean fans are familiar with on other ships.
Having just returned from a cruise on Anthem of the Seas, we were able to test out Dynamic Dining Classic and compare it to our experiences with Dynamic Dining Choice a year earlier on Quantum of the Seas. We have put together this list of common questions about the program to help cruisers decide if Dynamic Dining Classic is right for them.
Which ships have Dynamic Dining Classic?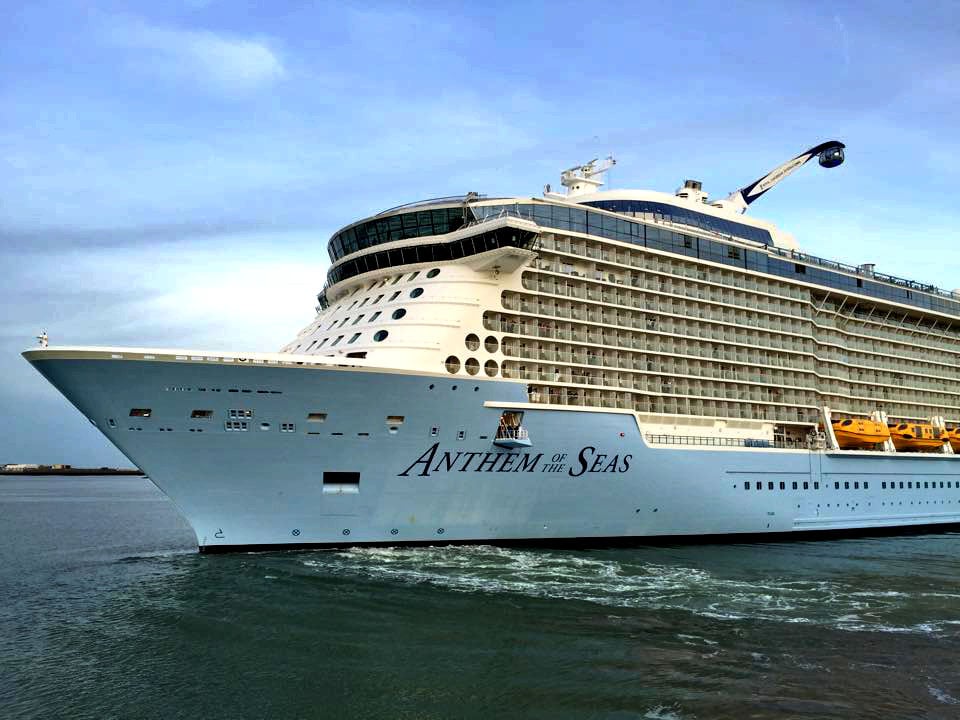 Currently, Anthem of the Seas, sailing from the Cape Liberty Cruise Port in Bayonne, and Ovation of the Seas, sailing from Australia, offer Dynamic Dining Classic. The program is no longer offered on Quantum of the Seas, sailing year round from China.
When do I eat with Dynamic Dining Classic?
Unlike Dynamic Dining Choice, where your meal times can change each night, with Dynamic Dining Classic, you have a set dinner time every night. Similar to traditional dining, there is an early dinner seating and a late dinner seating. On our Anthem of the Seas cruise, the early seating was from 5:30pm to 6:00pm, and the late seating was from 8:30pm to 9:00pm. Before your cruise, you will select which dining time slot you prefer.
What happens if I miss my time slot?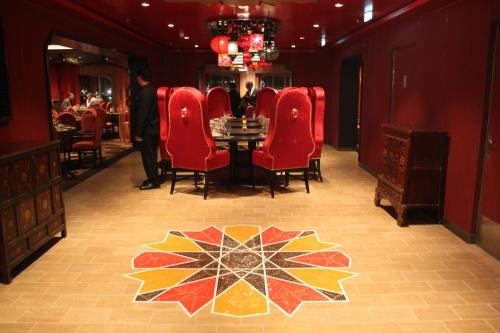 You are given a thirty-minute window to arrive at the restaurant for your assigned early or late dinner seating. If you do not arrive by the assigned time, then your table is given away to those scheduled with the Dynamic Dining Choice option.
During our cruise, we noticed that the staff did make rounds near 6pm to see which tables were vacant, and within about 15 minutes, those tables were filled. Of course, if you completely miss your dining time, you have several other options onboard the ship.
Do I have to wait in line with Dynamic Dining Classic?
No, there are no lines or waiting with Dynamic Dining Classic.
When you arrive for dinner, skip the lines and head into the restaurant. Your table assignment number will be the same in each of the four complimentary dining venues.  
After a couple of days, you will probably have your bearings and be able to find the table yourself (The table is in the same location, but some restaurants are mirror images of others.). If not, just ask someone to point you to the table, and they will be happy to assist.
Where do I eat with Dynamic Dining Classic?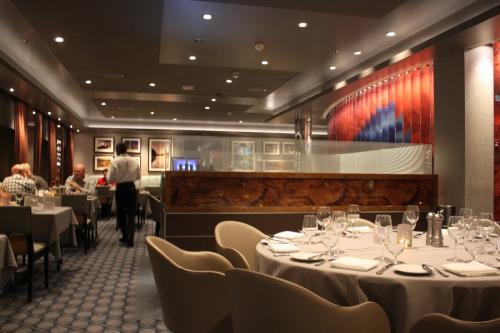 What makes the Quantum class ships unique is that they offer not one complimentary dining room, but four complimentary restaurants. Each restaurant has its own theme, with distinct menus and atmosphere.
There is the pan-Asian inspired Silk, the comfort food of the American Icon Grill, the modern French cuisine of Chic, and the elegant Grande. 
During your cruise, you will have the opportunity to dine at all of these restaurants with Dynamic Dining Classic.  
How do I know which restaurant to go to each night?
On the first day of your cruise, you will find your Dynamic Dining Classic rotation in your stateroom. The letter will also indicate your table assignment, which is the same at all restaurants. Our rotation for a five-night sailing on Anthem of the Seas was:
Day 1- Chic
Day 2 – Grande
Day 3 – Silk
Day 4 – American Icon Grill
Day 5- Chic
If the cruise were eight days for example, we would have rotated through Grande, Silk, and American Icon Grill in that order for Days 6-8. Everyone's schedule will be different, but it will be a systematic rotation through each restaurant during your cruise.
Do the menus change at the restaurants?
Yes, even though each restaurant has a distinct menu, there are different sets of menus for each restaurant. Each restaurant has the same "Classics Menu", offering staple dishes for the duration of the cruise. On our cruise, there were two sets of menus- "Menu A" and "Menu B". Menu B made an appearance only on Day 5, after everyone had dined once at each complimentary restaurant. On longer cruises, the menus are switched out at different intervals, so you do not have to worry about eating the same meals even though you might be dining in the same venue multiple times.
Is the food different with Dynamic Dining Classic and Dynamic Dining Choice?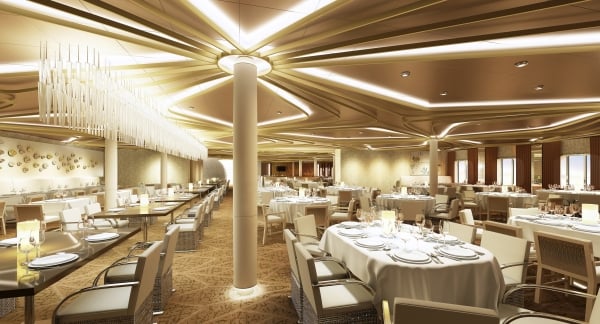 No, the menus and offerings are identical for each program. The major differences are the time you eat, where you sit, and which restaurant you dine at each night. Those are set with Dynamic Dining Classic and variable with Dynamic Dining Choice. The food selections, drinks, and atmosphere in each restaurant are the same regardless of which dining option you choose for your cruise.
Who I will be dining with each night?
Similar to traditional dining, each night you will have a set table assignment. You will be given a table number that will be the same at each restaurant during the trip. Your tablemates will also be the same.
Of course, you can request a private table for just you and your family, and RCI will do the best to accommodate your request. We had a table for two every night of our cruise.
What about the wait staff?
Another benefit of Dynamic Dining Classic is that your wait staff move with you through the dining rotation. Our waiter, Manilow, accompanied us through our four restaurant rotation. We did not have an assigned assistant waiter or bar server, but we saw many of the same individuals each night.
The Dynamic Dining Classic option gives you the more personal level of service many loyal to Royal cruisers are used to on other ships with traditional dining.  
What if I don't want to eat in a restaurant?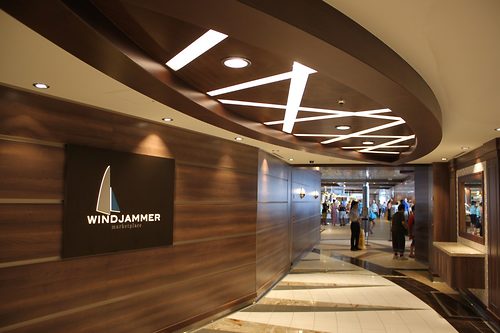 If you choose to forgo one of the restaurants in your rotation, you have other options. You could go standby at one of the other complimentary restaurants. There is always the Windjammer Café which is open for dinner. You could also make a reservation for the complimentary Solarium Bistro. Or, there are several specialty restaurants on the ship that you can make reservations at as well.
Keep in mind, there is a surcharge for these restaurants, and the popular ones fill up quickly. On our cruise, we made a reservation at Jamie's Italian on the last night of our cruise, figuring we had eaten once at all of the complimentary restaurants.
Our Take on Dynamic Dining Classic
We preferred the Dynamic Dining Classic offering more than the Dynamic Dining Choice.
We thought the service was better, and we liked the predictability of having a set dinner schedule and table every night. We did not have to worry about making reservations or be concerned with wait times.
We tend to be rather structured and more "traditional" cruisers, so this option worked out better for us. It combined the best of both worlds, taking the elements of a traditional MDR and combining them with four unique restaurants offering different styles of cuisine.
If you prefer My Time Dining on other RCI ships, then Dynamic Dining Choice might be the better option.