In:
Today was filled with glaciers, "duck farts", and amazing views of the Alaskan Inside Passage. Here's everything we did on day four of our sailing to Alaska on Ovation of the Seas: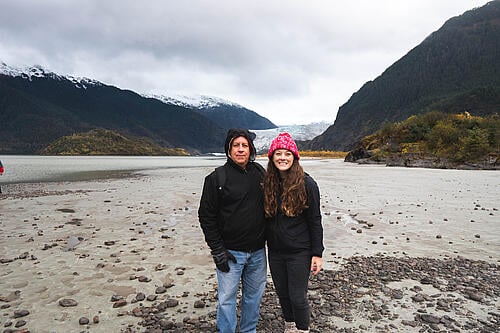 We were not due to arrive in Juneau until 10AM, so had a few hours this morning to relax onboard.
Breakfast today was at the Solarium Bistro. I enjoy eating at the Solarium Bistro because not many people even know it exists! Therefore, it is always much quieter and peaceful than eating in the Windjammer or Main Dining Room.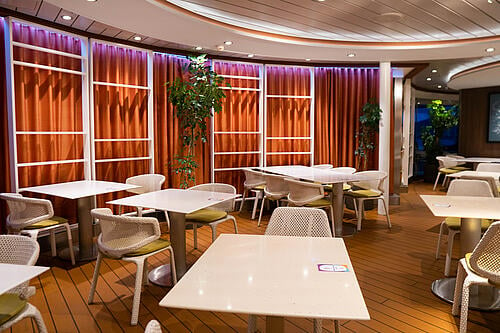 The breakfast food is similar to what you will find in the Windjammer at breakfast, with eggs, potatoes, bacon, pastries, parfaits, and more. At dinner, the bistro features a Mediterranean-inspired menu and offers plenty of healthier and vegetarian-friendly options.
After breakfast, I grabbed a latte from La Patisserie and brought it up to the running track deck to catch some incredible views of the Inside Passage as we made our way to Juneau.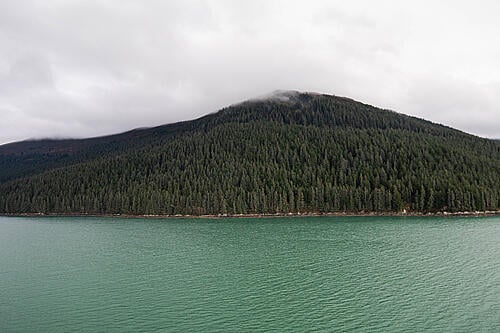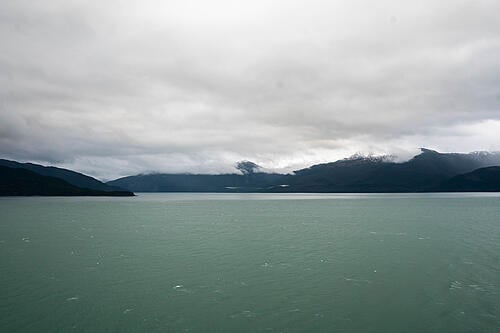 While drizzling slightly, the weather was fairly mild this morning and many passengers were walking the track. We stood by the railing watching the mountains go by on both sides of the ship. Waterfalls flowed from snow-capped peaks and the sun continued rising from the clouds as Ovation of the Seas sailed through the calm water.
We even caught a few quick glimpses of whales popping in and out of the water, which is always beautiful to see.
It started raining and we took a seat at the upper area of the North Star Bar to continue watching the scenery. I think this is one of the best areas to sit and sightsee on an Alaskan sailing since it is covered and not very windy. We stayed outside for about two hours until Ovation docked in Juneau.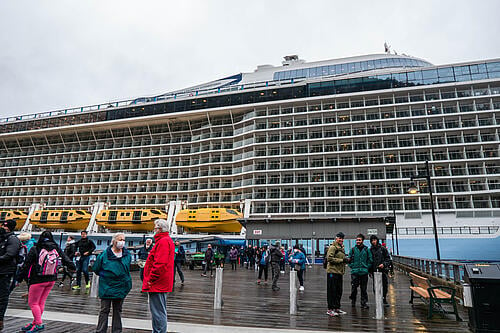 After a quick pit stop to my cabin to grab my waterproof backpack, which I am very glad I brought with me, we disembarked the ship.
While we had no shore excursions planned for Juneau, I wanted to visit Mendenhall Glacier. Luckily, there was a ticket booth at the port offering round trip tickets on the Glacier Express bus to Mendenhall for a reasonable price.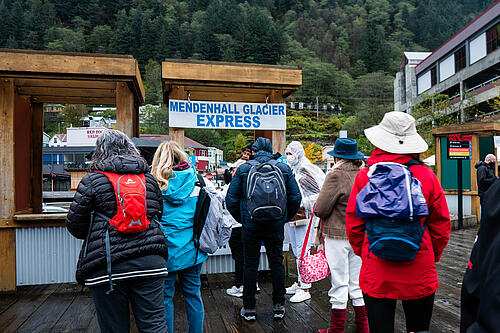 The ride on the Glacier Express took about twenty minutes, and the driver pointed out interesting sights and history of Juneau along the way. The ride was in a school bus, so it wasn't the most comfortable ride, but doable for twenty minutes. We also saw a few sneak peak glances at the glacier.
Upon arrival at the Mendenhall Glacier Recreation Area, stunning views were in every direction we looked. I could not stop looking up at the rocky peaks, wildlife, and, of course, Mendenhall Glacier itself.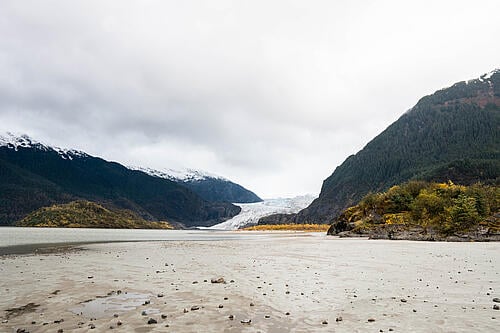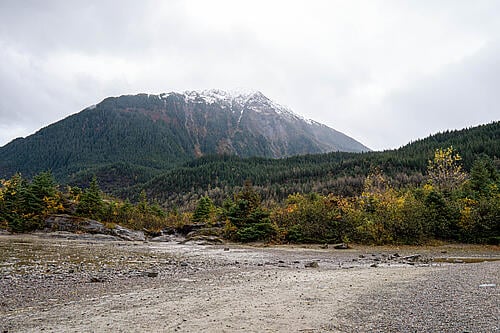 We walked on a sandbar to catch great views of the glacier and snap some photos. Its magnitude is difficult to capture in a photo, and I can only imagine how incredible it would be to view the glacier above from a helicopter or plane.
To the right of the glacier is Nugget Falls, which is accessible via a short, 2-mile round trip walk on a paved path. At the end of the path, you can view the powerful waterfall up close.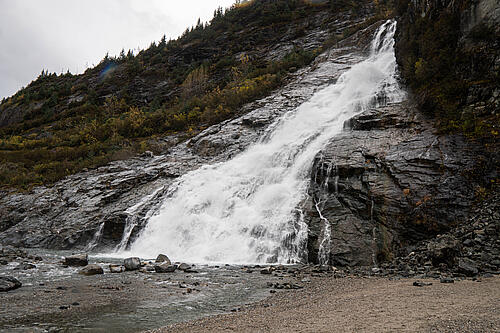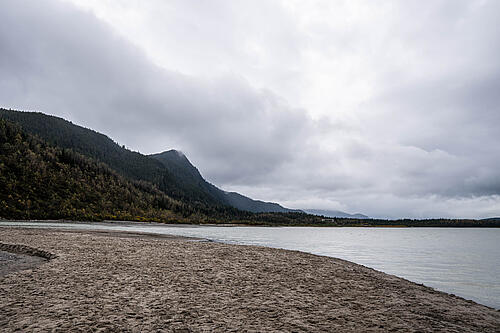 We stayed in this area for a while enjoying the scenery and looking through our binoculars. I highly recommend bringing a pair of binoculars on an Alaskan cruise.
It started to rain more heavily, so we walked back to the Visitor's Center, which offers information about the glacier and has an indoor viewing area, before boarding the bus back to town.
For lunch in Juneau, I ordered traditional Russian dumplings at Pel'meni near the port.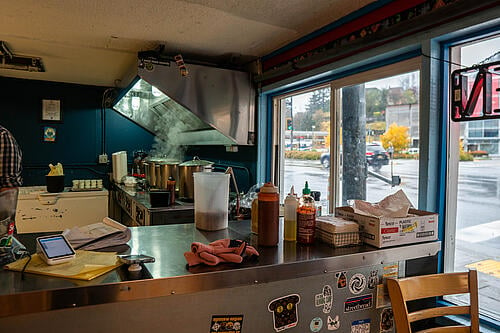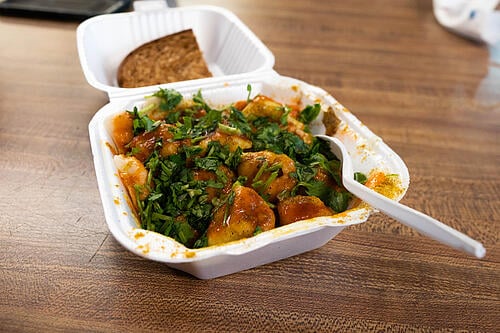 Pelmeni are small dumplings filled with potatoes or meat. Topped with curry flavor, butter, cilantro, and vinegar-based sauce, the pelmeni were delicious and unlike anything I had ever tried before. It was a perfect warm and hearty meal to enjoy in the cold, rainy weather that we encountered in the afternoon.
I had one task left for the day in Juneau: to try the Alaskan Duck Fart shot, and the best spot to try it in Juneau is at the Red Dog Saloon.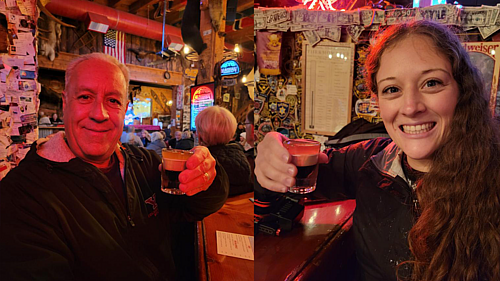 The Red Dog Saloon was established over a hundred and twenty years ago and it has a very fun atmosphere, with frontier-themed decor and live music.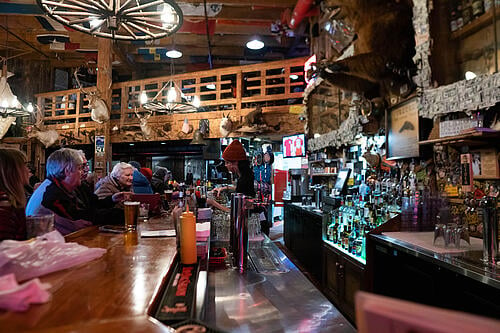 We tried the Alaskan Duck Fart, made with Kahlúa, Crown Royal, and Baileys. I'm glad I didn't know about this in college!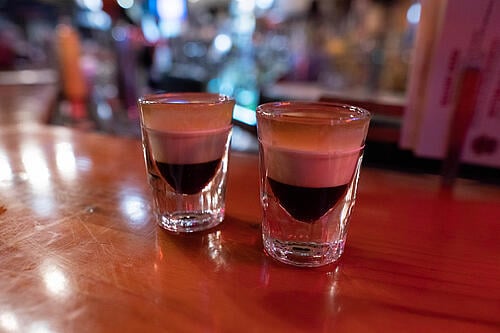 The saloon also has food and the prices of both food and drinks are reasonable.
The weather did not seem to be improving, so we went back onboard. Dinner tonight was at the Windjammer. After a long day in port, I did not feel like having a long sit down dinner. Since the buffet is open for dinner on this sailing, we were able to have a quick, casual meal while sailing out of Juneau.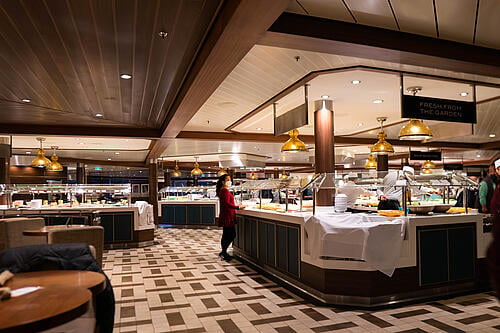 After dinner, we relaxed in Two70 for a while before going to the SeaPlex to try Ripcord by iFLY.
Ovation of the Seas is offering a 1-minute flight option that is complementary and a 2-minute flight option for $49. Since this was my first time trying the skydiving simulator, I opted for the complimentary option.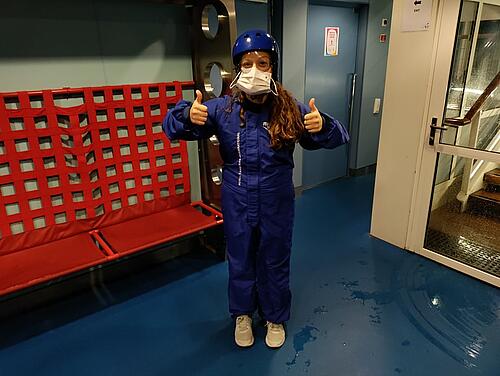 It was SO fun! The instructors guided my group on how to position our bodies for the best flying experience, and we put our skills to the test as we tried to fly in the chamber. I definitely will not miss the chance to fly again whenever I am on a Quantum class ship.
After flying, we walked around the Royal Esplanade for a bit before heading to bed.
Tomorrow morning we arrive in Skagway for another adventure-filled day!
Stray Observations:
A few fellow cruisers at the Red Dog Saloon commented that they wished Royal Caribbean offered more entertainment in the afternoon before dinnertime. Most shows and live music don't start until about 8pm on port days, and I agree that it would be nice to have more going on onboard before then! 
In this season, bringing a rain coat is essential and I am very grateful I have one!
Since there are a lot of booths offering tours and shuttles right outside the ship in Juneau, I was glad we didn't book an excursion before getting off the ship.
Live Blog Index