In:
Hi from the choppy Alaskan seas! It's Day 6 of our 7-night cruise, so our time onboard Radiance of the Seas is coming to an end. I can't believe tomorrow is our last day. A week onboard a cruise always goes way faster than any other week at home, right?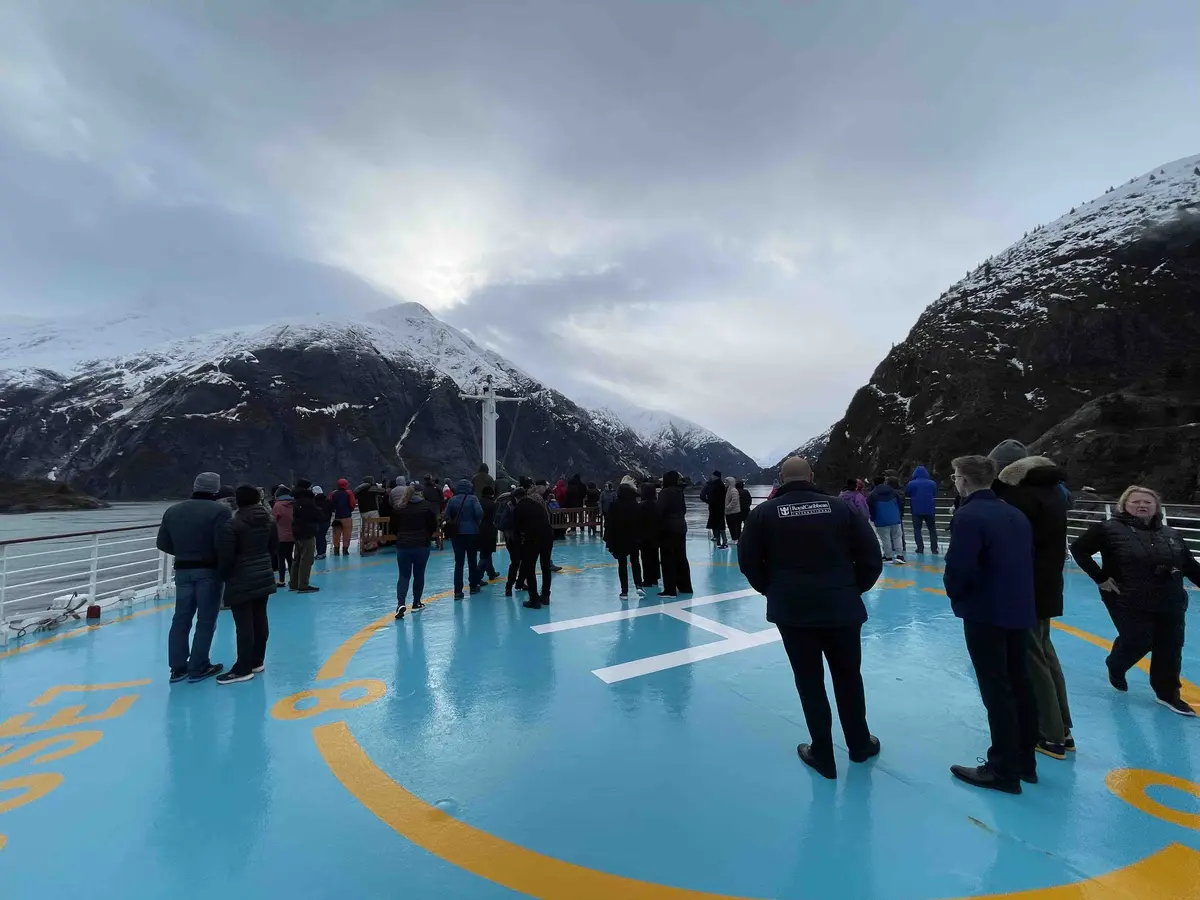 Although we didn't have a port today, we sailed through Tracy's Arm Fjord early this morning. We set our alarms for 6:30 AM to make sure we didn't miss any of the scenery.
The sight of the fjord in the distance was stunning as we woke up and waited in line for coffee.
There's been a line each morning at Latitudes, but it seems to move fairly quick. I heard a few grumbles from the people behind me about the line each morning; however, I don't think it's been that bad.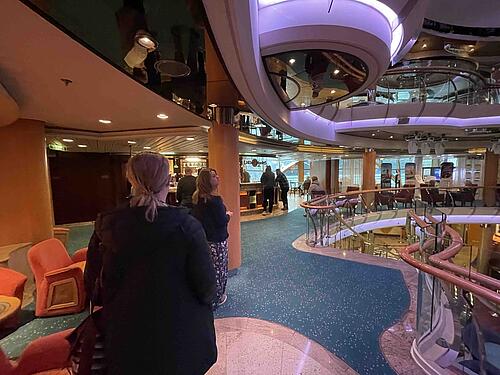 I love my morning latte, so it's a great way to start the day for me. 
With coffee in hand, Sydney and I made our way to the helicopter pad so we could go to the very front of the ship.
Tracy's Arm Fjord
The helicopter pad was fairly busy with other cruisers - I was surprised to see so many people already out there since it was barely 7:00 AM. It was frigid cold at the front of the ship and I was wishing I had warn my warmer pants.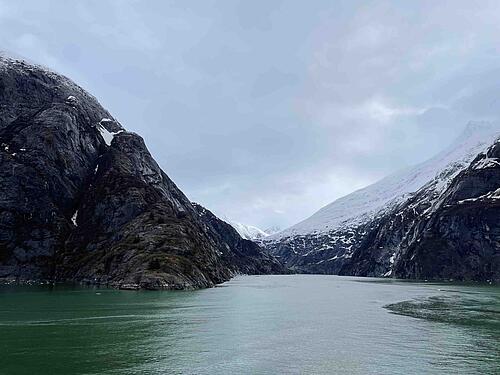 In the distance, we could see the ship making its way towards the glacier. This was further than my ship was able to make it last summer (due to icing), so I was already excited to see new scenery.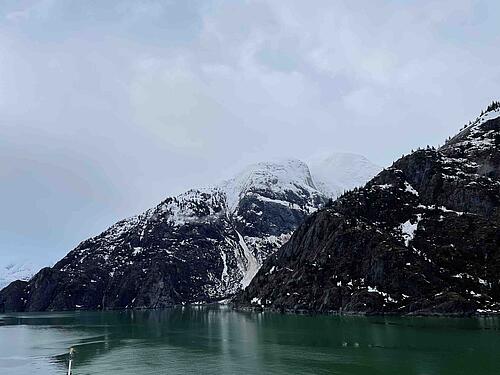 It was too cold being at the very front of the ship, so we went up a few decks to 13 to watch the ship continue sailing through the fjord. The railing here was solid and covered, so it was less windy as well.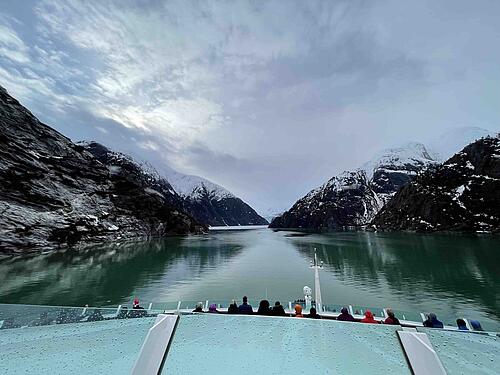 The scenery is unreal; if you're sailing through the fjord on an upcoming cruise, you'll definitely want to set your alarm. I overheard a couple saying they had missed the fjord on their last cruise because they were staying in an inside cabin and didn't know the scenery was so beautiful.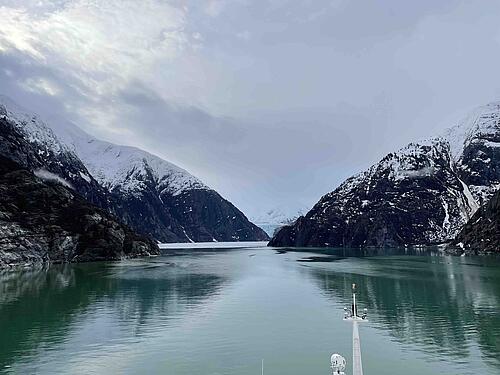 We took lots of pictures of the mountains and sipped our coffee. What a Wednesday morning!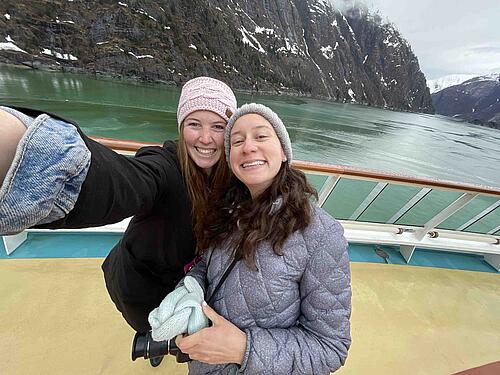 The ship inched closer and closer to a line of ice in front of the glacier. Obviously cruise ships aren't meant to be ice-breaking ships, so we just sailed right up to the ice barrier. We could see the glacier in the distance and I was shocked to see how blue the glacier was.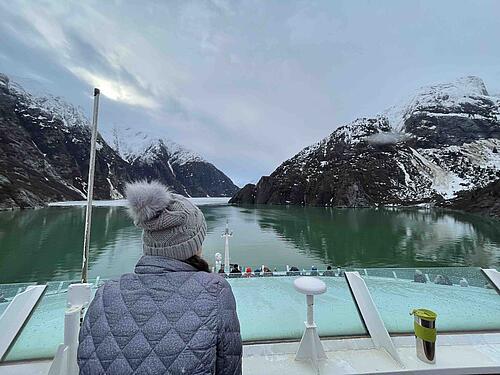 The ship started to do a donut spin and then slowly made its way back to the sea and out of the fjord. Coming from Florida, it was fun to be bundled up on the deck and take in such a drastic change of scenery. 
Main Dining Room Breakfast
We decided to have breakfast in the dining room since we were already up. Tomorrow is a sea day, so we have no alarms set - we figured it was a good time to do another breakfast in the dining room.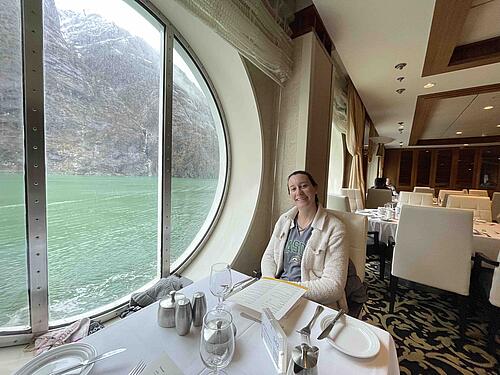 The host sat us at a table with a window, which was incredible. We commenced the beautiful morning with mimosas - as one should! This was a perfect way to use a daily drink voucher too.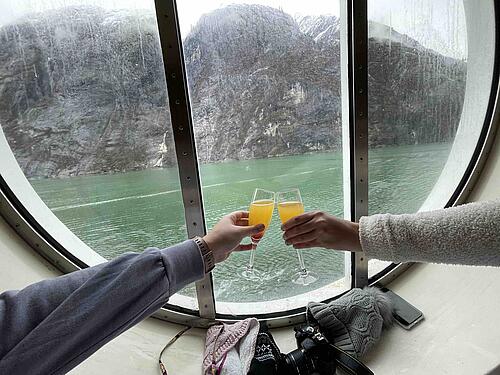 Sydney and I split a plate of French toast to start and each had a breakfast burrito. I think it was even better than the one I had the first morning! Sydney loved the burrito too.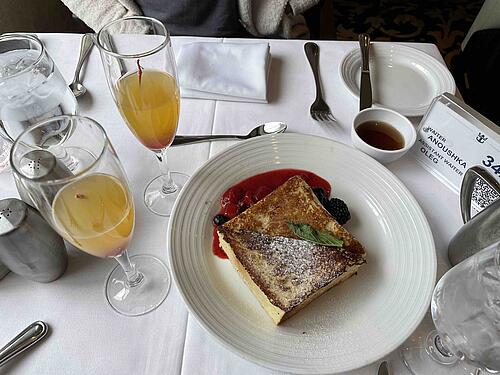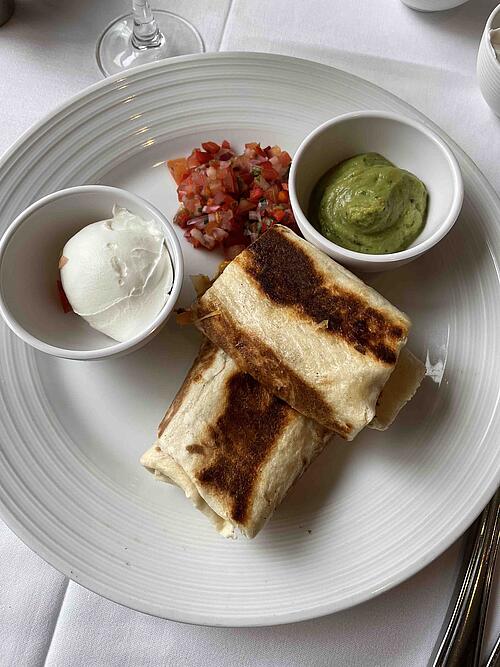 With tummies full, our early morning wake up call made us sleepy. We opted to head back to the cabin for a mid-morning nap.
Unfortunately, the Internet was still down so I wasn't able to get connected to anything. I had scheduled a meeting at work for 10:00 AM, but that had to be cancelled with no Internet or cell service to save the day.
Of course, most people aren't as worried about the Internet as I am. With the live blog and other remote work that needs to be done, I'm more reliant on it working. 
During the nap, I received a call from guest services asking about our excursion experience in Ketchikan. I explained how the trolley left early without us, but we were given options from the excursion staff. He was very kind and helpful, expressing his apologies for that happening.
The Captain also made an announcement that woke us up again from our nap. He explained that no announcements can be made in the fjord to protect the wildlife there, so that's why the cruise ship is very quiet while sailing towards the glacier. He also said we would have choppy seas tonight before making our way to the Inside Passage again. 
I really like about the Captain of this cruise- he is the most personable cruise ship captain that I've ever had. Each day, he acknowledges the crew members who are celebrating birthdays on the ship. He's very down to Earth and I really enjoy his communication with us.
Hot Stone Massage Experience
I had my massage booked for 12:45 PM, so Sydney and I went upstairs to grab a snack at the Windjammer. She had plans to play cards with our dinner friends during my massage.
I have never had a massage on a cruise ship before; in fact, I can count on one hand the number of massages I've had in my life.
Since I have neck and shoulder pain from computer work, the spa manager recommended the hot stone massage. I went with her recommendation and hoped for the best.
I was taken into a little relaxation room to fill out some forms. The room was safari themed with large chase loungers. It was a little cheesy, but comfortable.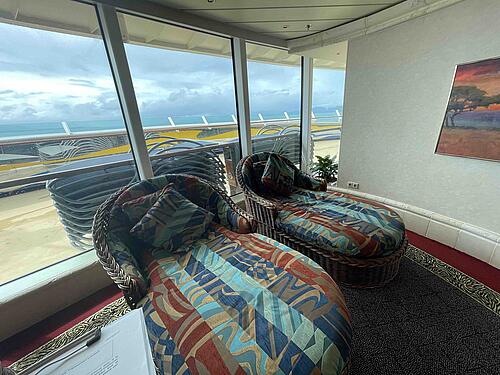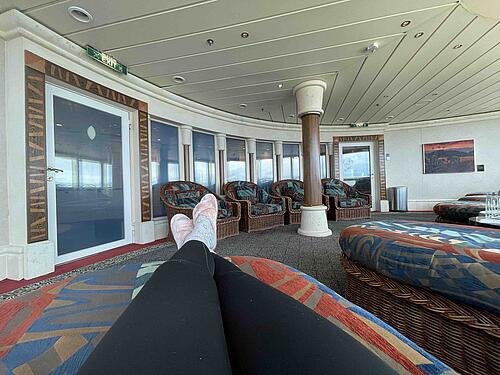 My therapist met with me and talked to me about where I was having some discomfort. She also recommended that I do a seaweed wrap for another $200, but I politely declined and said the hot stone massage was a splurge.
The room had floor to ceiling windows. The massage felt wonderful everywhere with the hot stones. I had only been booked for 50 minutes - and the time felt like it flew by.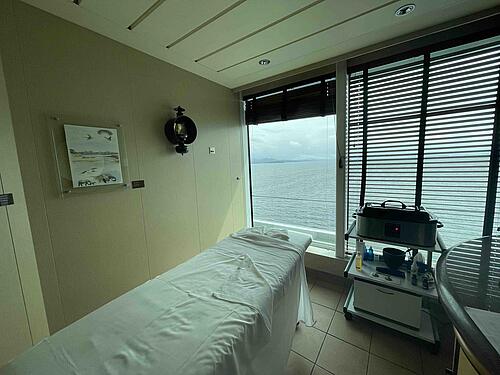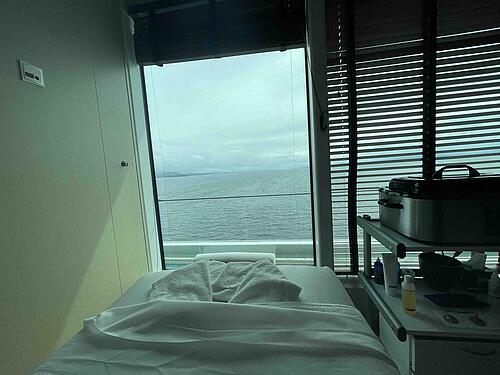 I did speak to the spa manager after my massage about a small concern I had regarding the session - she was very helpful and resolved the issue quickly. I greatly appreciated how she handled my concern with both empathy and professionalism.
In fact, for the inconvenience, she offered that Sydney and I could access the Thermal Spa for today and tomorrow. We are excited to try that tomorrow on our last day of the cruise.
Royal Caribbean Service
This cruise has had more kinks than others I've taken recently. I am sure with an older ship just returning to service after 2 years, this is bound to happen.
I think it's important to be flexible and remember that traveling isn't always perfect, especially as the travel industry works on its full comeback from the pandemic.
Royal Caribbean has been providing outstanding service and support when issues arise, such as the Internet not working, our shore excursion leaving without us, and my concern at the spa.
These are all minor issues for me, but it does remind me why I am loyal to a company that I believe values customer service and strives for excellence.
In fact, I received a second call today regarding our shore excursion experience and they confirmed we received a full refund for our tour. This was really generous of Royal Caribbean because we still enjoyed the lumberjack show even though we missed the trolley. 
Solarium Wave Pool
Sydney and I decided that we wanted to go to the hot tub after my massage, so we made our way to the Solarium.
Well, apparently everyone else had the same idea because there were 10 people crammed into the tiny hot tub. The pool was actually pretty comfortable, but just as we got in, the seas became a little choppy.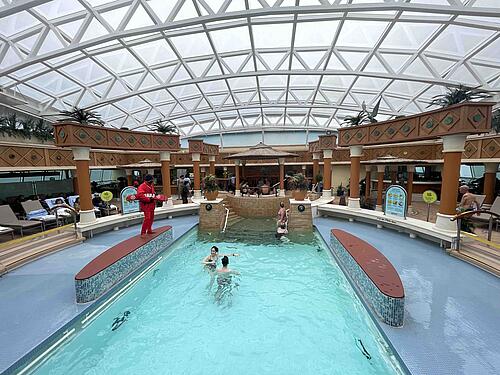 The Solarium pool was slowly becoming a makeshift wave pool. We tried to use the hot tubs outside, but it was cold and rainy so we only lasted maybe 2 minutes.
I grabbed a drink at the bar and we lounged for a bit in the chairs, but the choppy seas seemed to continue. The pool waves became more intense, so the lifeguards closed off the Solarium pool.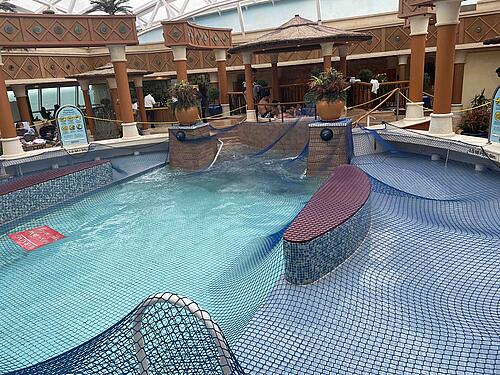 It was almost time to get ready for dinner, so Sydney and I made our way back to the cabin to freshen up for formal night.
Evening Activities
With just a carry-on for this cruise, I didn't have too much room for formal attire. I've seen over the years that most people don't dress very formal anyway - and it can take up so much room in your luggage. I chose to pack a simple black dress for both formal nights.
Sydney was started to feel a little seasick since she has a sensitive tummy, so she wasn't very hungry. She heard that green apples were supposed to ease motion sickness, so our waiter brought her a plate of green apples to have before dinner.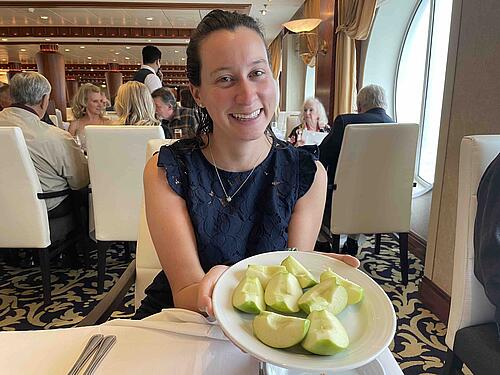 For dinner tonight, Sydney and I both ordered both the caprese salad and I asked for the onion tart as well. I ordered the beef tenderloin while Sydney tried the eggplant parmesan.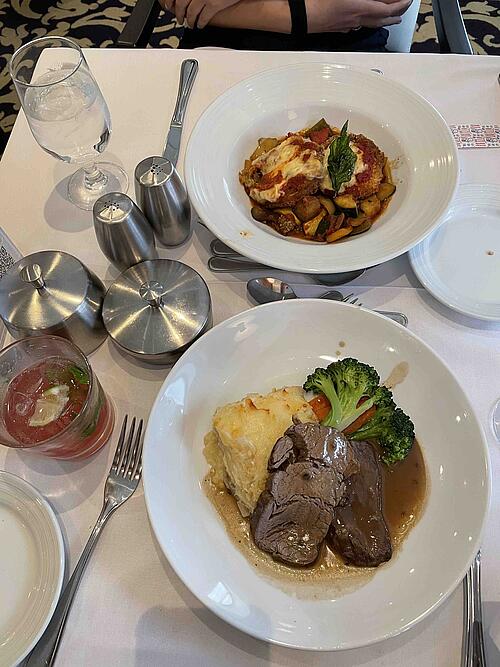 To her surprise, the motion sickness patch (and maybe the magical green apple) did start to work by the end of dinner and she was feeling better.
For dessert, I ordered the molten chocolate cake. I've loved this dessert for years and years - I'm glad it's continued to be served! It was decadent tonight and I forgot to snap a picture.
Baked Alaska was on the menu tonight, which is very fitting of course for this cruise. Here's a picture of our dinner neighbor's dessert for good measure.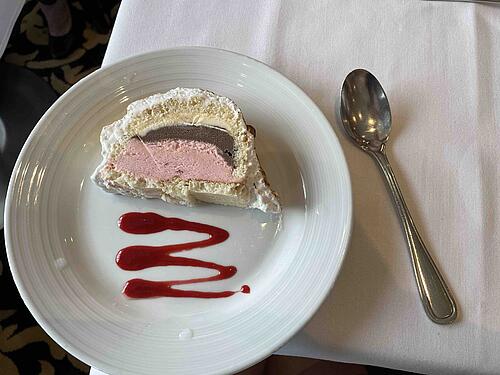 One of the best parts of dinner was seeing all the whales out in the ocean. We saw so many that were spouting water and breaching. Apparently, whales like to breach during choppy waters so that might explain all of the activity.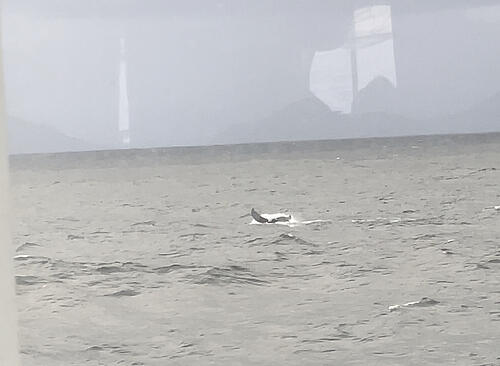 Some of the whales were so close to our ship and we could see their fins popping over the white caps. I love seeing everyone run to the windows and react to the whales breaching.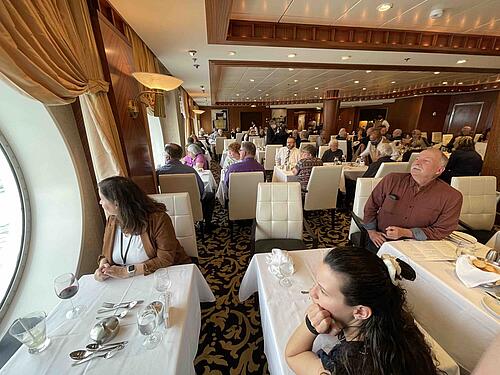 By the end of dinner, the seas had calmed down and we even saw a rainbow out in the distance. It was a perfect way to end dinner.
Since we had napped today, we had a bit more energy to make it to the show tonight. We sat with our dinner friends and enjoyed a variety show that featured a comedian and musician.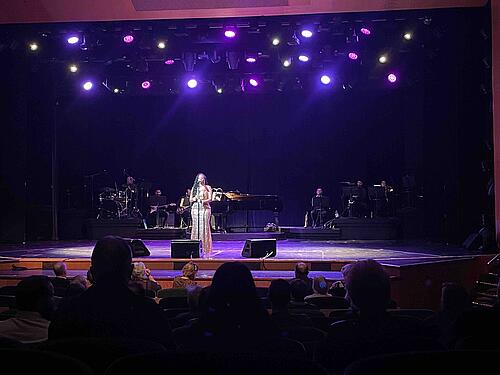 Back in our cabin, we found disembarkation information and luggage tags - a sign of the times that the cruise is coming to an end.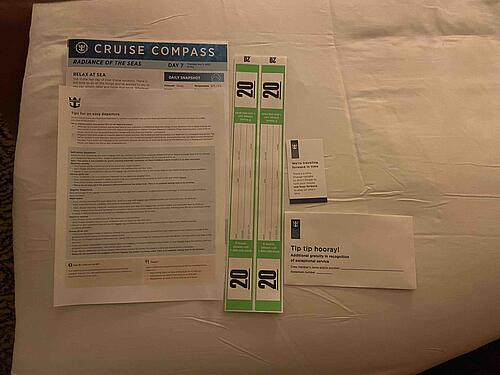 Tomorrow's Plans
To my surprise, the Internet came back up this evening. It's been consistently working tonight, so that hopefully means that I can get a few work things done tomorrow during our sea day.
I am sure you're all sick of the Internet updates, but it does seem to be playing a role in our daily activities. At one point today, I saw 10 people waiting to speak to the VOOM Internet desk! I guess they are planning to provide a mass refund for the days that the Internet was down, so that is great.
I haven't seen this reflected on my shipboard account, so I will need to get that settled tomorrow if it isn't updated.
We have no alarms set tomorrow! I think we might try to have lunch in the main dining room, as that's a first for me. I will be interested to see what's offered for lunch compared to breakfast and dinner options. 
There is also an egg-dropping contraption contest tomorrow. Sydney and I are pretty curious about what that could possibly entail, so we are hoping to check that out. I am sure it will be a hoot!
We are also planning to try the Thermal Spa sometime in the morning before meeting our dinner friends for a game of cards!
The last day of the cruise means I need to pack and hopefully take my covid test onboard if the Internet cooperates… but we all know how that's been going.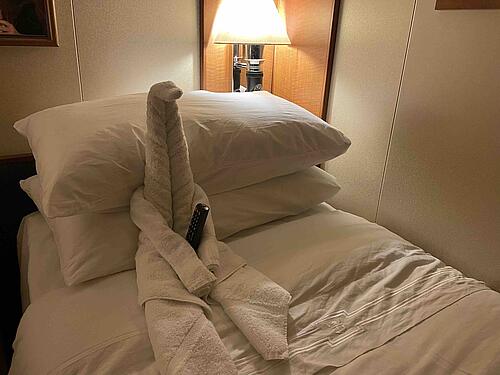 Good night from Alaska and our little towel friend!