In:
It's Day 5 of my 7-night Alaska sailing onboard Radiance of the Seas on our voyage through Alaska's Inside Passage. 
I am happy to report the Internet appears to be back up and working! I'd like to officially lower my Internet reliability rating from a 6/10 to 3/10 based on the last few days.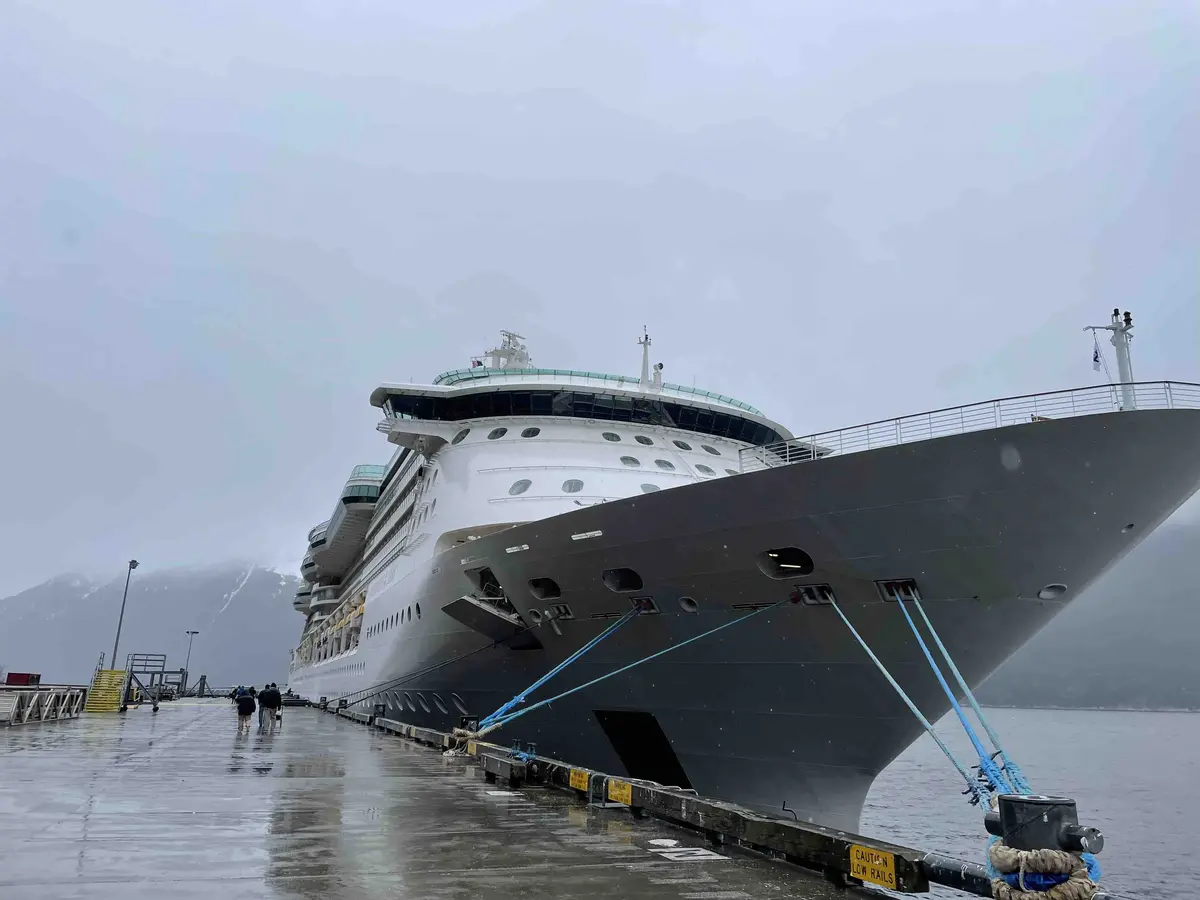 Word on the street is that everyone will be getting a refund for 3 days because of the issues we've had. For the amount of time I have wasted trying to get connected, that feels justified.
Our morning today started at 6:30 AM again. Jet lag continues to be our friend as we get up early and start the day! The rough seas had thankfully calmed down by the time we were asleep, which is what the captain had told us would happen.
They weren't horrible last night and certainly not the worst I've experienced. In fact, the location of our inside cabin was fantastic for the waves last night. We had booked an inside guarantee cabin for this cruise, so we really lucked out with our stateroom since we didn't choose this location.
I grabbed a coffee and we made our way to the Solarium. Since the Internet was still down, I started to panic about my sea day plans of working remotely. I connected to my phone's LTE and created a hotspot to get a few things done.
Everyone else was clearly waiting for the ship Internet to work again because I had 2 people ask me if the WiFi was back on.
As I sipped my coffee and caught up on emails, Park Cafe had some tasty looking breakfast sandwiches, so I grabbed one of those while Sydney went to the Windjammer for breakfast.
The scenery was cloudy and overcast with Skagway being tucked away in the mountains.
Walking to Skagway
After breakfast and finishing up some work tasks, we bundled up and went ashore in Skagway.
There were 2 other ships docked in town today; for a city with a population of 1,200, this would be a huge influx of people!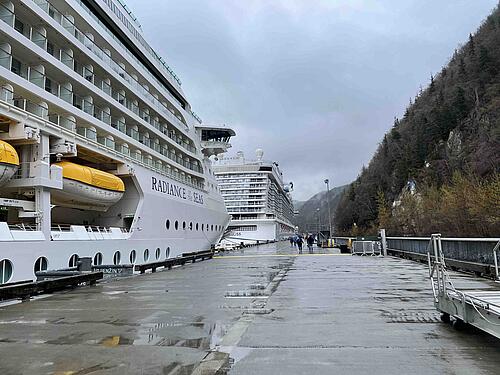 It was cold and drizzly again as we walked off the ship and made our way to the city.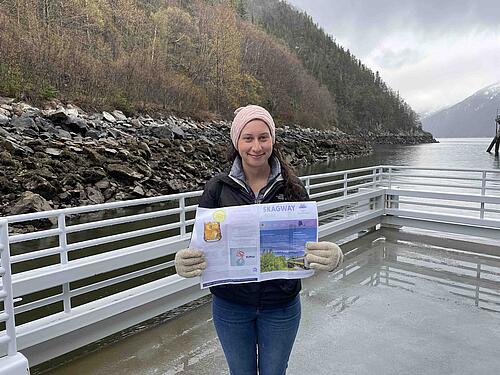 There were some golf-cart type vehicles that were offering rides, but this seemed to be mostly for older passengers and those with mobility issues. We opted to walk since the signage implied it was only 5 minutes to town.
Let me tell you - it was not 5 minutes to town.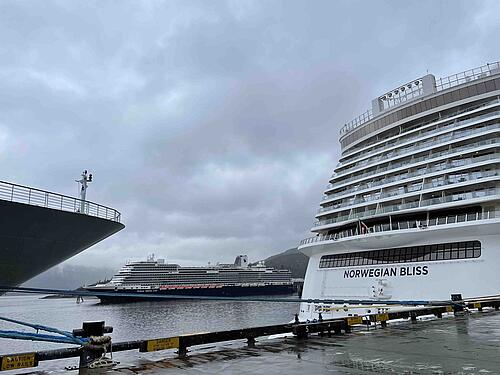 We walked at least 20 minutes before we were in the city. Radiance of the Seas was docked behind another cruise ship, but even that walk would be longer than 5 minutes.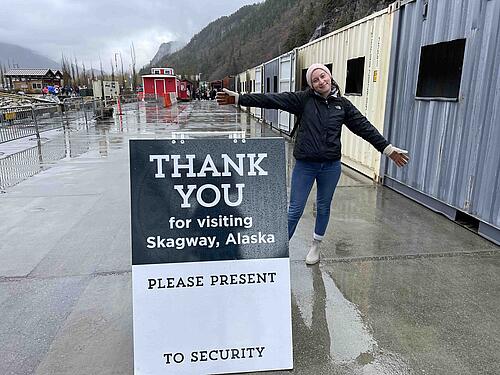 Stray Skagway Thoughts
As we walked along the port, we could see where the Skagway train starts, which is right at the start of the town.
Tickets were $133 if purchased in the port area. That was a little pricey for us. Also, the scenery from the ship was already so stunning, we decided to skip. We've heard great things about the train from cruisers who've done it in the past.
Word on the street is that one of the trains broke down today and passengers were issued a full refund. Guess we dodged a bullet.
The Skagway train crosses into Canada normally. Apparently, this year the train won't be able to cross the border because of Covid movement restrictions. I am sure the ArriveCAN process for that would be horrendous anyway, so it's in everyone's best interest that it doesn't cross.
When I came to Skagway 12 years ago, we did the Sled Dog Training Camp tour. This was amazing and I would highly recommend, especially for dog lovers and families. It was fascinating seeing how the huskies are raised and trained.
Broadway Street 
As we made our way into town towards Broadway Street, we immediately appreciated how quaint and charming it was. My dad suggested we go to the famous Red Onion Saloon, so we walked past that and saw it was pretty busy.
The town is very small and filled with shops along both sides of the street. You won't need to look very far for jewelry if you're in the market for some new bling! There are tons of jewelry shops around town that are eager to get you inside.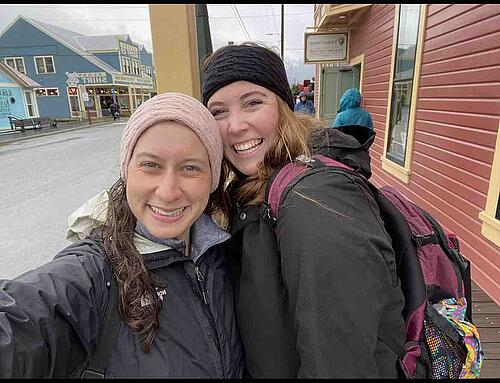 We started to notice a few people eating these huge bear claws. Sydney and I followed the aroma of cinnamon and sugar to Klondike Doughboy.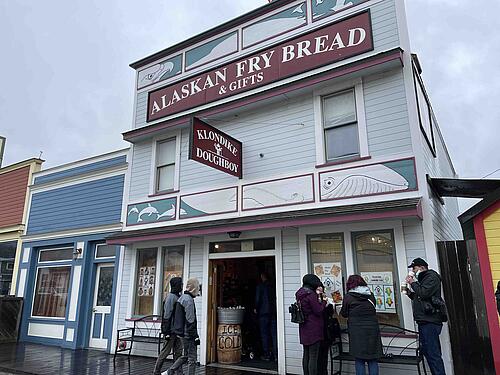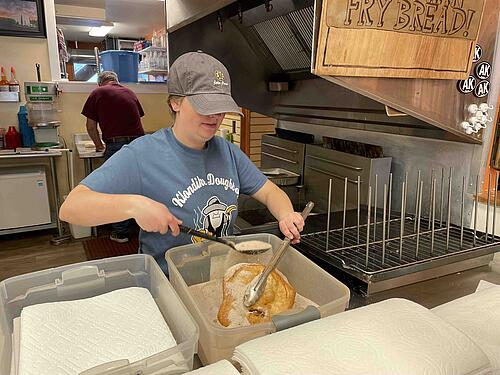 For $7, we indulged in a warm, doughy fry bread covered in cinnamon sugar. It was huge and easily shareable. This was the place to go in town, as it was pretty busy with cruisers.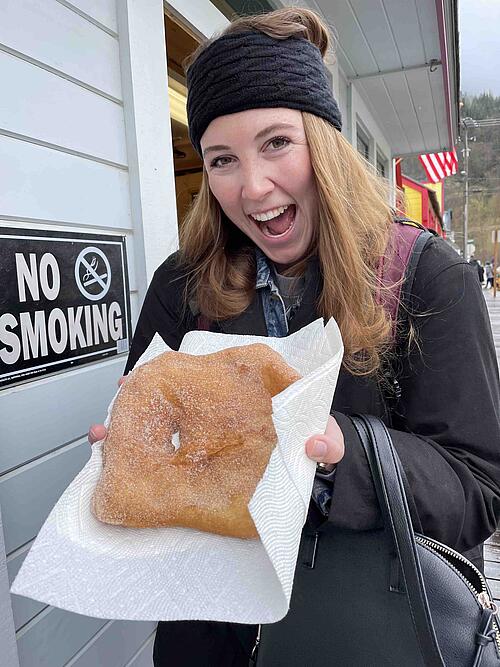 Next, we wanted to check out the local supermarket to see how the locals live.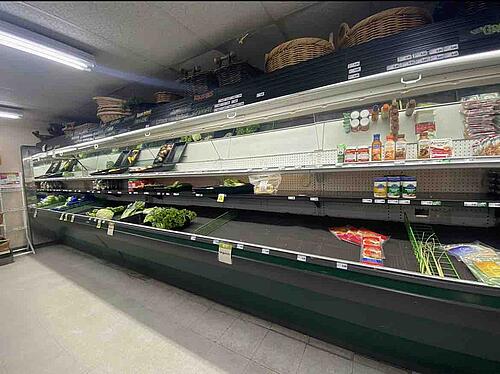 We were surprised to see reasonably comparative prices to what we have back home. But, we were shocked to see how sparse the fresh produce selection was.
Internet Hunt
Trying to find reliable Internet has become an unexpected storyline for this cruise.
Sydney and I saw there was one coffee shop in town, so we figured we would be able to get some WiFi there if we needed. At the very least, I was hoping to get a few things done for work.
I have 3 part-time jobs that I work remotely, including blogging for RoyalCaribbeanBlog. I've been lucky to have reliable Internet on my cruises earlier this year, so I didn't anticipate any issues.
I prefer to be totally disconnected when cruising; but, I've been doing a lot of traveling during my husband's deployment, which means I need to do work here and there to make sure I stay gainfully employed.
Anyway, the cafe did not have WiFi (is this becoming a recurring theme?). I had 3 people ask me whether the cafe had Internet, so everyone seemed to be in the same boat.
I guess this was a lesson learned that Internet should not be relied upon when cruising to Alaska.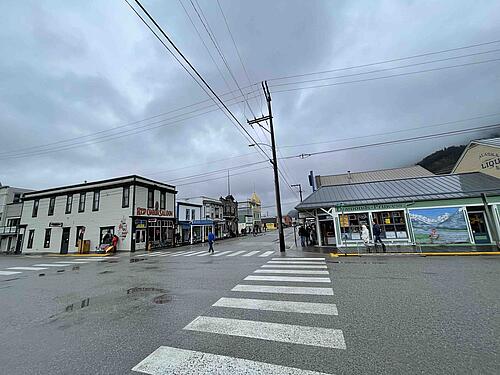 I was able to get a few things done while Sydney made all the friends. We first met some crew members from the Norwegian ship who thought for the entire conversation that we were crew members too.
We also met a really sweet older couple who asked us more about our Semester at Sea voyage. They were interested in becoming Lifelong Learners  (cruisers who just join the voyage for fun but don't take courses), so Sydney gave them her information to stay in touch.
It was pretty chilly and we had gone through pretty much the entire town by this point. We sampled some popcorn, tried the Klondike Doughboy and window-shopped in jewelry stores.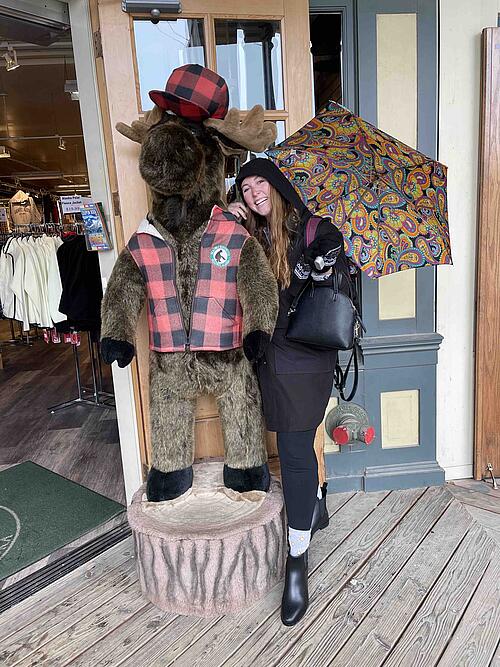 We also did some souvenir shopping right before we made our way back to the ship.
Afternoon Relaxation
The walk back to the ship took 20 minutes and it was raining more by this point. We were chilled and hungry, ready to head up to the Windjammer for lunch.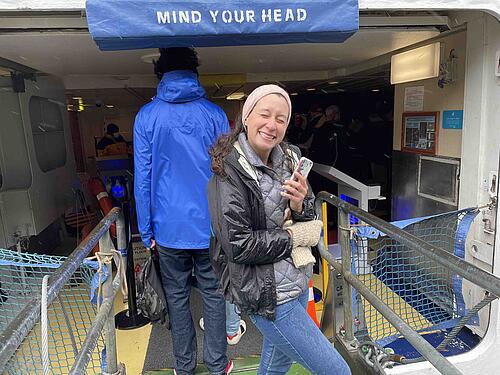 I felt better about the Internet debacle by this point because I was able to get in touch with my bosses and update them on the situation. Feeling a bit drained, I was ready for a relaxation afternoon.
Sydney and I have yet to find cozy hot cocktails on the ship. I've asked a few times and the best response was 'We can make you a cocktail without ice?!".
That one made us laugh.
Instead, we went back to the cabin to put on our swimsuits for the hot tub. We stopped at Latitudes and ordered some hot chocolate and asked for shots of Bailey's in each. We created our own hot toddies!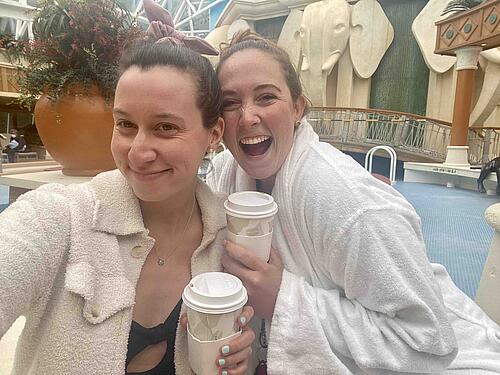 The Solarium wasn't very busy, which was great since the pool deck hot tubs were busier. We relaxed for a bit in the hot tub with our boozy hot chocolates.
Dinner in the Dining Room
The afternoon went by pretty quickly and before we knew it, it was time to get ready for dinner.
I challenged myself to do this cruise with only a carry-on and tonight I was feeling like my dinner outfit options were a little sparse.
Luckily, this is a cruise where people are busy all day on excursions and exploring, so there's a wide range of attire in the dining room. I've been sporting some dark jeans the last few nights, as I saved my dresses for the formal nights mostly.
We started the meal with strawberry blondes, which were cocktails from the bar menu.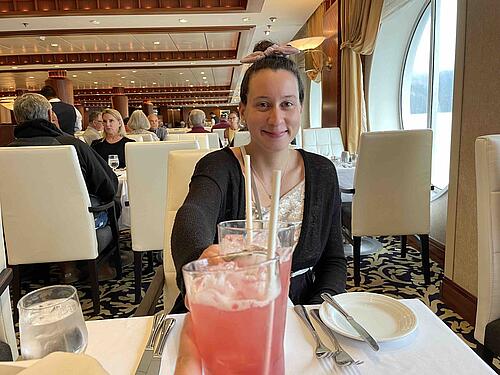 Dinner tonight had a really good menu in my opinion! I ordered the pork tacos for an appetizer, which is a favorite of mine, and the chicken cordon blu. I swapped the french fries for mashed potatoes and loved this as a comfort meal.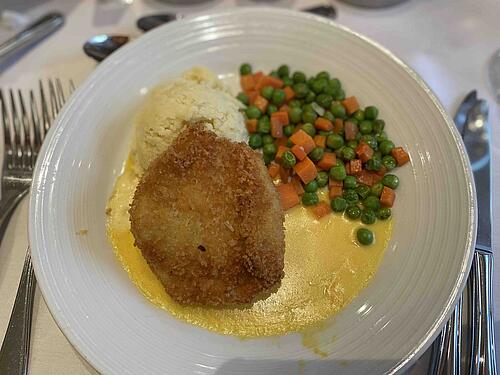 Sydney opted for Caesar salad for a starter and requested a 'DIY dinner option' of tomato soup from the appetizer list and grilled cheese from the kid's menu.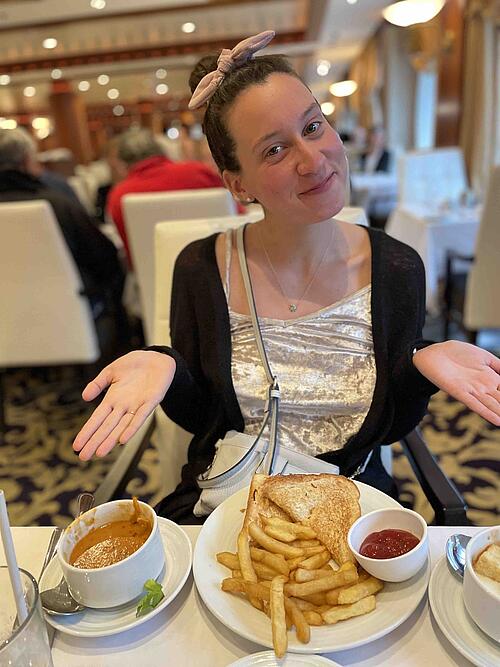 We've been really enjoying our new friends each night at dinner to the table next to us. While we aren't sitting together, our tables are virtually right next to one another.
They loved Sydney's idea of soup and grilled cheese, so they ordered the same.
For dessert, I ordered the Tres Leches while Sydney had the apple blossom. I wasn't sure if I would like this cake, but it was delicious. The apple blossom seems to be a home-run dessert on every cruise I've taken, so I might opt for that the next 2 nights as well.
Tonight's entertainment was a singer who gave tribute to Whitney Houston with shows at both 7:00 PM and 9:00 PM. We've both been tired by the end of the night, so we called it a night a little early.
It's funny to see a lot of the older cruisers stay up late for the dancing and entertainment while we seem to be wiped by the end of the day.
Pre-Departure Covid Testing
We came back to our cabin to find a sheet that had information about covid testing upon arrival back in Canada. I'm slowly losing hope that this pre-departure testing to return to the US will be dropped before Friday.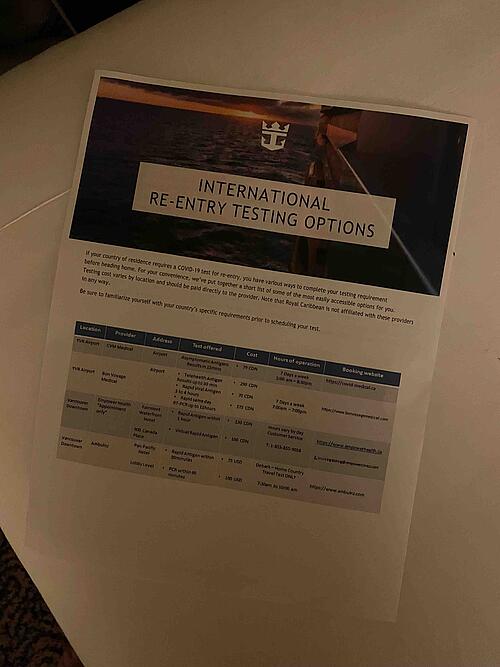 If you're flying from Canada back to the US, you currently will need to show proof of a negative covid test. The test can be taken within 1 day of traveling. 
This is rumored to be changing soon, but I seem to have great luck of cruising right before changes happen (like my February cruise that missed the optional mask guidance by one day).
Our dinner friends said they totally forgot this was a requirement, but the concierge in the suites lounge has arranged for them to get tested at the airport before their flight.  
I brought my Abbott home tests to hopefully take the last day on the ship, but the unreliable Internet will determine if that happens. 
My strategy is to take the proctored test onboard the ship before disembarking. If I happen to get an unexpected positive result, then I am covered under Royal Caribbean's Cruising with Confidence policy. However, the Internet connection could prove to change my plans. 
 
Tracy's Arm Fjord
Tomorrow, we are sailing through Tracy's Arm Fjord in the early morning from 7:00 AM to 10:00 AM. We have our alarm set and are looking forward to the glacier.
Last summer, Luke and I weren't able to see the glacier because it was too icy for the ship to get there safely. We were able to get close and sail by icebergs - that was actually our favorite day of our Alaska cruise last summer.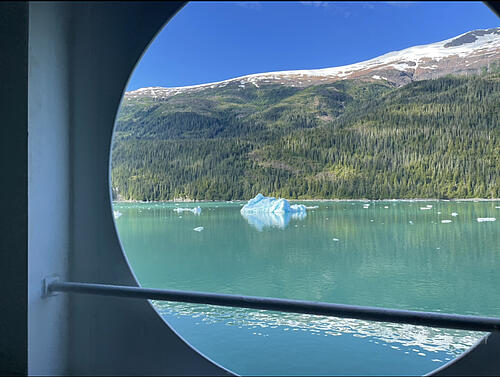 We are expected to have better weather tomorrow luckily! I am hoping we can make it to see Sawyer Glacier, but I know the scenery through the fjord is incredible too.
I will be looking out for the specialty drinks tomorrow morning on the pool deck as we sail through!
Also, I booked myself a massage for tomorrow afternoon. Sydney has made plans to play cards with our dinner friends during my massage. I decided to treat myself for (almost!!) making it through my first deployment as a military spouse.
That's all for today from Skagway!