In:
This week, I'll be heading up north for the very first Royal Caribbean Alaska cruise for the season!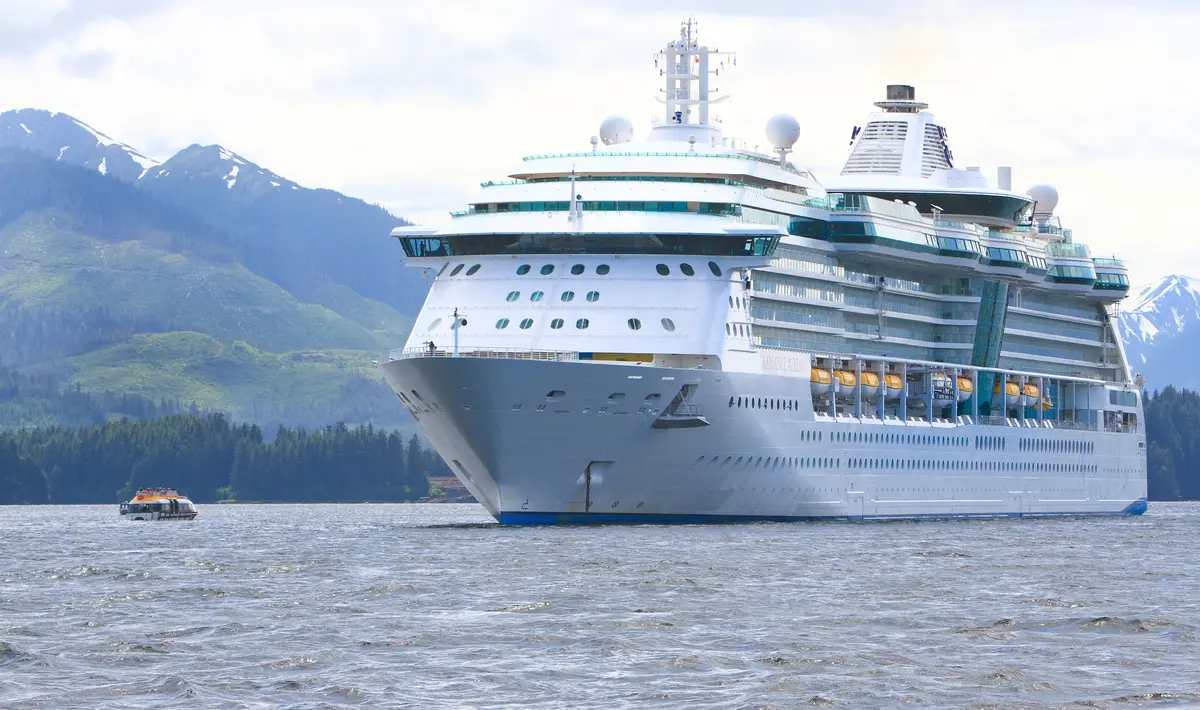 I'll be sailing on a 7-night sailing onboard Radiance of the Seas from Vancouver to Alaska. Our itinerary includes port stops in Ketchikan, Sitka, and Skagway. The cruise will also sail through the Inside Passage and Tracy Arm Fjord, which I'm very excited about. 
Queue the song "North to Alaska" - one that my dad sang everyday of our first Alaskan cruise!
This week, I'll be sailing with a very special friend, Sydney! We were roommates during our Semester at Sea and we haven't sailed together since we disembarked from our ship in 2015. From sleeping in a remote Senegalese hut to hiking almost the entire island of Santorini, we have some incredible travel memories together.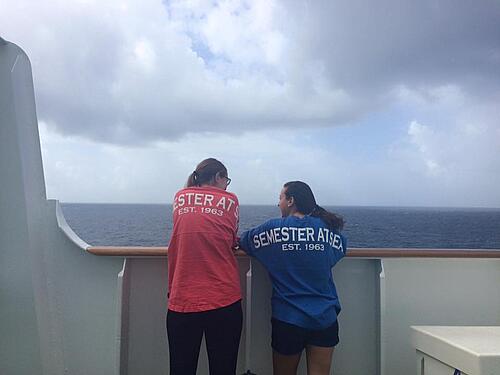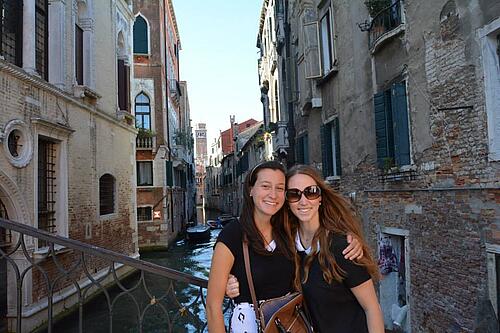 It's been 4 years since we last saw each other at my wedding, so we have lots to catch up on during our week in Alaska. We've been wanting to take a trip together since our semester abroad, but life has been busy for us both. The pandemic didn't help, of course.
Travel Requirements
When we booked our Alaska cruise in February, it wasn't entirely clear if Canada would allow cruise ship travel. Given the country's overall cautiousness with the pandemic, I was hesitant to get too excited about the cruise. 
Luckily, Canada has allowed the entry of cruise ships and our cruise is a go! Sydney will be visiting Seattle and taking the train to Vancouver, while I will be flying from Florida directly into Vancouver. As fully vaccinated travelers, we don't need a negative covid test to enter the country. 
Both of us were required to fill out the ArriveCAN form online, in which you receive a QR code to board your flight. The website says you can be randomly selected for COVID testing, but those recovered from COVID within 180 days are exempt with a positive PCR test. Sydney and I have both recovered from COVID in the last 180 days so we will be traveling with documentation to exempt us from the testing.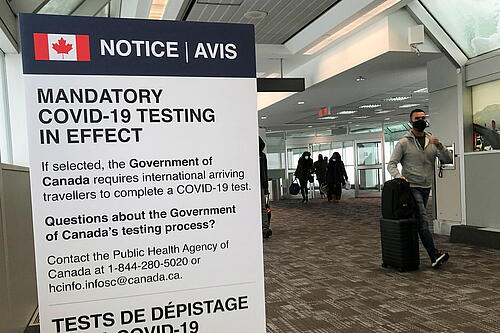 Royal Caribbean still requires a negative COVID test within 2 days to board the ship and the United States still requires a negative test for airline travel. I've been holding out hope that the international testing requirement would be dropped for airline travel, but who knows if I will luck out by May 5. 
I am planning to take the Abbott Home-Test (proctored) for both the cruise and the airline requirement since I am outside of the 90 day recovery window. I've had great luck using these tests and I will probably pack and extra just in case. 
Alaska Experiences
I've sailed twice to Alaska before, both on Royal Caribbean cruises. The first time I did an Alaska cruise was in 2010 with my family and grandparents. We sailed south from Seward to Vancouver onboard Radiance of the Seas as well. 
I will never forget showing up to the train in Anchorage; we were under the impression it was a quick 30 minute ride to the cruise port Seward. Someone told us to enjoy the train's beautiful views during the 5 hour ride - and we all were shocked to hear it was a long haul ride to the port. Guess that's what life was like before iPhones!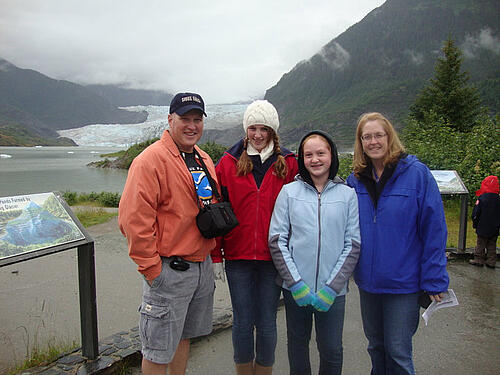 Our cruise was incredible though, even with the weather being unexpectedly cold. I have vivid memories of doing the dog sled training excursion and whale watching from the sea. Our horse-drawn city tour excursion hit a car in Ketchikan, which was very memorable. We also cruised right up to an iceberg and could hear the cackling and crashing of ice chunks falling into the freezing sea.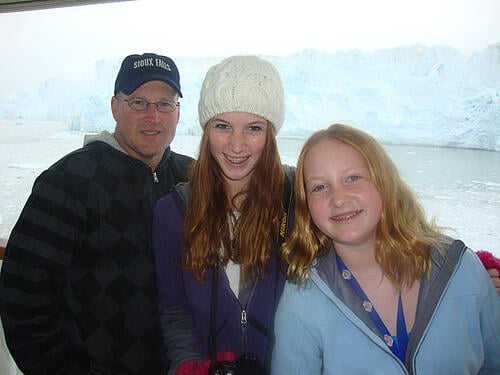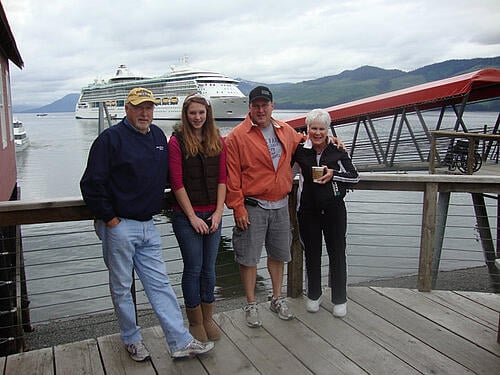 The worst part of the trip was when I got home and found out I had mono- which explains why I got sick on the flight home from Vancouver. Hoping for better health this time around in Vancouver!
The second time I sailed to Alaska was last summer in July 2021 when cruising had just restarted. My husband and I sailed for 7-nights roundtrip from Seattle on Serenade of the Seas. Luke and I desperately needed a vacation after he graduated from his rigorous pilot training program and I finished grad school, not to mention the pandemic wearing on all of us at that point.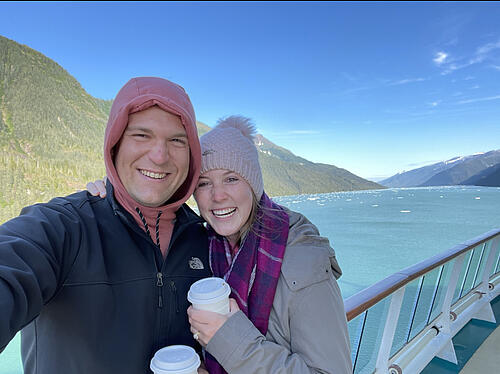 We just wanted to cruise and honestly didn't care where it went. When Royal Caribbean announced that Alaskan cruises would be restarted, we booked right away. It was perfect for us because it didn't require approval for Luke to leave the country. We were true Floridians escaping the summer heat to vacation somewhere cooler!
Overall, our exploring was quite minimal. We had no plans because we wanted to have ultimate relaxation filled with eating, drinking, sleeping and being literal vacation blobs with no schedule in mind. 
We accomplished just that and enjoyed a week of much needed cruising relaxation. We didn't do much in the ports other than walking around. The scenery from our balcony each evening was spectacular - and we had been upgraded from an outside cabin for free. We also have excellent weather and were actually able to use the outdoor pools a few days. 
Radiance Class Ships
As I mentioned, I sailed on Radiance of the Seas nearly 12 years ago. The ship was refurbished in 2016, so I'm looking forward to seeing some of her upgrades. We had a New Zealand cruise scheduled for March 27, 2020 on Radiance of the Seas, but you all know how that ended! She's definitely a great ship to sail anywhere with gorgeous landscapes and natural beauty.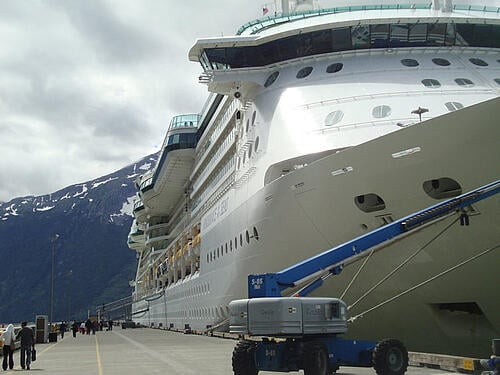 Radiance Class ships are some of my favorite. In fact, in the last 5 years, I've sailed almost exclusively on Radiance Class ships. I appreciate the more intimate size of these cruise ships and the glass atrium gives truly incredible scenic views. 
Being on the smaller side, these ships are usually placed on longer sailings with more interesting ports of call. Radiance Class ships might not have all the bells and whistles of the bigger cruise ships, but they're so comfortable and have everything you need for a great cruise. 
This Cruise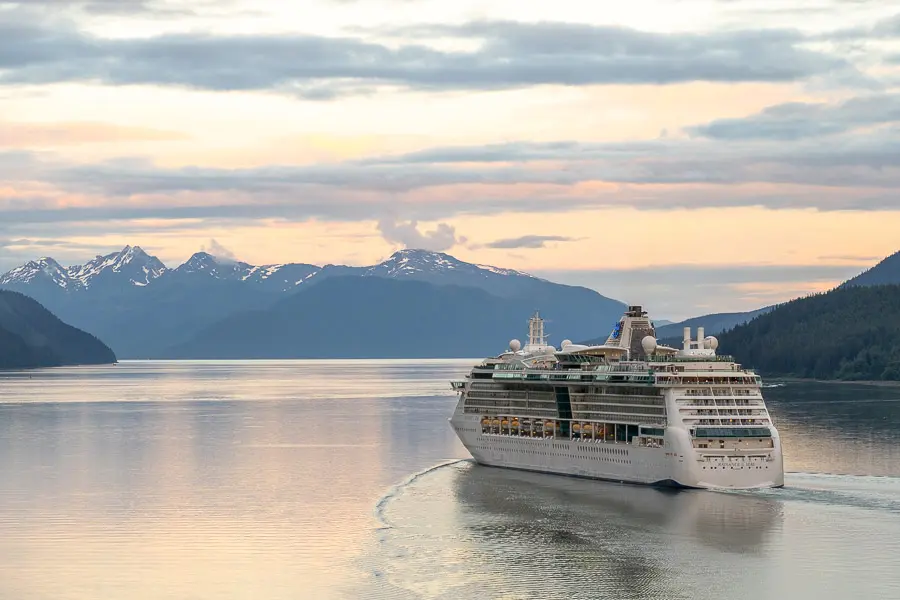 For our week in Alaska, Sydney and I are going to take a freestyle approach. We weren't sure if excursion policies would change so we haven't booked any tours currently. We are open to doing a tour if the opportunity presents itself but we normally like traveling on our own and exploring the port cities.
This is the first sailing of the Alaska season for Royal Caribbean! I've never been on a ship's first inaugural season sailing, so that will be fun. It's looking like we won't be having amazing weather, as the forecast is showing 40 to 50 degrees each day. Looks like it will be rainy and cloudy. This is expected for late April so I'll be packing all the cozy sweaters.  
Apparently, Radiance of the Seas just returned to service in April as the 22nd Royal Caribbean ship to resume cruising. I'll be interested to see if the ship's recent return to service will affect the onboard operations.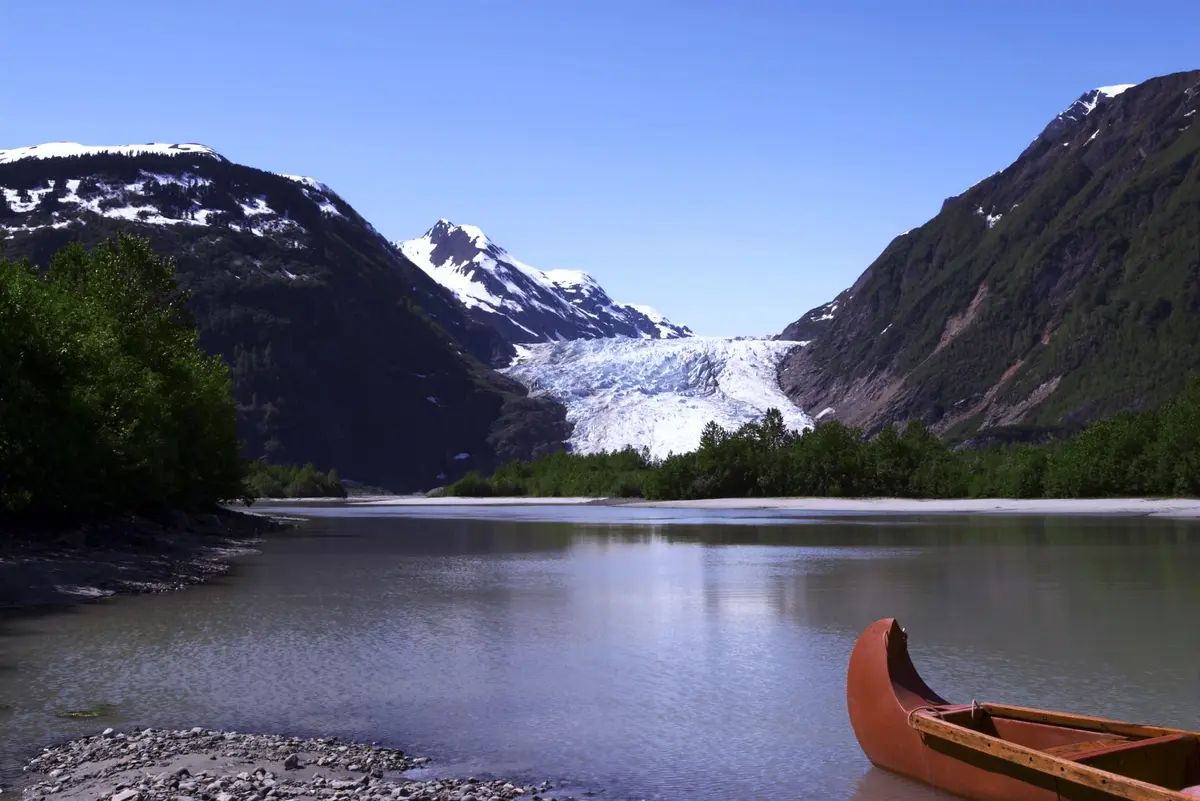 Sydney and I got an incredible deal on our cruise. We booked an inside cabin guarantee for $450 each with $100 onboard credit included. With the price being so low and the sailing being the first of the Alaska season, I will be interested to see what capacity we will be sailing at. I assume most who sail to Alaska sail in the summer in hopes of better weather and kids are out of school. After my busy Mariner of the Seas sailing last week, I wouldn't complain about a quiet ship.
Last summer, our Alaskan cruise had boozy hot chocolate and coffee during one of the mornings sailing through the fjords. This was something I was so excited for because I saw pictures online before we sailed. I asked at every bar when the boozy cocktails would be served but most bartenders didn't know what I was talking about.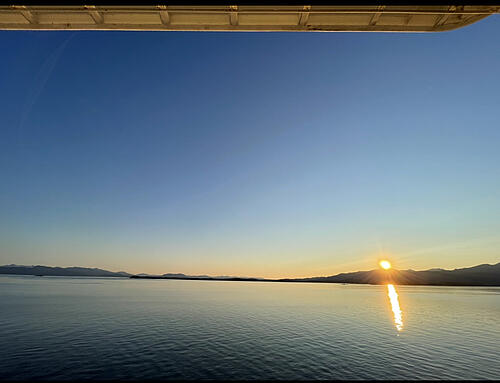 Apparently these amazing drinks were served one morning on the pool deck and there was no announcement, much to my disappointment. They didn't serve these special boozy drinks again the rest of the cruise. I'm very much looking forward to seeing the different cozy cocktails that will be served and I'll be darned if I miss the warm cocktails on the pool deck again! 
Sydney loved getting up early on Semester at Sea to see the sunrise as we pulled into new ports - and I never once joined her (haha). This time around, I don't want to regret missing beautiful sunrises or sunsets if the weather looks like it will cooperate. 
Overall, we are very excited to be sailing through Alaska. I really think it's the best way to see the state and all of its natural beauty. Getting to sail through the Inside Passage and the fjords can't be matched with a land trip. Of course, Sydney and I are equally as excited to see each other again after we lived in a cabin together at sea for 104 days!
Bon voyage!