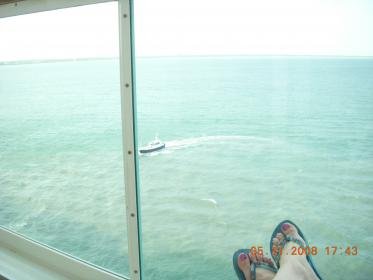 Content Count

39

Joined

Last visited
About CoupleOfCruisers
Rank

Platinum


Birthday

August 20
Profile Information
Gender
Location
Interests

Family, friends & cruising!
CoupleOfCruisers reacted to a post in a topic: For a clue into US cruise timing, watch the college football season.

We had an April 2020, 11 day cruise on Serenade of Seas booked in an Owner Suite. We had booked two years prior when the date first became available. We paid our cruise off 6 months before sailing with lots of add on's. Needless to say we were very disappointed when our cruise was cancelled. I looked to find a replacement cruise. Unfortunately in late 2020 early 2021 Serenade was moved and a Vision class ship has been moved in to do this itinerary. We much prefer Radiance class over Vision. We had booked our April cruise based on itinerary/cabin/ship/date so we were down to 3 out 4.

Same here. I honestly believe it's going to get worse before getting better. Just hope it calms down in a couple weeks! We cruise in April also!

CoupleOfCruisers reacted to a post in a topic: Maryland doesn't want to be outdone with the stupidity

RCVoyager reacted to a post in a topic: Some useful perspective on Coronavirus from one of those on Diamond Princess

Baked Alaska reacted to a post in a topic: Some useful perspective on Coronavirus from one of those on Diamond Princess

Only around 100,000 have the virus population is 7.5 billion! We got long way to go before we panic! Everyone just wash your hands and cover your mouth!

Hmmmm.....says anonymous source! I'm crying foul! It is an election year and there are unfortunately people who want to hurt the economy to hurt the President. #JMHO

Washie washie you'll be fine! Kennedy Center is awesome .... enjoy!

Can you split it? The cruise we have this April we booked a suite on an 11 day cruise. I have an inside booked next November & a panoramic window booked Oct 21. I could pay off both future cruises and still have a lot of money left.

The virus is over hyped and cruise lines are responding to the hysteria. We plan on going on our April cruise and think the deal they are offering of a FCC is not a good deal at all for us! We booked our cruise a little over 2 years out and got a great deal on a OS. I just priced the same itinerary closest I found would be on smaller ship in February instead of April and DOUBLE the price for same cabin! We'd lose our Owners Suite in a Radiance class and only get a balcony on a Vision class! Plus we'd lose the $500 we paid and not used for Royal Caribbean Insurance!

I keep reading (in this thread) references to Chloe being special needs child. I've seen no news articles on this so where is this information coming from?

It's just all so heart breaking sad all around. I've felt from the start the Grandfather was 100% at fault for this tragedy. I understand his denial it must be a very heavy burden to carry in his heart much less admit to. The lawsuit and tv interviews the parents gave were also heartbreaking to watch. I suppose I can understand the need to blame an outside party for the tragic death of your child. Now with the release of the video showing he definitely held little Chloe out an open window. I pray the parents drop the lawsuit and move on. Puerto Rico should offer Anello a pl

This is great news! When we book suites we like the benefit of the Concierge Lounge. There is nothing worse then having it over run by Diamond + members who go in early and save seats. We pay a lot of money for this perk! On cruises we book in a non suite cabin we are happy to huddle with the unwashed masses in the Diamond lounge!

We were upgraded I believe to Jr Suite had corner room with huge windows. It was amazing! Especially in the morning!

We've stayed at Inter Continental and doubletree we liked both.

We like the Miami Downtown Hilton woke up in morning could see our ship. They offer shuttle to port. Or it was $7 Uber. We book the stay, park & go. Ended up being only $10 more then parking at port for the week. There is couple fast food and grocery store (Publix) across street. Next door is a free tram takes you around town to different spots!

I certainly hope they ban smoking in casino and soon! Before my April cruise would be fabulous! I'd spend more time in casino but the smoke can get to me after awhile!