In:
Family vacations change as your kids' become teens. They have their own likes and dislikes, and odds are your sleeping schedules don't align. This can create challenges in planning the ideal vacation for your family.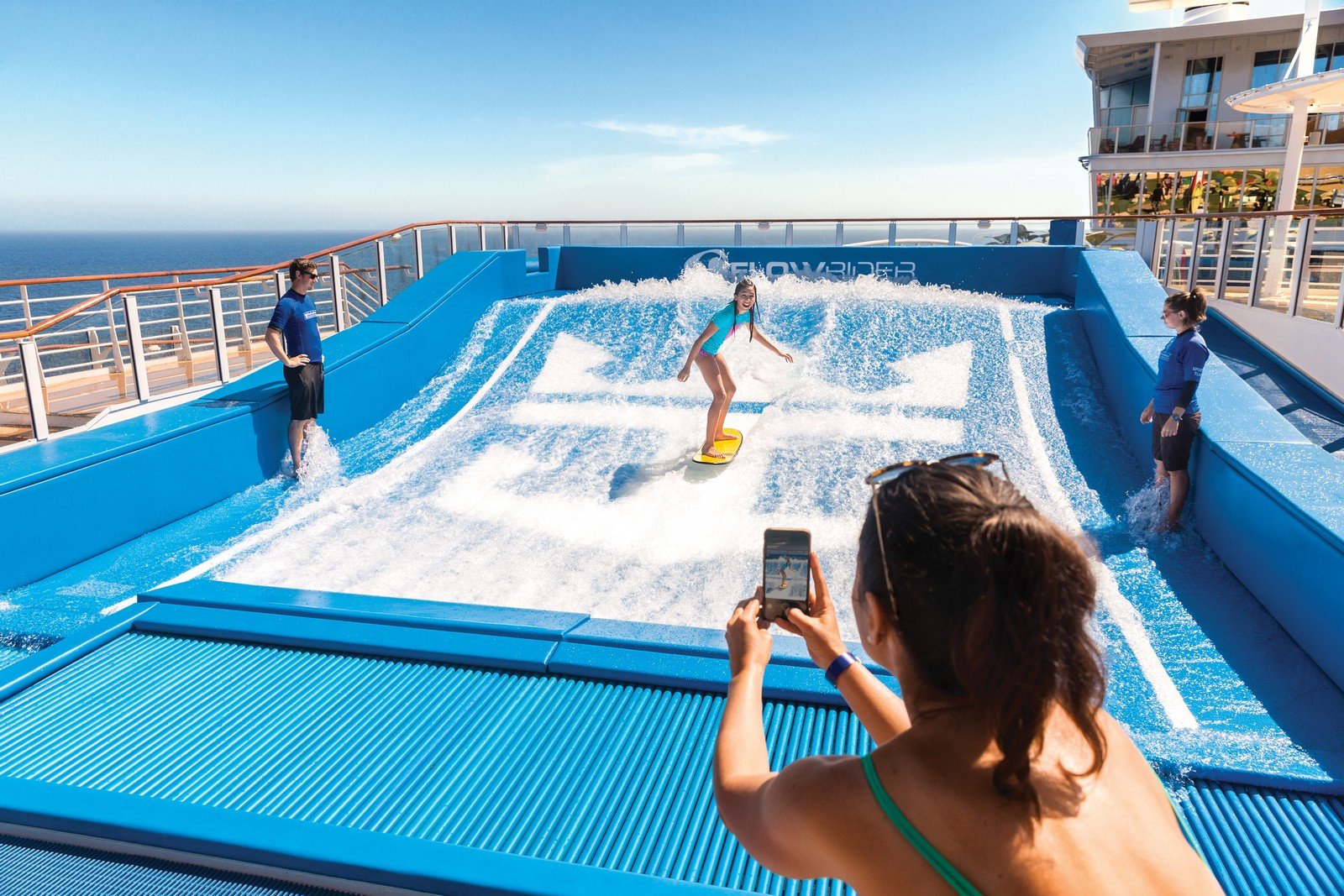 What's the solution? A cruise. With so many places to visit, endless activities, and food offerings, it is the perfect vacation for families to have fun and reconnect, with something for everyone's tastes.  
It's a great opportunity to let your teens venture off on their own, while parents can relax, sit by the pool, listen to live music, or try their luck in the casino. All while their teens are nearby having a great time.
Here are some of the top reasons your family with teens will love cruising.
Teen Club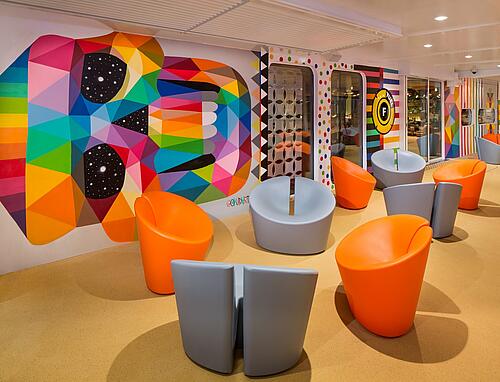 One of the best things for teens sailing on a Royal Caribbean cruise is the teen club. Decorated in fun colors, with a lounge and dance floor, it is a hub to meet new friends and find out about all the great things to do on the ship. Most teens are in the same situation. they don't have friends onboard but would love to hang out with people their own age, doing stuff they want to do. The teen club is the perfect place for this.
Divided by ages 12-14 and 15-17 for supervised activities, teens can come and go as they wish and participate in what they like. There is everything from organized sports to pool parties, karaoke, themed dances, ping pong, DJ training to guitar hero. A favorite is dedicated teen time at the Flowrider, a surf simulator.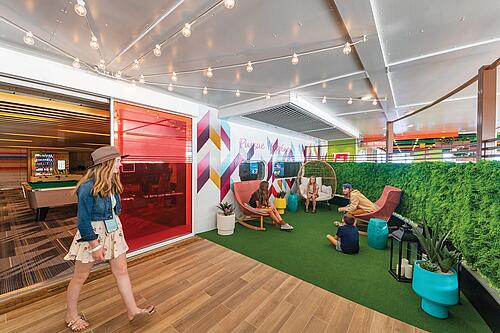 It can also act as a meeting point for informal get togethers with new friends, maybe to grab some food or just stroll around. Information on the teen club can be found in the Cruise Compass (list of daily activities) or on the Royal Caribbean App. There is also a texting feature on the app, so you can chat with them if need be (at a cost of $1.99 per guest per day).
Tons of family activities
Beyond the teen specific programming, there are so many fun activities for teens and their families to enjoy together. In particular, the Oasis class ships, the largest class of ships in the Royal Caribbean's fleet, have so much to offer.   
For sea days, there are plenty of high energy activities including sports like basketball and volleyball, rock climbing, and zip lining. Try out the epic slides including the Ultimate Abyss, the tallest slide at sea at 216 feet, spanning 10 decks.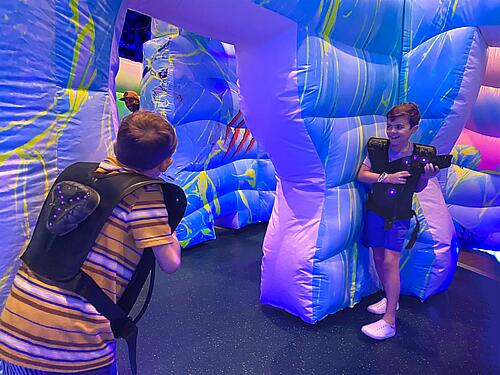 Many like to cool off and take a dip in the pool or relax in a hot tub. Enjoy a round of mini golf, try your luck in the escape room, laser tag, or trivia. And probably most surprising, you can even ice skate.
In the evening, take in one of the nightly movies or variety of entertainment options including incredible diving shows at the aqua theatre and renowned Broadway musicals.
Excursions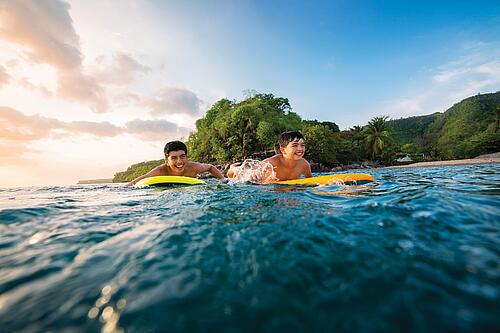 Being a family focused cruise line, Royal Caribbean offers plenty of port excursions that span a wide range of interests and ages.
Offered on many sailings, is Royal Caribbean's private island CocoCay, located in the stunning blue waters of the Bahamas. The thrill waterpark is a must with its sky high slides such as the Daredevil's peak (North America's tallest waterslide) and a large wave pool.  Or you can lounge at one of the many beaches and pools sampling the complimentary food.
Across the Caribbean, many ports offer sailing, snorkeling, scuba among other popular water activities.  For animal lovers, swim with stingrays, sign up for a dolphin encounter, or meet sloths and monkeys in Roatan. Zipline through the lush jungles of Jamaica, or in Costa Maya, see how chocolate is made (with some sampling of course). Leisurely explore port areas, doing some shopping, or trying local cuisine. Whatever fits your family best.
Endless food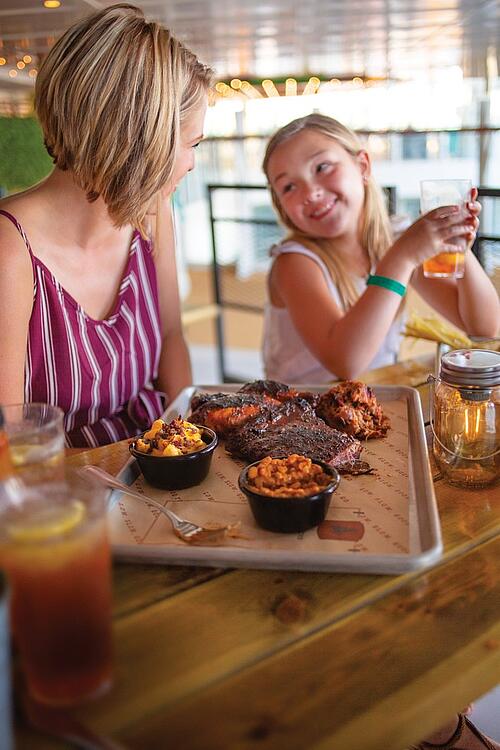 Growing teens can eat a lot. The good news is that they won't go hungry on a cruise. During the day, they can try one of the popular roast beef sandwiches at Park Cafe or indulge in late night pizza at Sorrento's. Always a good choice, hot dogs and hamburgers by the pool, topped off with self-service ice cream, definitely a teen favorite.
A sit-down dinner in the main dining room is a great way to catch up on your family's fun filled day. Or for a more casual meal, try the Windjammer. Everyone loves a buffet, and it offers a lot of variety, even a chocolate buffet that can put a smile on any teenager's face.
To try something a little different, specialty restaurants like Izumi offer traditional sushi or Hibachi, always a good time as the chef entertains the table while cooking. Steak, traditional classics at 150 Central Park, Italian, and the whimsical Wonderland are all popular venues for families wanting to enjoy a special evening out.