In:
It's only been two years since Royal Caribbean launched Odyssey of the Seas, yet many seem to forget about this new cruise ship.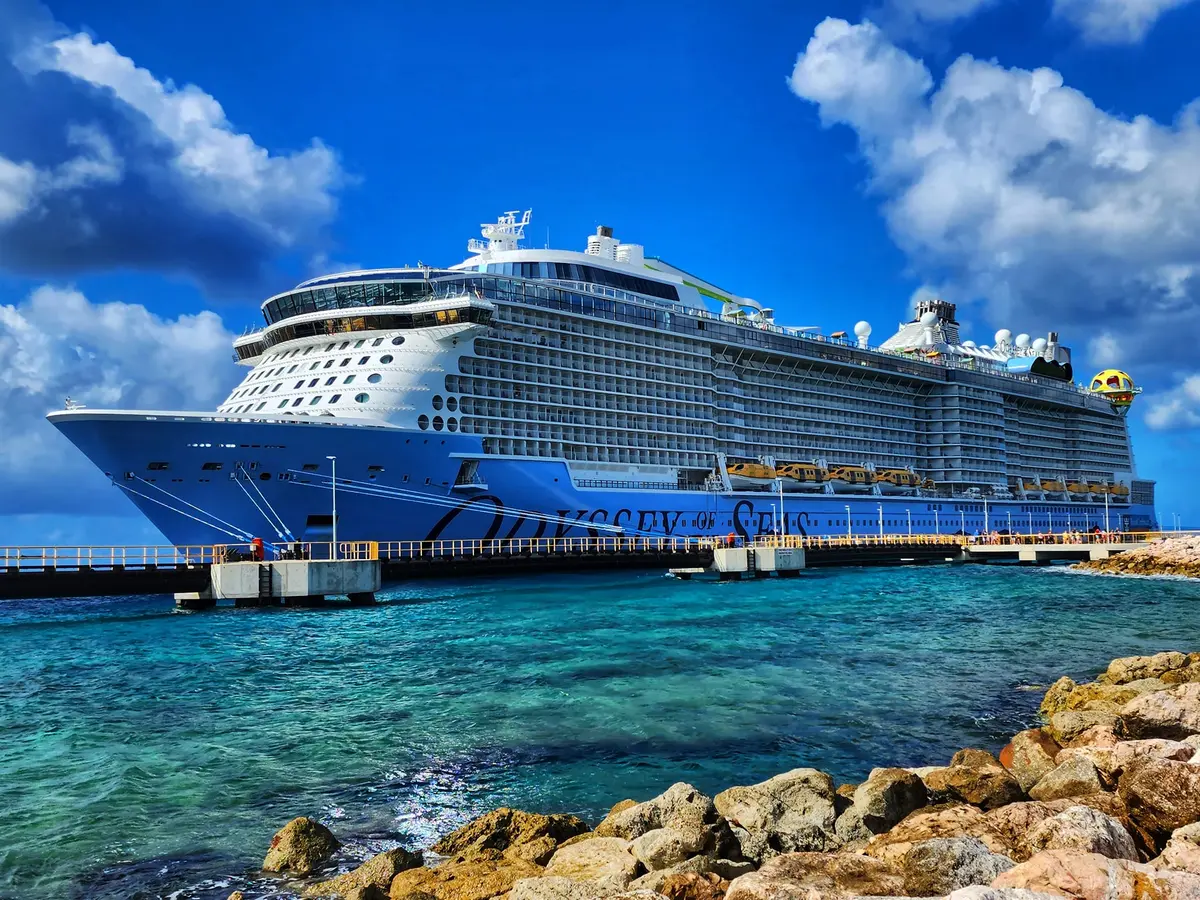 Perhaps our perception is clouded by the massive hype around Icon of the Seas, which will be the newest ship debuting for Royal Caribbean in early 2024. This groundbreaking vessel is already making waves in the cruise industry for its unconventional design and unparalleled amenities onboard. 
Not to mention, Royal Caribbean welcomed the brand-new Wonder of the Seas in early 2022, not long after Odyssey of the Seas entered service. This only gave Odyssey of the Seas just a few short months to hold the title as the cruise line's newest vessel. With delays due to the pandemic, these two cruise ships debuted uncharacteristically close together. 
Odyssey of the Seas is the second ship in the Quantum Ultra-class for Royal Caribbean. The ship is also the final vessel for the Quantum class, which was originally slotted to debut in 2020.
Regardless, you should not write-off Odyssey of the Seas when planning your next cruise. I just sailed on this Quantum Ultra-class ship back in October 2022 for a fabulous 12-night sailing to Israel - and it really blew me away. 
Here are 10 reasons why I think Odyssey of the Seas is absolutely worth your attention. 
Impressive Itineraries
One of the biggest advantages that Odyssey of the Seas has over other new vessels is the impressive itineraries offered. Because the ship spends her summers in Europe sailing from Rome, you can visit some incredibly historic and culture ports. 
Most of the time, if you want to sail on a more unique and port-intensive itinerary, you'll be looking at sailing on a smaller and older vessel with Royal Caribbean. This is mostly due to size restrictions with Oasis-class ships when it comes to accessibility with ports.
On Odyssey of the Seas, you can sail on itineraries to Israel, Greece, Turkey, Italy, France, Portugal and Spain during the summer European season. 
You won't find destinations like this onboard Royal Caribbean's newest (and upcoming) ships, including Icon of the Seas, Utopia of the Seas and Wonder of the Seas. Each of these will be sailing to the Bahamas and Caribbean for the foreseeable future. 
In fact, the sole reason we booked our cruise on Odyssey of the Seas was because of the specific itinerary we wanted to sail on. My family and I had been wanting to do a Holy Land itinerary for years, and we were thrilled to see a newer vessel sailing this type of itinerary.
Odyssey of the Seas offered a 12-night itinerary with two overnights in Israel. This gave us three full days to explore the country, which is unusual for an itinerary. Being able to sail on an exciting itinerary onboard a brand-new ship was invaluable!
Quantum Ultra Class
As mentioned, Odyssey of the Seas is considered a Quantum Ultra Class cruise ship, which is a subset of the Quantum Class for Royal Caribbean. Odyssey of the Seas is the second ship in this class, along with Spectrum of the Seas. 
Unless you plan to sail in Asia on Spectrum of the Seas - which you absolutely should, I can personally say that it's incredible - sailing on Odyssey of the Seas is your best bet to try out this amplified ship class. 
Quantum Ultra Class ships have a few differences compared to the original Quantum Class ships. The most notable difference is the size of the ships, as the Ultra Class ships are slightly longer and taller. 
Another difference is the addition of the SkyPad to the Sports Deck, which is a circular structure that hangs over the side of the ship with a glass floor walkway, featuring views of the ocean below. Although Royal Caribbean is removing the trampolines from SkyPads in the near future, the structure will remain as an activity venue and is still unique to Ultra Class ships. 
You can also find unified dining rooms on Quantum Ultra Class ships, which is an improved design choice from the earlier Quantum Class ships with separated dining rooms. 
Finally, Quantum Ultra Class ships feature an entire dining venue dedicated to the Teppanyaki restaurant. This is in addition to the specialty restaurant, Izumi Sushi, which has become one of the most popular dining venues for Royal Caribbean. This dedicated space will allow for more guests to enjoy the specialty Asian dining onboard. 
Stylish, functional staterooms
When we sailed on Odyssey of the Seas, I was surprisingly impressed with our stateroom's design and functionality. Prior to this, I had mostly been sailing on Radiance and and Voyager-class ships, which are around 20 years old now. 
Odyssey of the Seas features Royal Suite classes onboard, which allows cruisers to choose between Star Class, Sky Class and Sea Class. These luxurious staterooms can provide lucrative amenities and spacious accommodations onboard and Royal Suites are only available on Royal Caribbean's newer ships. 
During our Odyssey of the Seas cruise, my sister and I bid on a Junior Suite during the Royal Up process for just $300 each to upgrade from our inside cabin. We were shocked to see our minimal bid accepted, but we were anxious to try out an entry-level suite on one of Royal Caribbean's newest ships.
Our stateroom was not just beautiful, but very thoughtfully designed. We had two separate bathroom spaces - one with a large bathtub with a walk-in shower and another space with a separate sink and toilet. This is certainly a modern approach to bathroom design and it was much appreciated when we were both getting ready in the morning. 
New dining options
Like most new cruise ships, you'll experience the best of the best when it comes to dining onboard. With 17 different dining options onboard, including specialty and complementary choices, you'll be experiencing some of the best cuisine Royal Caribbean has to offer.
One of the most exciting dining options that debuted on Odyssey of the Seas is the first Giovanni's Italian Kitchen and Wine Bar. While Royal Caribbean has always had Giovanni's Table, the new and reimagined Giovanni's Italian Kitchen features a younger, fresher and more contemporary design. The cruise line also expanded to include hand-tossed pizzas on the menu. 
Onboard Odyssey of the Seas, you can also enjoy El Loco Fresh, which is one of Royal Caribbean's newer complimentary dining options. This quick and casual eatery is located on the pool deck and includes Mexican offerings, such as tacos, quesadillas, burritos and nachos. 
After sailing on many older and smaller ships recently, having so many eateries available onboard truly enhanced our 12-night itinerary. Dining at Giovanni's Italian Kitchen was a highlight for us, as the fresh Italian food tasted excellent. Additionally, I grabbed a quick lunch at El Loco Fresh on many days when we returned to the ship and wanted a little something to eat on the pool deck. 
Resort-style pool deck
Unlike other Quantum Class ships, the cruise line opted to remove the indoor pool feature on Odyssey of the Seas. Instead, you'll find a resort-style pool approach with two outdoor pools. This is all in addition to the adults-only, enclosed Solarium onboard. 
Odyssey of the Seas' pool deck is vibrant and colorful with Caribbean-infused decor all around. The design of the pool deck is fantastic, as the layout breaks up crowding on the top deck with the two outdoor pools separated by a structure in the middle. 
You can also enjoy the hot tubs on the second level, with an infinity-style design, that overlook the lower pool deck. With additional hot tubs on the bottom pool deck, you shouldn't have trouble finding a hot tub spot during your cruise. 
Another feature of the resort-style pool deck is the multilevel bar venue called Lime and Coconut. This Caribbean-themed bar offers its signature Lime and Coconut drink - one of my absolute favorites.
We enjoyed happy hour while watching the sunset at Lime and Coconut almost every evening, including the unforgettable sunset over Santorini.
Advanced technology
Odyssey of the Seas is one of the most technologically advanced cruise ships in Royal Caribbean's fleet. You can find the technical innovation across the ship, including Odyssey of the Sea's design, artwork, activities and overall guest experience. 
In fact, Odyssey of the Seas is one of two cruise ships in Royal Caribbean's fleet that features the use of digital keys. This is of the perks that comes with being designated as a "smart ship" for the cruise line. This advancement allows guests to open their stateroom doors by opening the Royal Caribbean app and placing their phone against the key reader on the door. No longer will you need to fumble in your bag to find that SeaPass card that has slowly made its way to the bottom of your purse!
Virtual balconies are also available on Odyssey of the Seas if you are looking for an affordable, but unique, stateroom option. This floor-to-ceiling television screen provides live footage of the cruise ship's outside views.  
Next-generation SeaPlex
Because Odyssey of the Seas is one of two Quantum Ultra Class ships, the popular SeaPlex space received a major facelift. The ship's SeaPlex is the largest indoor and outdoor activity center that you'll find at sea. This versatile space is where you can do things like ride bumper cars, play glow-in-the-dark laser tag or partake in a virtual reality game. 
When Odyssey of the Seas was built, Royal Caribbean reworked the design and layout of the SeaPlex. Pods were removed, along with the addition of large screens and new venues added. Inside the SeaPlex, you'll find the conveniently located Playmaker's Sports Bar. Odyssey of the Seas was the first ship to combine the two venues into one convenient area. 
Even better, you'll find 56 television screens in this area to watch all of your favorite sporting events. 
Awe-inspiring entertainment
Sailing on a newer ship, you can also enjoy such a wide variety of entertainment, including fantastic production shows. Onboard Odyssey of the Seas, there are two main production shows for you to enjoy. These include The Book, located in Two70, and Showgirl: Past, Present and Future.
"The Book: Seven Chapters, One Adventure" is a visually-impressive, highly-technical production located in the outward aft-facing venue called Two70. This show follows the storyline of a librarian who explores different book chapters through music, song and dance. With many different elements and performing styles, The Book is seriously a one-of-a-kind show. I have a hard time describing it other than you simply need to see the show for yourself. 
Showgirl is a flashy production show in the main theater inspired by Las Vegas showgirls. This energetic show features dance styles from all eras of the showgirl-type dance. This upbeat production is a lot of fun to watch.
Another unique venue on Odyssey of the Seas is the Music Hall, where you can find live bands most evenings onboard. It's probably the closest that you will find to a rock concert onboard a cruise ship!
Endless activities and attractions
Odyssey of the Seas is one of those cruise ships that simply has a little something for everyone when it comes to activities. While you can still enjoy the traditional cruise ship activities, like bingo and trivia, there are other onboard thrills and attractions that are notable. 
For example, the iFly skydiving simulator can be found on Odyssey of the Seas. Although it's not complimentary, this is one of the few cruise ships in the world where you can partake in a skydiving simulator. 
Additionally, the North Star observation pod is uniquely found on Quantum Class ships. We chose to ride the North Star on our embarkation day while docked in Civitavecchia, Italy. This was my first time riding in the North Star and it was such a fun and unique experience. Rides are complimentary while the ship is docked in port while sea day rides require an additional cost. 
Finally, you can try Zone Zero onboard Odyssey of the Seas. This is an immersive virtual reality experience where you will walk around in the real world while seeing and experience a completely different virtual world. This is something completely unique that you can experience on Odyssey of the Seas. 
Other attractions you can find is the FlowRider surf simulator, rock climbing wall, bumper cars, SeaPlex activities and Splashaway Bay aqua park area for kids.