In:
Royal Caribbean is poised to launch its newest cruise ship that is going to stir up the cruise industry yet again.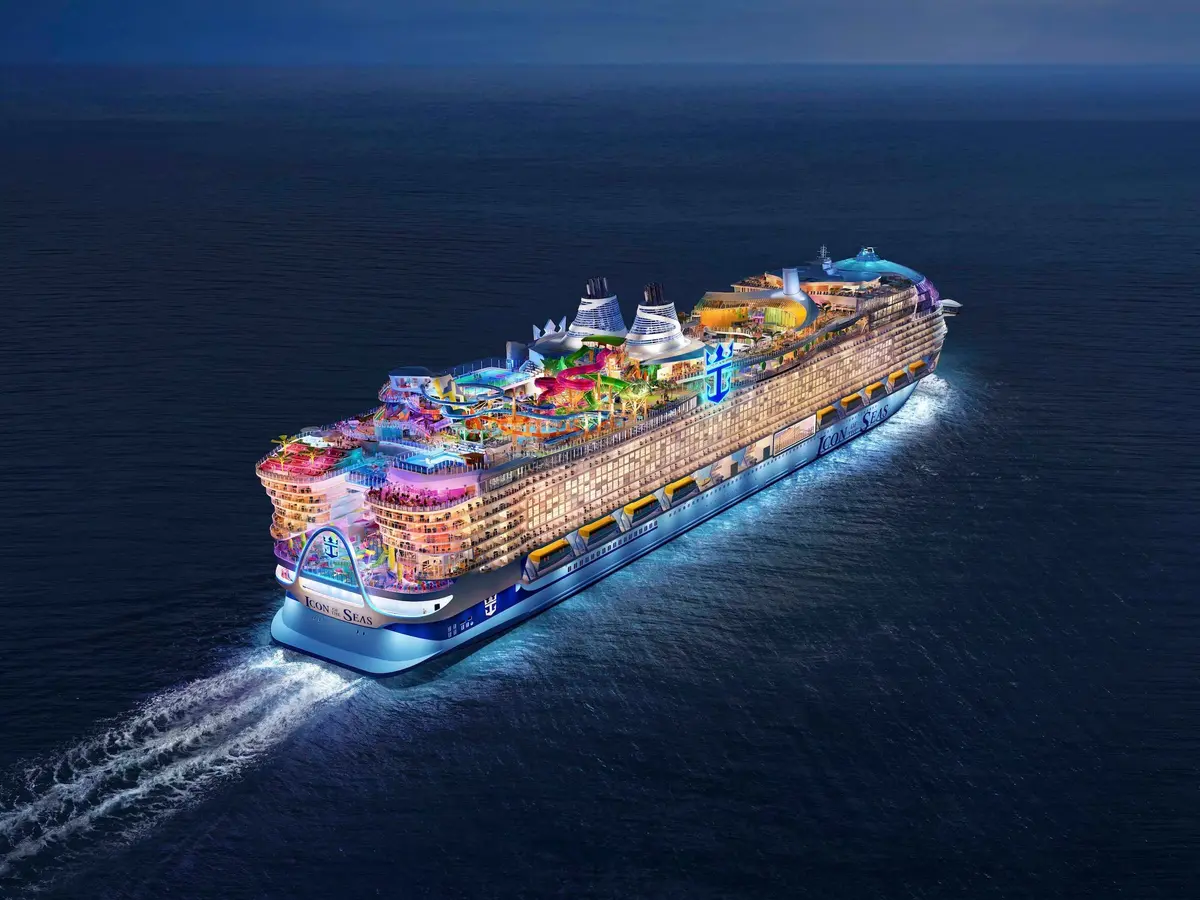 Today, cruise lines are building ships that are bigger, better, and more technologically advanced than anything else at sea. Royal Caribbean could be deemed the leader in this regard, as they have held the record for largest cruise ship in the world since 2006. 
With each record-breaking ship, you want record-breaking amenities that cannot be found anywhere else; it is not enough to build the largest ship in the world. 
Despite initially being announced in 2016, details about Icon of the Seas were kept under lock and key until 2022. 
Here are 11 reasons Royal Caribbean's Icon of the Seas will change the industry when she launches in early 2024. 
Icon of the Seas will be the world's largest cruise ship
Royal Caribbean is no stranger for breaking their own record when it comes to the largest cruise ship at sea. When Icon of the Seas debuts in January 2024, she will steal this title from Wonder of the Seas, the current record holder. 
Icon will measure 20 decks high, 1,198 feet long, and 250,800 gross tons, making her 6% larger than Wonder. 
Plus, she will set a maximum capacity record. At double occupancy, Icon can accommodate 5,610 passengers. When the ship is fully booked, she will be able to hold 7,600 guests. In comparison, Wonder of the Seas' maximum capacity is 6,988. 
Royal Caribbean's first LNG-powered ship
Every Royal Caribbean ship prior to Icon of the Seas has been built to be powered by diesel. LNG, or liquefied natural gas, is more energy efficient and will reduce both fuel consumption and emissions. 
Additionally, Icon of the Seas will be shore-power ready, meaning that if the destination has the required set up, she will be able to plug into local power grid. This replaces the need to use fuel every time ship is docked. 
Related: Royal Caribbean's next-gen cruise ship will advance goal of creating sustainable cruising
You will find the best neighborhood for adrenaline junkies
Thrill Island, one of eight neighborhoods onboard Icon of the Seas, will be home to Crown's Edge. This adventure course, which combines a ropes course, skywalk, and thrill ride into one, is about 49 feet tall and 44 feet wide. 
After stepping out onto a ledge that is 154 feet above the ocean, the walkway will stop. Eventually, a trap door will release, and you will be sent on a short glide over the sea. 
Thrill Island is also where you will find some fan-favorites, such as the FlowRider, redesigned five lane rock wall, and mini-golf. 
Record breaking water park at sea
Category 6, the largest water park at sea, will also be located inside of Thrill Island. The 17,010 square foot space will feature six recording breaking slides:
Storm Surge and Hurricane Hunter, the first family raft slides at sea that allow groups of four to ride together. 
Pressure Drop, the first open free fall slide at sea. 

Frightening Bolt, the tallest waterslide at sea with a 46 foot drop.

Storm Chasers, the first duo mat-racing slides at sea.
Related: Royal Caribbean's next-gen cruise ship will have the largest water park to thrill all ages
Enhanced crew member areas 
In order to provide the best guest experience possible, Royal Caribbean has hired over 2,300 crew members from 80 countries to staff Icon. 
The company sent our surveys to crew members asking them what they wanted to see onboard the ship. As a result, the crew neighborhood will span four decks and will feature redesigned accommodations that maximize privacy and space with the unique L-shaped design. 
New cabins are not the only thing that crew members get to look forward to, as they have enhanced crew-only amenities, such as The Clubhouse, a lounge that features ping pong, foosball, and pool tables, as well as a bar to order anything from coffees to cocktails. 
There will also be a gym, salon, store, gaming room, indoor and outdoor bars, a multipurpose venue, and  Windjammer that will be the first in the fleet to feature live cooking stations in the crew buffet. 
Related: Royal Caribbean is adding the best crew member cabins and areas on its next new cruise ship
28 stateroom categories means that there is the perfect cabin for all travelers 
When booking a cruise onboard Icon of the Seas, you will be able to choose from 28 different stateroom categories, 14 of which are brand-new and cannot be found on any other ship in the fleet.
In total, there are 2,805 cabins that can accommodate a maximum capacity of 7,600 guests per sailing, meaning that around 80% of all staterooms have been designed for larger families.
Even if you are staying in a standard interior, ocean view, or balcony cabin, you can expect a refreshed design.
One of the first new cabins are the infinite balconies. With the touch of a button, the window at the end of the living space is lowered.
These rooms will offer a flexible 50 square feet of convertible indoor and outdoor space, meaning that these cabins will be longer than other balcony cabins and offer guests more usable space. 
Icon of the Seas will also have a family infinite balconies that will have in-room games, a split bathroom, and a bunk area for children that can be closed off with a curtain for privacy. 
Those looking for suites can find anything from the brand-new Surfside and AquaDome Suites to the 1,772-square-foot Ultimate Family Townhouse. 
Plus, Icon of the Seas has enhanced suite-only amenities in the Suite Neighborhood, ranging from the the two-story Grove Suite Sun Deck, private pool and hot tub, and two dedicated restaurants: The Grove and Coastal Kitchen. 
Related: Royal Caribbean designed first-of-its-kind cabins for its new cruise ship
Demand for the most exclusive suite onboard 
Despite being roughly six months away from her first sailing in January 2024, Icon of the Seas has already seen record-breaking demand from customers, including for the $80,000 Ultimate Family Townhouse. 
"I think we mentioned that the Ultimate Townhouse," said Royal Caribbean International President and CEO Michael Bayley, "I think is pretty much sold out completely for 2024 at an average rate of about $78, $80,000 a week."
There is only one of these suites available onboard, and it is located at the aft of the ship within the Surfside Neighborhood. 
Inside the 1,772-square-foot, three-story stateroom is an in-suite slide, movie theater, karaoke machine and private deck with a ping pong table, outdoor seating, and a fence that connects directly to Surfside. It can accommodate up to eight guests. 
As part of the Star tier of the Royal Suite Class, staying in the Ultimate Family Townhouse comes with some incredible perks, including a complimentary Deluxe Beverage Package and gratuities, concierge service, private sun deck, and access to your own Royal Genie. 
40 ways to indulge, from Royal Caribbean's first food hall to the posh supper club
Icon of the Seas will have 10 brand-new dining concepts, with a total of 20 different venues to choose from. When you add the bars and lounges, there are 40 ways to indulge while onboard the ship. 
Whether you want to splurge on the eight-course meal at Empire Supper Club, try something new at the food hall, get sushi to-go at the walk up window in Central Park, or dine at other familiar favorites (think Chops Grill, Sorrento's, El Loco Fresh, and Giovanni's Italian Kitchen & Wine Bar), there is something that will appeal to everyone's tastes and preferences. 
Related: Royal Caribbean will offer swanky supper club and food hall on new Icon of the Seas when it launches
One-of-a-kind entertainment
When Oasis of the Seas debuted in 2009, she was the first ship to feature the AquaTheater. Here, guests can watch captivating high diving and acrobatic shows that are unique to each ship. Since, however, it is located outdoors, shows are subject to the weather conditions. 
On Icon, water shows will take place inside of the 363-ton AquaDome that will incorporate a 55 foot tall waterfall. There will be two shows that passengers can see: "Aqua Nation!" and "Pirates vs Mermaids." 
Other entertainment venues include Absolute Zero, the largest ice skating rink at sea, and Royal Theater. 
Like the AquaDome, Absolute Zero will host two different shows: "Starburst" and "Once Upon A Time."
"Wizard of Oz" will be the featured musical on Icon of the Seas. Nick Weir, Royal Caribbean's Senior Vice President of Entertainment, said that the targeted run-time for this show is 90 minutes. There will be an original production in the Royal Theater, too. 
Desire to create the ultimate family-friendly vacation
One major difference between Oasis and Icon ships is that Icon of the Seas will not feature the Boardwalk as one of her neighborhoods. Instead, guests will find Surfside, a purpose-built neighborhood for families that is home to Splashaway Bay and Baby Bay. 
You will also find an arcade, playscape, carousel, and multiple dining venues, including a complimentary buffet to keep the fun going all day long without having to venture to the Windjammer. 
You will also find different stateroom options tailored to accommodate larger families, such as the Surfside Suite, which includes a separate nook for children that can be closed off at any point in time. 
Related: Royal Caribbean is building the best cruise ship for young families on Icon of the Seas with a new purpose-built area
Pools located on five different decks
Traditionally, the pool deck encompassed a single deck of the ship. On Icon, you will find pools scattered across five different decks, with the first being Water's Edge on Deck 7 in Surfside. 
If you make your way up to Deck 15, you will find three additional pools here: the adults-only Cove Pool, the suspended infinity Hideaway Pool at the aft of the ship, and Royal Bay Pool, the largest pool at sea. They are dispersed throughout the deck to help keep crowds at bay. 
Deck 16 is home to the the largest swim-up bar at sea: Swim & Tonic. The connected pool has in-water loungers. Adjacent to the pool you will find more loungers and a hot tub. 
Onboard Icon, you will not find the adults-only Solarium. Instead, the area has been dubbed "Cloud 17." As you can imagine, it is located on Deck 17 and features both a secluded pool and cantilevered hot tub that overlooks the water. Cloud 17 also has private access to the tropical-inspired Lime and Coconut Bar.
Finally, those staying in suites that have access to The Grove will be able to utilize the private pool.