In:
The Royal Caribbean brand has evolved to become more focused on multigenerational families in order to provide the ultimate family vacation.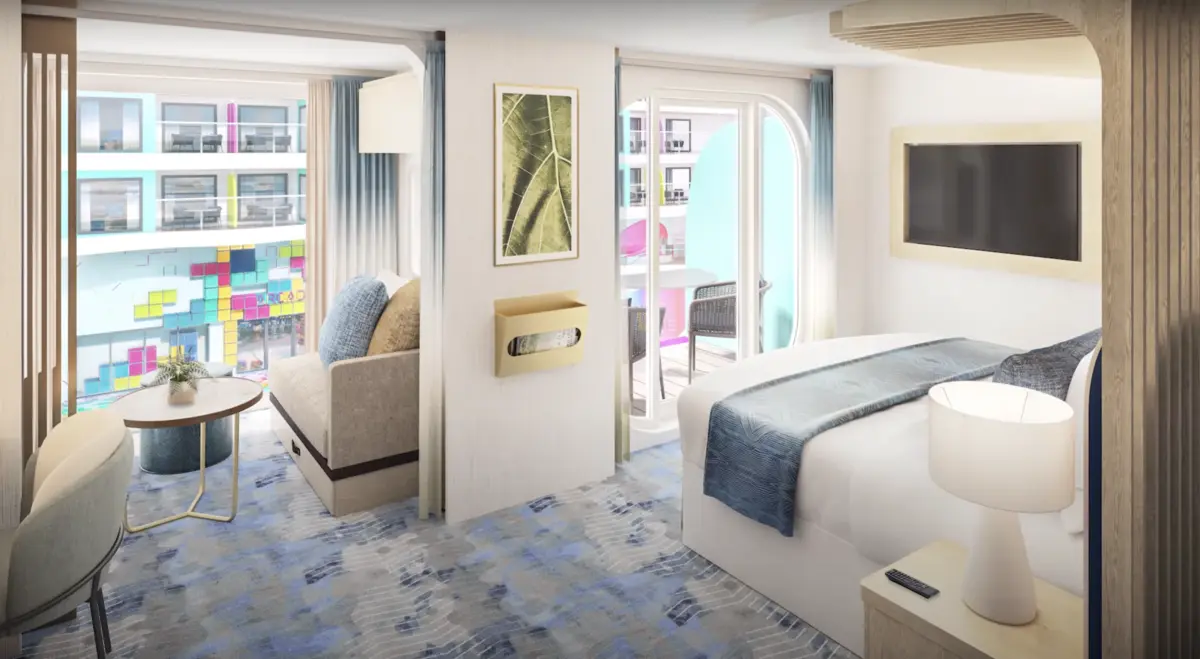 Onboard Icon of the Seas, there are more stateroom options than ever for larger families. In fact, when compared to Oasis Class ships, Icon will have about 55% more rooms able to accommodate three or more people. In other words, 80% of Icon of the Seas' cabins have been designed for larger families. 
Icon's 2,805 staterooms will be comprised of 28 different types of staterooms, including 14 brand-new categories.
"When I think about our accommodations, I think about how we approached the design of all of our new classes of ships," said Michael Bayley, Royal Caribbean International President and CEO.
"We think about it in three different ways: One, traditional. Two, evolutionary. Three, revolutionary. Every single stateroom goes through a refresh of design: furnishings, technology, and really they're all new."
Related: Guide to Icon of the Seas cabins and suites
Researching, designing, and creating accommodations for everyone
It has taken Royal Caribbean over five years to design and build the staterooms onboard Icon of the Seas, and it all began with research. 
"We did a lot of guest research on the evolution of staterooms, as well as a lot of crew research," said Jennifer Goswami, Director, Product Development, Royal Caribbean International.
"The crews are absolutely the most valuable asset that Royal Caribbean has. They have told us that guests are bringing different types of things to maximize the usage of this space, so we've designed Icon's staterooms to maximize storage, really making sure that seven days feels comfortable"
According to Goswami, "Every detail of the room was carefully scrutinized. We went through how far the charger is, how close the soap is...every part of every stateroom on Icon really was intentionally built."
Plus, guests will be able to control more aspects of their stateroom to make the space work best for them, from the blinds to raising and lowering the infinite balcony, from a touchscreen pad. 
The mockup process for Icon's staterooms was actually started in their home office; they are not built at the shipyard. About 25 cabins are built per day at a factory in Finland that is located about thirty minutes from the shipyard. Essentially, it is a high production factory line of staterooms!
New stateroom categories
In order to satisfy their guests' wants and needs, Royal Caribbean knew that Icon needed a combination of rooms that offered more space, choices, and views. Even if you are staying in an interior or ocean view cabin, you can expect a total refresh of the design; they are more modern and stylish than ever before. 
Not only do the layouts give guests more space, but most of them connect the room experience to the outdoors, whether that is the ocean, Surfside, or Central Park. 
Infinite balconies
Icon of the Seas will be the first Royal Caribbean ship to feature infinite balcony cabins, which will offer a flexible 50 square feet or convertible indoor and outdoor space.
This means that the stateroom will be longer than other balcony cabins and offer guests more usable space, as it will lack the steel barrier that traditional balcony cabins require in order to separate the outdoor from the indoor space. 
"The fact that then you have the ability to sort of lower that infinite balcony and you feel that connection to the outside [is something] that we know our guests know and love form the balcony, but you're able to have that versatility of then making that an interior space," said Claudia Diaz-Gonzales, Associate Vice President, Product Development of Royal Caribbean International. 
In addition to infinite balconies, larger families may choose the family infinite balcony. This will include in-room games, a split bathroom, and even a bunk area for children that can be closed off with a curtain for privacy. Plus, each bunk has their own television!
Suites
The Surfside Suite also focuses on the connecting the family in a way that prioritizes privacy. The stateroom will have a separate nook for children that can be closed off at any point. Plus, it is easy for children to look below them and see the neighborhood that was specifically designed for them! 
Families who would like to splurge a little bit more but still have a view of Surfside might want to consider one of the brand-new Sunset Suites. 
"When it comes to our differentiators on suites on Icon, we have our Sunset Suites...in the aft, and those [have] wraparound balconies. They have the connection to the ocean, [and] you have your sneak peak into Surfside. That is really all about the view," said Krissia Larios, Senior Design Associate, Architectural Design, Newbuilding Royal Caribbean Group.
Another new category of stateroom is directly related to a new feature onboard Icon: the AquaDome. 
The AquaDome Suites were created because of the dome's placement. Guests in these staterooms will enjoy panoramic views from a window that is clocked by the AquaDome itself. 
And, of course, there is the Ultimate Family Townhouse. This three-story suite is the definition of the ultimate family experience onboard any Royal Caribbean ship. It will include an in-suite slide, movie theatre, and patio that allows for direct access to the Surfside Neighborhood. 
More than just new staterooms to look forward to
The upgraded and new staterooms onboard Icon of the Seas will let guests relax, rest, and recharge for all the fun elsewhere on the ship. 
With so much to do, including Thrill Island's record breaking Category 6 Waterpark, the family-focused Surfside Neighborhood, and brand-new bars and nightlife spots, you may rarely find yourself in your cabin! 
While Icon of the Seas is not scheduled to hit the seas until 2024, there is so much to look forward to on what will be the world's largest cruise ship. 
Her maiden voyage will commence on January 27, 2024 and depart from Miami, Florida, and guests will visit Basseterre, St. Kitts & Nevis; Charlotte Amalie, St. Thomas; and Perfect Day at CocoCay, Bahamas.