In:
Royal Caribbean thinks you'll find some of the best bar fun possible when it launches its next cruise ship.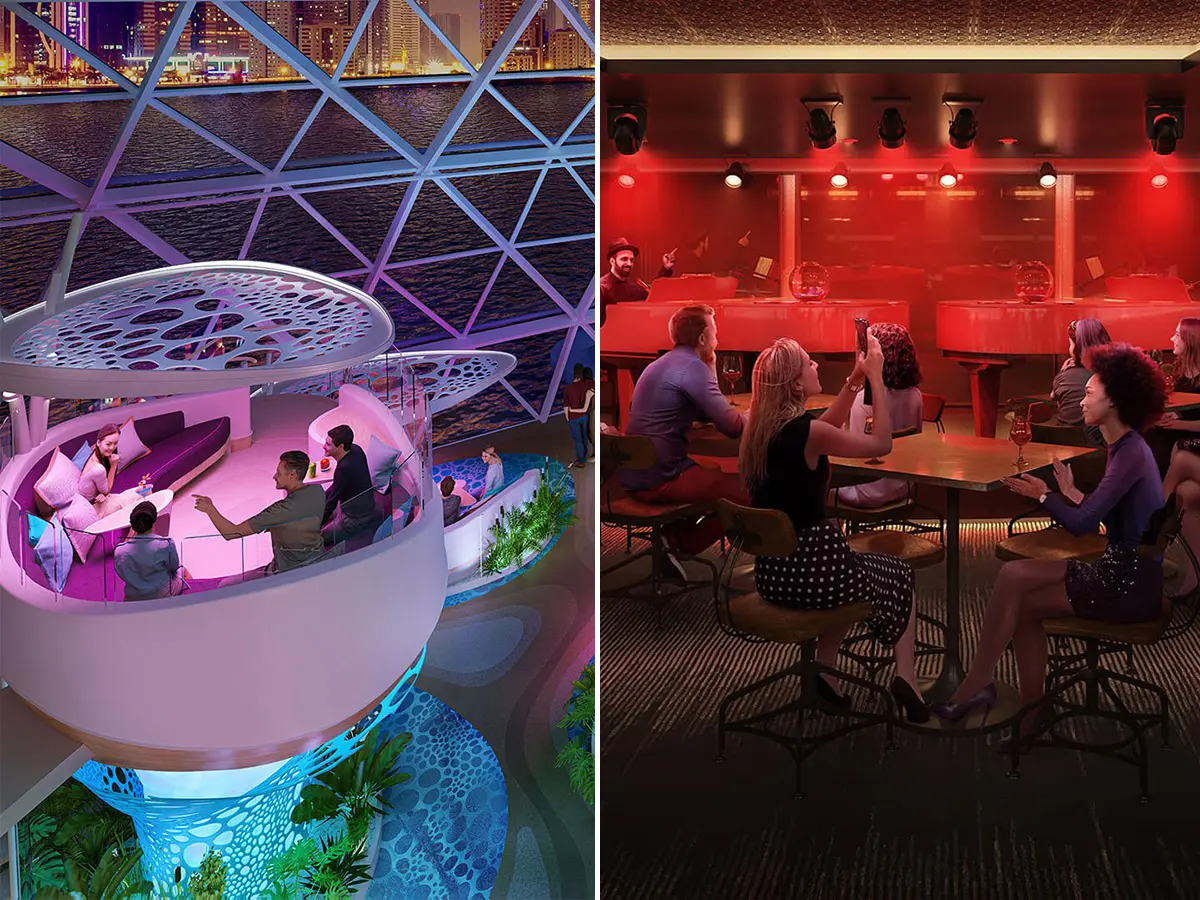 Cruise ship passengers will find more than 40 bars and hot spots on Royal Caribbean's Icon of the Seas, which will be the first vessel in the line's Icon class and the next "world's largest cruise ship."
Royal Caribbean announced more than 15 of the bars and nightlife experiences on Icon of the Seas today. There is a combination of returning favorite bars as well as new concepts, such as dueling pianos, coffee-infused cocktails, or a new new walkup champagne bar.
More than 40 venues
There will be no shortage of places to wine, dine, and drink on Icon of the Seas.
Royal Caribbean will have more than 40 venues on the ship, including a few new concepts, like Lou's Jazz 'n Blues in Central Park and Dueling Pianos in Royal Promenade, and spots to grab a drink and mingle before a show like the Rye & Bean coffee bar in AquaDome and the Bubbles champagne bar in Central Park.
Making a return on Icon of the Seas are bars that cruise fans have come to love on other ships, such as from Trellis Bar and Playmakers Sports Bar & Arcade.
Here's a list of the bars and nightlife coming to Icon of the Seas:
New concepts: Entertainment & Drinks
Dueling Pianos – In Royal Caribbean's first dueling pianos bar, it's the battle of the baby grands at the hands of two talented pianists who take song requests to bring high-energy performances of crowd-favorite hits to the Royal Promenade – the heart of Icon. 
Lou's Jazz 'n Blues – The new spot fills the open-air Central Park with live performances of soulful classics and jazz pop tunes, inviting music lovers to take it all in from indoors or as they stroll by the thousands of real plants during Jazz in the Park. 
Location: Deck 8, Central Park
Pricing: Complimentary
Capacity: 71 indoor, 16 outdoor seated
Rye & Bean – Matching the transformational experiences in the AquaDome, this new coffee shop offers everything from classic cups of joe to espresso cocktails. It's a cozy morning hangout with endless ocean views by day and a buzzing bar with views of deck-defying entertainment in the AquaTheater by night.
Location: Deck 15, AquaDome
Pricing: A la carte or with Royal Caribbean drink package
The Overlook and Overlook Pods – The elevated lounge and first-of-their-kind nooks at sea take nights out and hangouts to another level.
The wraparound windows in the AquaDome bring the ocean center stage during the day, and at night, the cruise line's marquee aqua shows are just a few steps away.
The Overlook Lounge will have 160 degree views of the ocean and it's right above the ship's bridge.
The next-level pods are where friends can lounge with a drink, play classic board games and kick back to live music, too.
Location: Deck 14 & 15, AquaDome
Pricing: A la carte or with Royal Caribbean drink package
Capacity: 112 (lounge), 52 (pods) seated
New Concepts: Ambiance
1400 Lobby Bar – The new meetup spot – inspired by the history of shipbuilding – is where vacationers can start to make memories as soon as they board, with a mix of daytime and evening sips developed with renowned mixologist Tony Abou-Ganim, who's worked with James Beard Award-winning chefs, Bellagio and more.
The venue's also the first to open the vibrant Royal Promenade to the outdoors with an ocean-facing terrace. 
Location: Deck 5
Capacity: 67 interior, 18 exterior seating
Bubbles – It's three cheers at the new walkup champagne window in Central Park, where glasses of mimosas, prosecco, Bellini and even bottles of bubbly are on tap morning, noon and night. 
Location: Deck 8, Central Park
Hours: 7am - 10pm
Returning venues
The Attic, inspired by Manhattan's dark and intimate comedy clubs with adults-only live shows.
Location: Deck 6, Royal Promenade
Capacity: 159 seated
Music Hall, to rock out to the house tribute band in a two-story venue.
Location: Deck 3 & 4, Royal Promenade
A larger Trellis Bar in Central Park, with a new look and an all new menu featuring pre-dinner appetizers.
Location: Deck 8, Central Park
Capacity: 12 seated
Boleros, the lively club that brings the heat with Latin flavor.
Location: Deck 6, Royal Promeande
Capacity: 85 seated
Schooner Bar, where pianists set the tone for pre-dinner drinks and nightcaps. 
Point & Feather – The neighborhood English pub on Royal Promenade has a new open layout, games – and tournaments – of darts and sips joining the signature lineup of pints and the live guitarist at the center of it all.
Darts are complimentary
Location: Deck 5, Royal Promenade
Capacity: 104 seated
Playmakers Sports Bar & Arcade – The returning favorite, serving up gameday bar fare and ice-cold beers, is where vacationers can catch their home teams on dozens of screens and play arcade and tabletop games. 
Location: Deck 6, Royal Promenade
Capacity: 107 seated
Spotlight Karaoke – Aspiring singers take the stage in front of the crowd or in a private room with their friends and family at this fan-favorite karaoke spot on Royal Promenade.
Complimentary karaoke venue with bar. Private karaoke rooms available to rent.
Location: Deck 5
Capacity: 106 seated
Pushing for new hot spots
It's clear Royal Caribbean wants Icon of the Seas to offer more places to enjoy a drink, as well as be entertained.
Icon of the Seas will have more than 40 food and beverage concepts, with 23 of them completely new to Royal Caribbean.
Royal Caribbean Vice President Food & Beverage, Linken D'Souza talked about the opportunity to bring new ideas to Icon, "We've set out to introduce a new kind of vacation in every sense and taken a blank slate to create an unparalleled blend of ways vacationers can celebrate and make memories whatever their mood, vibe and style."
"From all-new venues and bolder favorites to new iconic drinks on every menu, zero-proof cocktails and twists to classics, there's something for everyone to make the most of their nights out on Icon of the Seas."
Icon of the Seas launches in 2024
When it begins sailing, 20-deck 7,600-passenger Icon of the Seas will officially become the biggest cruise ship in the world, taking the title from its current holder, sister ship Wonder of the Seas.
Icon of the Seas is scheduled to be delivered in late 2023 and begin sailing in January 2024.
The first sailing of Icon of the Seas, a seven-night voyage out of Miami to the Eastern Caribbean, is scheduled for Jan. 27, 2024.
The ship will alternate between Eastern Caribbean and Western Caribbean itineraries.