In:
What is it like to be on a Royal Caribbean cruise?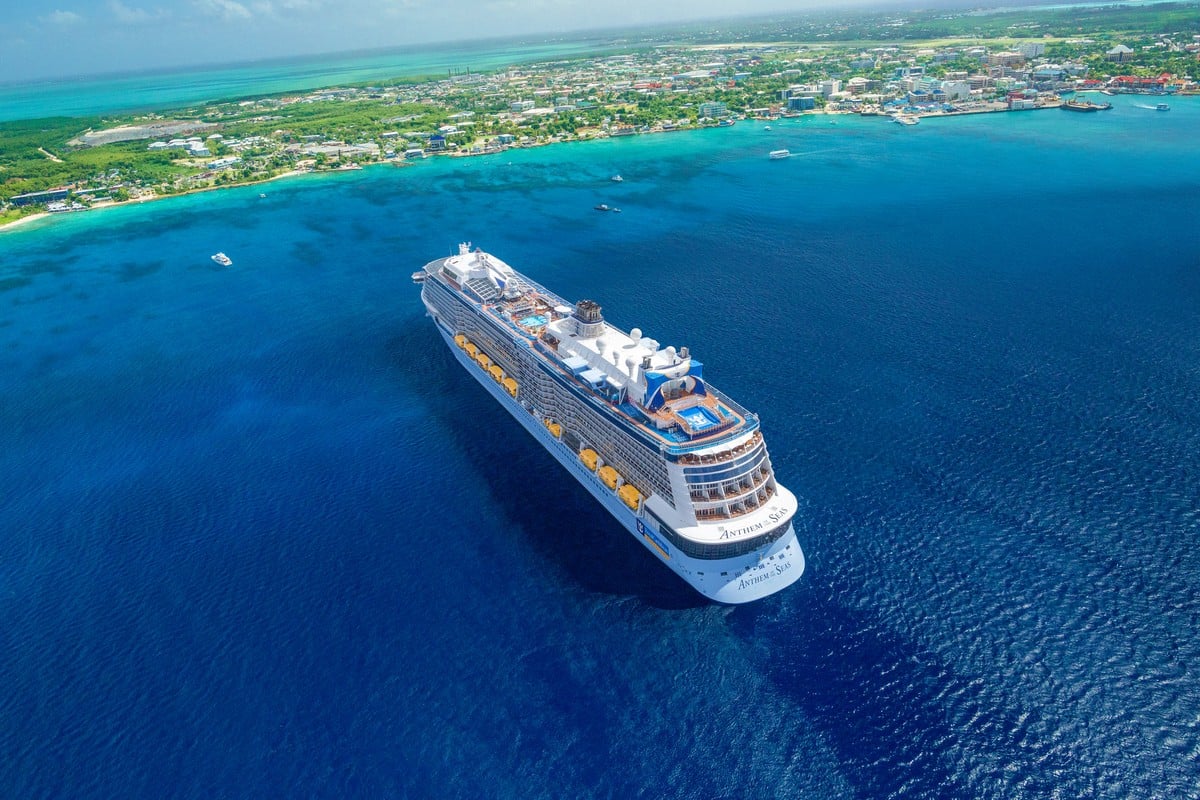 Despite Royal Caribbean being rated as one of the top cruise lines in the world, there are still some myths that perpetuate, despite a ton of evidence to the contrary.
This confusion leads to misconceptions about what a Royal Caribbean cruise (and in many cases, all cruises) are really like.  Here is a look at some of the most common cruise myths out there, and why they are plain wrong.
Cabin is small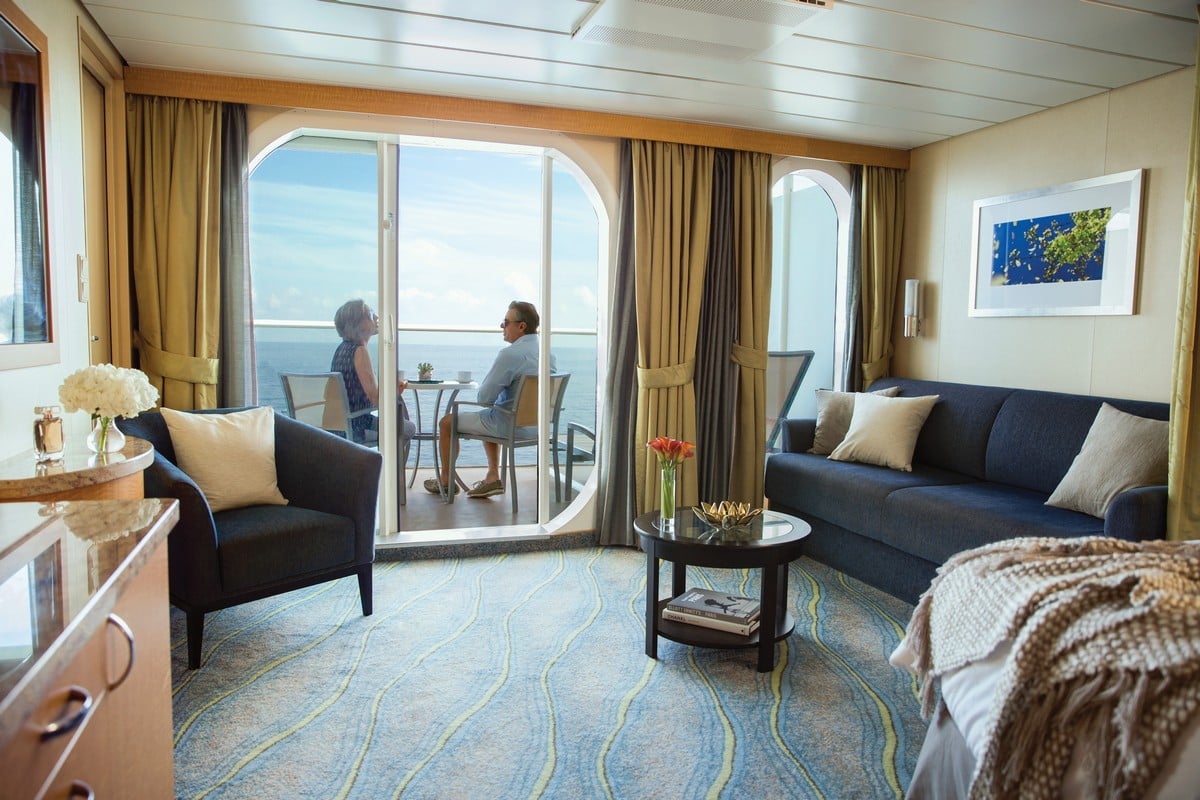 Even the smallest staterooms are still probably larger than you think.
Royal Caribbean offers staterooms of various sizes that run the gamut of price ranges and amenities.
If your concern is being in too small of a room for your liking, try a balcony room or even a suite.  Balcony rooms tend to be very popular choices and not cost nearly as much more to move up to those than you might think.
Suites offer the most living space, but as the name implies, it comes at a price. If you can afford them, suites offer an incredible amount of living space onboard.
Regardless of which room you choose, the rooms tend to be larger than you think, and you will spend significantly less time in a cruise ship stateroom compared to a hotel room.
I will get sea sick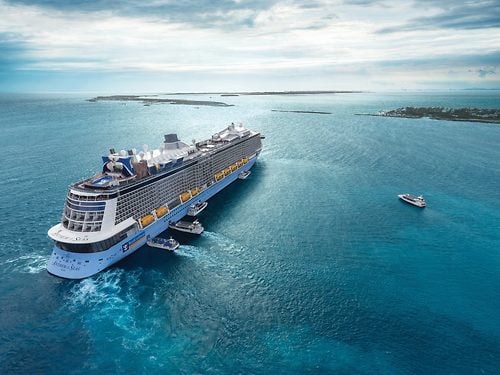 Perhaps no other concern of a first time cruiser can rival that of fear of getting sea sick on a cruise.
While getting seasick is a possibility (especially for those prone to motion sickness), there are so many easy remedies out there to combat it, that you should not be overly concerned.
There is over-the-counter medication you can purchase (Bonine), acupressure bracelets, and even a prescription patch you put behind your ear.
There are also a variety of homeopathic treatments, such as eating green apples, peppermint or something containing ginger.
If you are truly concerned, your best bet is to take either the over-the-counter pills before the cruise begins and every day thereafter.  Or, talk to your doctor about getting a prescription medication.
You have to get dressed up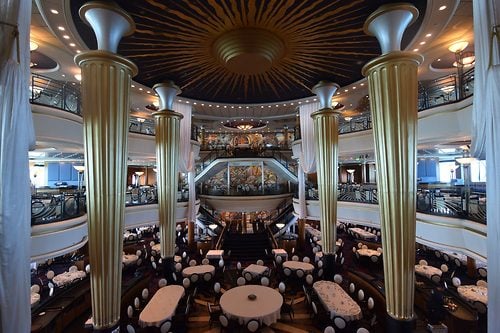 While there are some classic films and television shows set on cruise ships, they all tend to show people wearing tuxedos and ball gowns and it gives the sense that a cruise is a 7-night senior prom sailing.
Cruising on Royal Caribbean is very relaxed, and while there are dress codes, they only apply to dinner in the main dining room and they are very basic in nature.
First and foremost, you can skip formal night by not dining in the main dining room for dinner.
Even if you do want to dine there, keep in mind the required dress code is nothing close to fancy. Collared shirt and slacks for men (tie or suit optional), and a cocktail dress or pant suit for ladies. There is no one inspecting your clothing as you enter to check the regality of your attire.
On non-formal nights, the required attire is nothing fancy at all. Jeans are acceptable every night, along with polo shirts, blouses or nearly anything else without holes in them.
In addition, there are plenty of alternative dining spots on your Royal Caribbean ship that have casual dress attire requirements.
Royal Caribbean isn't the best cruise line for young children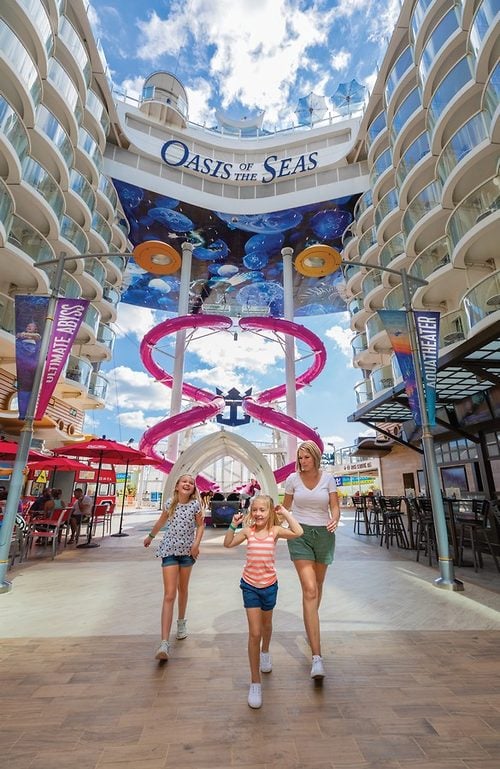 When people look to vacation with younger children (under 10 years old), Royal Caribbean tends to be in their blind spot out of concern there are better choices out there.
Royal Caribbean offers a well-rounded approach to their children's programming, and there is a lot to do for kids of all ages onboard.
Children 6 - 36 months old are able to spend time in the ship's nursery, which is available in nearly all ships now. The nursery is an extra-cost venue that offers supervised child care during the daytime and night, and is staffed by crew members with backgrounds in child care.

Adventure Ocean is the award-winning children's programming available on all ships that encompasses ages 3 years old up to 17 years old. Adventure Ocean is broken down by ages to ensure programming is appropriate for each group, and kids can enjoy a great variety of supervised activities, including games, drawing, story time, crafts, video games, scavenger hunts and more.
Royal Caribbean recently revamped its Adventure Ocean programming on Oasis of the Seas and Freedom of the Seas with an all-new approach that will eventually make it to the rest of the fleet. This update to Adventure Ocean combines new learning methods with technology and more opportunities for the kids to choose the sort of fun they want to engage in.
The ships are crowded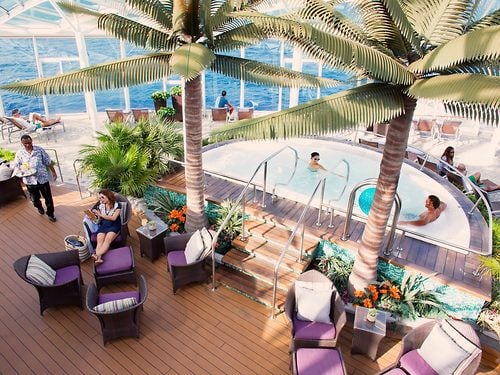 The modern cruise ships Royal Caribbean sails are designed to help spread out crowds to ensure better traffic flow, as well as prevent the log jam of people that some think are always on a cruise.
Just like in any land-based casino, hotel or theme park, there can be occasions where crowds come together, such as when a show ends or returning to the ship from a shore excursion, but you will not go on Royal Caribbean feeling like you are surrounded by people all the time.
Ironically, the largest cruise ships (Oasis and Quantum Class ships) are the best at spreading guests out to prevent crowding.  Royal Caribbean knew when they designed those ships that they needed to ensure there was plenty of space for everyone, and they offer the most deck space, bars, clubs and restaurants to accommodate everyone.
People fall overboard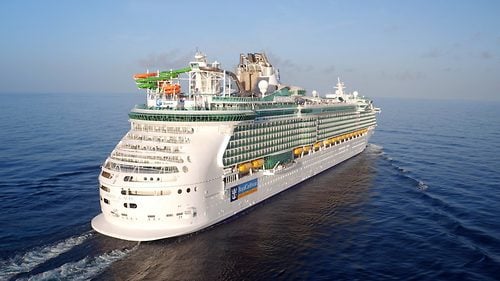 This myth is rooted in news reports that often involve poorly written headlines.
While there have been relatively speaking very few people that have ended up in the ocean following being on a cruise ship, they are all cases of jumping off the ship , victims of being thrown off by someone else, or being somewhere they should not be in the first place.
The notion you can be minding your own business, slip or bump into something and fall backwards over a railing into the ocean is simply not true.
Royal Caribbean designs its ships with high balcony railings, plenty of warning signs, and partitions to keep guests safe. 
You will be bored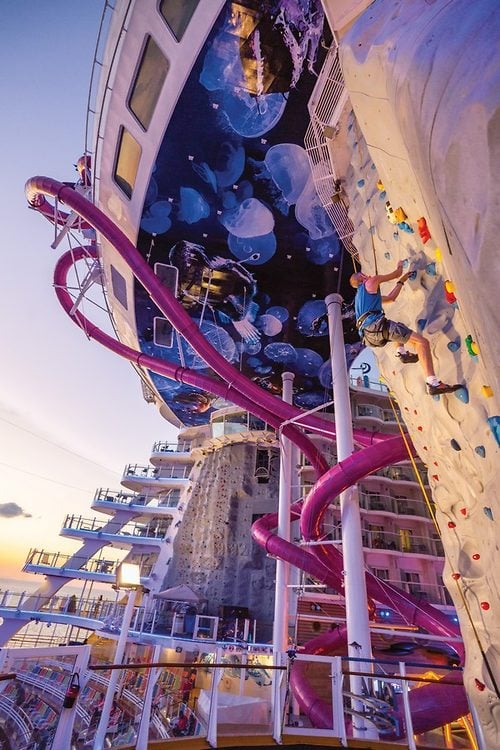 Every so often I will hear from someone that has never cruised that they refuse to go on a cruise because they imagine being "stuck" on the ship and being bored.
Royal Caribbean cruise ships are packed with tons of activities, entertainment and things to do, in addition to the fun places around the world your ship will visit.
Depending on the ship, you can enjoy rock climbing, water slides, zip lining, ice skating, laser tag, dance parties, play trivia games and much more.
The best way to convey just how much there is to do on a Royal Caribbean cruise is to read a past Cruise Compass. These are the daily activity sheets distributed to all guests onboard.  You will quickly see there is a plethora of things to do onboard that will leave you anything but bored.
I have to eat with random people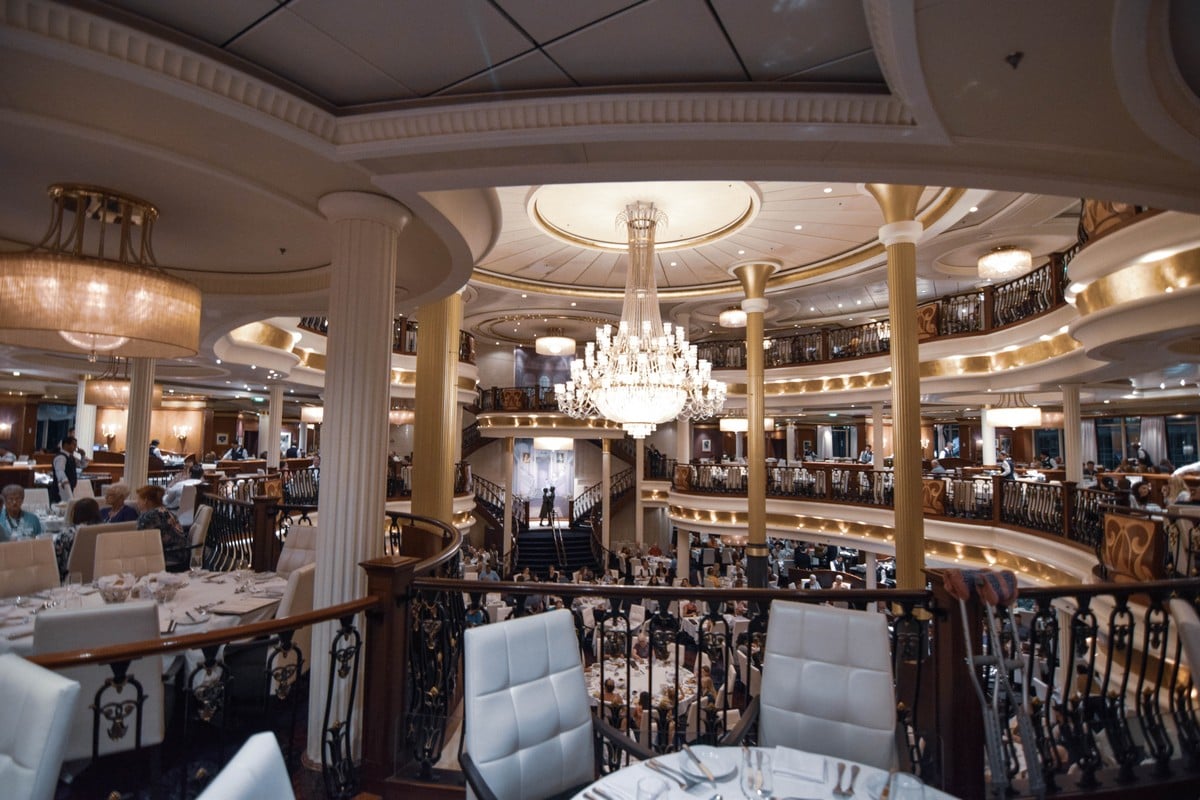 Some people are concerned they will be forced to dine with people they do not know, which is/was a cruise tradition rooted in the past.
While dinner in the main dining room does still offer this option, there are alternatives that offer more flexible options.
First and foremost, it is quite easy to request a main dining room table for just your family.
Royal Caribbean also offers My Time Dining, which is a flexible dining option that does not have assigned dinner times and seating.  Instead, when you arrive, you are seated with just your family.
In addition, you can opt to skip the main dining room and dine at specialty restaurants, where seating is always just for your party.  There are complimentary casual venues that offer plenty of seating that you can pick out.
The older and smaller ships are not as fun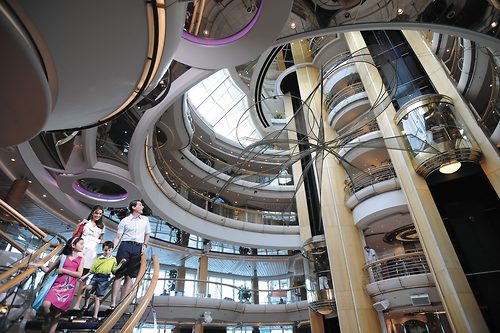 If you watch a Royal Caribbean television commercial, you will spot plenty of b-roll that feature Royal Caribbean's newest cruise ships, leading some to question why anyone would sail the older ships.
Royal Caribbean recognized that their newer ships offered a big advantage and engaged in a series of upgrades and enhancements to bring some of the popular features from the big ships to their existing fleet.
Not only has programs like Royal Amplified and Oasis-sizing added new dining locations, entertainment and activities to older ships, these ships are also priced extremely well compared to their newer sister vessels.
Royal Caribbean's fleet of ships are not like when you buy a car and let it languish with the same features as when you bought it. They are always looking for opportunities to bring great choices to these ships, and you will still find plenty to do onboard.
It's a floating Petri dish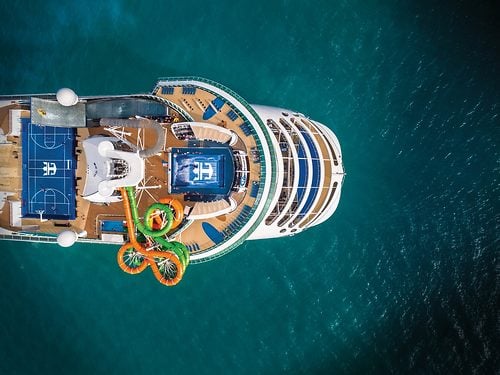 This notion is the single most infuriating and downright incorrect summary of a cruise ship. 
No doubt you have read headlines that make cruise ships seem like they are the single greatest source of spreading disease, especially during the current global health crisis.
While cruise ships do carry a risk of spreading any germ or disease (just like any public venue in the world), they are not the super germ incubators the media has made them out to be.
The U.S. Centers for Disease Control (CDC) reports that only 1% of Norovirus (a gastrointestinal illness) cases come from cruise ships, while nearly all the cases come from restaurants, nursing homes, schools and prisons.
Royal Caribbean takes the health of its passengers seriously, and continuously works on new policies and procedures to keep everyone safe. Hand sanitizer stations and enhanced onboard sanitization are just some of the tools often employed by the cruise line to greatly reduce the risk.
In light of the current pandemic, Royal Caribbean implemented a series of new health protocols crafted by its own blue ribbon panel of scientists and health experts as well in coordination with government health officials to create a strategy of new policies and procedures for passengers.
The proof of that efficacy is in the proof: in the sailings since Royal Caribbean restarted in 2021 carried over half a million guests and only had one hundred and forty one cases amongst those five hundred thousand people.
The bottom line is the vast majority of people who go on a cruise do not get sick.