In:
The hurricanes of 2017 damaged the beach. We do not recommend going here until it is rebuilt.
The island of St. Martin is known for its beautiful beaches but one of its lesser known beaches is a great choice if you're looking for a very calm ocean experience that is perfect for young children. On our recent cruise to the Eastern Caribbean, we tried Le Galion beach on the French side of St. Martin.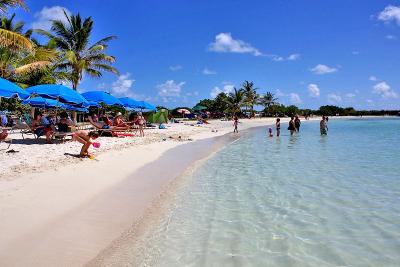 Description
Le Galion beach is a small cove that has a reef/sandbar that breaks any waves well off shore so it's basically a beach that is more like a pond. In addition, the depth of the water barely exceeds a foot or so for a good few yards.  All of this makes for perfect conditions for young children who want to be in the water but cannot swim or are not strong swimmers.
The beach is horseshoe shaped and is free to access, although if you want to use the chairs and/or umbrellas that are set up, it will cost a small fee (2 chairs and an umbrella cost $15).  One half of the beach has soft white sand while the other half has rocks and coral for those that want to do a little snorkeling.  The water tends to be very clear and it's just the perfect environment for kids to play in.  It's also serene enough for adults to enjoy for the quiet ambiance that a beach like this provides.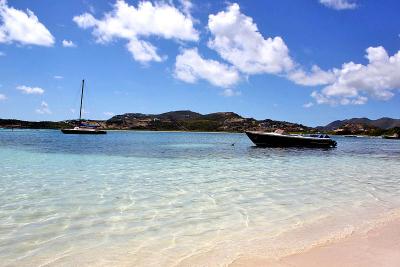 There's a small restaurant and bar on one end of the beach that has your basic beach bar food as well as a full array of drinks.  There is no waiter service but the beach is small enough that walking to it is not a problem.  Le Galion tends not to be as crowded as other beaches so that usually means no vendors walking up and down the beach trying to sell stuff to you.
Comments
Le Galion beach is perfect for families who have kids that want to play in the water but most beaches have too rough a surf for it to be safe.  Our two year old who cannot swim had no problem playing in the first few feet of water, that barely went up to her thighs when standing up.  
For adults, le Galion is great if you just want a no-frills, calm beach experience.  We saw plenty of adults without kids enjoying the beach on their own.  Given the relative lack of surf, this is not a beach that you will find lots to do in the water but there are 2 floating docks that anyone can swim to.  The first dock is relatively close to shore and a good option for kids but the other dock is further out and best suited for adults.  Otherwise, there are no other water toys available.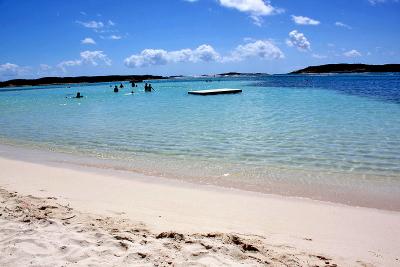 What I love about le Galion is how simple and serene everything is.  For my daughter, it was heaven because of the no waves.  For the adults, we enjoyed sitting on our chairs and enjoying a few adult beverages while taking everything in.  The restaurant/bar is somewhat expensive, depending on what you order.  Drinks are average in price, although it's still cheaper to drink here than your cruise ship.
I do need to mention le Galion is a clothing optional beach, and on our visit we did see about 4 women bathing topless.  During our time, the sunbathers kept to one side of the beach while the families seemed to be on the other.  It was not a big deal for us and unless you're looking for it, the nudity is easy to miss.  
Location: e Galion Beach Rd., Quartier D'Orleans, St-Martin / St Maarten
Cost: Beach access is free. Chairs and umbrellas available for rent.