In:
Royal Caribbean offers cruises to bucket list destinations, and Hawaii is right at the top for many people.  Hawaii is renown for its natural beauty and incredible offerings that are unique to the island chain, so if your cruise goes there, there are a few good tips you need to know about before visiting.
Hawaii is part of the United States, so that means if you are an American, cell phones, currency, credit cards and simple things like renting a car is no different compared to being right at home.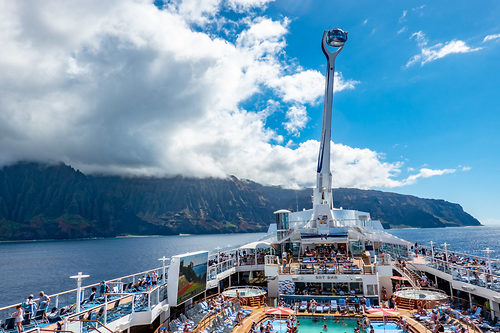 Cruising the Nā Pali Coast of Kauai
Since Hawaii is a series of islands in the middle of the Pacific Ocean, the cost of everything from milk to gasoline can be significantly more expensive when compared to what items cost on the U.S. mainland.   This impacts everything in Hawaii, including the price of excursions.  Research and prepare a vacation budget accordingly.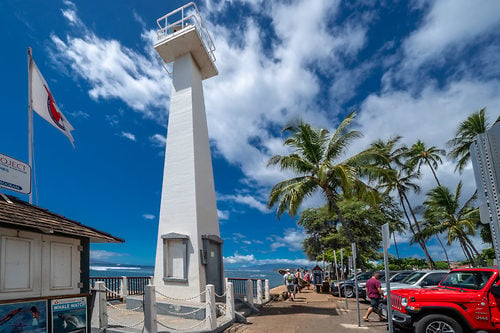 Arriving into Lahaina, Maui
Royal Caribbean offers Hawaiian cruises when it repositions its ships between the the Australian cruise season and the Alaska cruise season.  A combination of the U.S. Jones Act and the Passenger Vessel Services Act (PVSA) dictates that foreign flagged vessels are not allowed to offer cruises that remain within the Hawaiian Islands.  Instead, they must include at least one foreign port of call on the itinerary.  Since Hawaii is in the middle of the Pacific Ocean with few foreign countries nearby that means Sydney, Australia or Vancouver, Canada are often the start or end of such journeys.  
The only time of year that Royal Caribbean offers a cruise that includes a visit to Hawaii is in the spring or fall, when ships are repositioning between Australia and Alaska.  It also means a number of consecutive sea days will be found on Hawaiian cruise itineraries.  This can also impact anyone who would like to sail on a back-to-back cruise visiting Alaska combined with a Hawaiian cruise which can in some cases be a violation of the PVSA.  
Booking a Royal Caribbean Hawaiian cruise means being limited to just a few dates available in the spring or fall, typically around May or September.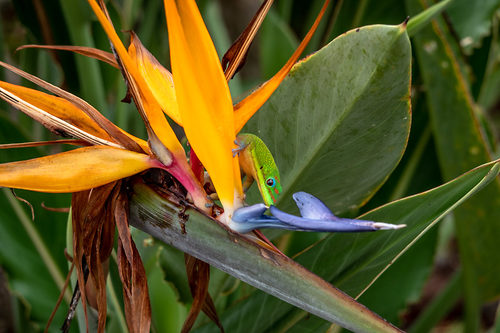 A Gecko makes an appearance to drink some water droplets from a Bird of Paradise
Royal Caribbean currently has different classes of cruise ships that move between Alaska and Australia.  Like many bucket list destinations, there are reasons to consider the type and size of ship when booking a Hawaiian cruise.   Smaller ships can get into smaller ports of call and offer port experiences that newer and larger ships cannot.   Larger and newer ships offer on-board features and experiences that smaller ships cannot.  
You will need to decide the right balance of on-board experience versus itinerary that fits your cruise style.  Radiance class, Voyager class and Quantum class ships have all recently sailed these routes.  Fortunately, all ships provide wonderful views of the seas, a range of cabin type from interior, ocean view, balcony and suites plus plenty of on board activities.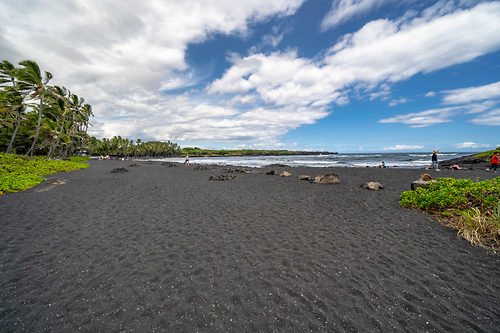 The beautiful black sand of Punalu'u Beach on the Big Island of Hawaii
The State of Hawaii is made of of an archipelago of islands.  Each island in the chain offers a different experience.  A benefit of cruising to Hawaii is being able to experience many different Hawaiian islands in one trip.  
Kauai is known as the garden island.  Maui is the valley island. Oahu is the most largely populated island, where the largest Hawaiian city of Honolulu is located, as well as popular tourist attractions such as Waikiki, Diamond Head and Pearl Harbor.  The biggest island in the state bears the name Hawaii, the same name of the state that represents the collection of these Hawaiian Islands.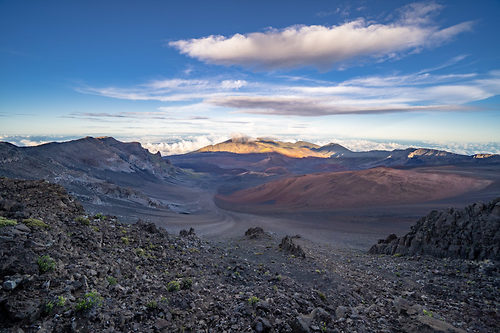 The Haleakalā crater on Maui, where tens of thousands of years ago lava would flow from volcanic vents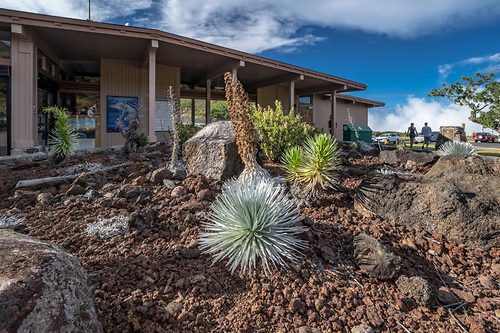 The Silversword is only found on the island of Maui.  Unique to Maui and not found anywhere else in the world, not even on other Hawaiian Islands
Cruises tend to start or end in Honolulu, on the Island of Oahu.  The port is close to the Honolulu airport, and is a great spot to spend a few days before or after the cruise.  If you are traveling to Hawaii, consider spending a few extra days before or after to explore everything the incredible Island of Oahu has to offer.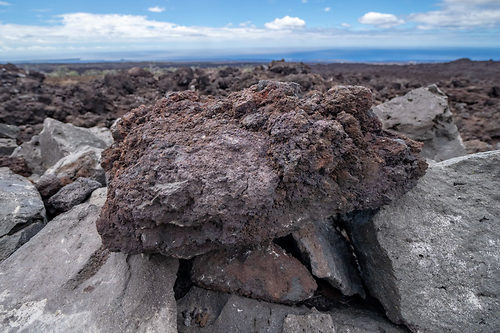 Exploring centuries old lava flows on the Big Island
The Hawaiian islands are born from volcanoes.  Some are still active, while others are currently dormant (but not extinct).  At the time this blog post was written in 2019, there are no active lava flows or eruptions to experience.  However, you don't have to go very far to find evidence of the volcanic history that has shaped these islands for millions of years.  This is particularly true on the Big Island, which last experienced new lava flows in 2018.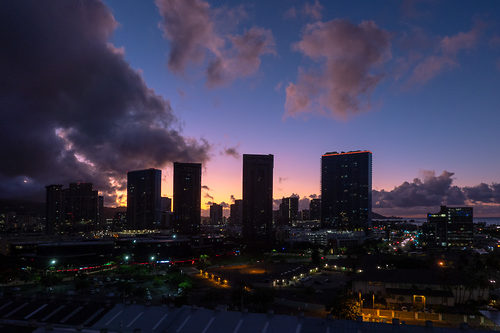 Sunrise in Honolulu, as seen from the pool deck of Ovation of the Seas while in port
On Oahu, if you wish to visit Pearl Harbor (and you should), you will need to plan ahead and make reservations well in advance for a visit to the USS Arizona Memorial.  Simply showing up without reservations will likely result in disappointment.  
Visits to the USS Arizona Memorial had been suspended due to movements of the loading dock but recently the National Park Service re-opened the Memorial and visits have resumed.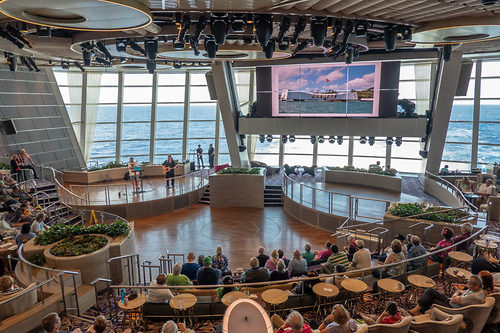 A series of daily lectures from a native Hawaiian guest speaker onboard
Hawaii may be part of the United States, but it roots are very different from the mainland.  Steeped in native culture and tradition, it is well worth researching the origins of the Hawaiian people and their history before visiting Hawaii.  There are flora and fauna that are unique to Hawaii and in some cases only exist on one Hawaiian island and no where else in the world. In some cases, they do not exist on other Hawaiian islands.  This makes a cruise to Hawaii a great educational experience for everyone including family cruisers.  
Royal Caribbean will often provide a series of guest lectures on board to help educate guests about Hawaii.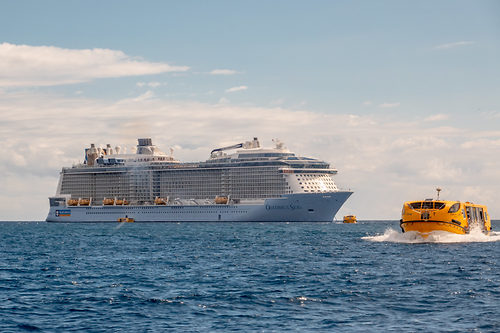 Tendering operations from onboard Ovation of the Seas, the largest cruise ship to ever visit the Hawaiian Islands
In many cases, a visit to a Hawaiian island from a cruise ship involves tendering. Not all islands have a pier or harbor that can accommodate cruise ships.   In some cases, smaller ships can dock, but for some islands even smaller ships must tender using smaller boats to transfer guests to shore. 
Royal Caribbean has a lot of experience with tendering and they will always strive to make the experience as smooth as possible, but you need to consider the extra time it takes to tender if you plan to explore Hawaiian islands that are tender ports on your own.  As you research each ship and itinerary, make sure you pay attention to what ports are tender ports and plan accordingly.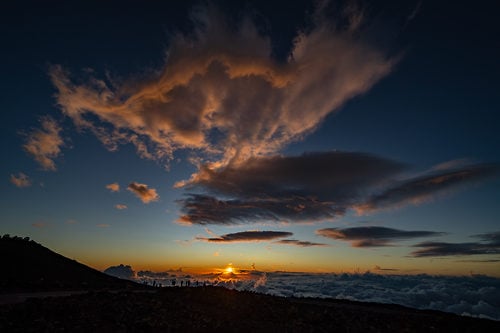 Sunset as seen from near the summit of Haleakalā nearly 10,000' above sea level
Excursions are the way to truly experience everything Hawaii has to offer.  Excursions vary and different experiences can be booked directly or through Royal Caribbean.   
The same reasons for booking excursions through the cruise line versus through third parties remains the same debate as any other cruise itinerary.  Regardless of how you intend to explore Hawaii, plan and research excursions well before boarding to ensure you make the most of your Hawaiian cruise experience.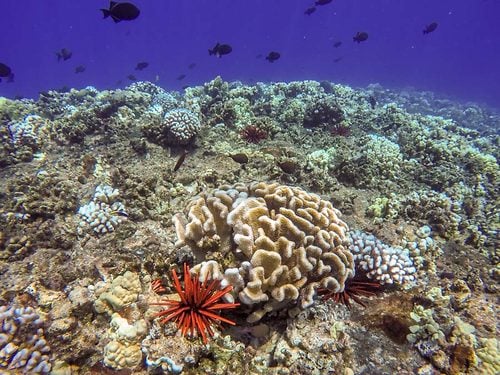 Snorkeling the Molokini Crater
Popular excursions either booked through Royal Caribbean or directly will sell out so don't wait until you are on board to book your excursions.
On Oahu in and around Honolulu and Waikiki, you will find ride share services available much like in any American city.  On the remote Hawaiian islands, ride sharing drivers may be few and far between so plan accordingly.  On some islands there are few roads and some roads can become congested at times.  Give yourself plenty of time if self exploring to make sure you are back on board well before sail away time.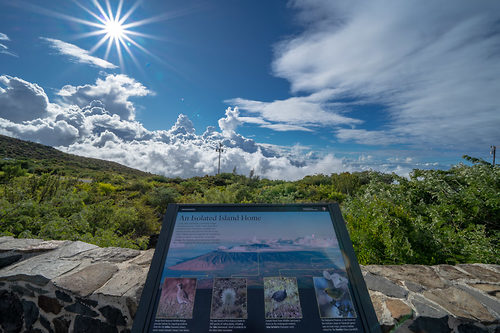 Visiting a National Park above the clouds on Maui
For anyone new to this incredible destination, using a travel agent can greatly assist in planning the ideal Hawaiian cruise vacation.   
Hawaii is a beautiful cruise destination that is unique and different from any other.  Some research and planning before booking will ensure that you can get the most from your Royal Caribbean Hawaiian cruise.