In:
Royal Caribbean announced it will add a new adults-only area to Perfect Day at CocoCay, called Hideaway Beach.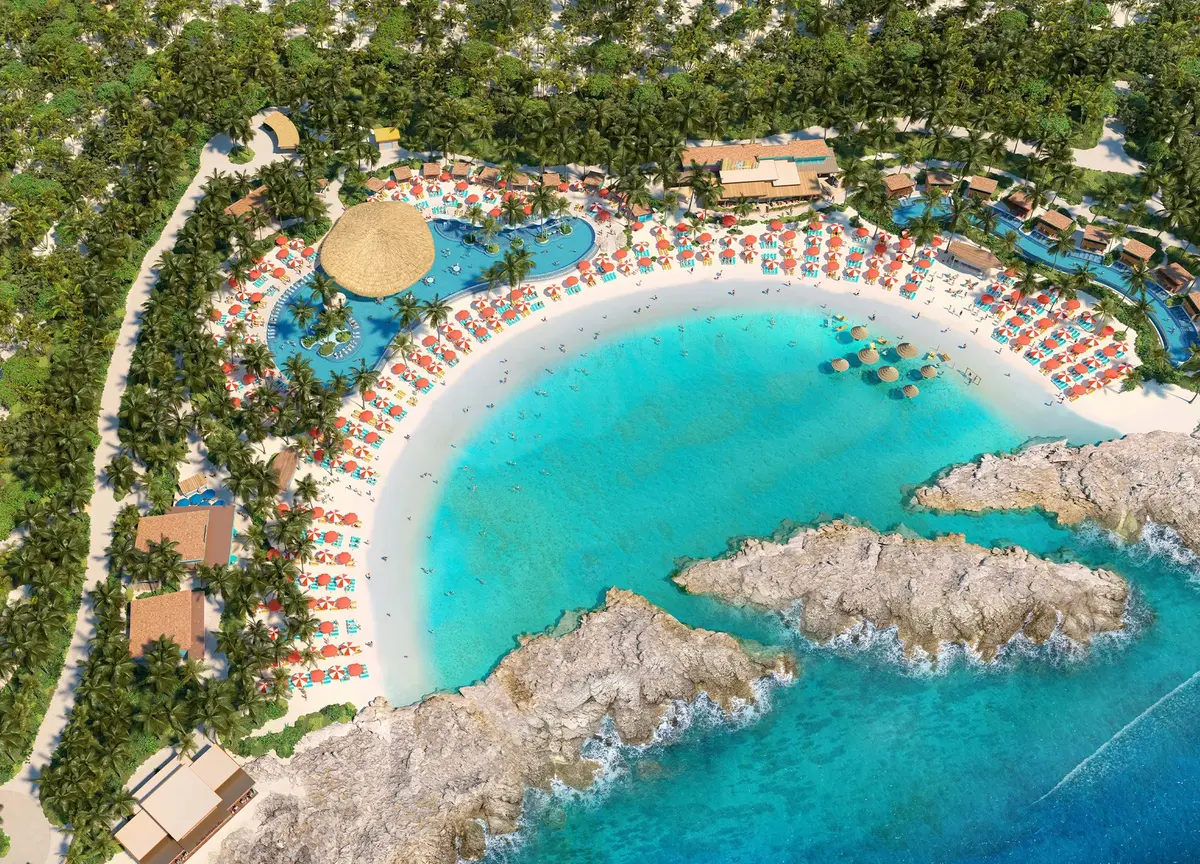 Opening in January 2024, Hideaway Beach is the first adults-only area to be developed for a Royal Caribbean private island.
It's an all-day experience complete with a private beach and pools, new bars and restaurants, exclusive cabanas, live music and more.
Here is what you need to know about Hideaway Beach when it opens.
What is Hideaway Beach?
On September 1, 2021, Royal Caribbean International President and CEO Michael Bayley announced plans for an expansion of Perfect Day at CocoCay.
Hideaway Beach is the first adults-only escape on CocoCay. Guests must be age 18 and older to access it.
It features a private beach, two pools, 20 cabanas, seven open-air bars and spots to grab a bite, and more.
There is an additional cost to enter the area.
Beaches & Pools
Guests will find white sand beaches and turquoise waters exclusive to Hideaway Beach guests. There's also resort-style loungers and umbrellas along the shore or on
the in-water hammocks and swings while playing beach games.
The Hideaway Pool will feature a DJ that will play tunes all day at the swim-up bar. There are in-water seating and loungers, and poolside loungers throughout the infinity-edge pool.
Cabanas
For an additional cost, guests can rent one of 10 poolside cabanas that have a range of amenities like cabana attendant service at the push of a call button, a mini-fridge, floating beach mats and charging outlets.
There are two types of cabanas to rent: Hideout Cabanas & Hideaway Cabanas.
Essentially, the difference is the Hideout Cabanas include access to The Hideout area and have access to the infinity plunge pool, exclusively for The Hideout guests.
The Hideout is a nook at one end of Hideaway Beach, which carves out an exclusive, elevated experience.
In one of 10 Hideout Cabanas, those looking for a more VIP, chill vibe can kick back at a heated infinity-edge plunge pool – exclusive to The Hideout guests – and enjoy the convenience of perks like cabana attendant service, in-water loungers, an outdoor shower and resort-style seating.
Where will Hideaway Beach be located?
Hideaway Beach is located behind the CocoCay waterpark.
As you walk onto Perfect Day at CocoCay, you'll take a right turn and follow the coast to Hideaway Beach.
There will be a walkway and tram access.
Will Hideaway Beach cost extra or will it be complimentary?
Royal Caribbean will charge an admission fee to access Hideaway Beach.
Pricing depends on your exact sailing, but initial costs range between $43.99 and $79.99 per person.
If you purchase a cabana, it includes entry to Hideaway Beach for up to 8 adults. Extra passes are $50 per person, plus an additional cost for a Hideaway Beach Full Day Pass, for a maximum of 2 additional people.
Hideaway Beach dining
On the Rocks – The area's new and unofficial lookout, this al fresco bar along the rocky shore serves up a vibrant scene of live musicians, TVs to watch live sports, games like pool and shuffleboard, and memorable ocean views along with refreshing drinks like frozen margaritas and mai tais.
Hideaway Bar – The swim-up bar at Hideaway Pool is the place to be and be seen, and with two levels, vacationers can take their drinks poolside or without leaving the water to maximize every minute of their island time.
Slice of Paradise – This all-new rustic pizza haven with a bar and complimentary food includes fresh-from-the-oven favorites, island twists like a Bahamian guava barbecue chicken option and more.
Snack Shack – A staple on Perfect Day at CocoCay, this new location offers the popular menu's complimentary chicken sandwiches, burgers, fried mozzarella sticks, fresh salads and more, as well as shaded seating, and Adirondack chairs and tables on the sand.
Beach Bars – Rounding out the experience are two full-service beach bars located on both sides of the new beachfront paradise, so a drink is never far away.
More Perfect Day at CocoCay information