In:
If you've cruised to the Caribbean, you more than likely visited a cruise line's private island or destination. Nearly every major cruise line, including Royal Caribbean, Carnival, Disney and Norwegian, have a private destination for guests to enjoy.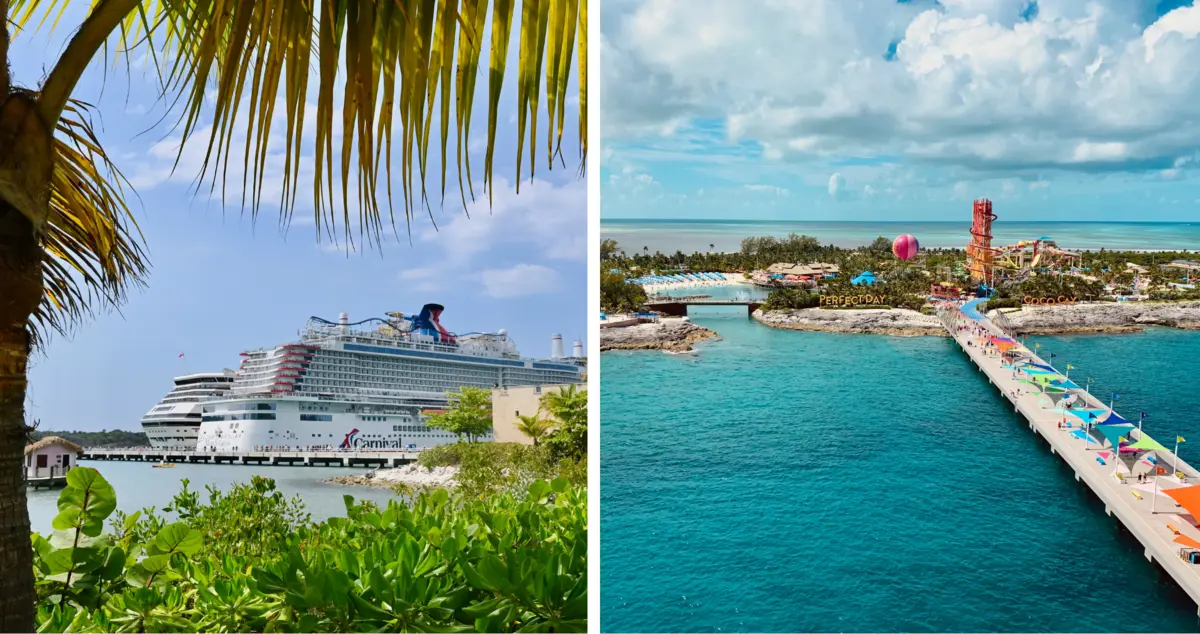 Carnival Cruise Line and Royal Caribbean are two of the biggest (and most popular) cruise lines in the world. As such, if you've sailed on one of these cruise lines, there's a very good chance that your itinerary included a stop at the cruise line's private destination. 
Most would agree that Royal Caribbean has one of the best private islands in the cruising industry. Perfect Day at CocoCay is the cruise line's private island in the Bahamas - and it's exclusively used by Royal Caribbean guests. The idyllic paradise is the result of a $250 million investment, which transformed the island into a tropical oasis. Here, guests will find a variety of waterslides, bars, lounges, beaches, pools, cabanas and more. 
In fact, more than 2 million guests visited Perfect Day at CocoCay each year. The island's dock is able to accommodate two Royal Caribbean ships each day, bringing thousands of guests to CocoCay daily. This number is only likely to increase with Royal Caribbean's fleet expansion with Icon of the Seas and Utopia of the Seas. 
However, competitor Carnival Cruise Line also has private destinations for guests to enjoy. This includes the very popular Amber Cove resort, which is located in the Dominican Republic. While this is not an island, the resort area - conveniently located to Puerto Plata - is exclusively available for cruise guests. 
With a whopping $85 million investment, Carnival transformed this pocket of paradise into Amber Cove in 2015. The destination now hosts around 250,000 passengers each year. Because Carnival's ships are not as big as Royal Caribbean, Amber Cove does not accommodate nearly as many passengers. However, the hefty investment is nearly 3x more per visiting guest as Royal Caribbean's investment in CocoCay. 
I recently visited Amber Cove for the first time while sailing onboard Carnival Mardi Gras - and I was very surprised to see similarities to CocoCay. After visiting CocoCay in January of this year, it was pretty easy to draw comparisons between the two resort-style cruise experience. 
Here is how my recent experiences at Royal Caribbean's CocoCay compared to visiting Carnival's Amber Cove private destination. 
Initial Impressions
I've visited CocoCay a few times over the years, as I sail almost exclusively with Royal Caribbean. My very first visit to CocoCay was actually back in 2009, when the island was barebones with not much to do. More than a decade later, I visited CocoCay again - with low expectations based on my earlier visit. 
Much to my surprise, Perfect Day at CocoCay blew me away! I appreciated the ultimate convenience of everything. We spent all day in the Oasis Lagoon listening to the DJ blast pop tunes across the island - with a cocktail in hand, of course. There were so many beaches, pools, eateries and bars to explore!
While thrill-seekers can enjoy the waterslides, hot air balloon and zip-line, beach bums can enjoy multiple places around the island scattered with soft sand, floating tiki bars and crystal clear waters. 
As mentioned above, my first visit to Amber Cove was a few months ago while sailing on Carnival Mardi Gras. I am not necessarily a loyal Carnival cruiser, so I was excited to see what the private destination had to offer. Unexpectedly, Amber Cove reminded me a lot of CocoCay.
I had not done any prior research to my visit, but I had heard a few experiences from other cruisers. While some had enjoyed their time at Amber Cove, others said it was mediocre. Therefore, I wasn't entirely sure what to expect.
While there isn't striking resemblance, the convenience, ambiance and amenities are certainly similar with Amber Cove. We found there to be pools, bars, cabanas and tons of loungers in the resort area to enjoy. Additionally, there was a splash pad area for kids, a waterslide and a zip-line. Similar to CocoCay, I also enjoyed listening to the DJ play party tunes throughout the day. 
Additionally, Amber Cove was much bigger than I anticipated! The area was expansive and didn't feel crowded during our day docked there. With plenty to do, including activities and amenities, it was a great place to spend the day.
Location
Amber Cove is located in the Dominican Republic, which is located right outside of the bustling city of Puerto Plata. Carnival's private destination is on the northern point of the Dominican Republic, which is mountainous and luscious. Not to mention, the water is strikingly blue, making the island absolutely gorgeous! 
For history lovers, you might recognize this city as the location of where Christopher Columbus established his first settlement in the Americas. As such, there is a lot of history in the area, which could be perfect for those interested in history. Carnival's Caribbean itineraries feature Amber Cove stops frequently. If the private island vibe isn't your cup of tea, you can take a quick visit into Puerto Plata since it's just 20 minutes away. 
In comparison, Royal Caribbean's Perfect Day at CocoCay is, indeed, a private island. This means you aren't able to spend your time anywhere else. Instead, your entire time is spent at CocoCay because you are not able to venture from the island. 
Further north from Amber Cove, you will find Royal Caribbean's Perfect Day at CocoCay in the Bahamas. The private island has plenty of local flair throughout. More precisely, you can find CocoCay about 55 miles north of Nassau in The Berry Islands. 
Less than a mile wide, CocoCay is a private island that covers nearly 130 total acres of white sand, blue water and palm trees. Your odds of visiting CocoCay are pretty high, as most of Royal Caribbean's itineraries in the Caribbean feature a stop at the island. 
Both private destinations feel like a tropical oasis, although CocoCay features more natural beauty throughout the island. You will feel relaxed the minute you step ashore!
Beach Access
If you're a beach lover, you definitely will not want to visit Amber Cove. This is where the two destinations vary the most. You might be envisioning that Amber Cove is beachy, but this isn't the case. Because Amber Cove is not a private island, the area has absolutely no beach access. 
Of course, you are still surrounded by the ocean and the mountains, but you won't be finding any beaches at Amber Cove. 
On the contrary, CocoCay has multiple beaches for Royal Caribbean guests to enjoy - and these beaches are fabulous. As the name implies, you can have a perfect beach day at CocoCay. The private island features complimentary beach access throughout with loungers and soft sand. The ocean water is gorgeous and blue - perfect for swimming. You can even swim to a floating tiki bar at CocoCay!
I found that both of these destinations had tons of complimentary sun loungers for guests to use. Those who prefer the shade can also snag a complimentary umbrella as well. Amber Cove's loungers are located throughout the pool area while CocoCay has loungers located around the pools and beaches. 
Those looking to visit these destinations will want to determine if beach access is a priority, as CocoCay will be the better choice for beach goers. 
Pools
Since Amber Cove does not have beach access, you can instead find a large pool to enjoy throughout your day. This massive pool, which holds 300,000 gallons of water, includes a swim-up bar, pool loungers and even a lazy river that loops around the resort.
Similar to CocoCay, you can also find a DJ playing party music throughout the day. This creates a very fun, loud and upbeat atmosphere for cruise guests. Many people enjoy their day in the pool, listening to music with a cocktail in hand from the nearby bar!
Families will definitely enjoy all of the pools at Amber Cove as well! Kids (and adults alike) who are looking for thrills can enjoy the nearby waterslide (for a fee, discussed below). Smaller children will definitely want to spend time at the complimentary Wet Zone and Splash Pad, which features a few mini slides and a splashing bucket. 
Amber Cove showcases one large pool for guests to enjoy, while Royal Caribbean's CocoCay has three different pools that expand across the island. Because CocoCay is nearly four times the size as Amber Cove, Royal Caribbean has utilized its space to offer multiple pools for cruisers. 
Oasis Lagoon is the main pool at CocoCay. In fact, this is the largest freshwater pool in the Caribbean! Royal Caribbean has made Oasis Lagoon as a complimentary pool for guests to use. Those who want to spend their day here can take advantage of the DJ playing music and the swim-up bar for easy drink access. 
Those who purchase access to CocoCay's exclusive club, Coco Beach Club, will find another pool to use. This infinity pool is relaxing and serene. After visiting Coco Beach Club earlier this year, I can confirm that this pool is as amazing as it looks in pictures! The entire space feels like a secluded tropical paradise. I don't think I've ever swam in a more beautiful pool!
Finally, CocoCay has a third pool in Thrill Waterpark, which is a Wave Pool. This waterpark is not complimentary and requires daily admission. Those who love waterslides will want to consider a visit here, as you will find some of the wildest waterslides in all of North America! Thrill Waterpark is a full-scale waterpark with multiple pools, slides and rides. 
Those who want to spend their day poolside will find that Amber Cove and CocoCay are both great choices! Because of CocoCay's size, you can find more pools throughout, including the more serene experience at Coco Beach Club. 
Unique Activities
If you prefer to spend your vacation being active, you will enjoy many activities at both CocoCay and Amber Cove. Because CocoCay is so much larger, guests will find more unique activities at Royal Caribbean's private island. However, I was surprised to find a number of activities at Amber Cove as well, including zip-lines and jet skis. 
Perfect Day at CocoCay is packed with so many activities, you won't even know where to start. There's so much to do on the island that Royal Caribbean created distinct neighborhoods: Oasis lagoon, Thrill Waterpark, Coco Beach Club, Chill Island, South Beach, Up Up and Away, and Arrival's Plaza. 
Those looking for an adrenaline rush will want to try CocoCay's zip-line, as it spans across the entire island. The Up, Up and Away helium balloon is another unique feature of CocoCay, which takes guests soaring to new heights with a tethered balloon ride. Of course, Thrill Waterpark allows guests to try some of the craziest waterslides in North America. Finally, CocoCay has snorkel equipment, jet skis, paddle boards and kayaks to guests to rent.
While there is plenty to do for free on CocoCay, everything listed above is not complimentary and requires an additional fee. Complimentary activities on the island include volleyball, basketball and other beach games to be enjoyed on the sports court. 
Similarly, Amber Cove also has no shortage of activities for cruisers to enjoy. Two of the biggest activities include a zip-line that spans across the pool area and a large waterslide.
These both include unlimited rides for a set price, which was $20 during the time we visited. Similar to CocoCay, guests can rent paddle boards, hydro bikes, kayaks, snorkel equipment and more. 
Finally, a unique experience at Amber Cove that you won't find at CocoCay is swimming with dolphins! The Ocean World Adventure Park allows guests to feed and play with dolphins during their visit. This is one of the largest man-made dolphin encounters, which also includes sea lions and tropical birds.
Regardless of how you spend your day, you will tons of activities and fun things to do in 
Drinks and Food
Amber Cove doesn't even compare to CocoCay when it comes to complimentary dining. CocoCay knocks it out of the park in terms of dining. Additionally, you can use your Royal Caribbean drink package at CocoCay, which is a huge perk of this private island. 
While CocoCay has many different places to eat for free, you won't find any complimentary dining during your time at Amber Cove. Also, if you have purchased a Carnival drink package, you won't be able to use it at Amber Cove either. You will be expected to pay for drinks out of pocket, along with food.
Those wanting to eat and drink during their day at Amber Cove will find delicious options, including a few local vendors as well. There is a marketplace at Amber Cove with Coco Cana Bar and Restaurant. In addition, you can enjoy the poolside bar with a swim-up portion. There is also Sky Bar and Cabana Bar at Amber Cove. 
On the contrary, CocoCay is filled with places to eat and drink. One of the most popular bars at the private island is Oasis Lagoon's Swim-Up bar. Here, you don't even need to get out of the water because you can swim right up to the bartender and grab aborter drink. You can also find something very unique at CocoCay - a floating tiki bar off the coast of South Beach. This is a vacation experience you do not want to miss!
If you're looking for complimentary dining, you can enjoy Snack Shacks throughout the island. Here, you can snack on chicken sandwiches, funnel cakes, brownies, mozzarella sticks and more. CocoCay's Chill Grill buffet is a larger dining space that is also complimentary options for visitors. Surcharge dining spots include Skipper's Grill and Captain Jack's. 
Cabana Rentals
Those looking for a more luxurious experience can find cabana rentals at both Amber Cove and CocoCay. Cabana rentals can create a very unique experience during your time at a private island or destination. Why fly all the way to the Maldives when you can rent an over-the-water bungalow right in the Caribbean?! Both destinations have cabana rentals that will transport you to a truly private and tropical paradise - all to yourself!
Royal Caribbean has some incredible cabanas to rent at CocoCay. These cabanas can be rented at Chill Island, Oasis Lagoon and Thrill Waterpark. Cabana rentals are perfect for those who want to have a quiet space to retreat to during their time at CocoCay. With a cabana rental comes complimentary snacks, water, concierge service and more. 
Additionally, Coco Beach Club cabanas include access to the beach club while Thrill Waterpark cabanas provide access to the waterpark. 
Prices range greatly for renting a cabana at CocoCay. Guests can look to spend $299 to $999 for cabanas in Chill Island, Oasis Lagoon and Thrill Waterpark. The more lucrative cabana rentals are the floating cabanas located in the beach club. These are priced anywhere from $1,000 to $2,5000, but pricing is based purely on demand. 
I was surprised to see Amber Cove feature a number of cabanas that could be rented as well! These cabanas are categorized as Ocean, Grand, Poolside and Hillside cabanas, which is based on their location. Those who want to rent one of these cabanas will enjoy a refrigerator stocked with drinks, snacks and water throughout the day. Additionally, you will receive cabana service, including a waiter who will help get you drinks throughout the day. 
Amber Cove cabanas also include showers, Wi-Fi and lounge chairs for guests to use. The Poolside cabanas feature air-conditioning while the Ocean cabanas sit over the beautiful ocean, similar to an over-the-water bungalow. Amber Cove also has a Grand cabana that features a private dining room and furnished living room.
Prices range from $500 to $2,000 at Amber Cove, which is dependent on which cabana you choose to rent. 
Environment and Design
Both Amber Cove and CocoCay offer vibrant and fun atmospheres. Both of these private destinations have great party vibes throughout the day. Those looking to let loose will certainly enjoy both of these destinations. 
CocoCay and Amber Cove are stunning destinations surrounded by lush greenery and beautiful, blue water. Everywhere you look, it feels like a tropical vacation. The environments are very upbeat with many places to not just have fun, but also kickback and relax. You are on vacation, after all!
Because CocoCay is four times the size of Amber Cove, you will find more bars, pools, eateries and amenities. Royal Caribbean's sizable investment does not go unnoticed, as I would argue that CocoCay is a bit more upscale. You can also find unique spaces like Coco Beach Club and Thrill Waterpark, meaning there's a little something for everyone. 
I was still pleasantly surprised by Amber Cove, perhaps because I had low expectations. I kept referring to the space as 'a mini version of CocoCay' during the day. There are many parallels between the two destinations, such as the DJ playing poolside party music, the swim-up bar, the massive pool, loungers, activities, cabanas and more. 
It does feel like CocoCay has an edge on Amber Cove because of its size and location. There's also a vibrant energy across the expansive space. With more space, you can find multiple pools and beaches; on the other hand, Amber Cove is much smaller and features just one main pool. 
CocoCay also allows guests to utilize their drink and internet packages from onboard, which is a big perk for Royal Caribbean's private island. You can also find more complimentary eateries around CocoCay, which creates a more laidback and all-inclusive feel. 
This isn't to say that I did not enjoy my time at Amber Cove. I was impressed by the space and enjoyed how much was included. There was still a great vacation feel at Amber Cove - everyone was having a fun time for sure. Also, some of the amenities at Amber Cove were much more affordable than CocoCay. For just $20, you can ride the zip-line or waterslide an unlimited number of times. 
At the end of the day, it would be pretty tough not to enjoy your time at both of these private destinations. What's not to love about the warm sun, palm trees and the sea breeze?!