In:
When Royal Caribbean opens Hideaway Beach in 2024, expect a completely different ambience than anywhere else on the private Bahamian island.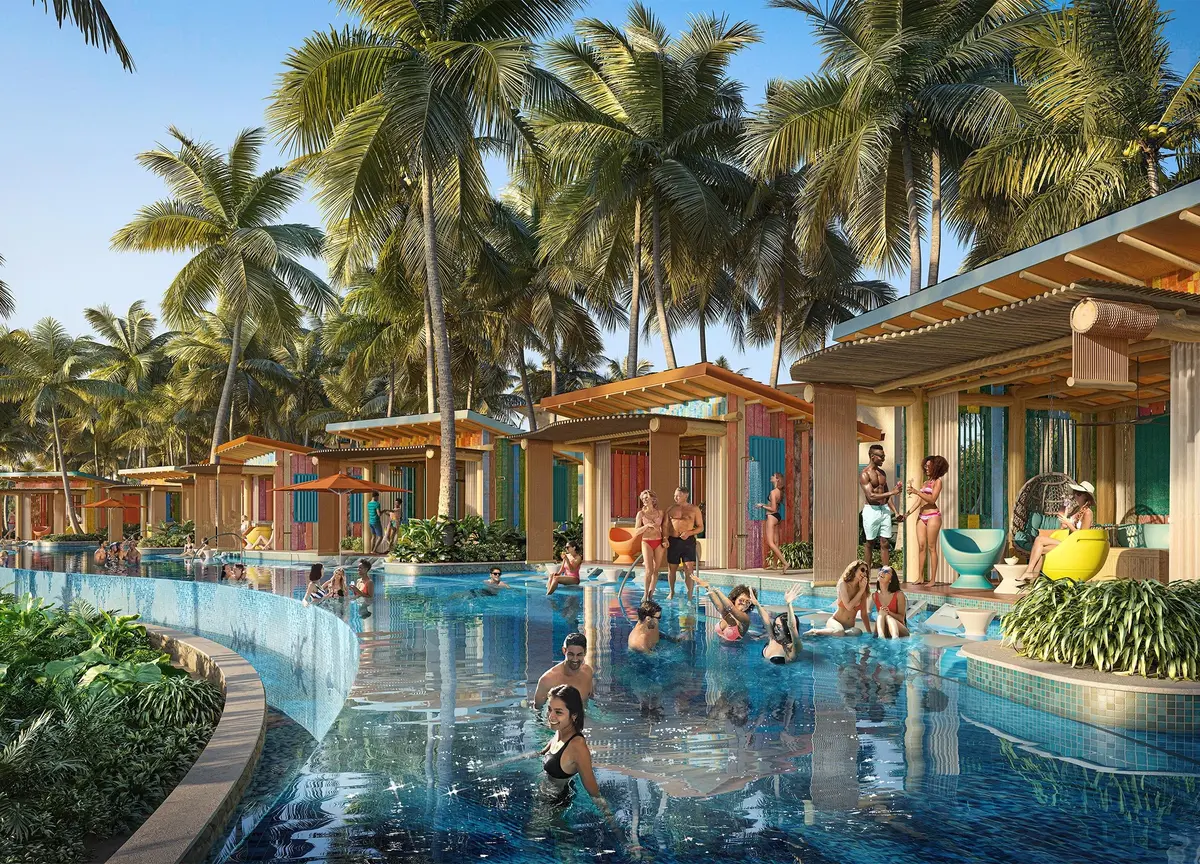 Royal Caribbean unveiled details about its new adults-only escape on Perfect Day at CocoCay, and we have more details as to what this part of the private island will include.
Hideaway Beach will offer an extra-cost add-on to consider for adults who want to enjoy a lively atmosphere and no kids, and it's gotten a lot of interest from cruisers who are looking for something more than CocoCay had in the past.
Poolside cabanas, a new pizza restaurant, swim-up bar and infinity pool are what Royal Caribbean will add to keep adults in a party mood all day long.
Hideaway Beach is for guests 18 years or older and has an admission cost to enter.
The new area will open in January 2024 right around the same time Royal Caribbean's new cruise ship, Icon of the Seas, launches.
Royal Caribbean Associate Vice President of Private Destination Development, Claudia Diaz-Gonzalez talked about the vision for Hideaway Beach, and shared some interesting details about the new area.  
Ms. Diaz-Gonzalez has been integral to the development of Perfect Day at CocoCay going back to the 2019 revamp that upgraded all areas of the private island.
Customers wanted an adults-only space
Royal Caribbean heard loud and clear from its customers that they wanted an adults-only area.
"Hideaway Beach was really imagined based on guest feedback," Ms. Diaz-Gonzalez said about why a cruise line known for offering a family cruise experience went in this direction.
After doing a great deal of guest feedback, the consensus was clear, "an adult only space was one of the most requested spaces on the island, one of the most requested attractions."
Guests told the cruise line what they wanted in this sort of a space too, "to have a drink in hand, to listen, to live music and to have just incredible views."
The beach is located on the northwest part of the island, and Royal Caribbean purposefully wanted it away from everything else happening on the island to give it a sense of seclusion.
What to expect in the beach area
Royal Caribbean is charging a fee to enter Hideaway Beach, and the line expects the space to have a capacity of around 1500 to 2000 guests.
"It is meant to take on a large crowd, really kind of keep the party vibe going," Ms. Diaz-Gonzalez said about the volume of people to expect.
One of the tenets of an adults-only area was to ensure everyone could have a drink in hand, if they want one, so there are five bars, which is the the largest concentration of bars on the island.
The beach itself has a goal of being, "one of the most beautiful beaches that you'll ever see in your life," according to Ms. Diaz-Gonzalez.
"I was just there two days ago, and even though it's a construction site right now, I wanted to just go swimming in the beach. But it does include some loungers all over the beach with the complimentary shading and some in-water hammocks and really fun things around the whole neighborhood."
One new venue you wont find anywhere else on Perfect Day at CocoCay is a pizza restaurant.
The only pizza eatery on the private island will be called Slice of Paradise, and it offers complimentary pizza that is not the same as you'll find on the ship.
Pool fun
The Hideaway pool will be the massive freshwater pool where you'll find the DJ located near a swim-up bar.
"It's got the in-water loungers that we all know and love from our Oasis Lagoon, our Coco Beach Club pool experience. There's plenty of seating all around. There's those beautiful landscaped islands that also have in-water seating right in the water."
According to Ms. Diaz-Gonzalez, the Hideaway pool will be heated to 82 degrees year round for guest comfort.
Royal Caribbean added a swim-up bar to Hideaway pool because the swim-up bar at Oasis Lagoon is, "one of the highest rated attractions on the island."
There's actually two levels of swim-up bar at Hideaway pool, "There's some in-water seating and then the other area, which is actually part of Hideaway Bar, it's actually overlooking the ocean."
"So you kind of get these two levels of the bar so you can have a dry and an in-water experience here at the Hideaway bar."
The importance of music
Royal Caribbean heard from its guests that they wanted to relax with a drink in hand along with music, so you'll find that in Hideaway Beach.
"As we talked to our guests, a drink in hand and some live music were at the core of what relaxation actually meant to them and what they were looking for on vacation," Ms. Diaz-Gonzalez disclosed.
"One of the things that that we've learned is that our guests love to interact with that DJ. So we brought them even closer to our guests right adjacent to the swim up bar."
"You'll see some fun interactions between the bartenders and the DJ, maybe some activations. So we're having a lot of fun right now working through what that party looks like and that activation really testing out the the music sets with the DJ."
She confirmed the DJ will remain at Oasis Lagoon, "Oasis Lagoon is much more family oriented, so we're working out what the what the playlist looks like for each of the areas and really developing that Vegas style pool party sort of at Hideaway Beach."
Views from On The Rocks
Another new venue is On The Rocks bar, which was built to offer great views along with equally good drinks.
"It's literally on the iron shore of Perfect Day at CocoCay, right on the rocks, you can soak up the beautiful views of the Caribbean and feel that Caribbean breeze."
The drink menu is still in development, but there will be plenty of classic cocktails, such as frozen margaritas or Mai Tais.
On The Rocks will have also have games, such as pool tables, shuffle boards, and for the first time ever on CocoCay, televisions, so that "it'll be the perfect place to watch your favorite games so you don't miss the action of watching your favorite sports team while you're on Perfect Day at CocoCay."
Lots to eat
As mentioned, there will be a pizza restaurant in Hideaway beach, as well as a new Snack Shack location.
Snack Shack will have the same favorites from elsewhere on the island, plus some new options, "we're actually working on some new menu items that are going to come with Hideaway Beach for the Snack Shack."
The pizza choices are also still under development, but Ms. Diaz-Gonzalez indicated they are experimenting with some new flavors in addition to the usual options.
"We are actually still testing pizza flavor, so I'm excited for all the future testing that is coming. But I think one of the things that's really interesting and it's actually our Bahamian crew members on the island, they actually when they want to celebrate, they actually have a pizza night. And so a lot of the recipes that we're tasting have actually been developed by a lot of our crew members on the island."
A bougie option at the cabanas
If your goal is to have a VIP experience because you believe there are levels to everything, Royal Caribbean has a cabana for you at Hideaway Beach.
"It is truly an escape from the ordinary here on Hideaway Beach and the Hideaway cabanas give you that ultimate VIP feeling."
"Not only do you get your cabana with all of the amenities that we know and love from all of the cabana products that we have on island already, but now you have your own exclusive infinity plunge pool."
The Hideout Cabanas have a heated plunge pool at the front of each cabana.
Ms. Diaz-Gonzalez thinks the views these cabanas offer are unparalleled, "it gives you that kind of breathtaking view of your own private pool right in front the ocean, the beach right in front of you. And then that beautiful ocean right at your fingertips."
"Really. It's a beautiful, amazing view."
She also mentioned the two little bucket seats that come with the cabana actually come right off of and they can be floaties in the pool.
The cabana attendants will not only bring you food and drinks, but Royal Caribbean is working on bottle service.
"So you can feel like you've created your own kind of escape within Hideaway Beach at the Hideout. Or you can connect to the party that's happening because it might be the reason why you came to Hideaway Beach."
Another cabana option are the Hideaway cabanas, which are located directly adjacent to the Hideaway pool.
"These are right in the pool area. They're meant to be really fun party cabanas."
Hideaway Beach vs Coco Beach Club
Hideaway Beach will be the second extra-cost area of Perfect Day at CocoCay, which may lead you to question what the difference is between Hideaway Beach and the Coco Beach Club.
Royal Caribbean says the intention is for Coco Beach Club to remain a high end experience, "it's very serene, quiet, relaxing and luxurious," said Shannae Murray, Royal Caribbean International Sales Training Manager.
Plus, Coco Beach Club is available for guests of all ages, including kids.
On the other hand, Hideaway Beach is a party, "think Las Vegas pool party vibes, DJ dancing, the drinks grab and go food options and again, adults only."
"Hideaway Beach will be perfect for couples, friends traveling together, maybe a bachelor bachelorette party that you're helping to put together."
Coco Beach Club includes one upscale restaurant, whereas Hideaway will have the two casual food spots that we covered when it comes to the bars.
Coco Beach Club has the one central bar, whereas Hideaway Beach has a total of five bars to choose from, including a swim up bar.
And while both venues cost extra, you'll pay less at Hideaway Beach, "The Hideaway Beach entry fee will be less than what you see at Coco Beach Club now."
Ms. Diaz-Gonzalez described the differences between the experiences, "Coco Beach Club is a lot more relaxed. It's about this luxury of being on the beach."
"The food is a lot more upscale. It's a more serene beach...But it really is about listening to the sound of of water and really relaxing on the beach."
"Think of Hideaway Beach it's a much more party atmosphere. It's a lively beach. There's music at all times. That's why you see a lot more bars there. So we expect it to be a much more active experience than what you get at Coco Beach Club."