In:
We paid $1,800 for a floating cabana at Royal Caribbean's private island in the Bahamas. It was unquestionably luxurious—with an over-the-water hammock and exclusive lunch—but I wouldn't recommend it to every traveler.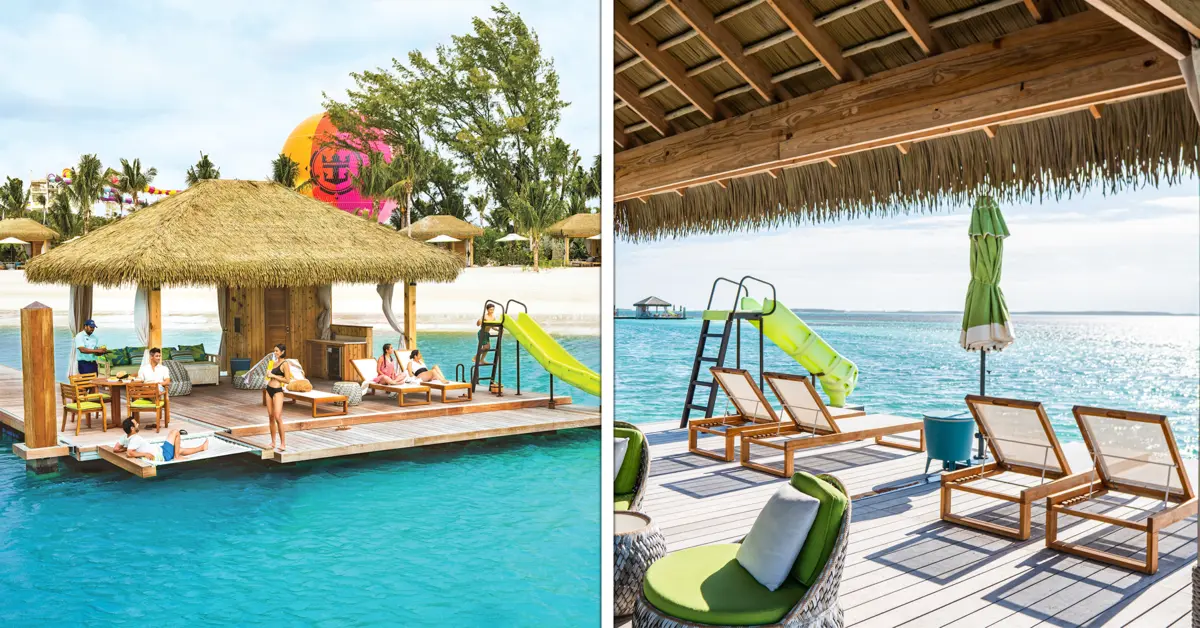 Perfect Day at CocoCay, Royal Caribbean's private island, has twenty private bungalows "floating" over the island's turquoise waters. These cabanas are, by far, the most opulent way to spend a day on the island.
On my recent cruise, my travel party and I reserved a floating cabana for $1,800. There were eight of us sharing the cabana, which broke down to $225 per person. It wasn't the cheapest way to spend our day by any means, but we were hopeful the cost would be worth it.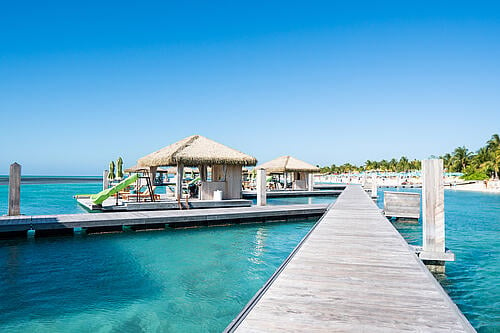 And while I certainly enjoyed myself during my eight hours on the island, I left with a few key takeaways I think others should be aware of.
From increasing prices to unexpected sea creatures, here's why I wouldn't recommend Perfect Day at CocoCay's floating cabanas to everyone.
What is a floating cabana? Let's take a tour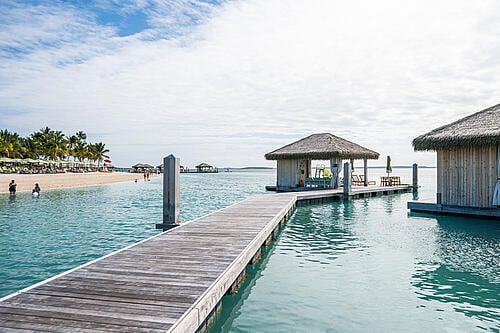 Royal Caribbean's floating cabanas are located within the Coco Beach Club, an exclusive area of Perfect Day at CocoCay that must be reserved in advance.
Related: Coco Beach Club: cost, tips & review
The beach club has its own infinity pool, Mediterranean restaurant, bar, and seating areas, along with private beach access. Floating cabana guests are free to use any of the Coco Beach Club's facilities in addition to enjoying time at their private cabana.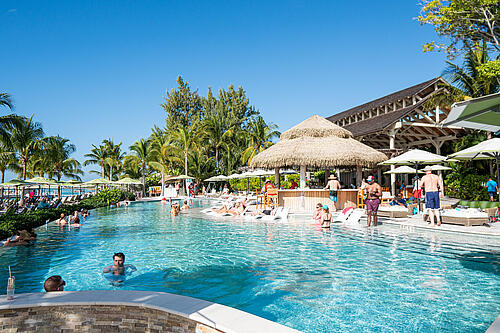 As you walk along the Coco Beach Club's lush, flowery paths, you'll reach the entrance to the floating cabanas. There are two sets of ten cabanas on the island, which are located on opposite ends of the beach club.
Your cabana attendant will guide you to your cabana for the day. Cabana attendants act as your personal concierge and can deliver drinks, food, and anything else you may need directly to the cabin.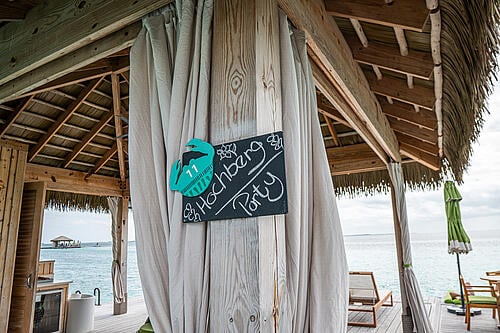 A covered living space in the cabana includes a plush couch and two lounge chairs, along with a coffee table. A screen is located on the wall next to the couch, where you can control the music from your cabana's speaker and call your cabin attendant.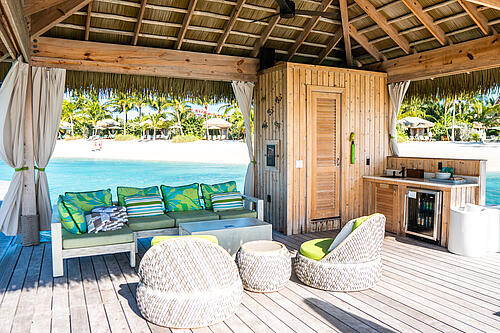 Also under the covered section of the cabana is a sink and mini fridge. Drinks in the mini fridge cost extra, but are included in Royal Caribbean's drink packages.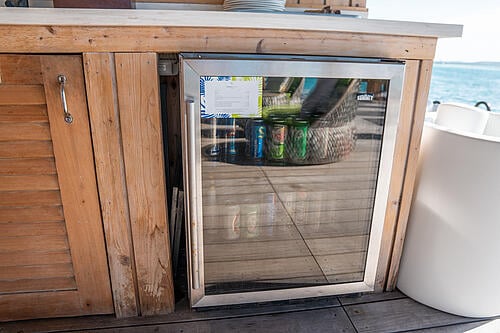 The cabana also features a freshwater shower. Snorkeling equipment is found inside the shower area, which is complimentary for cabana guests.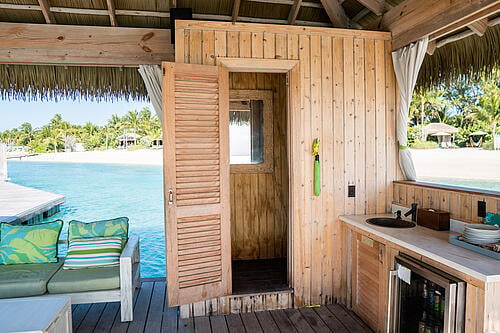 Outside from under the roof of the cabana are four pool chairs, which are perfect for sunbathing between dips in the ocean. An umbrella can be opened between the pool chairs for extra shade, and a cooler with complimentary water bottles are found here as well.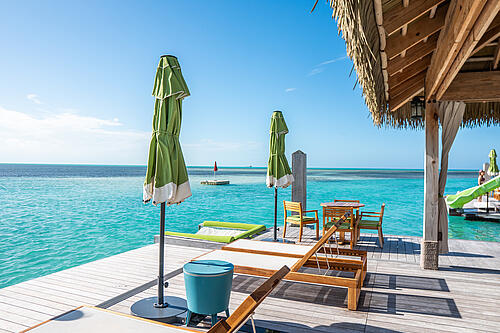 Next to the pool chairs is a dining area. This area is perfect for enjoying lunch from the Coco Beach Club restaurant, which you can either get delivered to the cabana or eat in the restaurant itself.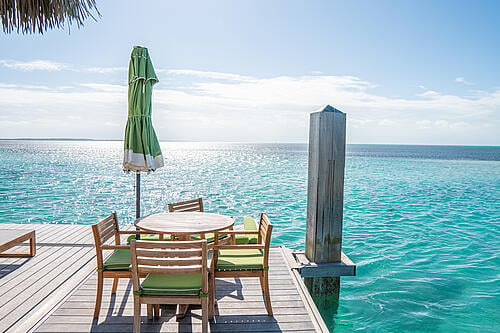 Suspended over the crystal clear, turquoise Bahamian waters is a netted hammock, which is arguably the best place to relax in the entire cabana.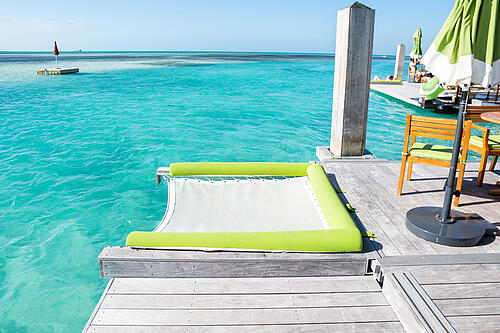 Of course, we can't forget about the slide. Each cabana features a neon green slide launching guests directly into the ocean. This slide is especially popular for kids, but is fun for guests of all ages.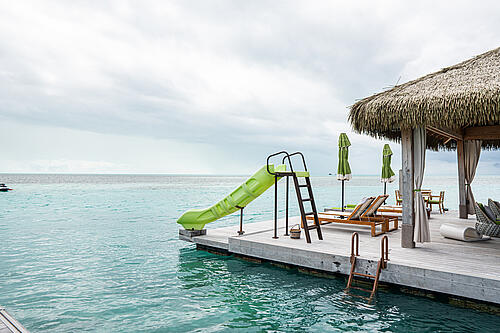 Are the floating cabanas worth it? Here's why I wouldn't recommend them to everyone
Whether or not something is "worth it" on a cruise is highly subjective, as it ultimately depends on your travel style and budget. For some cruisers, booking a $700 drink package may be worth the cost whereas others may prefer saving that money for an upgraded stateroom or shore excursion.
Nonetheless, here are six takeaways I took from my experience in the floating cabana that you should consider when choosing whether to book one or not.
For $1,800, we got a good deal on the floating cabana, but prices are increasing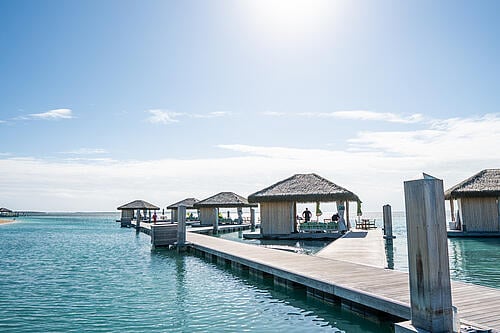 While we paid $1,800 for a floating cabana, it's not uncommon to see prices as high as $3,000 for a one day reservation. Prices at Perfect Day at CocoCay have been increasing due to high demand, so it's unlikely you'll see pricing lower than $1,800 for the cabana.
In fact, on my upcoming sailing on Icon of the Seas, the floating cabanas are priced at a whopping $3,799! Even if you split the price with eight guests, it's nearly $500 a person.
It's hard to justify spending over $3000 for an eight hour cabana rental, even if it provides an unforgettable day. That $3000 could easily be put toward other onboard expenses like drink packages, dining packages, or spa treatments.
It could even cover the cost of a weeklong cruise in a balcony room!
The cabana is fun with a large group, but may be unnecessary for just two people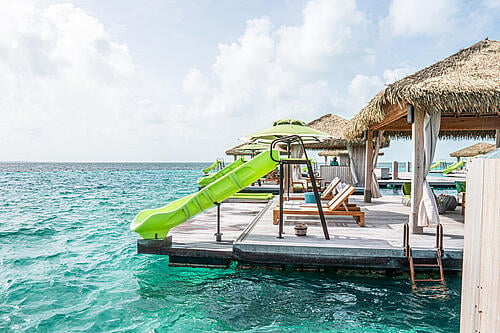 Cabanas are priced per cabana and not per person, so you'll pay the same amount whether sharing the cabana with your spouse or with seven of your friends.
Unless you're celebrating a special occasion—such as a honeymoon or 50th anniversary—or you really don't care about the cost, I would argue the cabana is almost too much space for just a few people.
If I were traveling with just one or two other people, I might opt for a different kind of cabana on the island. Outside of the floating cabanas are private cabanas on land at the Coco Beach Club, Thrill Waterpark, and Chill Beach. Not only are these priced lower, but they still offer a private, luxurious way to spend the day.
Related: Guide to Thrill Waterpark at Perfect Day at CocoCay
Even if cost isn't a factor, the floating cabanas have so much space and amenities that it's hard to take advantage of everything in just one day, especially if there are so few people in your travel party.
There's so much to see at Perfect Day at CocoCay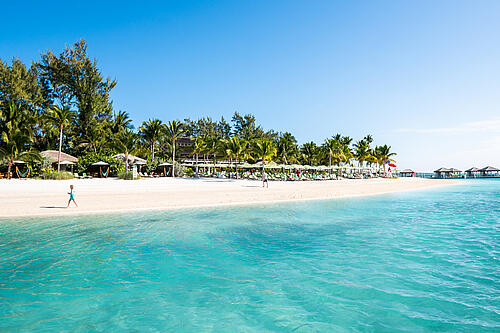 Perfect Day at CocoCay has no shortage of free, fun things to do. From Oasis Lagoon pool to kids splash areas and a variety of beaches, there's really no need to spend anything extra on the island.
While I certainly loved my time at the cabana, I found myself just as happy on previous trips to Perfect Day at CocoCay where I enjoyed only complimentary areas. I spend most visits to the island lounging in a chair at Chill Beach, where I spend $0 extra and still have an incredibly relaxing day.
Even if you do want to book something extra, there's a lot more than just the Coco Beach Club. Consider trying the zip line, booking a jet ski excursion, or renting snorkeling gear for the day. A quiet day at the cabanas is not for everyone when there are more adrenaline-filled activities elsewhere on the island!
The cabanas are a great choice for adults, but your kids might be bored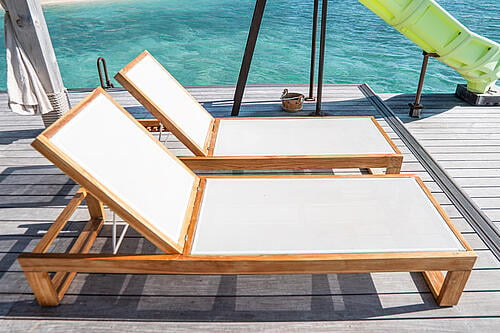 If you're cruising with kids, a floating cabana may not be the best idea. While you may appreciate the peaceful, private atmosphere of a cabana, they aren't the most kid-focused activity.
Related: 50 best cruising with kids tips & secrets
Many families prefer spending the day at Thrill Waterpark, the Oasis Lagoon pool, or Splashaway Bay. These areas of the island are exceptionally family-friendly and provide endless fun for kids of all ages.
The Coco Beach Club offers incredible amenities, but you don't need a cabana to experience the club's best perks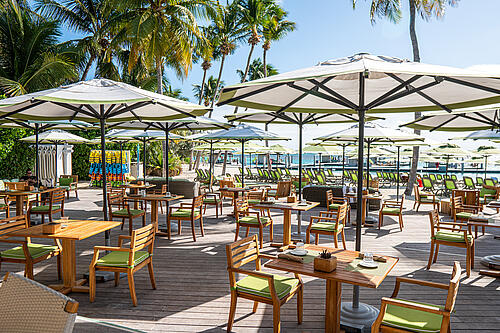 The Coco Beach Club is an excellent place to spend your day at Perfect Day at CocoCay. The club's infinity pool, lounge areas, and beach access is perfect for guests in search of a peaceful atmosphere.
In lieu of reserving a cabana, you can always choose to buy a day pass to the Coco Beach Club. Day passes can be reserved on the Cruise Planner for around $150-250 depending on the sailing, and they include access to all areas of the club aside from private cabanas.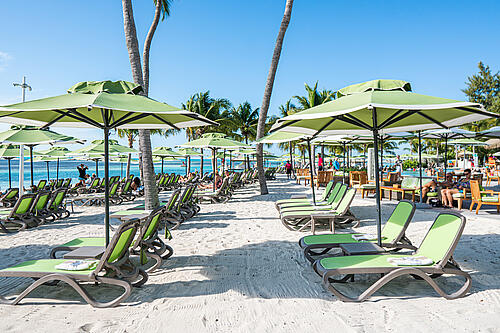 Related: The Ultimate Guide to the Royal Caribbean Cruise Planner site
Day pass access also includes lunch at the Coco Beach Club restaurant, which offers a more upscale menu compared to other food options on the island.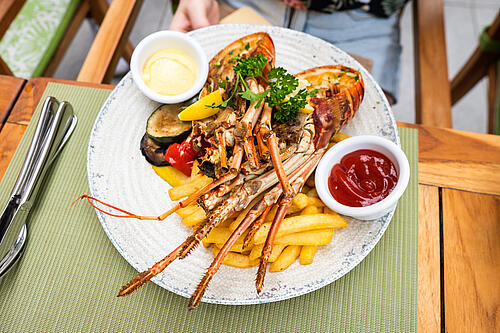 I'd argue that the amenities and hangout spaces of the Coco Beach Club almost rival that of the floating cabanas. During our day in the cabana, I found myself wanting to use the beach club's amenities, but I felt almost obligated to spend time in the cabana we reserved due to the price we paid.
If you book a floating cabana, be prepared for some unexpected guests in the water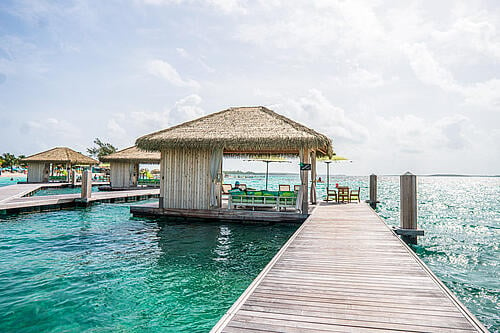 As soon as I got to the cabana, the first thing I did was climb up the slide and slide into the water below. If I had known about the unexpected guests we'd receive later in the day, though, I might have decided against it.
On our way back from lunch at the Coco Beach Club restaurant, we spotted a nurse shark swimming below the cabanas. Later in the day, a few members of our group were in the water when a stingray swam right past them!
Look, I know you should expect to encounter fish and other sea creatures in the ocean, but if you're afraid of swimming in close proximity to sharks and other large sea creatures, you might be better off spending the day in more shallow waters!
Would I book a floating cabana again?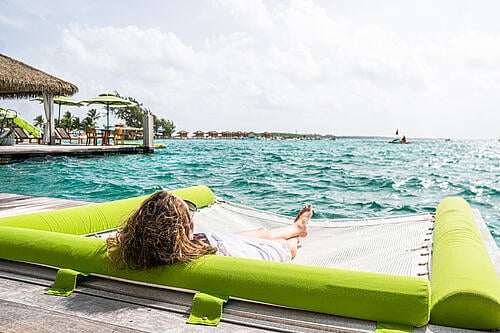 Even though I wouldn't recommend Royal Caribbean's floating cabanas to everyone, I wouldn't be opposed to booking one again for the right price.
Whether or not I would book the cabana again would come down to a few factors:
Group size: Splitting the cost of the cabana with a large group is much more affordable than booking it for just 2-4 people
Overall price: I definitely wouldn't spend over $3000 for the cabana, but if I found it for $1800 again, I would consider making a reservation
Purpose of vacation: If I were sailing to celebrate a milestone or special occasion, enjoying the island in a cabana would be an enticing option
Overall, having a "home base" on the island was definitely a nice perk, and the cabana was a fun way to splurge and enjoy quality time with our travel party.