In:
If you're a loyal cruiser with Royal Caribbean, you know it's pretty rare to find a Caribbean sailing that doesn't stop at Labadee or CocoCay. Both of these ports are actually private islands owned by Royal Caribbean and are frequent stops for the cruise line when sailing the Caribbean.
To be honest, anytime I saw CocoCay as a port stop for a cruise, I'd scowl at the thought of wasting a port stop at Royal Caribbean's private island in the Bahamas. There were plenty of other islands that I'd rather spend my time and money visiting. 
Lackluster First Experience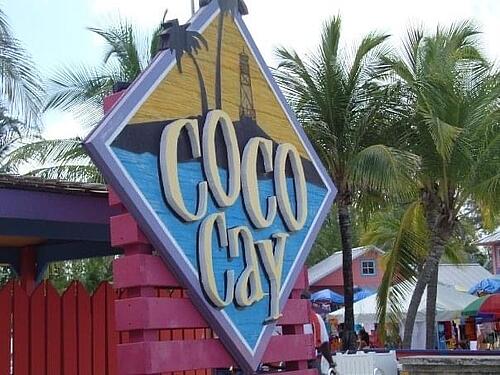 Back in 2009, I cruised with my family onboard Royal Caribbean's Majesty of the Seas on a weekend cruise to the Bahamas. One of our stops was CocoCay - and to say it was pretty lame is an understatement. 
After tendering to the island from the cruise ship, my family and I walked onshore to find an underdeveloped island surrounded by rocky shores. There were some lounge chairs scattered around the beach. We found a few places to shop while walking around the island.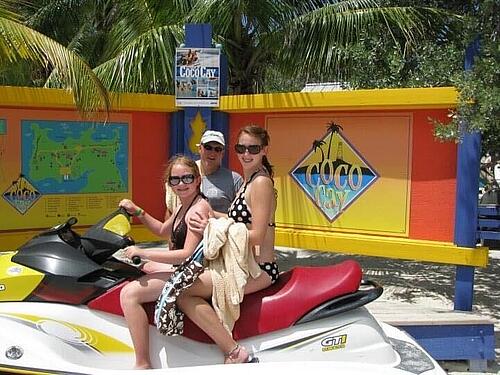 Overall, It was pretty dull and lackluster. I was just 14 years old and my sister was 12 at the time. There wasn't much to do on the island, so my parents bought us tickets to ride the waterslide. 
After a few less-than-thrilling rides on the blowup waterslide, we tendered back to the ship and opted for lunch at Johnny Rockets. The whole family agreed that the island was nothing special and we certainly wouldn't go out of our way to return.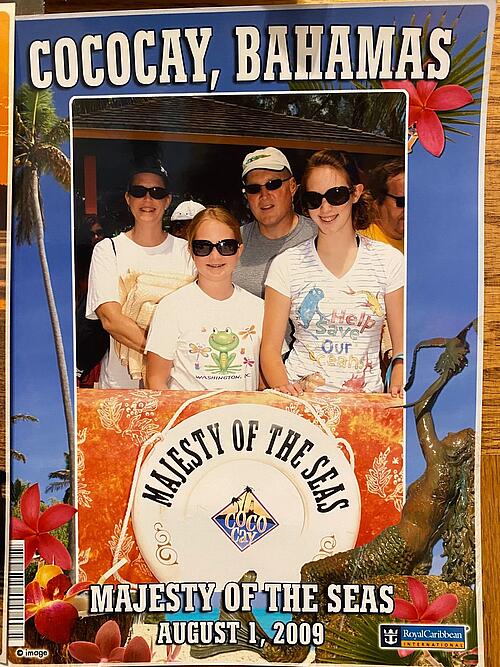 Because of our underwhelming experience, we'd avoided any itineraries with stops at CocoCay. For years, we would look for cruise itineraries that didn't include CocoCay.
Second Chances
Fast Forward to February 2022, my family had a cruise planned onboard Harmony of the Seas with stops in St. Maarten, St. Thomas and - yup, you guessed it - CocoCay! 
After Royal Caribbean's major renovations were finalized in 2019, it appeared that the private island received a well-deserved facelift. We were excited to give the renovated island another chance after our first visit more than 13 years earlier.
The bar was set pretty low based on our prior visit, but we had heard from many people that the island had been transformed into a great port stop. Seeing beautiful pictures and videos of Perfect Day at CocoCay made the island seem like a new Caribbean island oasis. 
First Impressions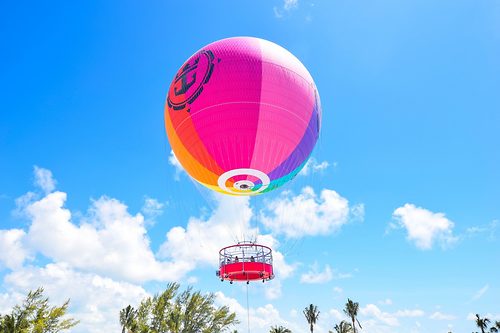 As we sailed into port, we could easily spot the Up, Up and Away balloon soaring above the blue sea. The colorful flags from the port could be seen blowing in the wind. It was a beautiful, warm day for our last port stop. 
The island looked as bright and vibrant as the many pictures and videos I had seen online. We could already see from the ship that the island was way more developed than before. It almost felt like we were pulling up to a resort!
My mom is notorious for choosing to stay on the cruise ship when we dock in ports that she's uninterested in. She said that CocoCay was so lame before that she might stay on the ship. Luckily, we convinced her to give the island a try, as she could easily head back to the ship if she wasn't enjoying her day.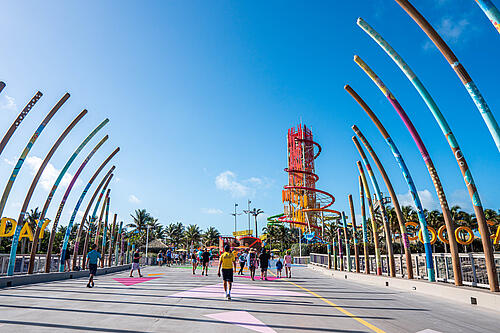 As we walked along the pier under the colorful awnings, we were immediately impressed by the new CocoCay. The island was glistening with white sand along the ocean.  There was a shuttle running from the ship to bring guests to the amenities; however, we enjoyed walking along the ocean.
To start, it was a welcome change that we didn't need to tender to the island this time. It saves so much time when you can just walk off the ship and get your day started!
Oasis Lagoon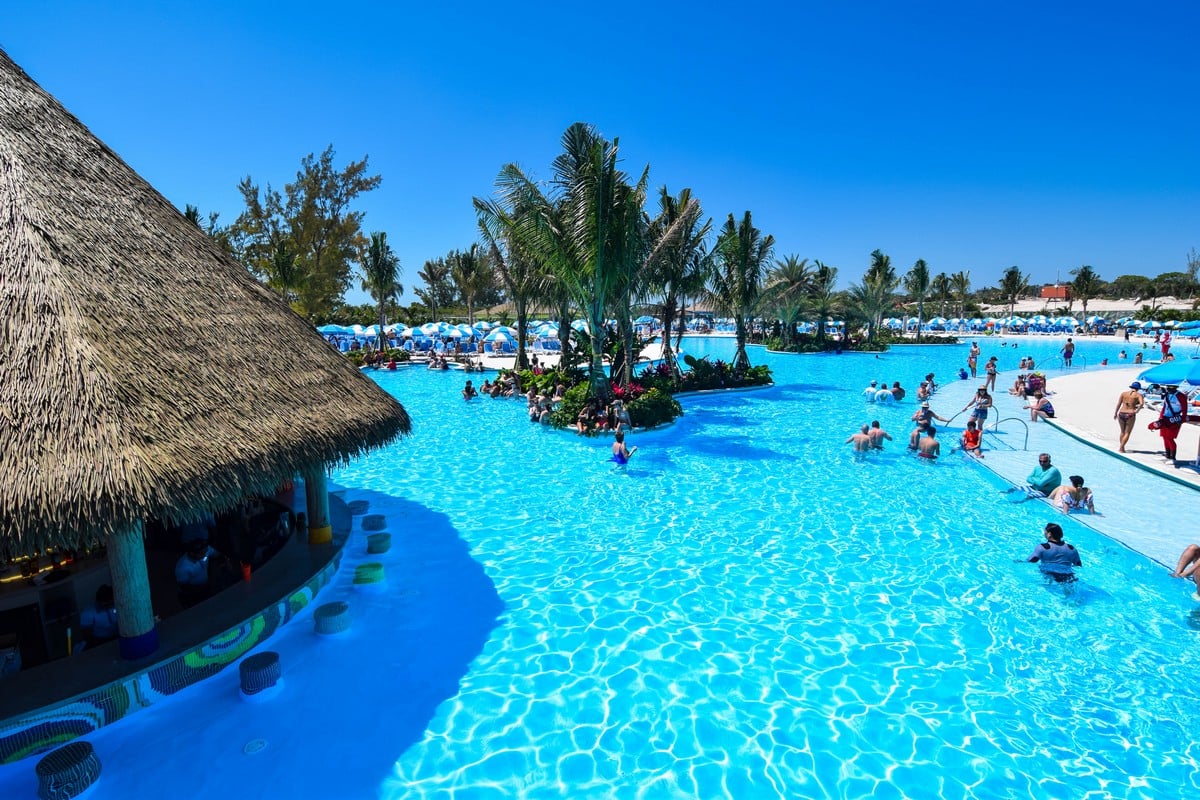 With a little research, we decided our first stop would be Oasis Lagoon. Plenty of signage helped direct us towards the lagoon, which is actually the large freshwater pool in the Caribbean.
Even better, there was a swim-up bar in the Oasis Lagoon. My sister snagged a lounge chair that was partially submerged in the lagoon. There was great music pumping from the DJ across the lagoon. 
We were amazed at how large the lagoon was! There were tons of chairs and umbrellas surrounding the pool. The swim-up bar was our first stop after getting settled. The day called for pina coladas!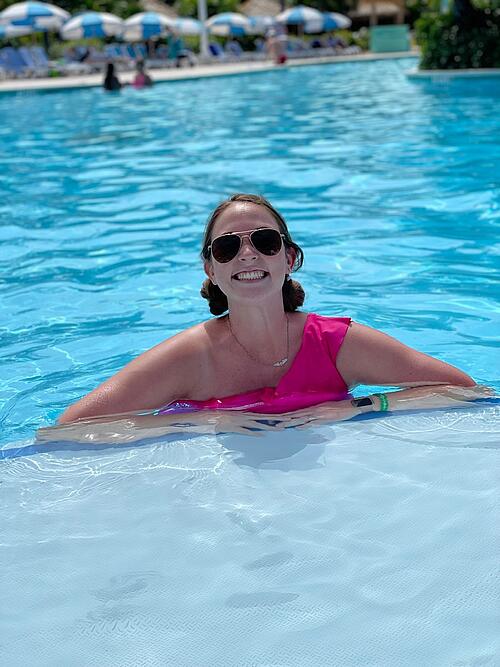 One of the perks of visiting Royal Caribbean's private island is that you can continue to access your internet and beverage package! We were ready to indulge in our daily allowance of 5 Diamond + drinks. 
The Oasis Lagoon was so much fun, we ended up spending most of the day here. With great music and plenty of drinks, we were having a great time relaxing.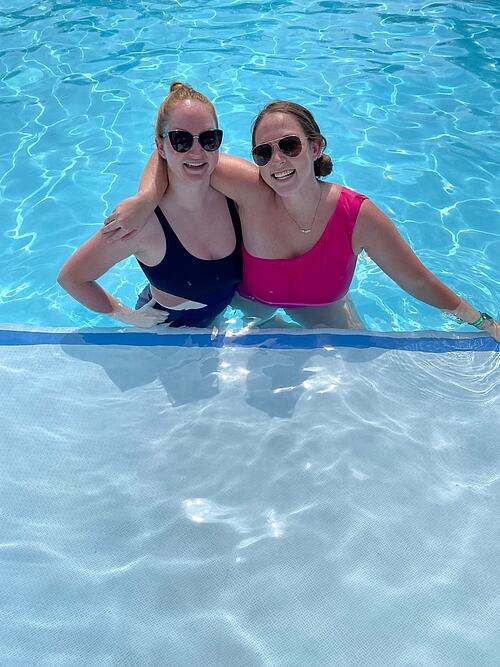 Even more fun - we had an unexpected Royal Caribbean Blog staff meeting! As fate would have it, Matt himself was cruising with his family onboard the Freedom of the Seas and docked right next to our ship. This was actually our first time meeting in person, so it was a fun coincidence.
Funnel Cake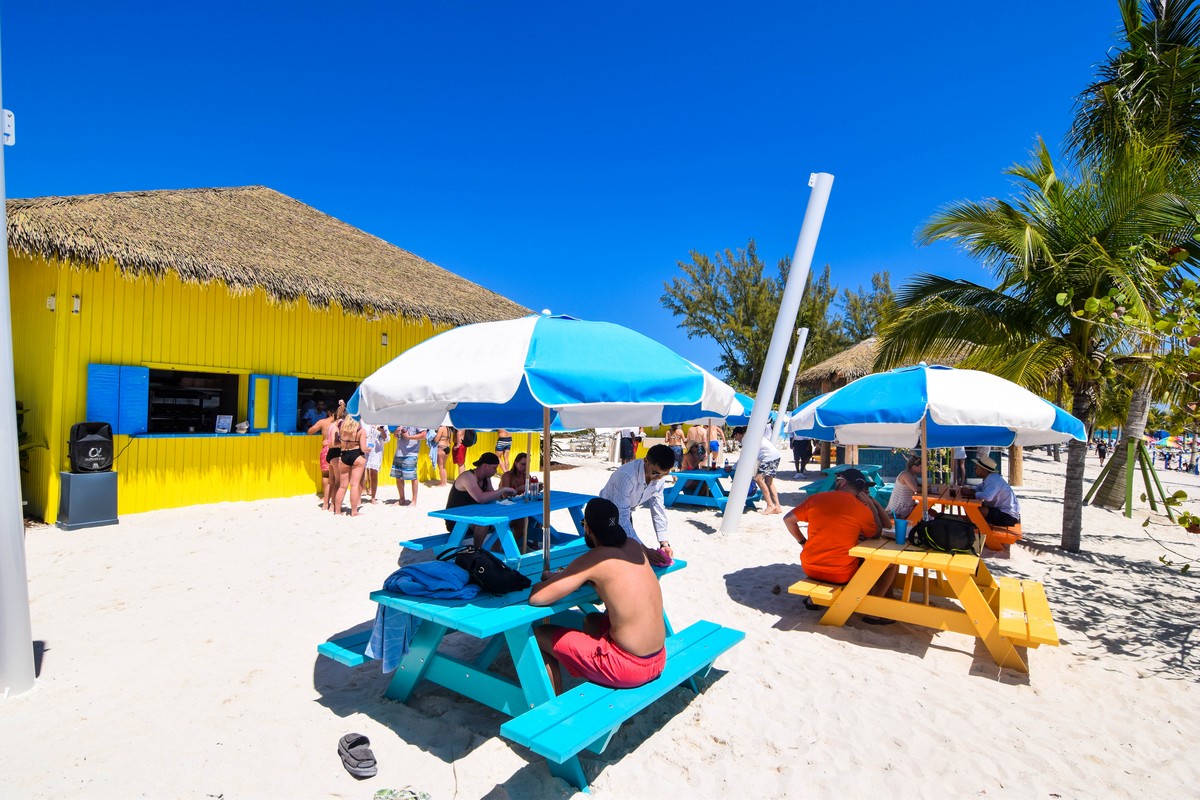 After a few drinks at the pool, it was time to find something for lunch. We walked through the large buffet area on our way to the Oasis Lagoon, but we were looking to try something a little different. 
We'd heard Snack Shack was a great place to grab lunch, so we headed towards South Beach. Having so many options for food was another welcomed change. Everywhere we looked, there was either a bar, buffet or ice cream machine!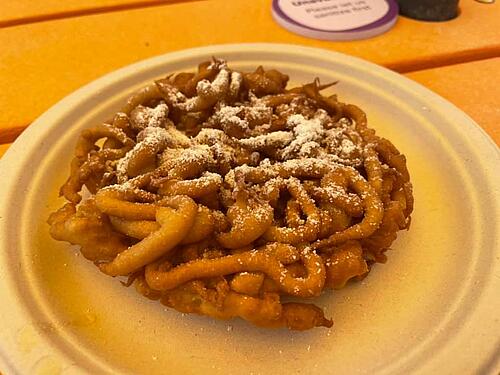 We ordered chicken sandwiches at the Snack Shack, along with mozzarella sticks and french fries. But, we were all the most excited about the funnel cakes! That crispy, powdery cakey goodness hit the spot on our last day of vacation.
Everything we ordered at the Snack Shack was delicious. The chicken sandwich with pesto mayo tasted like a Chick-fil-a sandwich.
An insider tip - don't leave your food unattended! My dad sat down with his french fries and hot dog before getting up to snag some ketchup. About 15 birds swarmed the table and tried to steal as many fries as they could. 
Shops and South Beach
While enjoying our lunch, we marveled at everything CocoCay had to offer. South Beach had so many activities for those looking to do more than have a cocktail at the beach. You can find activities like volleyball, basketball, snorkeling, paddle boarding and ping pong. 
We also enjoyed shopping around the many stalls that adorned touristy shirts, magnets and beach bags while polishing off our funnel cake with an ice cream cone. There were plenty of shops for those looking to support the local economy, as the stalls were all operated by locals. 
Final Thoughts
Perfect Day at CocoCay blew all of us away! The whole family truly enjoyed our day at CocoCay. Even my mom, who typically hates spending her day at the beach, said she loved the island and was very impressed. 
It was obvious that Royal Caribbean invested heavily in making its private island a destination that cruisers will want to visit. I can totally understand how people love to visit CocoCay repeatedly. 
The entire day was very laid back and relaxing. Everything at CocoCay is so easy, making it feel like a true day of vacation. There was no need to worry about transportation or logistics - you walk right off the ship and you're right where you need to be! 
I loved being able to use my daily drinks at the island too. Oasis Lagoon was the perfect place for us to spend the day relaxing w drinking and dancing Next time, I'd love to visit the floating bar on South Beach. 
We saw so many families having a great time too, which is easy to do with all the waterslides, waterparks and activities. CocoCay is certainly a great spot for families with kids of all ages. 
I honestly wish I could transport my 14 year old self to the new CocoCay! That big blowup waterslide from the old CocoCay couldn't even compete with all the new amenities offered.
If you haven't visited the new Perfect Day at CocoCay, or you're avoiding it like we were, think again! I promise you'll be impressed by everything that Royal Caribbean has done to make the island an amazing destination.