In:
Perfect Day at CocoCay is Royal Caribbean's private island in the Bahamas, and it's a favorite port among cruisers. With white sand beaches, crystal clear water, and thrilling activities like a waterpark and zip line, visiting the island is truly a perfect way to spend the day.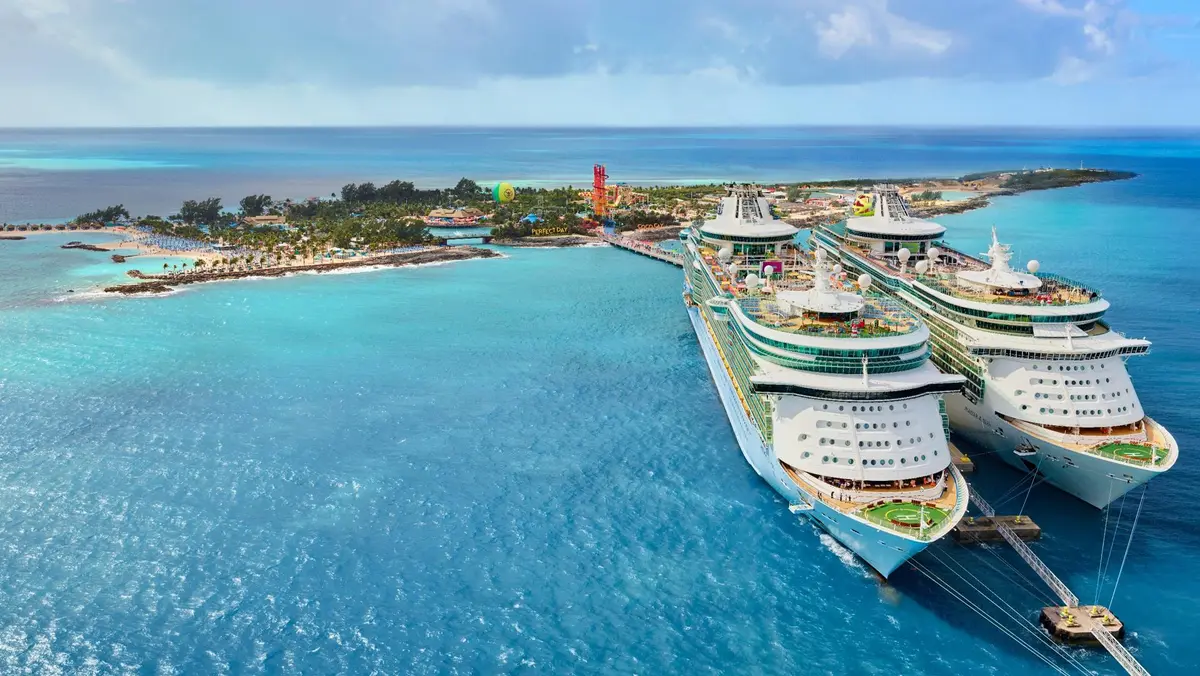 Around two million passengers visit CocoCay each year, many of whom are visiting for the first time. Unsurprisingly, these first-timers have plenty of questions about the island, from questions about what's included to how they should spend their day.
We hear many of the same questions over and over again here at Royal Caribbean Blog—we wanted to answer them in one place. While not "dumb" questions, knowing the answers to these commonly asked questions should better help you plan your day on the island.
Let's jump in to answer your really "dumb" Perfect Day at CocoCay questions.
Where is Perfect Day at CocoCay?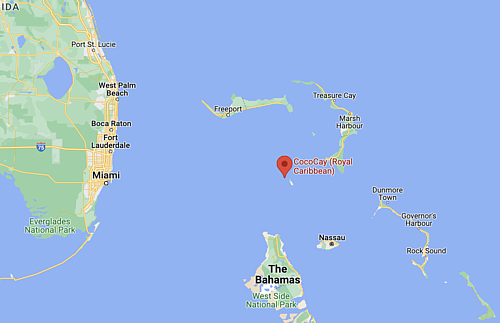 Perfect Day at CocoCay is an island located in the Berry Islands chain of the Bahamas. The island is 140 miles east of Miami and 64 miles north of Nassau.
CocoCay's location makes it a quick hop away from Florida, which is why it's such a popular port visit on 3 and 4-night cruise itineraries.
Because CocoCay is located further north than most other cruise ports in the Caribbean, the weather can be chillier than some cruisers expect in the winter months. Water temperatures in the ocean and pools may be cold from November to February, although weather conditions can change from day to day, with some days sunny and warm and others windy and cold.
For the majority of the year, however, weather at Perfect Day at CocoCay is pleasantly warm with a gentle breeze.
How do you pronounce CocoCay?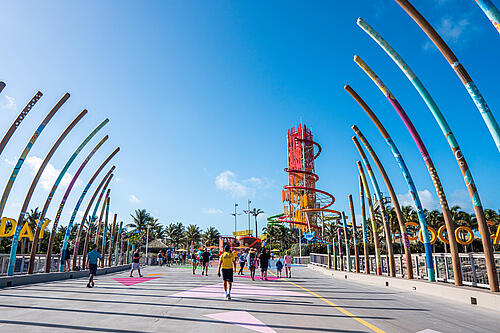 If there's one topic that's controversial among Royal Caribbean cruisers, it's how to pronounce Perfect Day at CocoCay.
With Bahamian pronunciation, CocoCay is pronounced Coco-KEY. A cay is a low elevation landmass formed on top of a coral reef, and CocoCay is a cay.
Nonetheless, many cruisers refer to the island as Coco-CAY, as it rhymes with Perfect Day. Making matters more confusing is that Royal Caribbean's signature CocoCay song, which plays as guests arrive at the island, pronounces the island Coco-CAY as well.
Technically, there's no wrong way to pronounce the island, but the correct Bahamian pronunciation is Coco-KEY.
Do you have to pay to go to Perfect Day at CocoCay?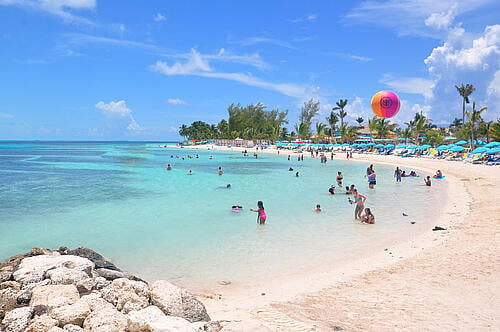 Admission to Perfect Day at CocoCay is included in your cruise fare. While some activities cost extra on the island, such as the waterpark and Coco Beach Club, the majority of the island is accessible to all guests at no extra cost.
Related: Coco Beach Club: cost, tips & review
You can easily spend a whole day on the island without spending anything extra. Most visitors spend their day at one of the island's white sand beaches or at the spacious Oasis Lagoon pool. Families with kids may enjoy spending time at Splashaway Bay, an aqua park with slides, water sprayers, and splash pads.
Participating in extra-cost activities can be fun, but it's not necessary in order to have an enjoyable day.
Is there food at Perfect Day at CocoCay?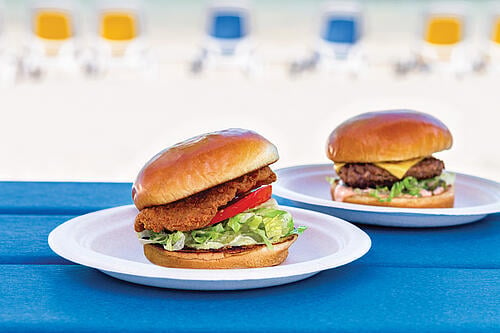 There are several food venues at Perfect Day at CocoCay, most of which are included in your cruise fare.
Snack Shack is a popular grab and go spot on the island, and there are three locations. Snack Shack is best known for their crispy chicken sandwich, and other items include mozzarella sticks, burgers, hot dogs, and salads.
In addition to Snack Shack are two large buffets: Chill Grill and Skipper's Grill. Both buffets serve the same food, which includes tacos, sandwiches, salads, french fries, and dessert.
Guests who purchased a day pass to the Coco Beach Club have access to the Coco Beach Club Restaurant. More refined than the island's grab and go venues, this sit-down restaurant has a Mediterranean flare, serving items like lobster, grouper, filet mignon, and ceviche.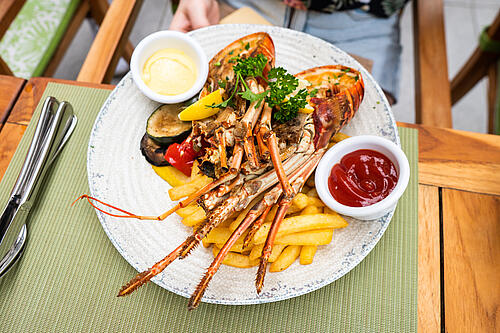 An additional dining venue, Captain Jack's, serves steak fries and chicken wings, but these come at an extra cost and are priced à la carte.
How much does Thrill Waterpark cost at Perfect Day at CocoCay?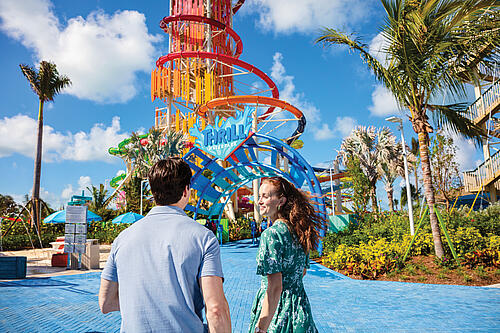 Of all the excursions you can purchase at Perfect Day at CocoCay, Thrill Waterpark is among the most popular. This large waterpark has over a dozen waterslides, including the tallest slide in North America at 135 feet.
Related: Guide to Thrill Waterpark at Perfect Day at CocoCay
In addition to slides is a wave pool and an adventure pool with floating obstacles and a rock climbing wall.
There is no set price of admission to Thrill Waterpark, and the price changes from ship to ship and sailing to sailing. The price can also change from day to day, so it's challenging to predict the cost of Thrill Waterpark.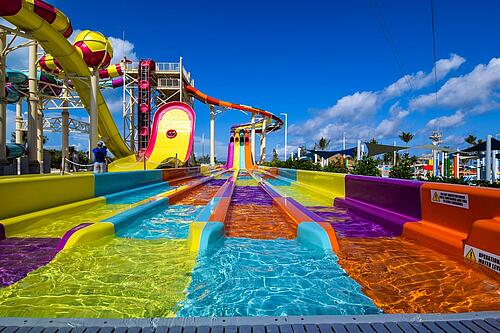 A good estimate for admission to Thrill Waterpark is around $100 to $150 per person. If you're interested in visiting the waterpark, we recommend making a reservation as soon as possible. If the price lowers, you can always cancel and rebook the excursion with no penalty, thus taking advantage of the lower price.
The same repricing strategy works for any add-on or excursion you purchase at Perfect Day at CocoCay. If you book the Coco Beach Club for $199 per person and later see the price drop to $150, cancel and rebook the reservation for the lower price on Royal Caribbean's Cruise Planner website.
Does my drink package work at Perfect Day at CocoCay?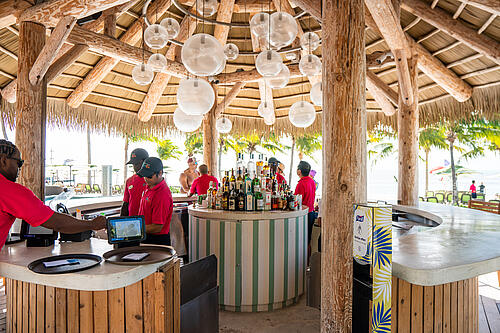 If you purchased a drink package for your Royal Caribbean cruise, it will work at Perfect Day at CocoCay.
One major advantage of purchasing a drink package for an itinerary that visits CocoCay is that your drink package works on the island in the same way it works onboard. Regardless of whether you purchased the alcoholic, nonalcoholic, or soda package, you can enjoy unlimited drinks while on the island.
Related: Royal Caribbean Drink Package Info, Tips, Pros & Cons
Nothing screams vacation quite like a frozen fruity cocktail on the beach, so be sure to take advantage of your drink package perks while ashore.
Do you need cash at Perfect Day at CocoCay?
You do not need to bring cash to Perfect Day at CocoCay. All purchases including drinks, souvenirs, and extra-cost food items can be purchased using your cruise ship SeaPass card. Purchases will then be charged to your onboard account, which will charge to your credit card at the end of the cruise.
Related: How much cash should you bring on a cruise?
Even the artisan market, where you can purchase souvenirs from Bahamian vendors, accepts payments via your SeaPass card until 2:30PM. If shopping after 2:30PM, you can make payment in cash.
Is there an adults-only beach at Perfect Day at CocoCay?
At the time of writing, there is no adults-only beach at Perfect Day at CocoCay, but one is under construction.
In late 2023, Hideaway Beach will open on the northern side of Perfect Day at CocoCay near Thrill Waterpark. This will be an adults-only beach that will increase the island's capacity by 3,000 guests.
Related: Guide to Hideaway Beach at Perfect Day at CocoCay
Not many details have been released about Hideaway Beach, including whether or not the beach will be complimentary or come with an extra charge. The minimum age has not been announced either, although Royal Caribbean's adults-only spaces are typically for those guests aged 16 and above.
How do you get around the island?
Perfect Day at CocoCay is a small island, and only one side of the island is developed for guests. Because of this, it's easy to walk around the entire destination in one day on foot.
If you want quick access from one area to another, however, you can utilize the island's free tram system. CocoCay has trams available that run in loops around the island, taking guests from beach to beach and back and forth from the ship.
You will find tram stations around the island, which are marked with signage and benches. Trams come frequently throughout the day, so it's unlikely you'll have to wait more than a few minutes for a tram.
Do chairs and umbrellas cost extra at Perfect Day at CocoCay?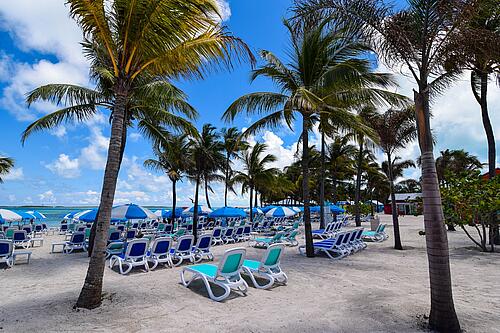 There are thousands of beach chairs and umbrellas at Perfect Day at CocoCay and they are completely free to use. Chairs are on a first come, first serve basis. There are more than enough chairs for all guests, but the chairs closest to the water are snagged up quickly.
Most chairs also have a beach umbrella to provide shade, although some chairs do not. We recommend getting to the beach early in the day to find the best-located chairs.
In addition to beach chairs and umbrellas, there are hammocks, bean bags chairs, and other seating available on the island that is free to use.
If you want to rent a daybed or cabana, you will have to reserve a spot in advance. Prices can vary greatly depending on the type of cabana you book, so check the Cruise Planner for your particular sailing to see current pricing.
Related: Guide to CocoCay Cabanas
Does Royal Caribbean offer overnight visits to Perfect Day at CocoCay?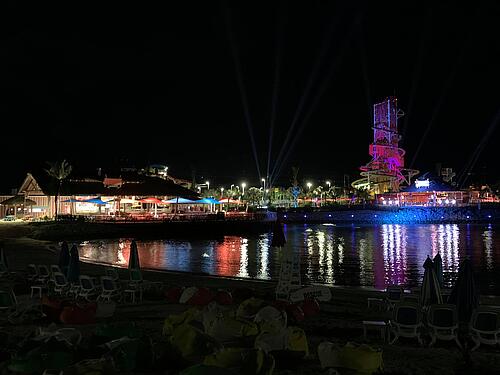 While some cruise lines may offer late night or overnight stays at their private destinations, Royal Caribbean does not.
The cruise line initially planned to offer overnight stays at Perfect Day at CocoCay but later decided against it. In fact, Royal Caribbean heard from guests that they preferred spending their evenings onboard after spending all day on the island.
In addition, Royal Caribbean makes more money when the ship is not docked overnight. The casino and retail stores cannot be open while a ship is docked, so those venues only make money while the ship sails.
Although the ship could theoretically sail away from the island and return the following morning, this isn't something being offered at this time.
Where can I put my belongings while on the island?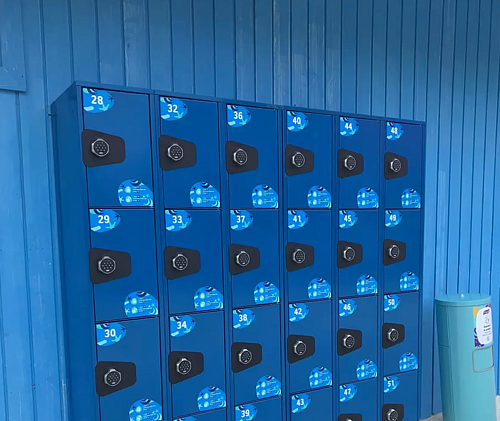 If you're worried about keeping your belongings and valuables safe while on the island, you can place them in a locker.
Perfect Day at CocoCay has lockers scattered around the island that are free to use. To use a locker, you'll set a pin that will allow you to open and close the locker as you wish.
Related: Where to keep SeaPass Card, phone, and cash when on a shore excursion?
Inside the locker you can place items like your phone, wallet, camera, and other valuables. This comes in handy when you're at the waterpark or going swimming as you won't have to worry about whether or not your personal belongings are safe.
Check out more of your dumb cruise questions answered: