In:
Planning your first cruise? If so, you probably have a long list of questions about dining on a cruise ship. What food is included? Can you eat as much as you want? How many restaurants are on a cruise ship?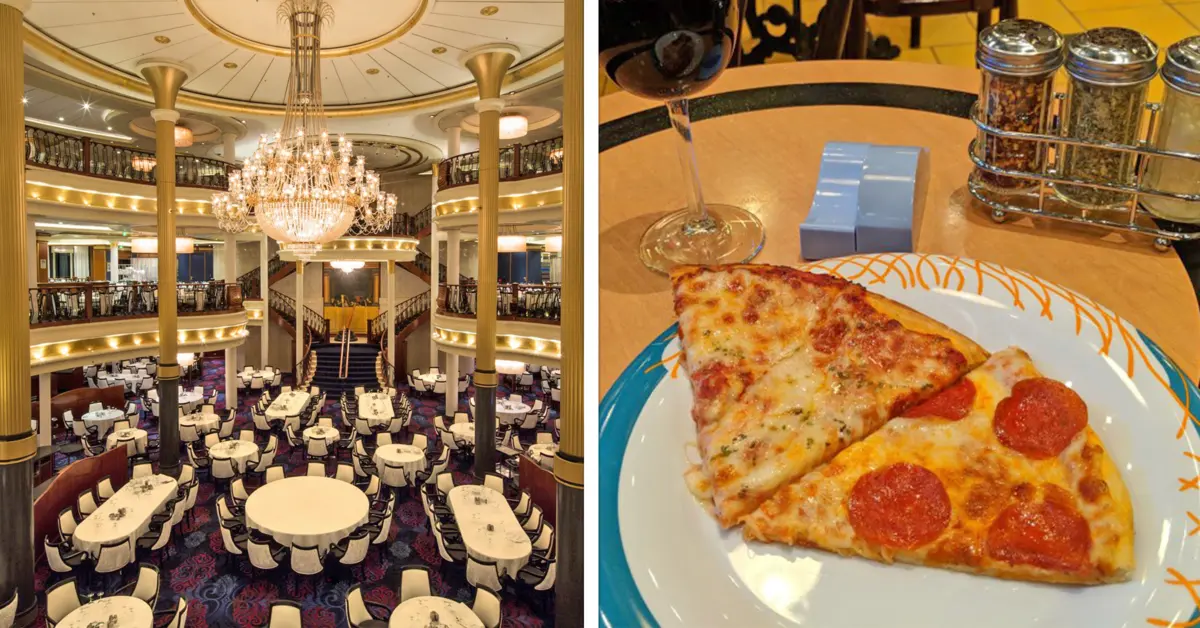 What seems like basic knowledge to frequent cruisers can cause confusion for first time cruisers. So much confusion, unsurprisingly, leads to a lot of questions about dining on a cruise ship.
Here at Royal Caribbean Blog, we hear the same questions about cruise ship dining over and over again. They're not inherently "dumb" questions, but some first time cruisers may feel embarrassed to ask so many questions about dining onboard.
To make your first cruise experience stress-free, we're answering 17 of your really dumb cruise ship dining questions.
What is the Main Dining Room on Royal Caribbean?
The Main Dining Room is the name of Royal Caribbean's traditional sit-down restaurant. This is the largest dining venue on any Royal Caribbean ship—it spans multiple decks and serves thousands of passengers each day.
While dining in the Main Dining Room you're presented with a menu with appetizers, main courses, and desserts. You can order as many items as you please, whether you want multiple appetizers or three slices of pie!
Related: 21 Tips for the Best Cruise Ship Main Dining Room Experience
Everything in the Main Dining Room is complimentary aside from a few extra cost items, which are listed at the bottom of the menu. These include lobster and steak from Chops Grille, Royal Caribbean's signature steakhouse.
The Main Dining Room is open for breakfast, lunch, and dinner. Breakfast and dinner are served every day whereas lunch is available on sea days only. The breakfast and lunch menu may be combined into a brunch menu on sea days.
What is the Windjammer on a Royal Caribbean cruise?
The Windjammer is the name of the main buffet on a Royal Caribbean cruise. This venue is where you'll find the widest selection of food onboard, and it's open for breakfast, lunch, and dinner every day. The Windjammer is included in your cruise fare.
All meals at the Windjammer should offer enough variety to satisfy all passengers. Breakfast offers both traditional American fare—pancakes, bagels, eggs, and hash browns—along with a selection of international cuisine like fried rice and Indian curry.
Related: Guide to Royal Caribbean's Windjammer Cafe buffet
Dinner in the Windjammer has a theme each evening, although you'll still find classic options like hamburgers, pizza, and pasta. One night may offer Caribbean cuisine like jerk chicken and plantains whereas another evening may feature Italian, Mexican, or Chinese dishes.
Are there limits to how much you can eat at the buffet?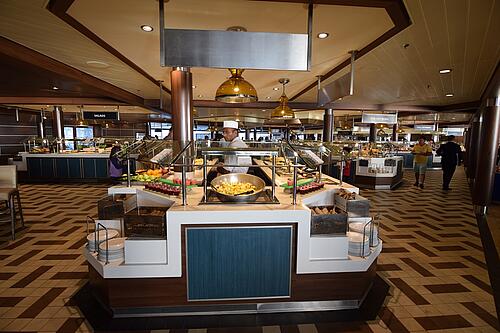 There are no limits to how much you can eat at the buffet on a Royal Caribbean cruise. Feel free to indulge in eight slices of pizza, five desserts, and a plate of french fries… there's no one stopping you!
You should, however, grab a new plate each time you visit the buffet station, as using the same plate multiple times is a health hazard.
What are specialty restaurants and how much do they cost?
Specialty restaurants are restaurants that are not included in your cruise fare. Unlike the Main Dining Room or Windjammer, dining at these restaurants incurs an additional fee.
Dining at specialty restaurants is completely optional, but many passengers enjoy the cooking styles and selection of cuisine at these venues. Specialty restaurants offer everything from sushi and hibachi at Izumi to Italian pasta and pizza at Giovanni's Italian Kitchen.
Related: What is the best Royal Caribbean specialty restaurant?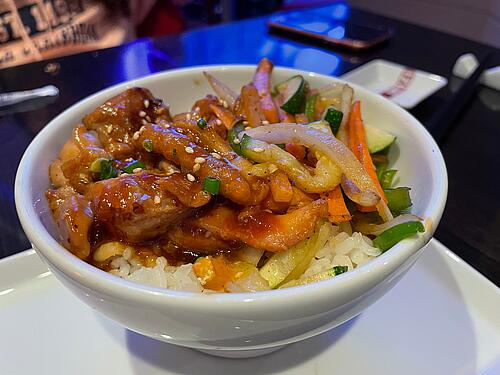 Compared to the complimentary venues onboard, specialty restaurants may offer a more intimate atmosphere as well, making them perfect for celebrating special occasions or a date night.
The cost of Royal Caribbean's specialty restaurants varies from venue to venue, but you can expect to pay around $25 for lunch and $50-60 for dinner. More casual restaurants, such as Playmakers Sports Bar & Arcade, offer lower prices and are priced à la carte.
What food is free on Royal Caribbean?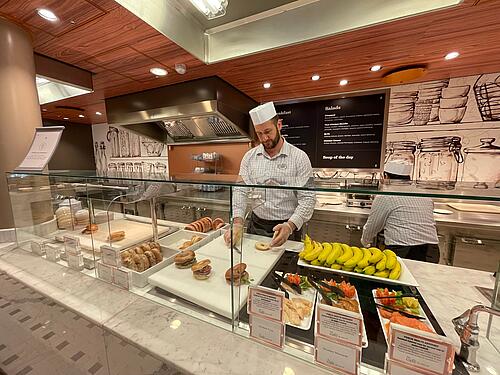 The majority of food on a Royal Caribbean cruise is free—it's easy to go an entire cruise without spending anything extra on food. With the exception of the Main Dining Room, the majority of complimentary food venues are quick grab and go spots.
Here is a complete list of complimentary food venues on Royal Caribbean:
Windjammer: Royal Caribbean's main buffet
Mini Bites: grab and go casual fare (only on Harmony of the Seas)
El Loco Fresh: Mexican fare served buffet style
Dog House: hotdog stand
Splashaway Cafe: casual pool deck fare (only on Spectrum of the Seas)
Solarium Bistro: a more relaxed buffet compared to the Windjammer with Mediterranean cuisine served for dinner
Cafe Promenade: grab and go snacks served all day, such as muffins, sandwiches, and cookies
Sorrento's Pizza: pizza slices served (almost) all day
Coastal Kitchen: complimentary restaurant only for suite guests on Quantum, Oasis, and Icon Class ships
The Cafe at Two70: grab and go soups, salads, sandwiches, pastries, and snacks on Quantum Class ships
Park Cafe: grab and go soups, salads, sandwiches, pastries, and snacks on Vision, Radiance, and Oasis Class ships
Vitality Cafe: health-focused snacks (protein shakes and smoothies cost extra)
Main Dining Room: Royal Caribbean's traditional sit-down dining restaurant
Surfside Eatery: kid-friendly dining on Icon of the Seas
Fish & Ships: only select items are complimentary on Ovation of the Seas
Johnny Rockets: complimentary for breakfast only on Oasis Class ships
How do I know which restaurants are on my ship?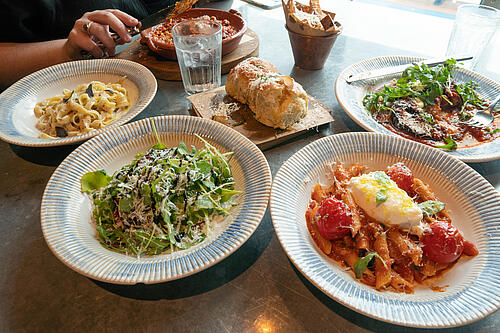 Every Royal Caribbean ship offers different food venues, with some restaurants overlapping on all ships and others only available on one or two ships in the fleet.
The easiest way to find out which food venues are on your Royal Caribbean cruise ship is to check the Royal Caribbean app. By downloading the Royal Caribbean app and linking your cruise reservation to your account, you can view the dining venues on your ship.
Related: Royal Caribbean app walkthrough and tips
To do so, click on the dining tab in the lower left corner of the app. From there, you can view every venue on your ship and whether or not they are included in your cruise fare.
You can also view the menu for most restaurants as well as operating hours.
Can I bring food on a cruise?
All guests are permitted to bring non-perishable food on a Royal Caribbean cruise. This includes packaged goods like cookies, chips, crackers, granola bars, trail mix, and candy, as well as pre-packed baby food.
You are not allowed to bring perishable food like fruits, vegetables, meat products, and homemade goods.
Related: What food or drinks you're allowed to bring on a Royal Caribbean cruise
There is more than enough food to keep you satisfied on a Royal Caribbean cruise, so we don't usually recommend packing anything extra. That being said, parents with young kids may want to bring their child's favorite snacks to have on hand in the room or on a shore excursion.
Can I look at the dining room menus in advance?
You can look at Royal Caribbean's Main Dining Room menus in advance on the dining tab in the Royal Caribbean app.
As the dinner menu changes each evening, knowing what's offered on a particular day can help you plan your vacation. If you're planning to book a specialty restaurant, for example, you may want to book the restaurant on a day where the Main Dining Room menu isn't as appealing to your tastes.
Related: I tried the new Royal Caribbean menus, and here's how I'd rank everything I ate
Traditional Dining vs My Time Dining: what's the difference?
Dinner in the Main Dining Room comes with two options: traditional dining or My Time Dining.
Traditional dining is when you eat at the same time each evening at the same table and with the same waiters. This option is best for those who prefer a set dinner schedule and who don't need flexibility with their dining time.
My Time Dining, on the other hand, allows you to dine at a time most convenient for your schedule. You can show up to the dining room and wait for an available table or make a reservation for the evening in advance. With My Time Dining, there's no need to eat at a set time each night, although you will not have the same tables nor the same waiters throughout the cruise.
You will select your preferred dining style (traditional dining or My Time Dining) when you book your cruise.
Related: Royal Caribbean My Time Dining versus Traditional Dining
How do I make dining reservations?
Dining reservations are required for select venues on Royal Caribbean, including My Time Dining in the dining room and at specialty restaurants.
To make My Time Dining reservations, visit Royal Caribbean's Cruise Planner to select a time for each evening. If you do not make reservations, you can always show up to the dining room at any time during dinner service, but you may have to wait in a line.
Specialty dining reservations can be reserved in the Cruise Planner as well.
Related: The Ultimate Guide to the Royal Caribbean Cruise Planner site
What time is dinner on Royal Caribbean?
Dinner times may vary slightly depending on your cruise itinerary, but it's typically held from around 5:30PM to 9PM on a Royal Caribbean cruise.
There are two traditional dining times, which are usually around 5:30PM and 8:30PM. Passengers can choose the time that works best for their dining preference (early or late seating).
My Time Dining opens later than traditional dining; it is open from around 6:45PM to 9PM each day.
How long does dinner last on Royal Caribbean?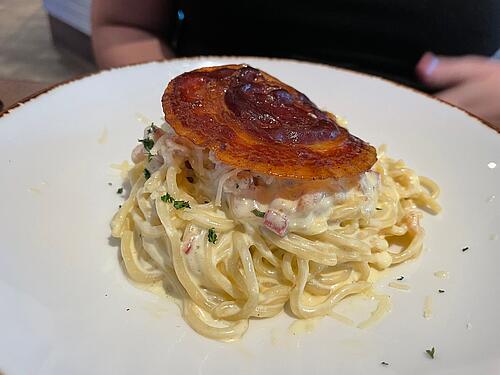 You should expect dinner in the Main Dining Room to last between 75 minutes and 90 minutes, although it may be shorter or longer depending on your group size, number of dishes ordered, and speed of service.
Dinner at specialty restaurants lasts roughly the same amount of time as dinner in the Main Dining Room. Casual venues like the Windjammer offer much quicker service—it's possible to be in and out in 15 minutes!
Do I have to sit with strangers at dinner on a cruise?
In the past, it was common to be seated with other passengers in the Main Dining Room. Due to space constraints, you could be assigned to a table with several other travel parties.
While this still happens today, you have much more flexibility when it comes to having your own table. Most of the time, you'll be seated at your own private table. If you are assigned to a table with other passengers, simply request your own table and Royal Caribbean will accommodate you.
Some passengers still enjoy sitting with other travel parties in the Main Dining Room, though, as it allows them to connect with other guests during their sailing.
Is room service free on Royal Caribbean?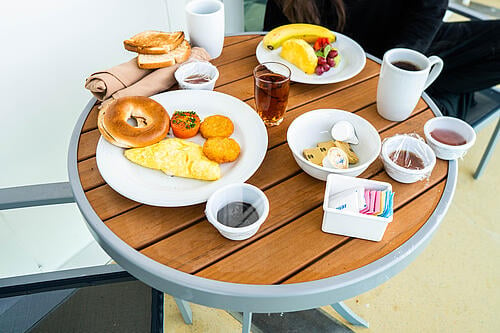 Room service is not free on a Royal Caribbean cruise, albeit with one exception.
Royal Caribbean's room service menu incurs a $7.95 per order fee plus 18% gratuity. This means that, regardless of how much you order, you will be charged one set amount.
Related: Royal Caribbean room service guide & tips
Free room service is only offered on the continental breakfast menu, which serves cold items like yogurt, bagels, and muffins, but not pancakes, eggs, and bacon. You will not incur a fee for ordering continental breakfast, although tipping the crew member who delivers the food is recommended.
What is the dress code on Royal Caribbean?
Royal Caribbean's dress code is relatively casual, with formal wear only suggested on formal nights, which occur one to three times during your sailing depending on the cruise's length.
You can dine at casual venues like the Windjammer and El Loco Fresh in swimsuit cover-ups, shorts, tank tops, and flip flops. Generally speaking, as long as you're not wearing only a bathing suit, you're in the clear.
For dinner in the dining room and at specialty restaurants, dressing smart casual is recommended. Think of smart casual as a nice pair of slacks, blouses, collared shirts, and dresses.
Royal Caribbean suggests wearing formal wear on formal night, including suits and ties, cocktail dresses, and evening gowns, but it's not required. This suggestion is only for dinner in the Main Dining Room, meaning you can dress casual and dine in other venues that evening instead.
Related: What to wear on a cruise formal night
Plus, the dress code is not strictly enforced on formal night, so there's no need to dress in a black-tie look. While we advise dressing nicely for formal night, you can wear the same semi-formal outfits on formal night as you would wear any other night in the dining room.
Can kids order from the adults menu? And can adults order from the kids menu?
The Main Dining Room has both a standard menu and a kids menu, but passengers can order from whichever menu they prefer.
The kids menu is limited but offers a selection of kid-friendly favorites such as mac and cheese, pizza, and burgers. It stays the same throughout the entire cruise. The regular dinner menu, of course, has more diverse options and changes each day of the sailing.
Kids can order from the standard menu if they would like to try a wider range of food. Adults, on the contrary, are free to order from the kids menu if they don't see anything they want on the regular menu.
How does Royal Caribbean handle dietary restrictions?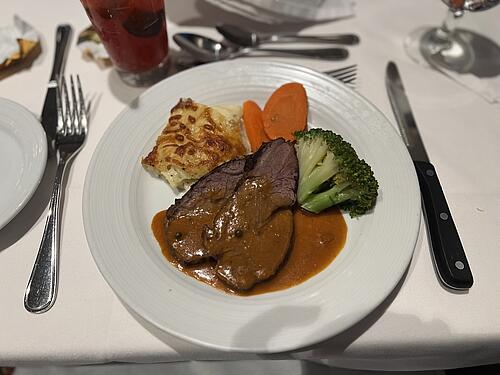 Royal Caribbean can accommodate most dietary restrictions onboard. 
The Main Dining Room menu specifies if a dish is vegan or has no sugar added. A vegan appetizer, main course, and dessert is offered each evening in the dining room along with several more vegetarian options. Vegans and vegetarians do not have to notify Royal Caribbean of their dietary needs in advance.
Those with other dietary restrictions, such as severe allergies, gluten-free, and Kosher, should send Royal Caribbean an email more than 45 days prior to their cruise. Notifying Royal Caribbean of your allergies will help ensure that your dietary needs are met.
You can email Royal Caribbean at [email protected]. In the email, include the guests' names, booking number, ship name, and sail date.