In:
There's no such thing as a dumb question, but occasionally we receive a question about cruise ship cabins that makes us scratch our heads. Whether asking if crew members sleep onboard or if it's easy to fall off your balcony, we've received a handful of amusing questions over the years.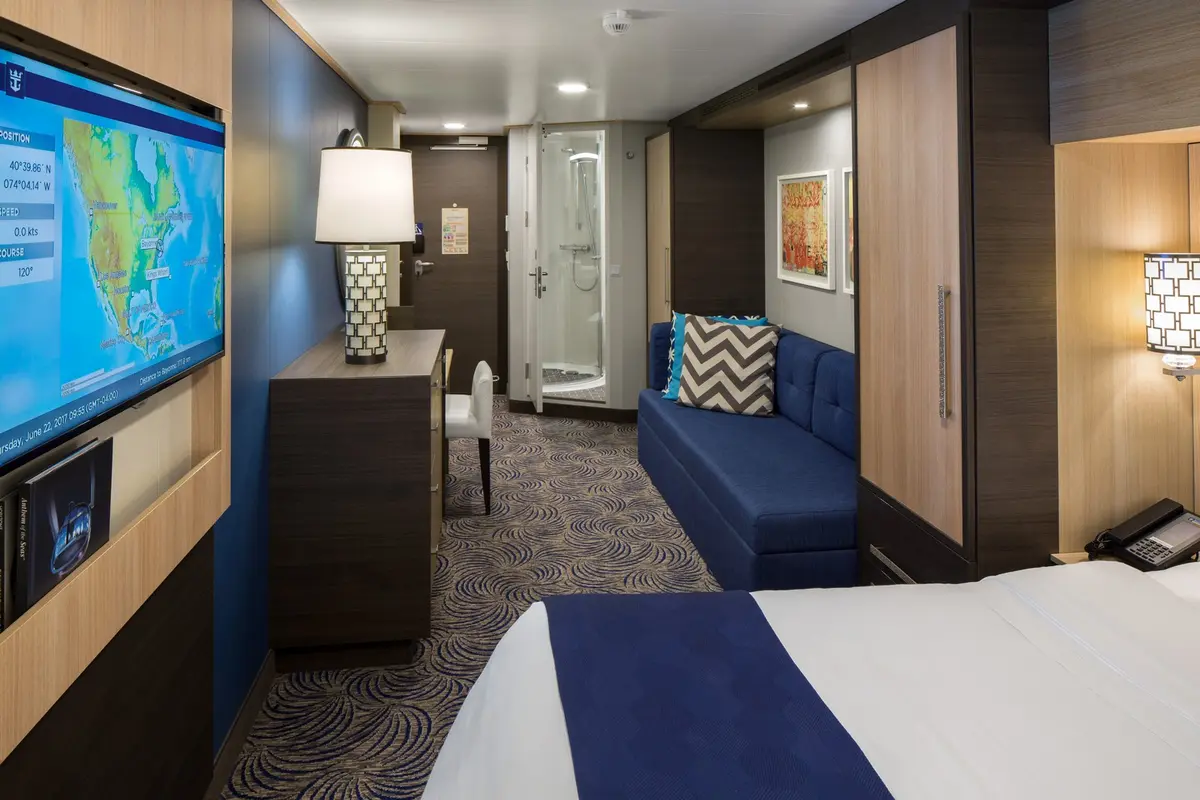 It's understandable that first time cruisers have many questions about their cabin. After all, cruise cabins differ greatly from hotel rooms in size, amenities, service, and cabin categories.
Consider the questions in this post as your personal "Cruise Ship Cabins for Dummies." We swear you'll feel smarter and more confident about booking a cruise cabin after you've read it.
What is a stateroom on a cruise ship?
A stateroom on a cruise ship is another word for your cabin—the two words are used interchangeably. In a cruise stateroom you'll find a bed, bathroom, couch or chair, desk, and vanity. The biggest suites may include additional features such as a jacuzzi, espresso maker, and multiple bedrooms.
Related: What are the different types of cabins on a cruise ship?
There are four main cabin categories on a Royal Caribbean cruise:
Interior: a small room with no window, balcony, or porthole to the outside
Oceanview: a room with a porthole looking out to the ocean
Balcony: a cabin with a private balcony
Suite: an upgraded room with a larger space and added perks
Every passenger onboard must select a stateroom category when booking a cruise. Balcony cabins are among the most popular, although interior and oceanview rooms are great for those on a budget. Suites, on the other hand, are the most expensive, but offer a much more luxurious cruise experience.
How big are cruise ship cabins?
The size of a cruise ship cabin varies based on the type of cabin and ship you book. Older ships tend to have smaller cabins whereas newer ships feature the largest, most spacious rooms and suites. Some ships may also have 'spacious' cabins available in each category, such as spacious oceanview cabins, which provide more square footage space.
In addition, accessible rooms are significantly larger than standard cabins, but are designed for guests with disabilities. These rooms range from 159 to 298 square feet.
You can expect to see the following cabin sizes on Royal Caribbean, although exact size will differ by ship and stateroom type:
Interior: 136-172 square feet
Oceanview: 170-182 square feet
Balcony: 179-204 square foot room, 40-50 square foot balcony
The size of a Royal Caribbean suite can vary drastically by the type of suite you book. Junior Suites start at 243 square feet (with a 74 square foot balcony) on Royal Caribbean's oldest ships. The fleet's newest ships, on the other hand, feature two-story suites with over 1,000 square feet of living space!
Related: Royal Caribbean suites guide & review
To find the exact size of your cruise cabin, search Royal Caribbean's website for a deck plan of your ship.
How many people can stay in a cruise ship cabin?
Most Royal Caribbean cruise cabins accommodate between two and four guests. To accommodate over two guests, your cabin will have a sofa bed, pullman bed(s), or bunk beds. A limited number of family staterooms may be available on your ship, which can accommodate up to five or six guests.
Related: What's the best cruise ship cabin for my family?
Not all cabins can accommodate more than two guests, though, so it's important to book early if you need more than two guests in the room. Before doing so, however, check the price of two connecting rooms instead of cramming all guests into one room.
Connecting cabins have a door in between the two rooms, allowing you to access both cabins without stepping into the hallway. Occasionally, putting two guests in each connecting cabin is the same price (or even less) as booking all four guests in one room. Plus, you get much more living space.
Does an oceanview cabin have a balcony?
Oceanview cabins on Royal Caribbean cruise ships do not have a balcony. Instead, they have a private porthole facing the ocean. If you want a balcony cabin, you must book a balcony room or suite.
Despite the lack of a balcony, many passengers enjoy cruising in oceanview cabins. The porthole brings natural light and views to the cabin at a reasonable price, and it's certainly an upgrade from a tiny, windowless interior room.
Related: Inside cabin vs oceanview cabin: Are the differences worth an upgrade?
How big is a cruise ship cabin bed?
Most Royal Caribbean cruise cabins have a king size bed, although in reality the bed is made from two twin beds placed together. You can choose to have your beds separated or together depending on your travel party. If you need your beds separated, call housekeeping once onboard to request the change.
Studio cabins—staterooms for just one solo guest—have either a twin size or full size bed. Studio cabins on Radiance and Voyager Class ships have a twin size bed whereas the solo rooms on Quantum and Oasis Class ships have a full size bed. These rooms are smaller than standard cabins, resulting in a smaller bed.
Related: Guide to Royal Caribbean's Single and Studio staterooms
Is there a hair dryer in the room?
All Royal Caribbean cruise cabins come with a hair dryer, although it may not be as powerful as the hair dryer you have at home. You can usually find the hair dryer in one of your cruise cabin drawers. Guests who prefer to bring their own hair dryer can do so as well.
How do I get more towels?
Your stateroom attendant will replenish your bath towels each day when they come to clean your cabin. If you need more towels, you have two options:
Ask your stateroom attendant for extra towels when you see him or her in the hallway
Call housekeeping and request that additional towels be brought to your cabin
If you know you will need additional towels every day of the cruise, let your stateroom attendant know on embarkation day so they know to bring extra whenever they clean your cabin.
When does my stateroom attendant clean my cabin?
Most cabins are cleaned once per day by a stateroom attendant onboard. If you're staying in a suite, your cabin will be cleaned twice per day.
You can choose to have your cabin serviced in either the morning or evening. Housekeeping service usually takes less than fifteen minutes, during which your stateroom attendant picks up the cabin and replenishes toiletries and towels.
Why didn't my room get cleaned?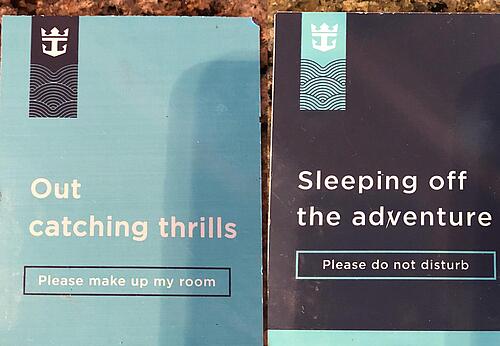 On the inside of your cabin door is a two-sided magnet. One side of the magnet has the words Out catching thrills: Please make up my room. The other side says Sleeping off the adventure: Please do not disturb.
Putting this magnet on the outside of your cabin door lets your stateroom attendant know when they are able to clean your cabin. Occasionally, guests may forget to switch the magnet from do not disturb, so their stateroom attendant will not enter the cabin.
If this happens to you, you can always call housekeeping (within cleaning hours) in order to have your room serviced. Or, if you see your stateroom attendant in the hallway, ask them if they are able to clean your room.
Is there a TV in the room?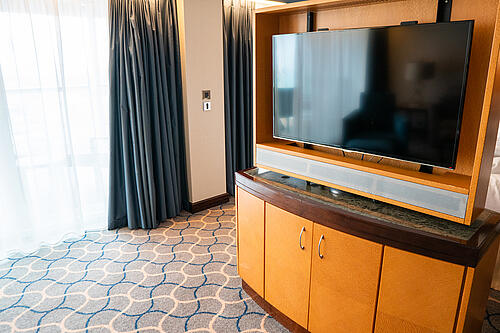 All Royal Caribbean cruise cabins have a TV. On the TV guests can watch 29 channels, including BBC World News, FOX News, MSNBC, Sky News (Europe and Australia only), ESPN, and ESPN 2.
Exact channel offerings depend on the particular ship and its location. If sailing through remote areas, the channels may encounter outages.
In addition to major news outlets, you will find a channel providing information on your sailing, which includes a live stream from the ship's bridge and a map of your itinerary.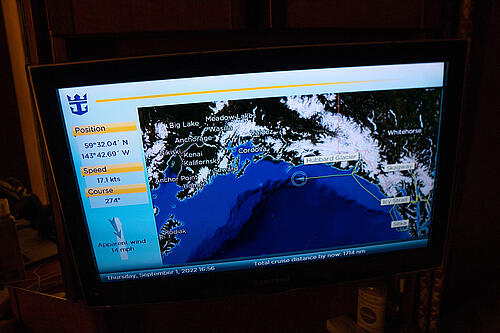 Some ships also allow guests to order movies on demand for an extra charge as well as check your SeaPass account, view safety and security information, and view the room service menu.
This is available on Allure of the Seas, Anthem of the Seas, Explorer of the Seas, Icon of the Seas, Navigator of the Seas, Oasis of the Seas, Ovation of the Seas, Quantum of the Seas, Spectrum of the Seas, Symphony of the Seas, and Voyager of the Seas.
Do I have to share a bathroom with other passengers?
Thankfully, cruise ships are not hostels (phew!), so you will not have to share a bathroom with other passengers. Every cabin on a Royal Caribbean cruise has a private bathroom, where you'll find a toilet, sink, and shower. Suite category cabins also have a bathtub.
Related: Where does the poop go on a cruise ship?
What is that spaceship sound?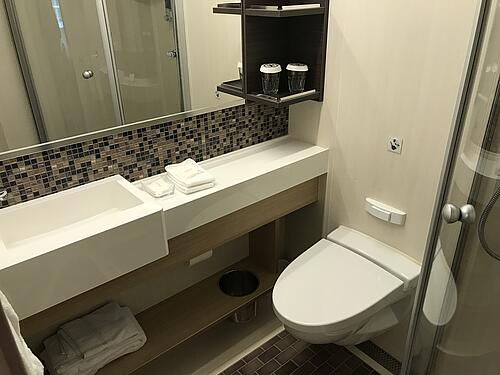 If you hear a "WHOOOOSH" sound every so often on a Royal Caribbean cruise, don't be alarmed… it's just the toilet!
Royal Caribbean's toilets use a suction system to minimize the water needed to flush. As a result—just like on an airplane—flushing your cruise cabin's toilet can be loud. It's so loud, in fact, that you can hear the flushing noise from the cabins around you!
Should I be scared about falling off the balcony?
A common fear of first time cruisers is that they will accidentally fall off their balcony into the ocean below, but this is extremely unlikely. The railings on Royal Caribbean's balcony cabins are around four feet tall, meaning it's practically impossible to accidentally fall off.
Related: Guide to balcony staterooms on Royal Caribbean
While stories of passengers falling off balconies on cruise ships occasionally appear in the news, these situations are almost always the result of someone purposely climbing on the balcony railing.
Additionally, balcony doors have a manual lock located high on the door frame. If you're cruising with kids, using this lock prevents children from accessing the balcony on their own. 
Can other ships see into my cabin while docked in port?
If you have a balcony or oceanview room on your cruise, take extra caution when docked next to other ships in port. If your cabin faces the ship docked next to yours, the passengers on that ship can see onto your balcony and, if your curtains are open, into your cabin!
Before getting changed or walking around your cabin without wearing clothes, double check to make sure no one can see into your cabin from outside!
Do crew members sleep onboard?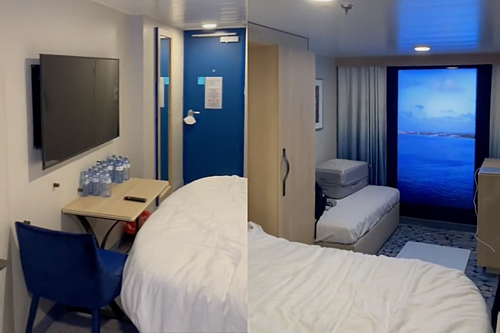 Perhaps the silliest question we're asked about cruise ship cabins is whether or not crew members sleep onboard. Of course they sleep onboard! Where else would they go while in the middle of the ocean?
There are specific areas onboard reserved just for crew members, including crew cabins, a crew buffet, crew gym, and crew bar. These spaces are usually on the bottom decks of the ship.
Related: A look at the secret crew-only areas on the world's biggest cruise ship
Crew cabins are not designed in the same way as guest cabins. They are much smaller and many crew members share a room. Guests on a Royal Caribbean cruise cannot access crew areas, including the cabins.