In:
Royal Caribbean opened the Coco Beach Club a few days ago, and I had the chance to try out this new exclusive beach area on the cruise line's private island.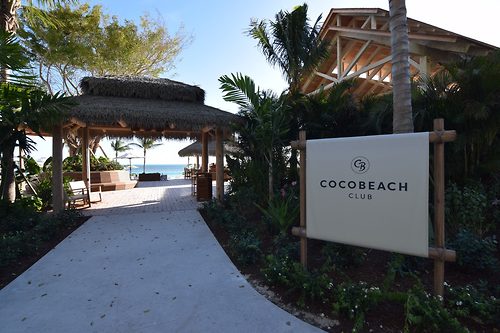 The premise of the Coco Beach Club is simple: an area of Perfect Day at CocoCay for guests who are looking for an exclusive area that offers upgraded service and food choices.
Located between Chill Island and South Beach, Coco Beach Club is a short 10 minute walk from where your ship docks.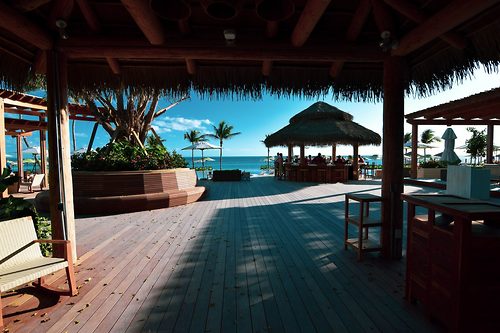 Admission is purchased before the visit, and loaded onto the SeaPass card, so when you arrive, the staff scans your SeaPass card for entry.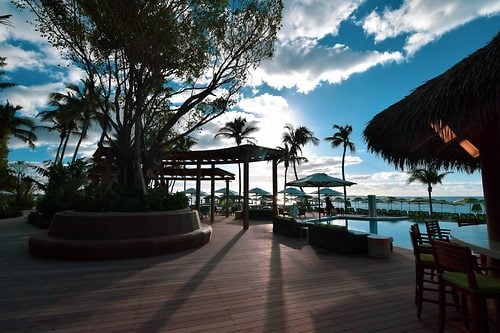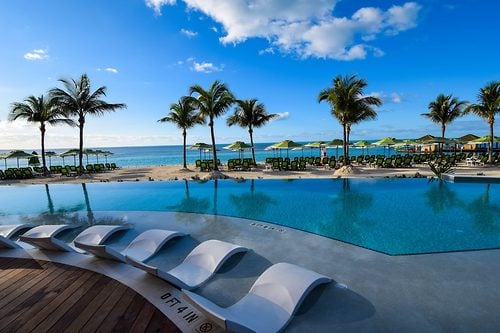 Coffee and tea is served in the morning, something unavailable elsewhere on CocoCay.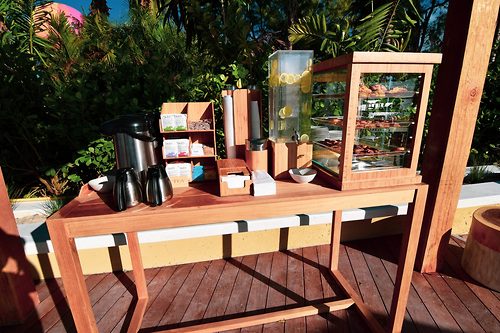 The bar at the center of the club offers plenty to drink, and like anywhere else in Perfect Day at CocoCay, the drinks cost extra (unless you have a drink package, then it is included).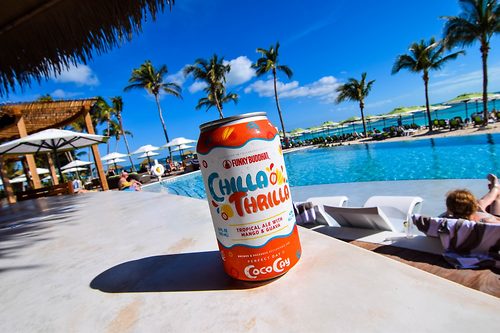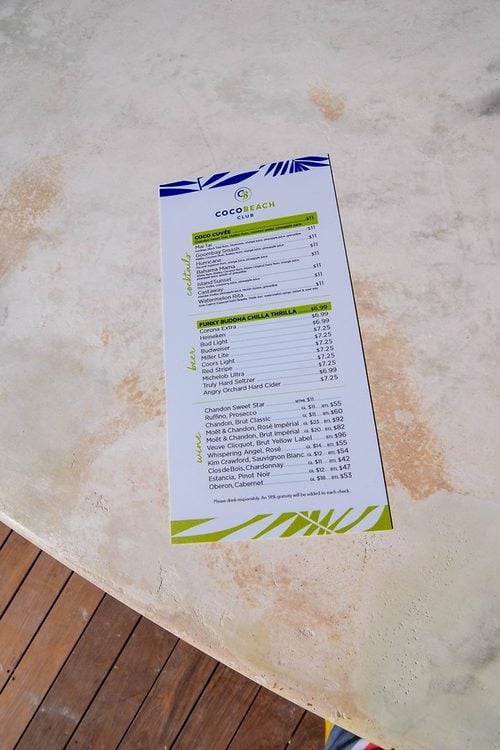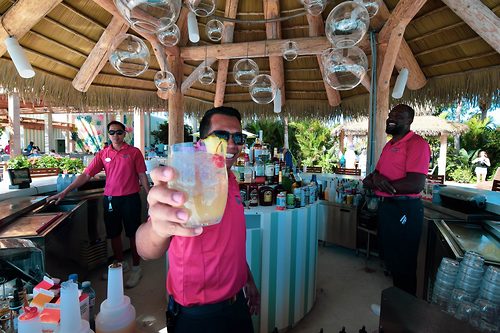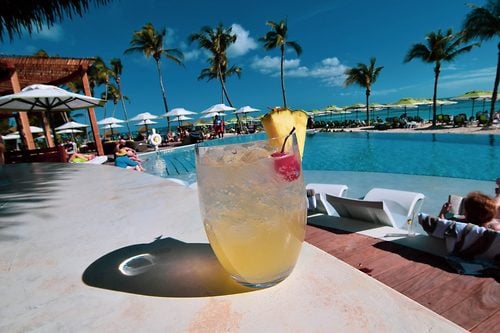 Once inside, you have the choice of going to the beach, hanging by the infinity pool, or any point inbetween.
The beach here has been dredged and refined, and the result is water clarity and color that reminds me more of one of the Virgin Islands than the Bahamas.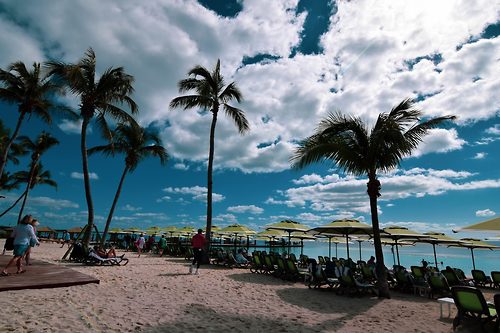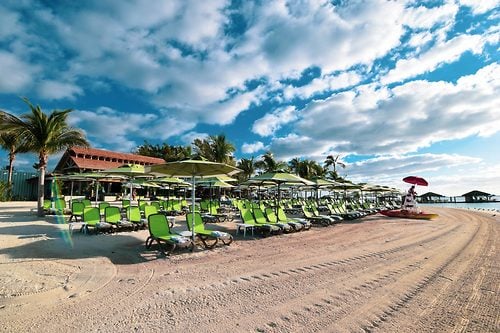 There is complimentary lounge chairs and umbrellas along the beach, with towels provided as well. In fact, the towels are not the standard blue Royal Caribbean towels, but special Coco Beach Club logoed grey and white towels.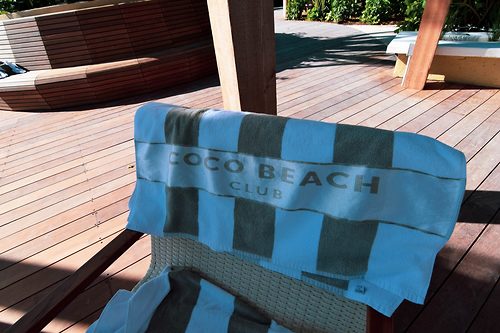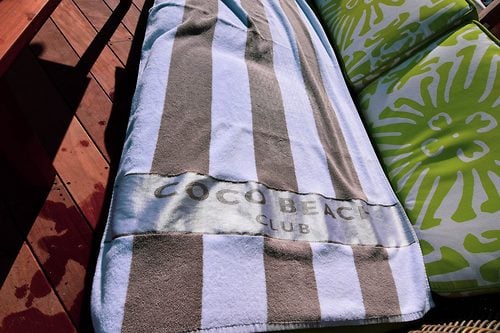 The infinity pool is a spectacular area, where you can wade and enjoy the day.  Many guests commute between the beach and pool as they see fit.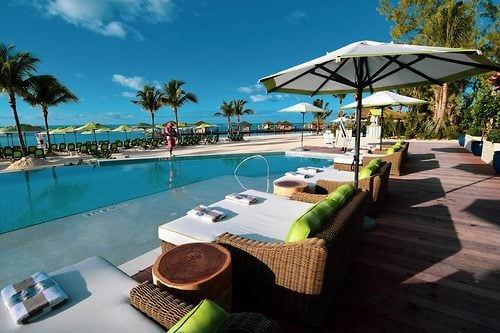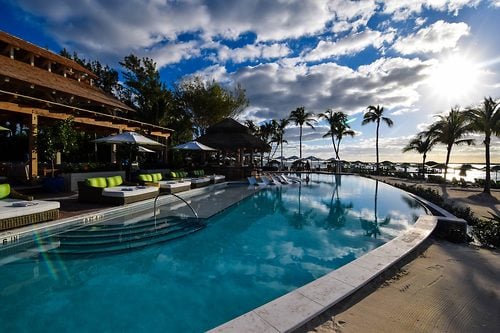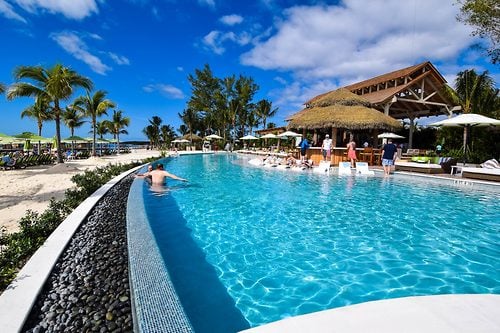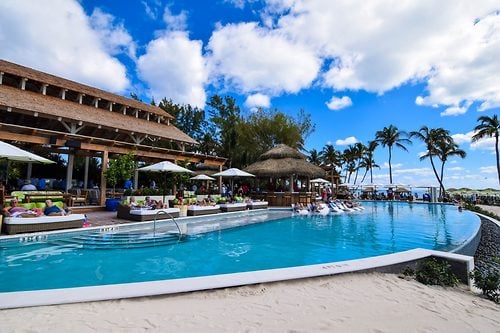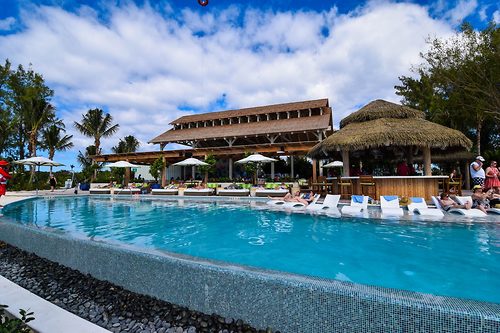 There is also complimentary beach chairs and pool loungers available, and these are first-come first-served.
There is additional seating to the left of the infinity pool on a deck area, that features rocking chairs, umbrellas and couches.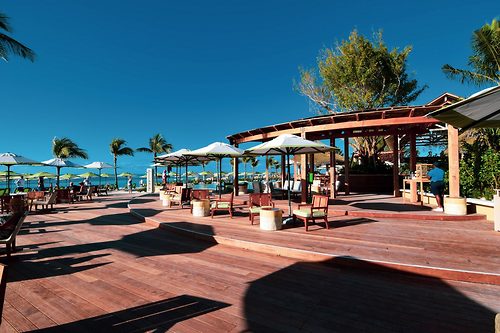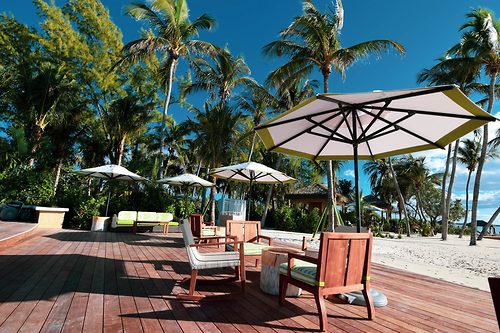 Of course, I cannot overlook the cabanas. Coco Beach Club offers two varieties of cabanas: beach cabanas and the floating cabanas.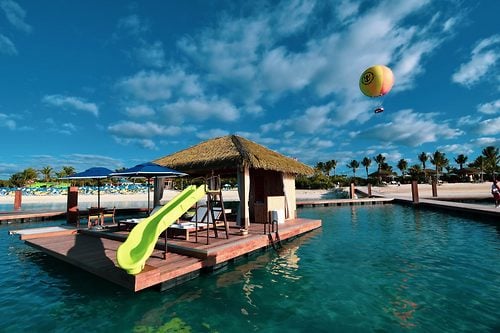 The floating cabanas represent the most luxurious cabana offerings by Royal Caribbean to date. In true Bora Bora style, two sets of floating cabanas are found on either side of the Coco Beach area. View many more floating cabana photos.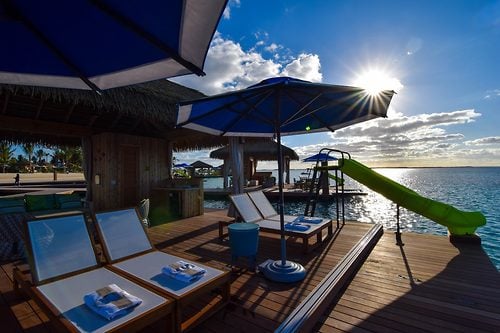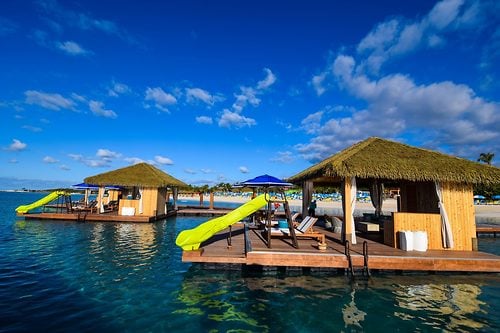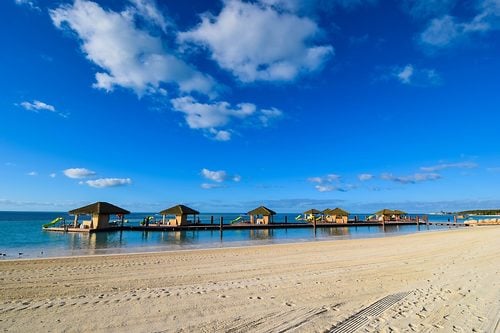 Floating hammock, private shower, mini-bar and water slide are just some of what makes these floating oasis' stand apart.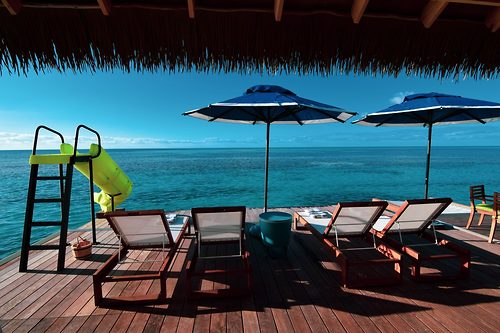 Beach cabanas are at the back of the beach area, and feature an upgraded cabana experience compared to cabanas outside the Coco Beach Club.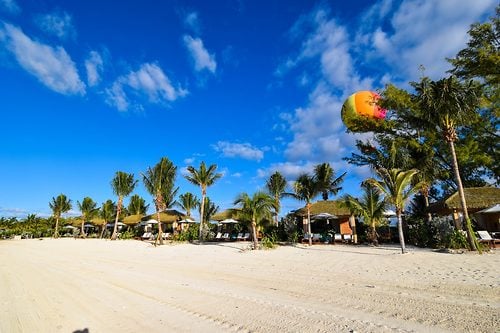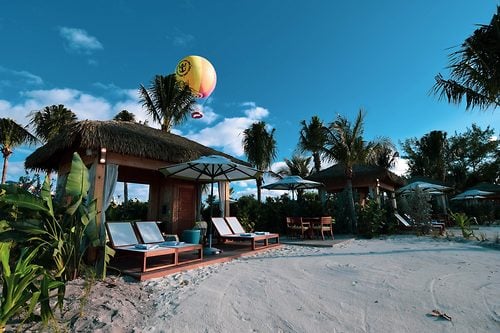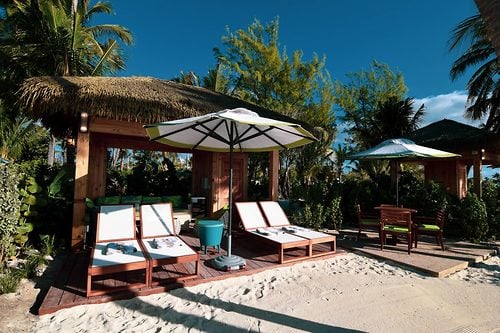 While these cabanas do not have a water slide or private shower, they are still well-appointed private retreats.
So why should you pay extra to go to the Coco Beach Club instead of enjoying the ample complimentary areas of Perfect Day at CocoCay, along with their more reasonably priced cabanas?
The answer is how much you value being somewhere special and exclusive.
Just like a first class seat on an airplane that gets to its final destination at the same time as economy seated passengers, the Coco Beach Club is all about offering an elevated day where you feel like you are somewhere special.
The service reminds me of a day pass resort in Cozumel, where the wait staff is continuously checking if you need something.
The cabanas are a step or two ahead of what a private cabana is all about.
And the restaurant is food worthy of being a specialty restaurant on a cruise ship. It reminded me of a blend between Coastal Kitchen and Solarium Bistro.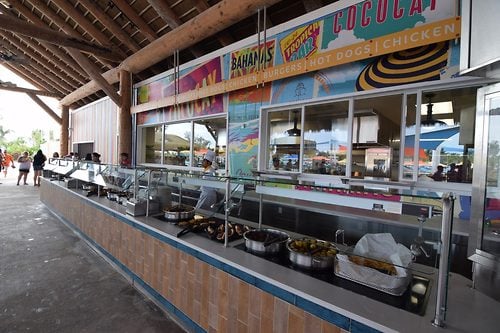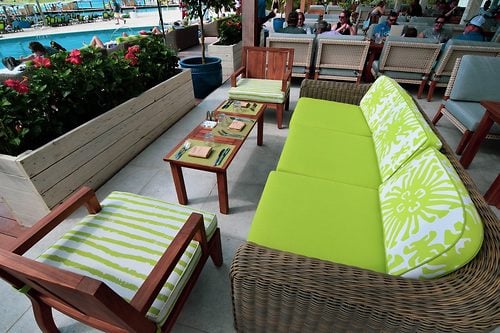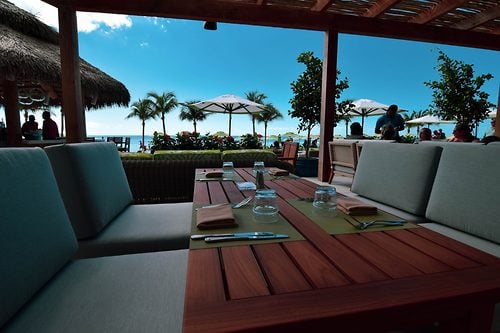 Appetizers are served at a buffet, while a waiter takes your entree and drink orders.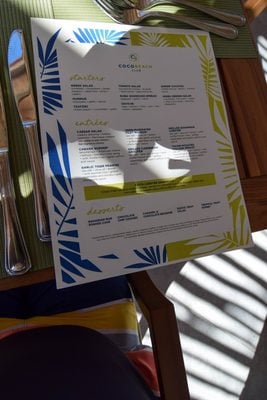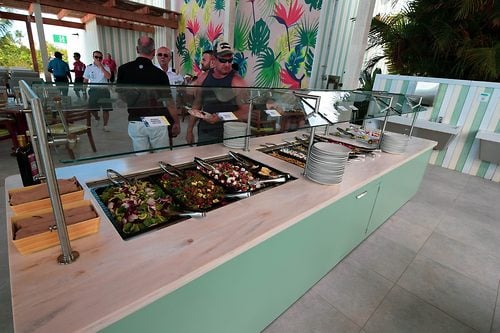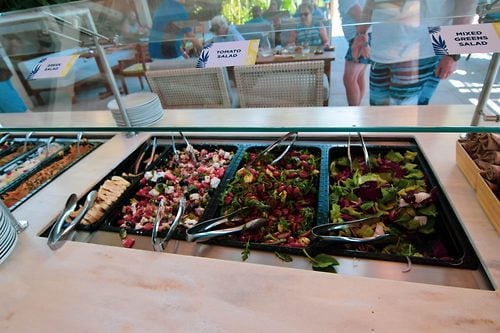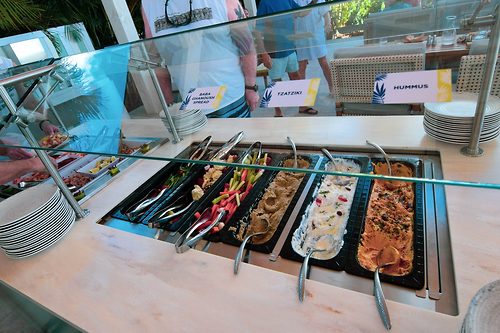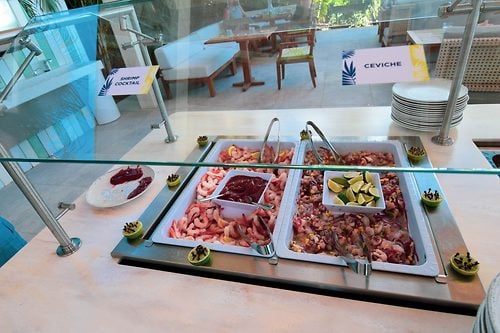 The menu offers anything but your standard beach food: filet, lobster, grouper, ceviche and baba ganoush, for example. The food is included with your admission.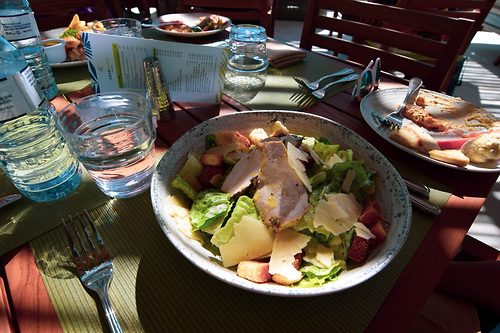 Caesar Salad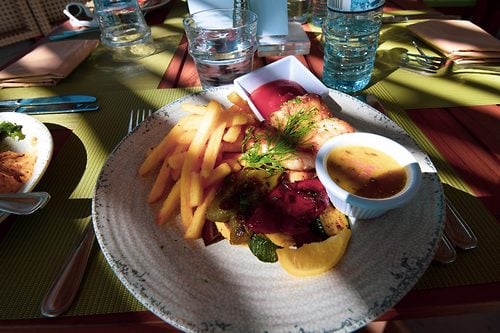 Grouper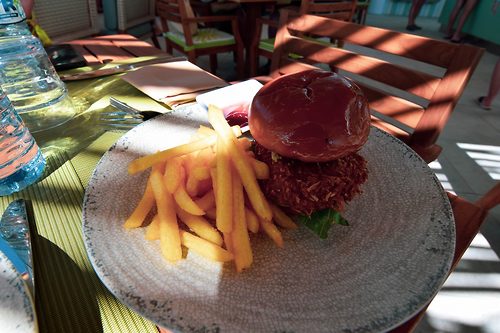 Coco Lobster sandwich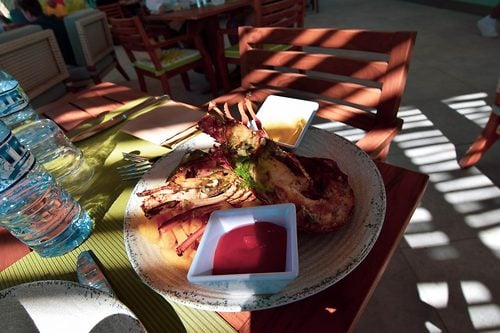 Maine Lobster
You certainly do not need to buy admission to the Coco Beach Club to have a great day at Perfect Day at CocoCay. Far from it, because Royal Caribbean crafted a private island experience that sets the new standard for what we can expect from them. The beach club is about offering something more, if you so desire.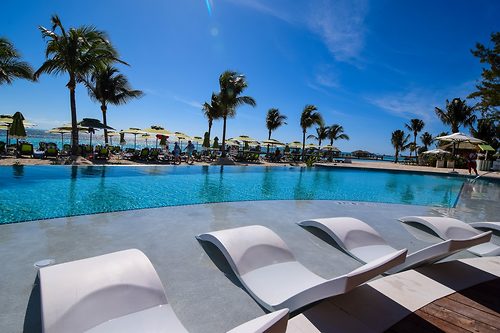 The costs will vary from sailing to sailing. Originally a day pass cost between $50 - $90 per person, but in the days since the club opened, prices have jumped up to $199 per person (I paid $79 for my visit). The beach cabana begins at about $1000, and the floating cabana ranges between $1500-$3000.  Not cheap at all, but the prices match the level of service and upgrades you would expect for that price.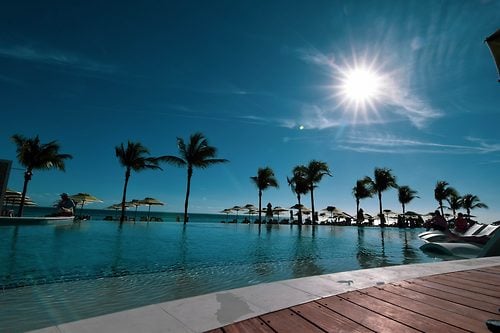 Overall, I had a great day at the Coco Beach Club and thought it mixed great service with upgraded, well, everything. Having been to Perfect Day at CocoCay quite a few times last year, I felt like the Coco Beach Club experience was a measurable step above what I had been used to elsewhere on the island.  Considering how impressive Perfect Day at CocoCay has been, holding the Coco Beach Club in such high esteem says something about what this venue is all about.
Does the Coco Beach Club sound like paradise to you? Let us know in the comments if you plan to buy a pass!