In:
Have a cruise booked on Royal Caribbean's Wonder of the Seas and excited to get onboard for all the fun?
Before you get your cruise started, it's a good idea to plan a few things and prepare for everything Wonder of the Seas has to offer.
While there are important things to do before any cruise you go on, Wonder of the Seas has its own considerations (as do all the Oasis Class ships). 
Have Royal Caribbean app installed and ready to use
The Royal Caribbean app is a must-have for any cruise, but super important for a new ship like Wonder of the Seas.
The reason why the app is so important is Royal Caribbean puts so much of its cruise planning tools once onboard in the app.
The app is free to download, so get it on your phone and then log in and ensure everything is ready to go. 
Even if you're the "I don't want to carry around my phone all the time" type of person, the advantages of having the app installed for even just embarkation day make it totally worthwhile.
Get a check-in time
Now that you have the Royal Caribbean app installed, get a check-time assigned.
Royal Caribbean opens check-in times up to 45 days before your cruise.  If you are still more than 45 days out from boarding, set a calendar reminder so you can get one later.
The nice thing about using the Royal Caribbean app is you can choose a check-in time without completing the rest of the check-in process on the app.  Be sure to complete it, but in the meantime, get an early check-in time.
Remember, the earlier you check-in, the earlier you get onboard and start the fun.
Watch a ship tour
To get an idea of where everything is, it's a good idea to watch a walkthrough video tour of Wonder of the Seas.
Getting your bearings on an Oasis Class ship is always important for new cruisers, and a video tour is an easy way to know where everything is located before you ever get onboard.
Luckily, we have a great video that takes you around the ship with nothing but views of where everything is located and helpful descriptions of what to expect.
Pre-purchase a drink package
If you think a Royal Caribbean drink package is worth it for your family, then buy it now and lock in the price.
You can purchase a drink package on Royal Caribbean's cruise planner website.  Yes, it will be cheaper than if you wait to buy it onboard the cruise.
Book dining times
It seems like everyone knows about how amazing the specialty restaurants are on Wonder of the Seas, so do yourself a favor and pre-book dining times early.
Just like the drink package, you can book specialty restaurants via the Royal Caribbean cruise planner.
These restaurants book up the quickest and almost always sell out:
Izumi Hibachi
Giovanni's Italian Kitchen
Skip the Windjammer
On embarkation day, you can avoid the crowds by skipping the Windjammer buffet.
When you watch our Wonder of the Seas tour, you'll see how many great alternatives there are for embarkation day lunch.
My top choices for a quick bite to eat after you get onboard are:
Park Cafe
El Loco Fresh
Playmaker's Sports Bar & Arcade (has an extra cost)
Pack your bathing suit in your carry-on bag
The best time to ride the water slides and FlowRider is on the first day of the cruise.
Pack a bathing suit in your carry-on bag so that you can change into the bathing suit after getting onboard and having lunch. Most people will have packed their bathing suit in their checked luggage, which means very few people can go in the pool or enjoy the slides.
There are large restrooms on the pool deck you can change in, and then take advantage of the short waits.
Read more: The Ultimate Cruise Packing List
Pack pants and socks
Speaking of things to pack, make sure you pack socks and pants.
If your Wonder of the Seas cruise is going to the Caribbean or Mediterranean, you might overlook bringing socks or long pants, but they're necessary if you want to try either the rock climbing wall or free skating sessions in the ship's ice skating rink.
Email the suite concierge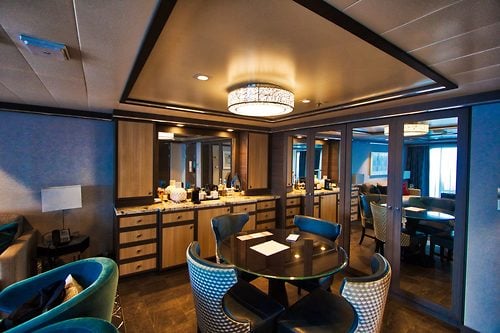 If you are in a Grand Suite or higher cabin, then you'll have access to the suite concierge.
About a week before your cruise, the concierge should email you to welcome you onboard and give you the basics of what to expect.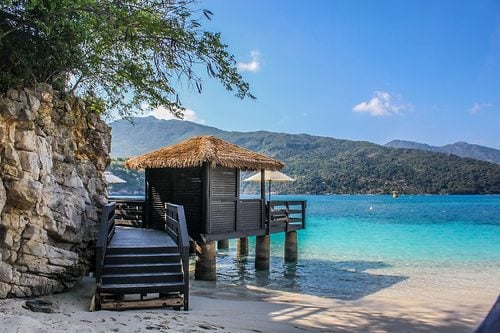 Instead of just glancing at the email, email back the concierge and ask them to book dining times, reserve a cabana, or anything else you can think of to book before the cruise begins.
One of the best benefits of staying in a suite is the added service the concierge gives you.
Plan to see all the shows
Regardless if you are a patron of the arts at home or not, plan to see all the shows onboard.
Wonder of the Seas has a few signature shows onboard that are must-sees, so plan your evenings accordingly.
This includes:
inTENse (AquaTheater)
Effectors II (Royal Theater)
365: The Seasons on Ice (Studio B)
Voices (Royal Theater)
You won't be able to pre-book entertainment before your cruise (unless you have a Royal Genie), but you can book show times as soon as you get on the ship and connect to the wifi.
Then open up the Royal Caribbean app, and you'll be able to book show times.
More helpful information