In:
You'll almost always find me in an interior cabin on a Royal Caribbean cruise. While the opposite of luxurious, I never mind my small, windowless rooms, especially if it means I can save money on cruise fare.
Nonetheless, I just disembarked a 4-night cruise in a Spacious Ocean View cabin on Liberty of the Seas. Wanting to "treat myself" but also try something new, I upgraded my cabin for $248 extra on top of the $779 I originally paid for an interior cabin. This brought my total cruise cost to $1027.
I always love trying new ways to cruise with Royal Caribbean, so when I realized I could upgrade to a Spacious Ocean View cabin for a reasonable price, I figured I would give it a try.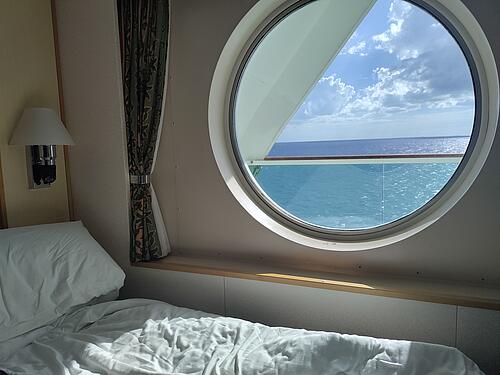 I had never sailed in an ocean view room before, so I was curious to see how my cabin experience would differ from an interior or balcony cabin. The price of an ocean view cabin is usually between interior and balcony cabins, but I had two main questions:
Would an ocean view cabin be that different from an interior to justify the extra cost?
If I'm upgrading to an ocean view, is it better to spend a little more to upgrade to a balcony?
With extra room and scenic views out the porthole window, was this upgrade worth it? Let's find out.
Royal Up vs standard upgrade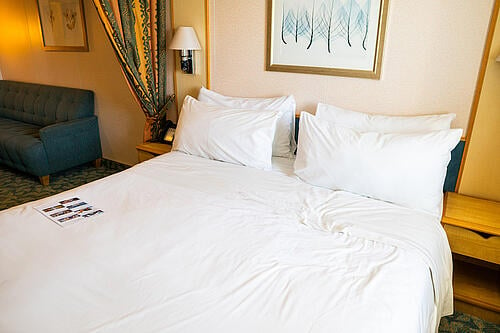 Many cruisers look to Royal Caribbean's stateroom bidding program, RoyalUp, when hoping to upgrade their cruise ship cabin. I have used RoyalUp once before (without any luck), but I've since realized it's better to first contact your travel agent about the cost to upgrade without bidding.
Related: Royal Caribbean's RoyalUp guide, tips, and tricks
RoyalUp allows guests to bid on higher stateroom categories with the hope of winning the bid and upgrading at a lower cost.
What I've realized, however, is that the minimum bids on RoyalUp are not always cheaper than upgrading your stateroom directly through Royal Caribbean or a travel agent.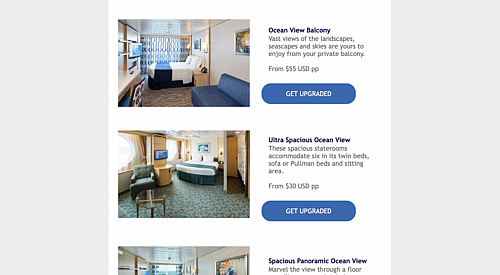 When I asked my travel agent how much it would cost to upgrade from my interior cabin, for example, I was surprised to see such reasonable prices. The Promenade View Interior and Guarantee Ocean View cabins were actually cheaper than the original price I paid for my interior stateroom.
Meanwhile, if I had placed a bid on a Guarantee Ocean View through RoyalUp, I would have had to bid a minimum of $30 per person for the weakest bid possible.
Initial impressions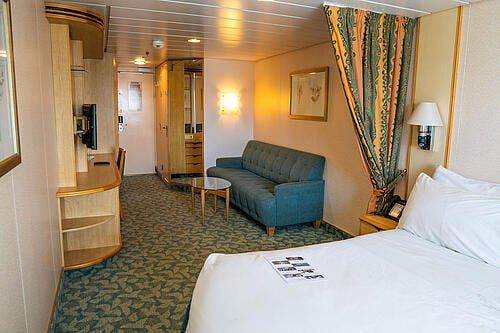 As soon as I walked into our cabin, I was pleased to see it was quite spacious, although I was a bit surprised that the room was the same size as a balcony cabin.
For some reason I expected this cabin to be even more spacious than a balcony room, but this is probably reserved for the Ultra Spacious Ocean View cabins.
Regardless, compared to the tiny interior rooms I usually stay in, our ocean view cabin felt huge! The interior cabins on Freedom Class ships are tiny, and while I've stayed in this size stateroom with guests before, it's definitely a tight squeeze.
Related: I tried the best inside cruise ship cabin hacks to see how well they worked
Our cabin was equipped with many amenities, including:
King bed (that we later separated to two twin beds)
Desk and vanity area
Wardrobe
Couch and side table
Television
Mini fridge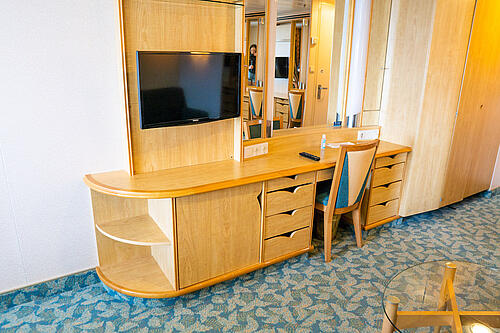 There was ample storage in the room, from drawers on both sides of the vanity to our nightstand and a spacious wardrobe. There were also shelves on the side of the vanity near our bed which I found useful throughout the cruise.
There was also storage located behind the mirrors in the vanity and bathroom which could easily be overlooked, so we took advantage of this, too.
The best part of our cabin, of course, was the porthole window. This window was larger than I expected, although I was surprised that we had a "balcony" outside the window.
Because this room is on deck 7 as opposed to the majority of ocean view cabins on decks 2 and 3, the porthole overlooked a non-usable balcony before reaching the ocean.
Pros of our cabin upgrade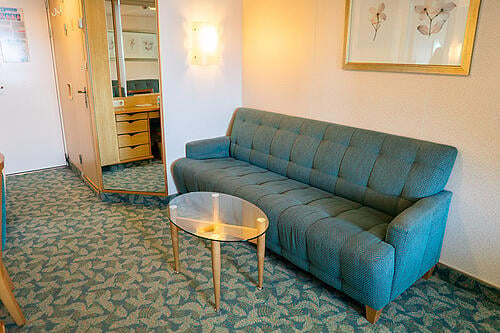 More space
An obvious benefit of staying in our Spacious Ocean View cabin was having more space. We never ran into each other in the cabin and had no shortage of storage space.
We didn't even utilize most of the storage, in fact, because there was more than enough room to keep our suitcases on the floor of the cabin without having to unpack for a short cruise.
I spent more time than usual in my cabin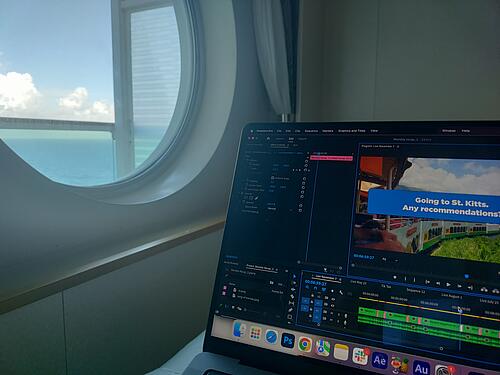 On a short 4-night cruise, I never expect to spend much time in my room. Between attending onboard events and filming videos around the ship for the Royal Caribbean Blog YouTube channel, I usually spend little time relaxing in my cabin.
This week, however, I spent more time than usual in my cabin. I have a few hours of computer work to do each day, for example, which I usually do from a public area onboard when staying in an interior room. Unsurprisingly, I don't love working in a room without windows.
Related: Can you work remotely from a cruise ship in 2022? I put it to the test.
With an ocean view room, I spent these hours working next to my private porthole window instead. 
Our itinerary also changed due to weather and we ended up with two sea days instead of just one. This meant we had extra time to enjoy our stateroom (take naps) during the cruise.
Great option for a first-time cruiser
I sailed on Liberty of the Seas with my cousin Keli, and she had never been on a cruise before. I thought having an ocean view cabin as opposed to an interior was nice for my cousin's first cruise. 
While I've brought many first-time cruisers onboard in interior rooms and we've had a great experience, I thought Keli would appreciate being in a more comfortable room with a window.
And it worked, because she's already looking forward to sailing again in the future!
Cons of our cabin upgrade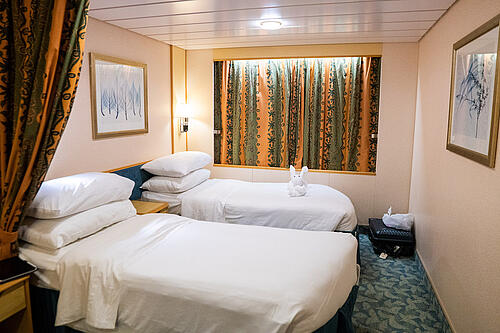 Stateroom location
One drawback of our upgraded stateroom compared to the interior room we originally booked was the location.
Our ocean view cabin was located in the very aft of the ship, so this location wasn't as convenient as somewhere closer to the elevators and stairwells. We spent a lot of time walking back and forth to our cabin down a long hallway.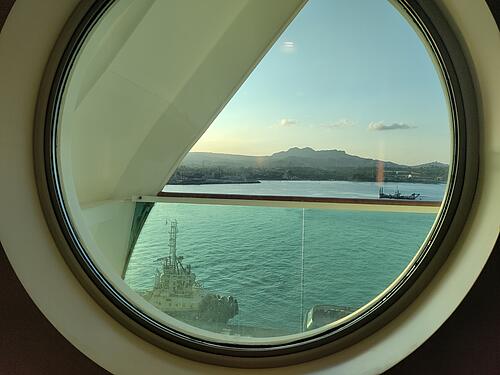 Plus, because it was at the ship's aft, I felt a little more movement than I normally would as we sailed through the Caribbean. Our upgraded cabin location wasn't a dealbreaker, but I would probably take the location more into consideration next time I upgrade my stateroom.
The one plus of our stateroom was that it was located on deck 7, so we rarely had to take the elevators as we were located only a few decks from all the main attractions onboard.
Spending money on a cabin upgrade instead of other activities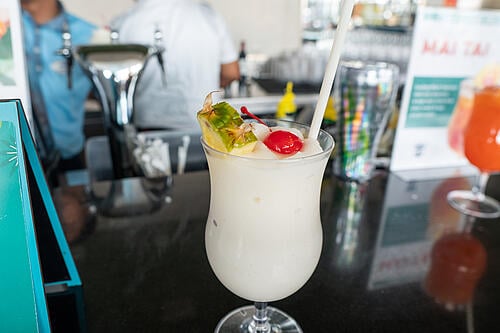 Looking back, we probably could have stayed in our interior cabin and used the $248 we spent on a cabin upgrade for other cruise add-ons.
For around $120 per person, for example, we could have booked an Unlimited Dining Package for our 4-night cruise. Dining at specialty restaurants once (or more) every day could have enhanced our cruise experience more than a little more space in our cabin.
We also could have put this cost toward shore excursions, drinks, internet, and other onboard spending.
Only a 4-night cruise
Spending $248 on a cabin upgrade would have spread out further on a 7-night cruise compared to just 4 days. This brought the nightly cost of the upgrade to $62, whereas it would only be $35 per night on a weeklong cruise.
Next time I upgrade my cabin, I'll calculate the nightly price of the upgrade to help justify whether or not it's worth it.
Obstructed view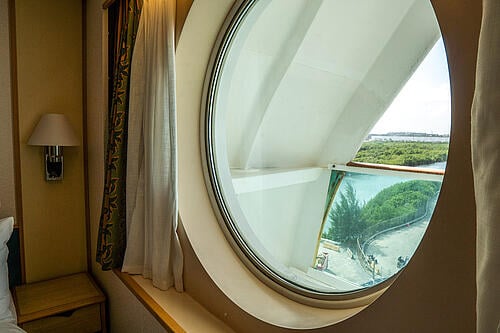 This con didn't bother me too much, but our "ocean view" actually looked out toward a balcony not in use, so we didn't have the panoramic view of the ocean we would have gotten in a smaller, cheaper ocean view cabin.
Was the upgrade worth the cost?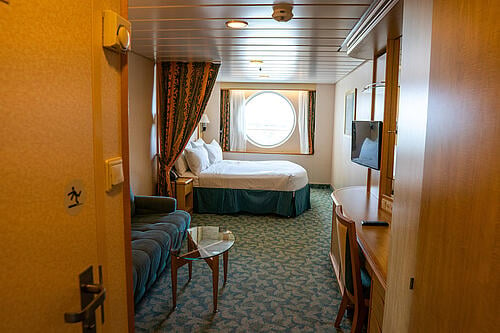 I am still torn whether our cabin upgrade was worth the extra cost or not. While $248 isn't a lot of money in the grand scheme of our cruise vacation, we could have put the money toward other onboard experiences.
That being said, I truly enjoyed having a larger stateroom with gorgeous ocean views from the porthole. There's no doubt this room was better than an interior cabin, and I could have spent my entire day reading in bed next to our cabin's window.
Overall I would lean toward the upgrade being worth it rather than a waste of money. While I'll probably continue to sail in interior staterooms for the lowest cruise fare possible, it's nice to treat yourself every once in a while!