In:
I've been on 12 cruises to the Caribbean, and I constantly see passengers making the same rookie mistakes over and over again. Whether forgetting to apply sunscreen or exploring ports without a plan, there are a few mistakes you'll want to avoid to ensure your cruise goes as smoothly as possible.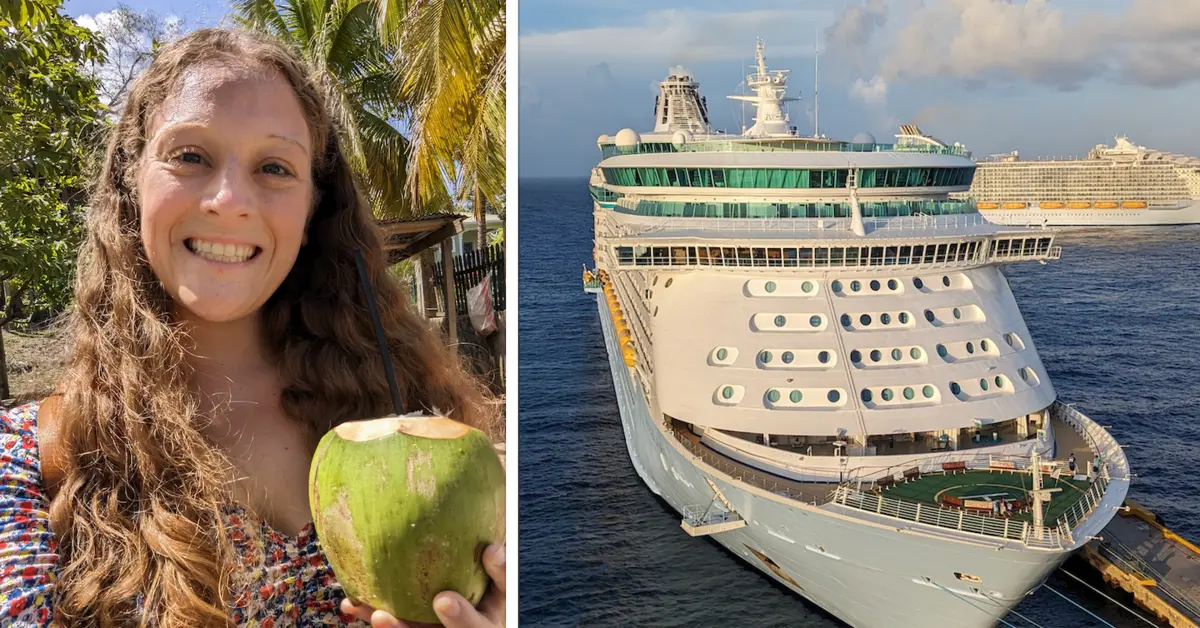 The Caribbean is the most popular cruise region in the world. With dozens of diverse ports, sunny weather, and picture-perfect beaches, a Caribbean cruise offers everything you could ever need in a tropical getaway.
Yet even though passengers hope for the perfect vacation, there are a few mistakes that can easily have a negative impact on your Caribbean cruise. Knowing what to expect before your cruise begins is helpful to avoid any surprises (and disappointments) during your vacation.
Here are the 14 mistakes I see passengers making all the time while cruising the Caribbean.
Neglecting to bring small bills into port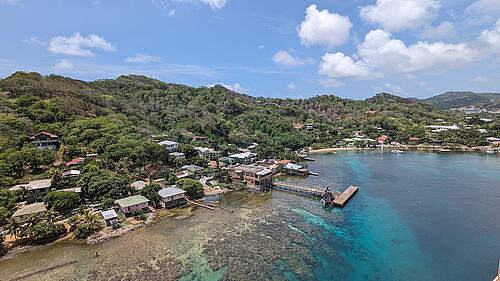 On my most recent Caribbean cruise, I found myself in need of small bills on every port day. Whether to tip a taxi driver, purchase a cheap souvenir, or order food from a street food stall, I was happy I packed enough small bills in my daypack.
Unlike in the United States, you may frequently encounter cash-only businesses in the Caribbean. While most restaurants and tour operators will accept card payments, smaller businesses—souvenir stalls, food trucks, and taxis—may only take cash.
Related: How much cash should you bring on a cruise?
I always recommend taking around $50-100 worth of small bills ($1s, $5s, and $10s) with you in Caribbean cruise ports. You might have difficulty breaking a $50 bill for a $3 souvenir or $2 bag of churros, so being prepared with small bills is recommended.
Forgetting to apply sunscreen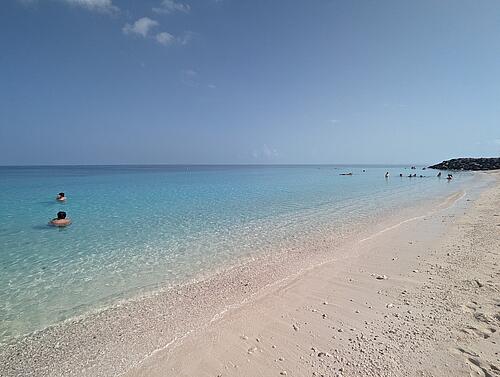 Without fail, you're bound to see at least a few bright red, sunburned passengers on your Caribbean cruise. Not applying sunscreen often is one of the most rookie mistakes you can make, and it can severely lessen the enjoyment of your vacation.
I always recommend applying sunscreen before you disembark the ship, as there may be a relatively long walk on the pier to reach the port. By the time you get to the beach, you may have already been in the sun for a half hour, and this can lead to unwanted sunburns.
Once you're in port, whether at the beach or walking around town, remember to regularly apply and reapply sunscreen. The sun in the Caribbean can be much stronger than what you're used to back home even if it's cloudy outside.
Planning a beach day in every port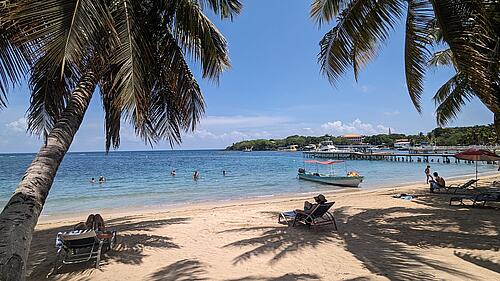 When most passengers picture a Caribbean cruise, they imagine white sand beaches, crystal clear water, and coconut trees swaying in the breeze. With some of the world's most picturesque beaches, it's no secret that a beach day in the Caribbean is a must.
That being said, one common mistake I see cruisers making while planning a Caribbean cruise is planning a beach day in every port.
While there's nothing wrong with spending every day at the beach, it can be challenging to spend all day in the sun, especially on port-intensive itineraries. By the third or fourth beach day in a row, you might be exhausted, sunburnt, and ready to do something different.
Related: Best shore excursion in every Caribbean cruise port
Instead of sitting on the beach every day, why not switch it up? Other than beach days, the Caribbean offers excursions to Mayan ruins, introductory scuba diving courses, cooking classes, historical walking tours, and more.
Skipping a beach day in favor of a more unique activity in port can be a nice break from doing the same thing every day.
Picking the wrong ship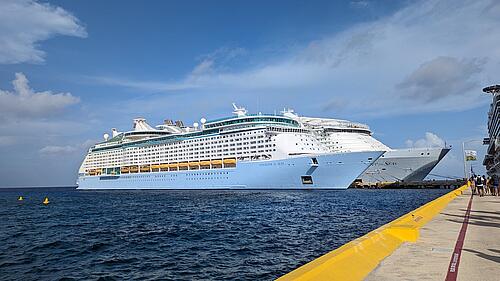 Another common mistake cruisers make when booking a Caribbean cruise vacation is picking the wrong ship.
Not all cruise ships are created equal, even if they belong to the same cruise line. Royal Caribbean's small Vision Class ships, for example, are vastly different from the cruise line's newest, biggest ships like Wonder of the Seas and Icon of the Seas.
Cruise ships come in all shapes and sizes, and with that they offer varied activities, amenities, and atmospheres. If you're hoping for the latest and greatest, look for a cruise on Royal Caribbean's Oasis or Quantum Class ships, or on a vessel that has been recently amplified to add new activities and venues.
There is a lot that goes in to picking the best cruise ship for your vacation, so we recommend reading these helpful tips:
Winging it in port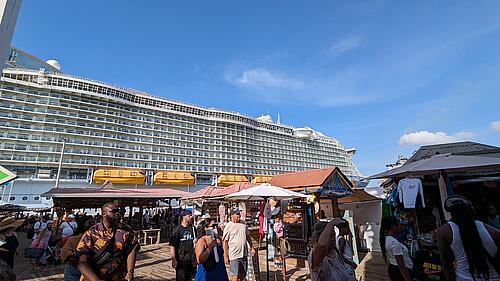 I never have much difficulty "winging it" in European or Alaskan cruise ports—I almost always show up to ports in these destinations without a plan and have a great day. Many ports in these regions are small and walkable, allowing passengers to simply walk off the ship and into town.
Unfortunately, I can't say the same about the Caribbean, and whenever I "wing it" in a Caribbean cruise port, I almost always end up disappointed.
In the Caribbean, it's best to plan your port days in advance to ensure you know everything that's available in port, allowing you to pick the most interesting activity for your travel style. Many ports in the Caribbean are not located near the destination's most beautiful beaches or attractions, so booking a tour or taxi might be necessary.
Related: 11 of the most beautiful beaches in the Caribbean
If you wing it, you might miss out on popular excursions, have difficulty arranging last-minute transport, or wind up trapped in a tourist area with thousands of other passengers.
Even some of the busiest cruise ports can be difficult to navigate without a pre-arranged tour or plan. Nassau, for example, has just a few attractions walkable from the cruise port, and most of the best beaches require a taxi ride and/or a day pass at a resort. It's no surprise most cruisers wind up disappointed when they arrive without a plan.
While you don't necessarily have to book an organized tour in every Caribbean cruise port, doing research ahead of time is recommended so you can properly plan your day.
Visiting the same ports over and over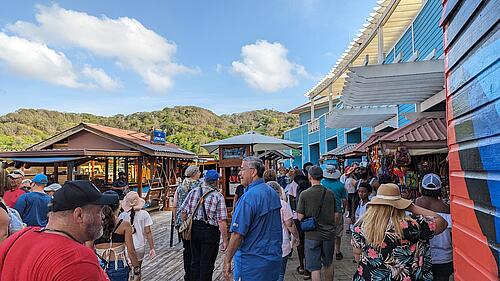 It's easy to get into the habit of booking Caribbean cruises to the same ports over and over, but if you cruise the Caribbean often, you should try something new.
There are three main itineraries for Caribbean cruises: western, eastern, and southern, and each has different highlights, from the tasty cuisine in Mexico to mountainous landscapes of St. Lucia.
Whether intentionally or unintentionally, many cruisers find themselves booking the same region many times in a row, which means they are visiting the same few cruise ports several times.
Related: 4 great itineraries (and 1 to avoid) for a first cruise vacation
Instead of booking three eastern Caribbean itineraries, why not switch it up with a southern Caribbean itinerary that visits Aruba, Curacao, and Bonaire? Or, if you always visit Mexico, consider a visit to ports like St. Maarten, St. Thomas, and Antigua instead.
Exploring new destinations is a highlight of a cruise vacation, so make sure you don't get stuck in the trap of visiting the same 3-4 ports time and time again.
Staying on the ship
Another Caribbean cruise mistake I see all the time is staying on the ship in port.
If you've never been to a port before, it would be a huge mistake to stay onboard instead of disembarking in port and exploring a new destination. Every port in the Caribbean is unique, and each island brings its own culture, history, and landscapes.
Whether visiting a volcano in St. Kitts, snorkeling in Roatan, or walking around Old San Juan in Puerto Rico, there are a wide variety of ways you can spend your time in port.
Even if you don't have any plans for a port day, why not get off the ship for an hour or two to walk around? Most ports have at least a few things to do in the immediate port area, such as a pool, beach, or shopping district.
Disembarking in port will help lessen the chance of feeling stir crazy on the ship, and you can still return to the ship early in the day to enjoy the ship's amenities with far fewer crowds.
Saving all activities for sea days
Hoping to try the FlowRider surf simulator, ride your ship's thrilling waterslides, or test your strength on the rock climbing wall? If so, you don't want to save everything for a sea day.
Sea days on a cruise are an excellent time to take advantage of all the fun things to do on your Royal Caribbean ship, from rollerskating to indoor skydiving and bumper cars. With nowhere else to be, many passengers use a sea day in order to try these exciting activities.
As a result, these activities can be very busy on sea days. It's not uncommon to see long lines around the ship as thousands of passengers hope to try something new.
Related: 10 mistakes to avoid making on a cruise ship sea day
Instead of saving all activities for a sea day, knock some of them off your list on a port day instead. When most passengers go ashore, there's far less demand for onboard activities, leading to fewer lines (or no lines at all).
Even if you have plans to go ashore, you can still try these activities before or after exploring port. In fact, one of my favorite tips is to ride your ship's waterslides after a beach day in port. You're already in your swimsuit, and it's possible to ride the slides several times in a row with little to no wait time.
Not purchasing travel insurance
I'm always shocked to see people cruise without travel insurance, and this is one of the most common mistakes I see people making while planning their vacation.
Travel insurance covers a wide range of scenarios, from trip cancellation to medical coverage and travel delay reimbursement. Most plans will also include medical coverage in your cruise ship's onboard medical center, and this is not typically covered under your regular health insurance plan.
On one of my recent cruises, a passenger had to be airlifted in a helicopter to a hospital on land, and such an emergency situation can easily cost tens of thousands of dollars. If you do not have travel insurance, you absolutely do not want to find yourself in this type of situation, but it might be out of your control in an emergency.
Related: Should you buy annual travel insurance plans?
Additionally, while on a cruise, you may be participating in a wider range of activities compared to what you do at home. You might book activities like a hiking excursion in the jungle or a horseback riding tour on the beach.
Although these activities are safe, there's always a chance of an injury when doing something out of the ordinary, and you'll want to have travel insurance should you need to visit a doctor's office or hospital while in port or onboard.
Not haggling when purchasing souvenirs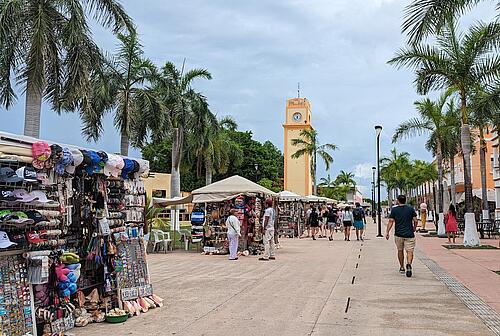 Caribbean cruise ports have no shortage of souvenirs for sale, and many cruisers enjoy shopping while in port. From magnets to t-shirts, handicrafts, and local liquors, there are endless amounts of souvenirs you can buy in the Caribbean.
Some souvenir shops have set prices on each item, especially those in the immediate port area, but the vast majority allow you to haggle to get the best cost.
A mistake I see many passengers making is accepting the first price they are told when purchasing souvenirs. If you're shopping for a bracelet and are told it costs $30, always ask if you can buy it for less.
Not all souvenir sellers are flexible, but more often than not you can save up to 50% on the original price they offered. Neglecting to haggle in price could cost you hundreds of dollars in the long run!
Not checking the price of a private tour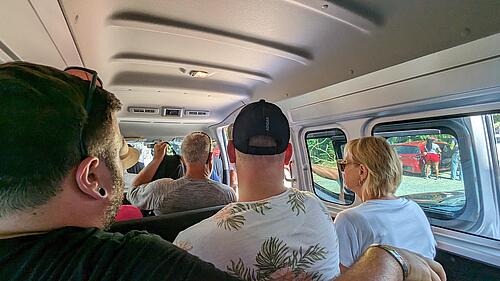 On a recent cruise with my family, we were searching for a tour in Roatan that would visit the port's most popular attractions, including West Bay Beach and the monkey and sloth center.
I had previously booked a tour with Bodden Tours, a locally owned tour company in Roatan, and so I browsed the company's website again for my recent cruise. The tour that stood out to me was only $30 per person, a total steal when compared to many of Royal Caribbean's shore excursions.
Upon further research, however, I realized I could book a private tour for $35 per person, just $5 more than the group tour.
Related: 7 ways to have a great time in port without a cruise ship shore excursion
We were thankful to have booked a private tour during our day in Roatan, as it gave us complete flexibility over where we would go and how long we would stay in each place. Having a private guide is one of my favorite ways to spend a port day, and we found the tour provided an excellent value.
If you're cruising with a group, always check the price of a private tour versus a group tour, as the price difference may be negligible.
Doing little research before booking a shore excursion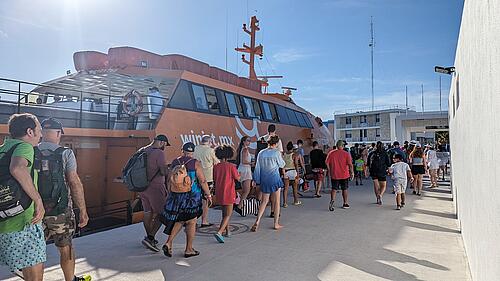 Before booking the first shore excursion that interests you, be sure to read the fine print. Not all shore excursions are made equally, and it's always better to know what to expect rather than return to your ship disappointed.
Some excursions may offer a beach day, as one example, but the fine print may state that you only have two or three hours at the beach. If you're looking to spend the whole day in the sun, it's better to book a day pass to a beach club on your own instead.
Or, if a tour includes a "visit to local artisan shops," it might actually mean the tour spends far too much time at souvenir shops and not enough time at more interesting attractions.
Related: Top 10 cruise ship shore excursion mistakes to avoid
My favorite example of not reading the fine print on a shore excursion happened to me during a recent visit to Cozumel. I love visiting archaeological sites, so I jumped on the opportunity to visit Mayan ruins in Tulum during my port day.
I had read that the tour required a ferry from Cozumel to Playa del Carmen, but I did not research more about the details before the tour began. If I would have researched more, I would have read that many passengers get seasick on the 30-minute ferry, and it's not uncommon for people to vomit during the crossing.
As it turns out, we encountered extremely choppy waters on route to (and from) Playa del Carmen, and feeling seasick nearly ruined my entire experience. If I would have read more about the excursion ahead of time, there's little chance I would have gone through with booking the tour.
Not being aware of their surroundings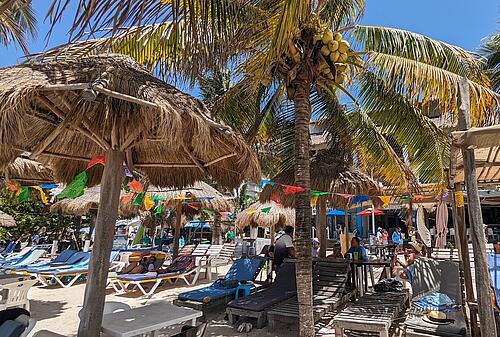 There's a lot going on while walking around a cruise port. As thousands of passengers disembark a cruise ship, it's easy to become distracted by the various shops, restaurants, and crowded walkways near the port.
Due to this, one of the most common mistakes I see cruisers make is forgetting to be aware of their surroundings at all times.
Regardless of where you are in the world, you should never lose awareness of your surroundings while traveling. Careless mistakes like leaving a purse hanging on the back of your chair at a restaurant or leaving a cellphone in a taxi can easily lead to these items being lost.
Related: Where to keep SeaPass card, phone, and cash while on a shore excursion?
It's also a good idea to be responsible with making sure you don't travel too far away from port. If you are only docked for a few more hours, avoid taking taxis to faraway destinations or walking too far from the port area. You might find yourself unaware at how long it will take you to get back to the ship, which could lead to you missing the ship's departure altogether.
Remember to be cognizant of your belongings and schedule at all times while cruising in the Caribbean to avoid any mishaps.
Forgetting to stay hydrated
A mistake I make far too frequently when cruising the Caribbean is neglecting to drink enough water. Between the excitement of exploring a new destination, the hot temperatures, and a few too many cocktails, I find myself dehydrated way more often than I should.
When cruising the Caribbean, it's crucial to stay hydrated. You'll likely be sweating far more than you're used to, whether suntanning at the beach or walking around port in 90% humidity.
Make sure to drink enough water every day of your cruise to ensure your body stays hydrated. Drink a few glasses of water with each meal, bring a water bottle into port, and balance the amount of alcohol you drink with water to avoid feeling dehydrated during your cruise vacation.