In:
Most passengers enjoy spending a sea day relaxing by the pool, participating in onboard activities, and exploring their ship, but there are a few mistakes you should avoid while your ship sails from port to port.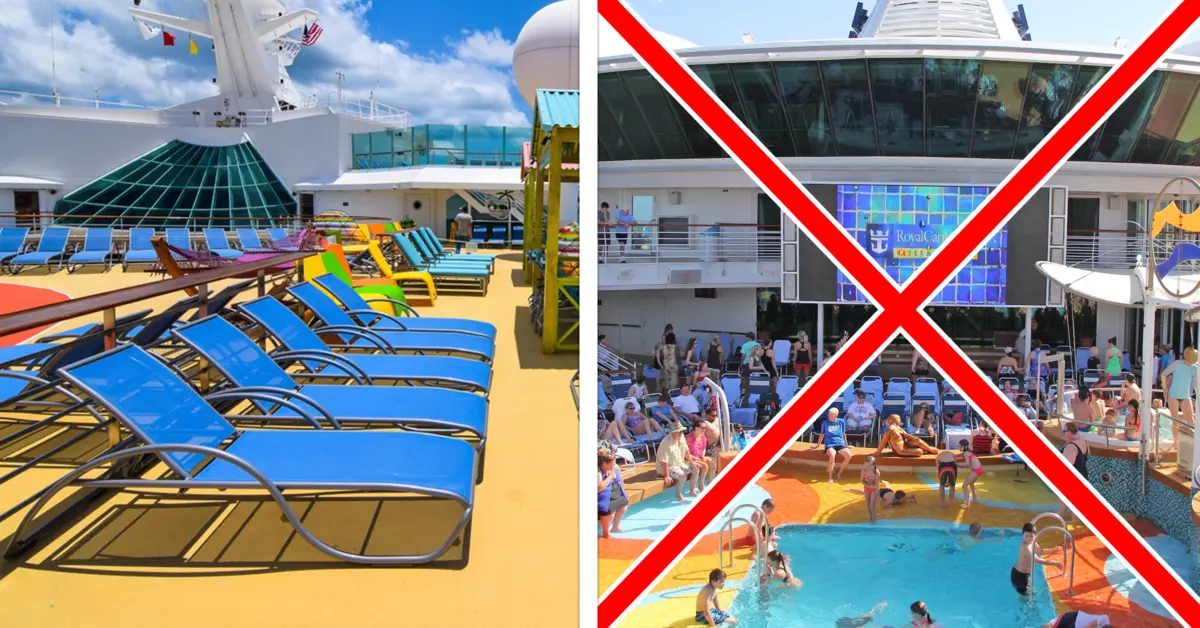 Compared to port days, sea days on a cruise are typically slower paced. Instead of rushing to disembark the ship and spend time on shore, passengers can take their time and enjoy the day onboard however they wish.
Even though sea days come with no requirements on how you should spend your time, there are a few things you should avoid doing on a sea day.
From avoiding the buffet to waking up early, here are the top 10 mistakes to avoid making on a cruise ship sea day.
Eating only at the buffet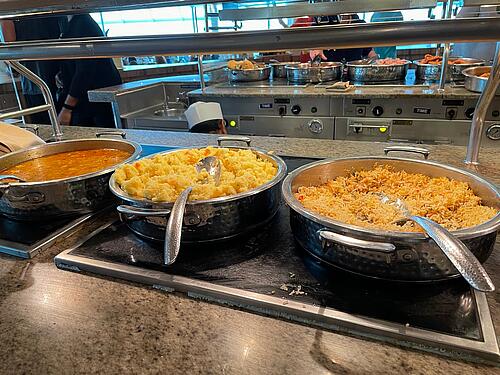 Royal Caribbean's Windjammer buffet is extremely popular, and for good reason: this complimentary venue offers a wide variety of cuisines and cooking styles for breakfast, lunch, and dinner.
Related: Guide to Royal Caribbean's Windjammer Cafe buffet
Due to the restaurant's popularity, it's almost always crowded on sea days, especially for breakfast and lunch. One of the mistakes you should avoid making on a cruise ship sea day is to eat only at the buffet.
Instead of dining at the busy Windjammer, why not grab a salad from Park Cafe, burrito from El Loco Fresh, or slice of pizza from Sorrento's? Or, if you're hoping for a sit-down meal, start your day with a quiet brunch at the Main Dining Room or at a specialty restaurant.
We recommend checking the Royal Caribbean app for alternative options to the Windjammer on a sea day. While the Windjammer is a fantastic place to dine, a sea day is a great time to try other restaurants onboard.
Not checking the activities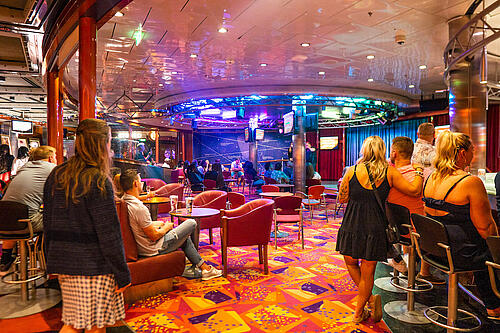 Royal Caribbean offers an extensive list of activities on all days of your cruise, but especially on sea days. In fact, there are almost too many activities to choose between!
Don't make the mistake of forgetting to check the Cruise Compass on a sea day. Scrolling through the list of daily activities on the Royal Caribbean app helps you plan your day and ensure you don't miss out on any exciting programming.
Related: 15 free things to try on your next cruise
Whether watching a Broadway show, attending a trivia session, or trying your luck at bingo, there's no shortage of fun and interesting ways to spend a sea day on Royal Caribbean. 
Planning too many activities
Even though we recommend checking the Royal Caribbean app for activities offered on your sea day, don't plan too many activities.
Sea days are meant to be relaxing, and packing your day with back-to-back programming can be tiring. Instead of rushing from bumper cars to basketball to karaoke and a game show, plan your day loosely. Maybe attend one or two activities instead of five, or none at all!
If you would rather spend a sea day napping on the pool deck, you shouldn't feel pressured to participate in other activities onboard. After all, you are in total control of how you spend time on a cruise vacation!
Forgetting to apply sunscreen
Without fail, you'll see a few passengers sporting bright red, painful sunburns after every sea day, and you should try to avoid becoming one yourself.
It's common to spend time in the sun on a sea day, whether lounging at the pool, sliding down waterslides, or playing pickleball on the sports court. Regardless of how you enjoy time in the sun, remember to generously apply (and reapply) sunscreen throughout the day.
Related: 22 unpleasant cruise ship problems you aren't prepared for
A sunburn can turn any cruise vacation into a miserable experience, especially if you end up with sun poisoning. Instead of burning to a crisp, wear sunscreen to avoid any painful, unfortunate problems later on.
Forgetting to take seasickness medication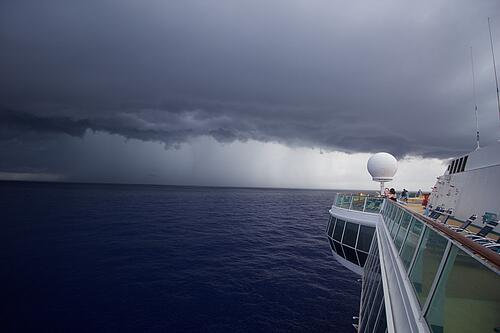 Although feeling seasick on a cruise is not as common as you might think, it can still happen. If you're prone to motion sickness and your ship is traveling through high seas, don't forget to take seasickness medication before it's too late.
The last thing you want to occur on a sea day is feeling seasick. Feeling ill can ruin any chance at an enjoyable sea day, so remember to take precautions in advance. Taking Dramamine, Bonine, or natural remedies like ginger tablets can prevent or lessen your chance of feeling seasick while onboard.
Waking up early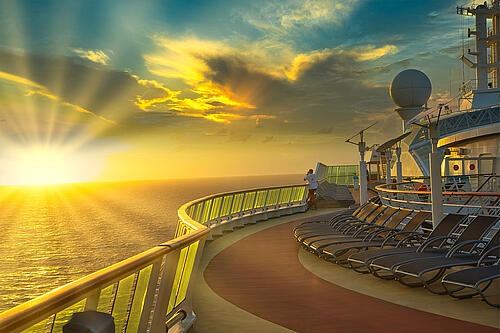 A cruise vacation is supposed to be relaxing, but you might find yourself feeling downright exhausted while on a cruise, especially if your itinerary is port-intensive.
Most port days start early, with the ship docking at 7 or 8AM. To make the most of your time in port, you'll likely wake up early on port days in order to disembark the ship as soon as possible. After a few days, however, many passengers find themselves tired from the early morning wake-up calls.
On a cruise ship sea day, we recommend sleeping in instead of setting a 6AM alarm. There's nowhere to be while your ship sails from port to port, so take this time to catch up on sleep to ensure you're well rested for the remainder of the ports on your itinerary.
Getting to the pool deck too late
The pool deck is far busier on sea days compared to port days. If you want to snag the best spot by the pool, remember to head there earlier rather than later.
If you want a pool chair in a prime location on the pool deck, we recommend heading to the pool deck around 8:30-9AM. Although this may seem early, the truth is that pool chairs can rapidly fill up by mid-morning, leaving you with a less-than-ideal chair location.
Just remember: don't be a chair hog! Some passengers visit the pool deck early to "reserve" a chair by placing an item on the chair before heading to breakfast, grabbing a coffee, or going back to their cabin. This is not permitted but still occurs, so don't add to the problem by becoming a chair hog yourself!
Forgetting to make specialty dining reservations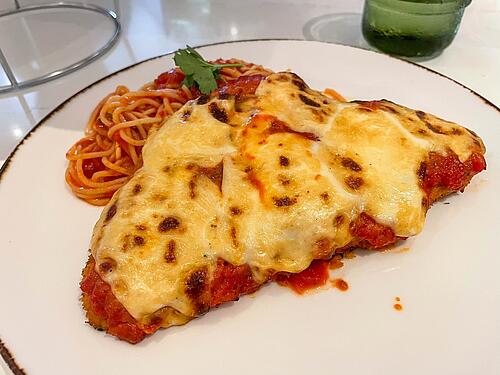 Hoping to eat at a specialty restaurant on a sea day? Be sure to make dining reservations in advance.
It's popular for cruisers to dine at specialty restaurants on sea days, which means restaurants can book up quickly on these days. If you're planning to dine at Izumi Hibachi, Chops Grille, Wonderland, or any other specialty dining restaurant, it's best to make reservations before the cruise.
The best way to secure a specialty dining reservation is to reserve a table in advance on Royal Caribbean's Cruise Planner website. If you have a dining package, though, you'll have to wait until you get onboard to book reservations.
Those with dining packages should head to a specialty restaurant immediately upon boarding the ship on embarkation day to reserve all dining times for the week.
Booking a spa appointment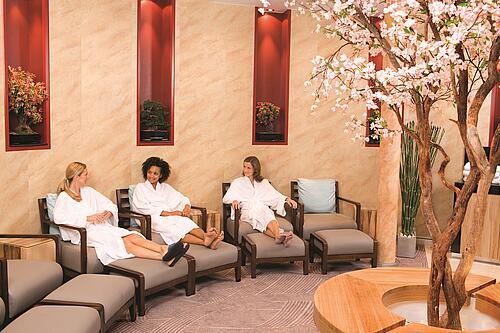 Unsurprisingly, it's common for passengers to book spa appointments on sea days. On a cruise ship sea day, passengers' schedules are completely open. There's no need to worry about getting ready for port or making it back to the ship on time for a massage.
While booking a massage on a sea day isn't necessarily a mistake, you can almost always find better prices on port days. If your schedule is flexible, consider booking a spa appointment on a port day to save money.
Booking a spa treatment on a port day does not mean you have to forgo spending time in port. Instead of booking the appointment at noon, for example, book it at 8AM or 4PM. This ensures you can enjoy your treatment before or after a port day, all while saving money at the same time.
Related: 45 ways to save money on a Royal Caribbean cruise
Going to bed early the night before a sea day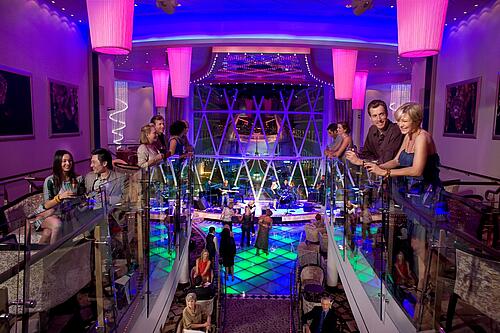 Because port days can start early in the morning, many passengers go to bed early the night before waking up in port. After all, staying awake until 1AM when you have a shore excursion early the next morning can leave you feeling worn out.
Therefore, the night before a sea day is the perfect time to stay up late. As there is no reason to wake up early on a sea day, many passengers enjoy spending the prior evening at bars, entertainment shows, or the nightclub.
From dancing at a midnight disco to doing shots in the pub, it's fun to get (a little) wilder than normal before a sea day. While you might feel hungover the following morning, it's better to rest in bed rather than feel nauseous while exploring port!