In:
There are a handful of cruise tips that are so important, I feel everyone should follow them, and anyone who went on a cruise this weekend was likely reminded of how critical they are.
Thanks to severe weather, technical issues, and air traffic control problems, it was a messy weekend for flying to Florida. 
Over 3,500 flights were cancelled this past weekend, including a lot on Sunday on JetBlue and Southwest.  JetBlue cancelled 25% of its schedule on Sunday, and 15% cancelled on Saturday. Southwest cancelled more than 500 flights on Saturday and almost 400 on Sunday due to the bad weather. Flights on American Airlines, Spirit, and Allegiant Airlines all saw their fair share of cancellations as well.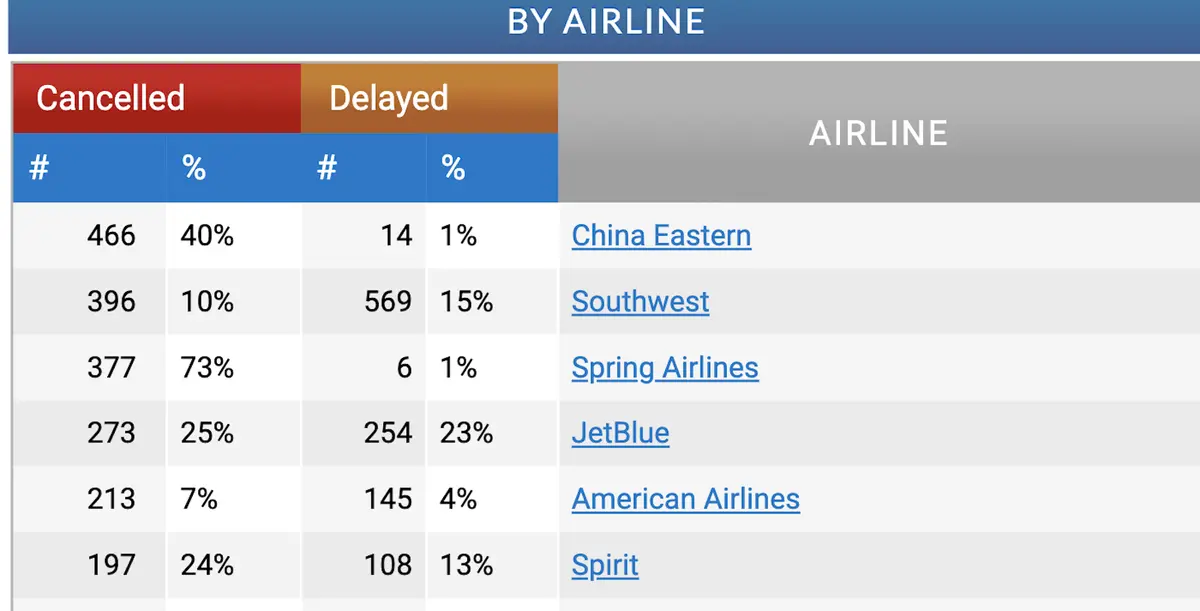 Regardless of your airline, Orlando and Miami International airports were the top two airports in the world by origin and destination to see flights cancelled and delayed on Sunday.
In light of all the recent delays and cancellations, this is a good opportunity to remind everyone of three core planning tips for your cruise that everyone should consider.
Don't fly to your cruise the same day it departs
In short, flying to your cruise ship the same day the ship embarks passengers is playing with fire.
You've spent a lot of time and money planning your perfect cruise vacation, so why let a cancelled flight or delay possibly jeopardize your plans?
Flying in the same day of your cruise leaves very few options if something like what happened this past weekend were to occur. Remember, this happened in early April, which is not even hurricane season.
The smart move is to fly in at least one day before your cruise is set to depart, and this includes anyone driving to their cruise ship.  
Coming in at least one day early gives you a buffer against any flight delays or cancellations impacting your ability to get onboard the ship.
Yes, this means paying for a hotel, but peace of mind is worth something, and losing money on your vacation because you didn't want to spend a little extra for a night at the Holiday Inn Express seems like a worthwhile expense.
As a nice side effect, coming into your city early also starts your vacation a little sooner!
Buy travel insurance
The truth about any type of insurance is it's likely money spent for something you won't need, but if you do need it, it feels great having it.
Travel insurance covers a lot of costs if you were to find yourself in a scenario where your travel plans prohibited you from making the cruise.
As we move away from the Cruise with Confidence program and the ability to cancel at the very last minute, having a good travel insurance policy makes a lot of sense once again.
If your flight gets delayed or cancelled and you are unable to make the cruise, travel insurance pays you back for the cruise you missed, along with incidental costs along the way.
Depending on your age, residency, and exact plan you pick, the costs will vary, but figure on spending around $100-170 per person for travel insurance.
Ask your travel agent for suggestions, but here are a few popular travel insurance providers:
Allianz Global Assistance
AIG Travel Guard
Berkshire Hathaway Travel Protection
TravelSafe Insurance
There are also a few travel insurance comparison websites out there, such as Insure My Trip or SquareMouth.
Use a good travel agent
There is no more frustrating endeavor right now than trying to call Royal Caribbean due to their extremely long hold times.
If a delay means your cruise plans are in trouble, the last thing you want to do is spend an hour or more on hold waiting for someone at Royal Caribbean to answer.  While I love cruising with Royal Caribbean, their phone centers have been inundated with calls recently, and that's lead to very long hold times.
The way around this problem is to book your cruise with a good travel agent.
Anyone can book a cruise, but a good travel agent is worth using every time for everything that occurs after booking.  
And no, a good travel agent should not cost you anything extra to use their services for booking and managing your cruise fare reservation.
In a situation where you are not going to make the cruise, or find yourself stuck in a connecting airport, a good travel agent can be a lifesaver in getting you answers and resolutions.  
While a good travel agent can't magically make your flight on time, they can save your sanity as you explore other options.
Read more: Top 5 things to look for in a good travel agent for your cruise vacation