In:
A Royal Caribbean cruise vacation includes a lot of activities, dining, ports to visit, and things to do, but it is not an all-inclusive vacation.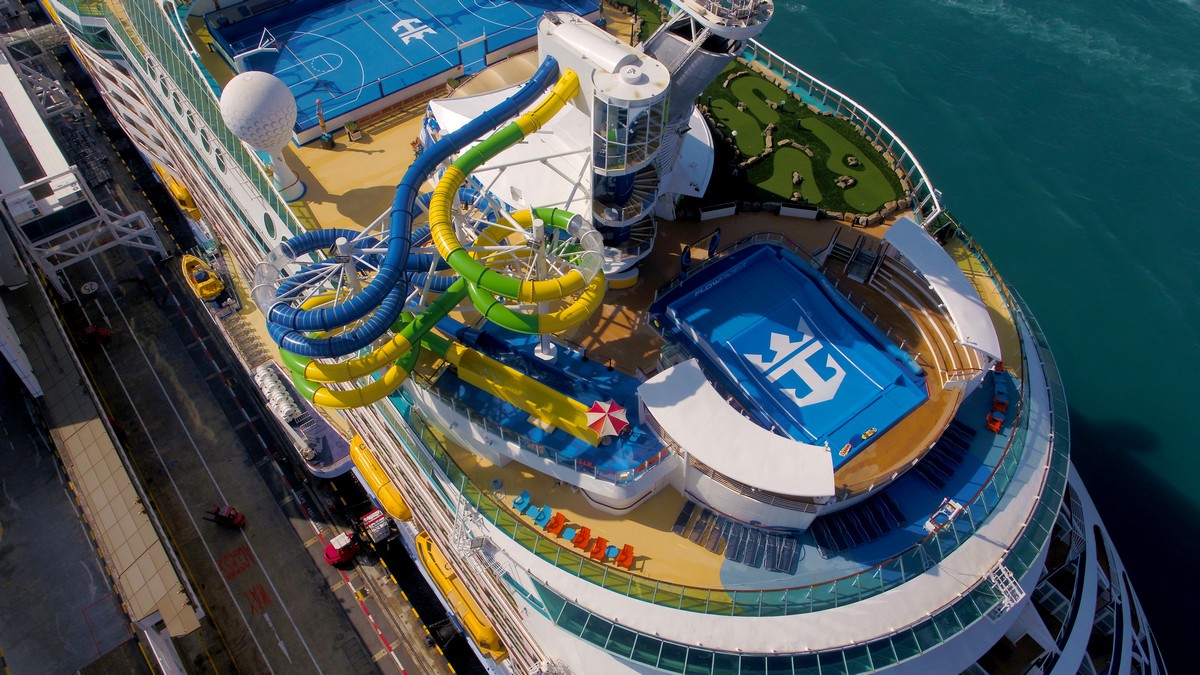 Cruises offer a great deal of value, but there are extra costs to be aware of, so that you can budget around them.
In order to avoid sticker shock later, here are the top extra things on a cruise that will cost you extra, and how to reduce your out-of-pocket price.
Onboard photos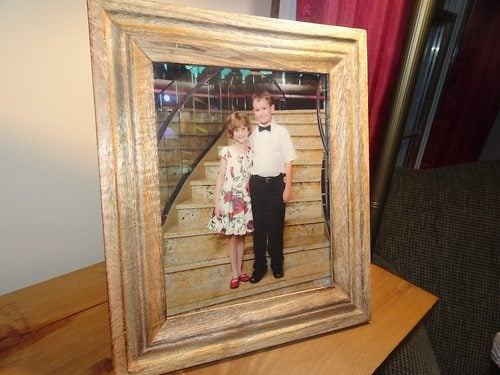 Cruise vacations are all about the memories you make onboard, and Royal Caribbean has plenty of photographers each evening to capture them.
These photo opportunities cost nothing to stop and take, but if you want a print or digital download, it will cost you extra.
A single 8x10 print will cost $19.99, although there are photo packages that will cost you less per print.
The best way to avoid this cost is to skip the photographers and take your own photos around the ship, or on shore. While you will not have access to their backdrops, there are lots of good alternatives. Staircases, balconies, the pool deck, and various spots around the Royal Promenade/Centrum make fantastic ad-hoc backgrounds for any photo.
Shore Excursions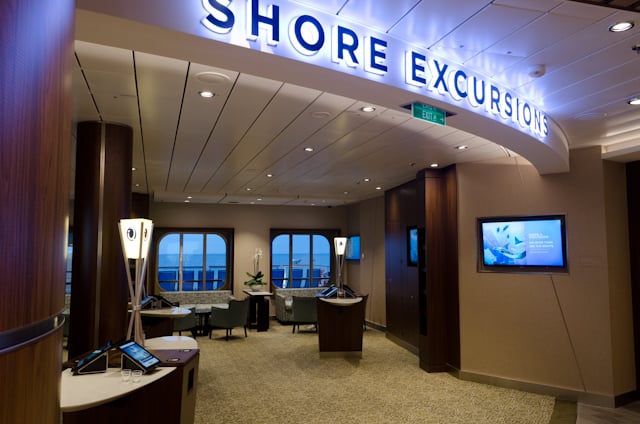 Cruises are at their heart a means of which to visit different places around the world. Each day your ship whisks you away to a new port of call, where you have access to a slew of activities there.
The easiest and most straight-forward way to find something to do on shore is to book a shore excursion through Royal Caribbean. While the cruise line shore excursions are extremely convenient, they do come at a price.
You can save a few dollars if you book a shore excursion on your own through a third party service.  You could also bypass a tour or activity all together, and simply walk around the port on your own, or hop in a taxi and go to a pre-determined destination.
The best way to lower this cost is to research shore excursion options in advance, and figure out the most cost effective strategy for your day in port.
If you do explore on your own, ensure you are working with a trusted tour operator (meaning they have a good reputation online), and manage your time to ensure you get back to the ship well before you are required to return.
Alcohol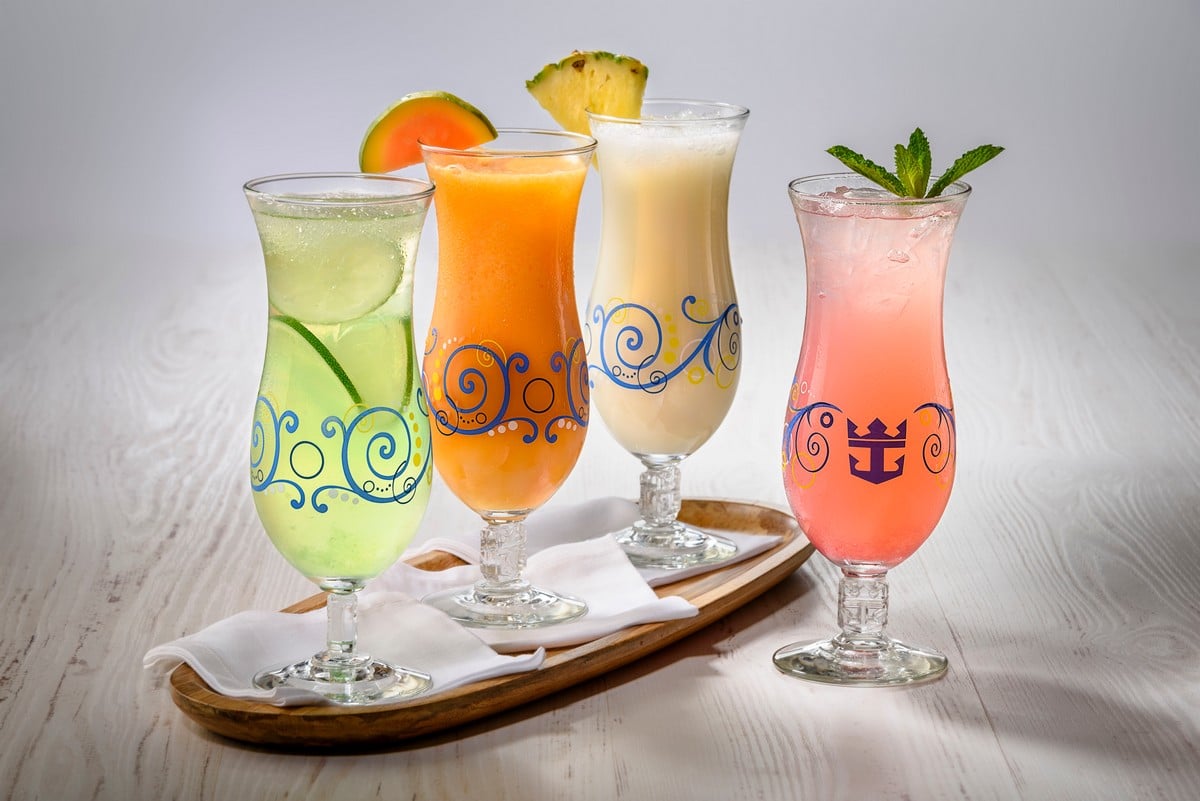 While Royal Caribbean does include some drinks with your cruise fare, alcohol is not one of them.
Enjoying a cocktail, beer or glass of wine on a cruise is a very popular option, that can add up quickly.  Royal Caribbean's drink prices for booze will often be in the $10-13 range before you add gratuity.
For anyone that wants more than just an occasional drink here or there, you have a few options to keep that bar tab lower.
The easiest strategy is to buy a Royal Caribbean drink package. These drink packages offer a one-time flat fee for unlimited drinks on your cruise. They are not cheap, but do offer a fixed budget option that can save you money, if you drink enough.
Perhaps the best money-saving tip for keeping your bar bill down is to drink off the ship. Quite often, the cost of alcoholic beverages in the ports you visit is substantially cheaper, especially in the Caribbean.
While not as convenient as drinking on the ship, you can often get far more value from drinking on land than onboard.
Back onboard the ship, keep an eye out for drink specials and even free drinks. The drink of the day offers a different discounted cocktail, while happy hour specials, complimentary champagne or alcohol tasting events can be found during the cruise.
If you're considering purchasing a Deluxe Beverage package on Royal Caribbean, our video on the pros and cons of a drink package may help you decide if it's the best choice:
Soda and nonalcoholic drinks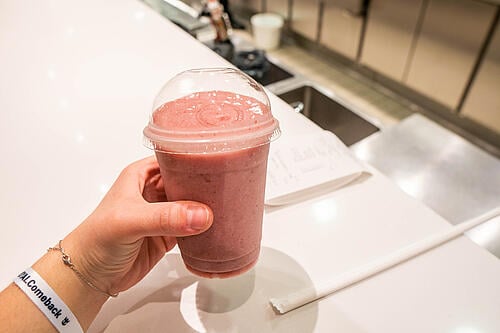 Like alcohol, soda and nonalcoholic drinks are not included in your cruise fare. Nonalcoholic drinks on a Royal Caribbean cruise include fresh-squeezed juices, smoothies, mocktails, soda, specialty coffees and teas, bottled water, and milkshakes.
Nonalcoholic drinks can be purchased individually throughout the cruise or guests can purchase the Refreshment Package from the Cruise Planner website. The refreshment package includes unlimited nonalcoholic drinks throughout the cruise, usually at a cost of around $23 per night.
If you only plan to drink soda, you can purchase a soda package instead of a refreshment package. Soda packages run around $10 per night if purchased in advance on the Cruise Planner website. Each soda package, like other drink packages, comes with a souvenir cup that guests can refill throughout the cruise at Coca-Cola Freestyle machines or other venues onboard.
Specialty coffee and tea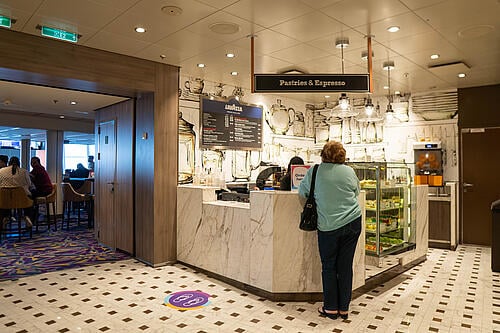 If you like to start your morning with a latte, espresso, or frappe, you should know that these are not included in your cruise fare.
Specialty coffees and teas can be found at select venues around the ship, such as Cafe Promenade, the Windjammer, and Cafe @ Two70. Prices of specialty coffees and teas are similar to what you find on land.
All drink packages cover specialty coffees and teas, or guests can opt to purchase the Cafe Select Coffee Card, which usually costs around $31.
The Cafe Select Coffee Card is a physical punch card that guests can use for up to 15 espresso based beverages throughout the cruise. The exact rules of the card can vary by ship and barista. Sometimes a barista will punch two holes in the card for a large beverage that uses multiple espresso shots, whereas others will only punch one. This card also seems to work for specialty tea beverages as well, such as chai lattes.
Starbucks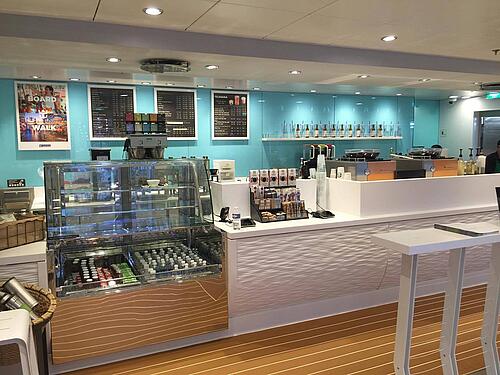 Starbucks is not included in your cruise fare or with any dining or beverage package, including the Cafe Select Coffee Card. Starbucks purchases will be charged to your SeaPass account or you can opt to pay through the Starbucks app.
Passengers can earn rewards in the Starbucks app through onboard purchases but are unable to redeem rewards on a Royal Caribbean ship.
One new change Royal Caribbean is implementing, though, is the use of Starbucks coffee at its other coffee locations onboard. Therefore, guests using a drink package or coffee card somewhere like Cafe Promenade can enjoy specialty coffee drinks made with Starbucks coffee.
Specialty Restaurants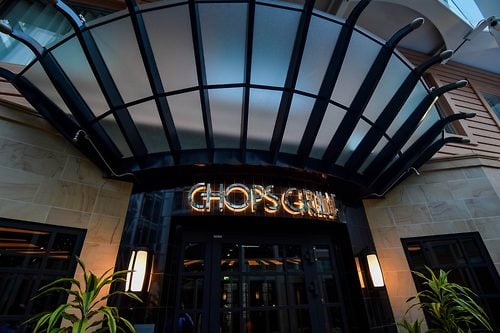 One of the biggest trends in cruising today is specialty restaurants, which offer additional dining options at an extra cost.
Sushi, seafood, steaks, hibachi and more have become popular dining alternatives on Royal Caribbean ships, and most have a cover charge that will carry a per-person cost to dine there.
The easiest way to save money on these is not go at all. Royal Caribbean offers plenty of complimentary food on its ships in the main dining room, and other venues. Free food is available all day, every day and it is not bad at all.
If you really want to try a specialty restaurant, buy a dining package to cut down on the cost.
If you're considering purchasing a dining package, check out our YouTube video where we go over the pros and cons of a Royal Caribbean dining package:
Room service
The majority of room service is not included in your cruise fare, with the exception of continental breakfast, which is complimentary for guests.
The continental breakfast menu includes items like bagels, toast, coffee, tea, juices, fruit, and oatmeal. There is also an American-style breakfast available with foods like pancakes and eggs, but this comes with an extra charge.
All room service aside from continental breakfast comes with a charge of $7.95 per room, plus an 18% gratuity. Note that the charge is per room and not per item, so you are able to order as much as you like for one charge.
Gratuity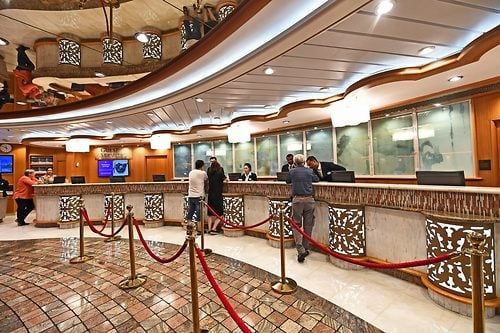 Royal Caribbean charges a daily gratuity to cover the wait staff and stateroom attendants and recognize great service aboard their cruise.
As of January 2, 2018, the daily gratuity amount is $14.50 per guest, per day for those guests in standard accommodations.  Guests in suites will pay $17.50 per person, per day in gratuities.  The daily gratuity amount is the same for all passengers, regardless of age.
While this gratuity is unavoidable, you should be aware of tipping that comes in other venues.
An automatic 18% gratuity gets added to most onboard purchases, including the spa, drink purchases and more.
There is not a way to avoid tipping, and it is well-deserved for the hard working crew members. What you ought to do is budget accordingly and be aware it is part of the overall cruise cost.
Souvenirs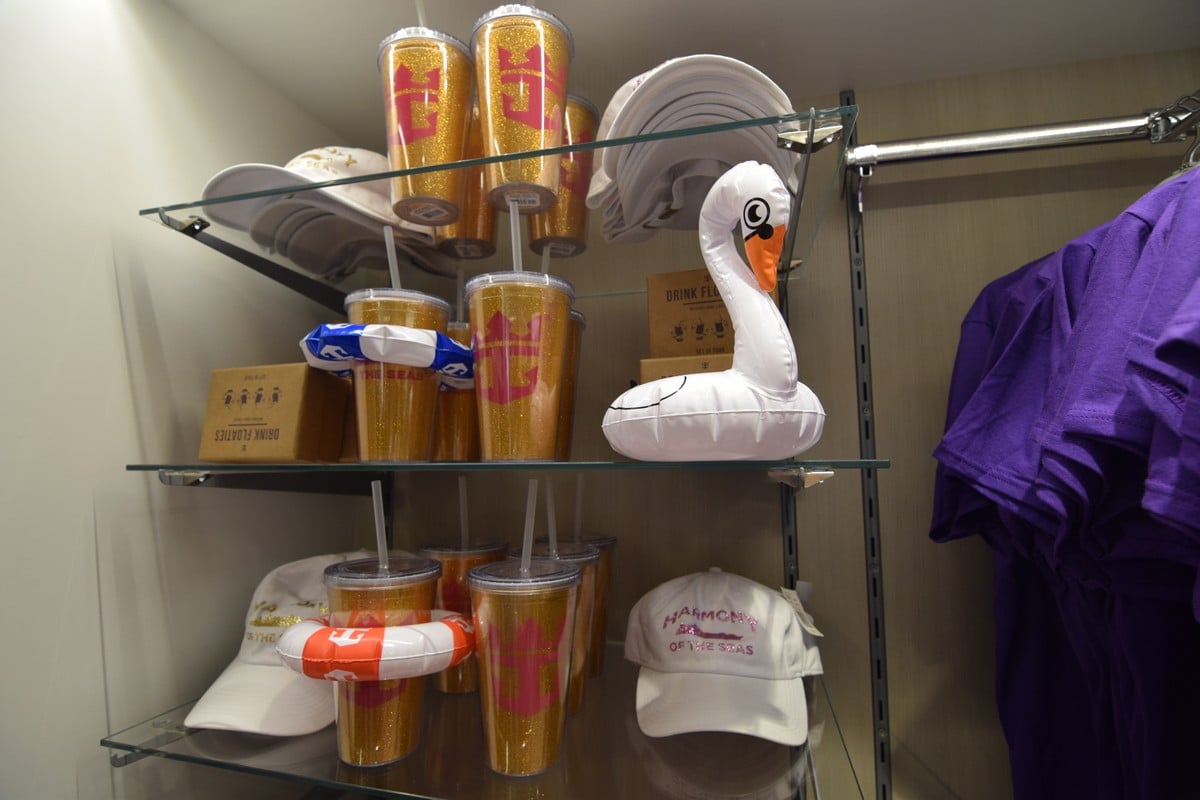 No matter what type of vacation you go on, bringing home a souvenir to remind you of the trip is a near-constant.
Whether you elect to buy souvenirs on the ship or in the ports you visit, these gifts will cost you extra.
One good way to save on onboard purchases is to wait until the end of the cruise. Usually there are last-day sales at the shops onboard, including discounts on t-shirts.
You can also save money buying goods in the ports you visit, where local products and vendors may offer similar options at discounted prices.
Spa Treatments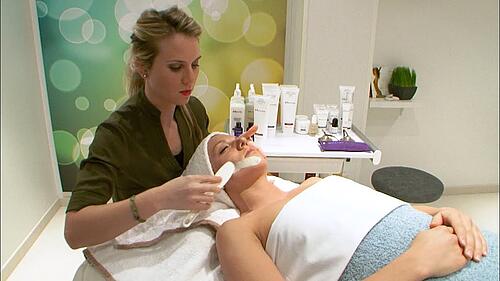 Treatments in the Vitality Spa on Royal Caribbean ships are not included in your cruise fare. Treatments can be reserved ahead of time via the Cruise Planner app or purchased once onboard.
Discounts can usually be found at the spa on port days, so be on the lookout for discounted treatments listed on the Cruise Compass once onboard.
If you are unsure of whether you should book a spa treatment or not, consider taking a tour of the spa. Spa tours are free of charge and take place during the first day of your cruise, where you can see the spa's facilities and learn more about the different types of treatments available.
Thermal spa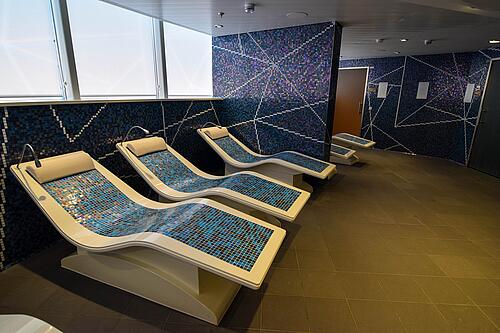 Oasis and Quantum Class ships have a thermal spa onboard, where guests can enjoy hot stone loungers, saunas, steam rooms, and a rainforest shower throughout the duration of their cruise. Thermal spa passes average around $100-120 for a 7-night cruise and guests can access the facilities at any time.
On Vision, Radiance, Voyager, and Freedom class ships, sauna and steam rooms are complimentary to guests and located within the locker rooms in the fitness center.
Salon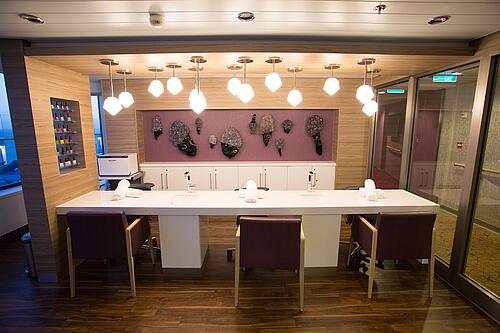 Like the spa, treatments in the salon at the Vitality Spa are not included in your cruise fare. Haircuts, shampoos, style dries, updos, manicures, and pedicures all cost extra.
Salon treatments can be purchased on the Cruise Planner before your cruise or once onboard. If you're hoping to have your hair styled for a special occasion or formal night, it might be a good idea to reserve your appointment in advance.
Fitness classes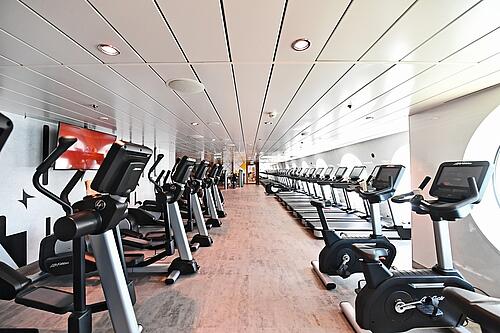 The Vitality Fitness Center is found on every Royal Caribbean ship. Unlike a tiny gym you might find in a hotel, the Vitality Fitness Center is a full-sized gym with a wide range cardio and weight equipment, free weights, and stretching areas.
The fitness center is complimentary for guests, but fitness classes like yoga, pilates, and spinning come at an extra cost.
Each fitness class can be purchased individually once onboard, but the most cost effective way to take advantage of fitness classes is through a Class Pass.
Class Passes range from $39.99 for any 3 fitness classes or $69.99 for unlimited classes on a 5-7 night cruise.
There may be some complimentary fitness activities listed on the Cruise Compass or in the Royal Caribbean app as well, including morning stretch and Zumba.
WiFi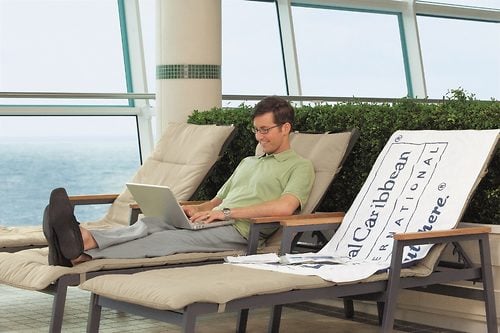 While the cost for onboard internet has come down quite a bit over the last few years, it is not free.
Royal Caribbean's wifi (known as Voom), offers reasonably fast internet access for a flat daily cost. There is a 24-hour option, but the unlimited internet for the duration of the cruise is a more popular choice.
To save on the cost of WiFi, pre-purchase a package before your cruise. There are discounts for WiFi packages almost all the time, and they really are much cheaper than on the ship.
Speaking of extra costs, do not use your phone's cellular connection for data, as you will be roaming and come home to a monster bill.
Chat feature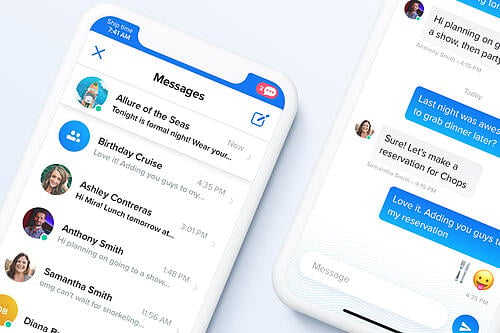 The Royal Caribbean app has a chat feature available to guests for a cost of $1.99 per person, per day. The chat feature allows guests to message other passengers onboard through the Royal Caribbean app regardless of whether the passengers have a VOOM internet package or not.
This can be a nice option for families or friends who need to message each other while onboard but aren't interested in purchasing an internet package for everyone in their group.
Ship-to-shore telephone calls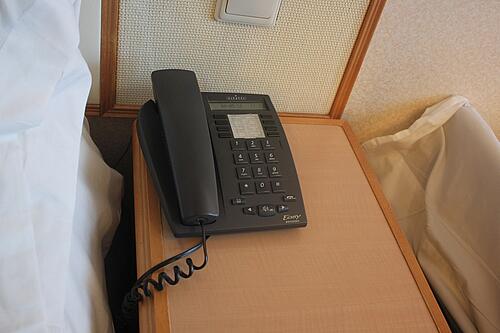 It's possible to make phone calls from your stateroom's telephone to shore, but it will come at an extra cost. The current charge for ship-to-shore telephone calls is $7.95 per minute, which will be automatically billed to your SeaPass account.
A more cost effective way to make calls ashore is by purchasing an internet package and placing calls through wifi calling or a service like Whatsapp and Facebook Messenger.
Adventure Ocean select times and offerings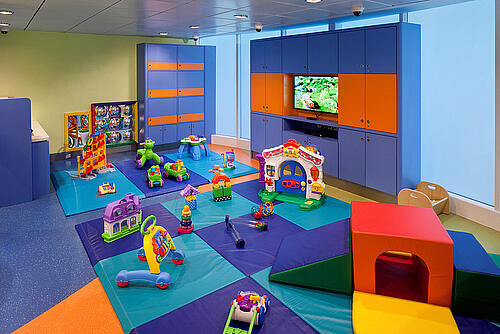 Royal Caribbean is a fantastic cruise line for families due to the extensive amount of kids activities and programming available onboard. Adventure Ocean is Royal Caribbean's children's programming, which provides supervised childcare and activities for guests aged 6 months to 17 years.
Adventure Ocean is included in your cruise fare with two exceptions: childcare after 10PM and the nursery. Childcare for ages 3-11 incurs an hourly fee of $7 between the hours of 10PM and 2AM.
AO Babies/Royal Babies & Tots is the nursery onboard, providing childcare for babies and toddlers 6-36 months old.
The nursery comes at a cost of $6-8 per hour depending on the time of day. There is also an open play area of the nursery with toys and play mats. Parents can bring their toddlers to the open play area throughout the day for free provided they are supervising their child.
Puzzle Break Center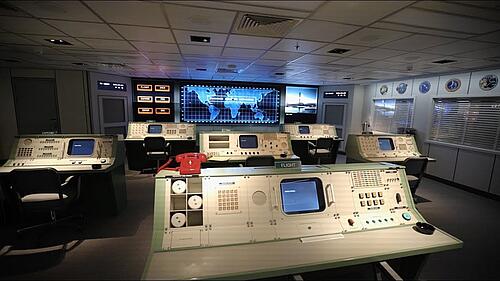 Select Royal Caribbean ships have the Puzzle Break Center, an escape room in which passengers must complete a series of puzzles to "break out" of the room in an allotted amount of time.
Each ship has a different escape room, so if you've tried the Puzzle Break Center on one ship it won't be the same challenge as another. The Puzzle Break Center is $20/person and the game lasts approximately one hour.
Zone Zero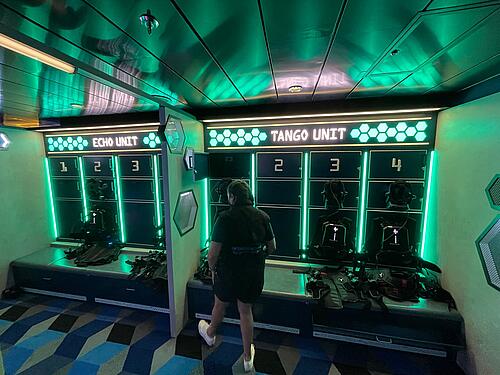 Zone Zero is a fully-immersive virtual reality experience found only on Odyssey of the Seas. Guests at Zone Zero wear a full virtual reality suit that includes sensors on their hands, legs, and feet, as well as goggles and a backpack that contains most of the virtual reality hardware.
Guests then walk through a virtual world, fighting pirates as a group. Every move you make is simultaneously made via your avatar in the virtual reality world, making for a truly impressive cruise activity.
The cost of Zone Zero is $18/person. Spots are limited and fill up quickly, so it's recommended to reserve this activity through the Royal Caribbean app as soon as you get onboard.
North Star (sea days)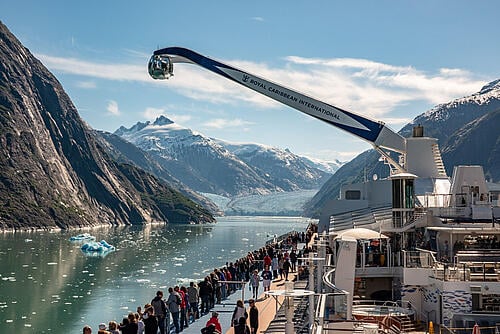 The North Star is an observation pod found on Quantum Class ships that takes guests up to 300 feet above sea level for dramatic 360 degree views of the ship.
The North Star has both complimentary and extra cost options. The North Star is free of charge while ships are docked in port, with time slots open throughout most of the day.
At sea, each ride up The North Star comes with a cost of $29.99 per person.
Some sailings may have "Premium" North Star experiences offered, with a cost of $49.99 per person, per ride. This is most commonly found on Alaska cruises during visits to places like Hubbard Glacier and the Endicott Arm & Dawes Glacier.
While there are many complimentary rides available, reservations can fill up quickly. Be sure to open the Royal Caribbean app as soon as you get onboard to reserve The North Star, whether you are looking to book the complimentary or extra cost ride.
Note: prices are subject to change by sailing, ship, and departure port
RipCord by iFLY (longer flight)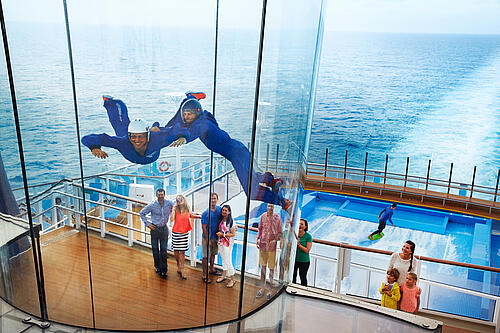 Royal Caribbean's indoor skydiving simulator is similar to The North Star in that there are both complimentary and extra cost options.
Complimentary rides at RipCord by iFLY involve watching a short skydiving instructional video, changing into skydiving apparel, and putting your flying skills to the test with a one minute ride.
Two minute rides are available at The North Star for a cost of $49.99 per person. Advanced flying classes may also be offered onboard which also come with an additional cost.
Note: prices are subject to change by sailing, ship, and departure port
Arcade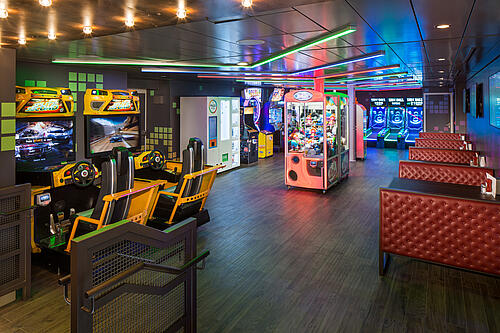 All Royal Caribbean ships have an arcade onboard for both kids and adults to enjoy. The size and offerings of the arcade vary by ship, but it always comes at an extra cost.
Most arcade games cost between $1-3 per game. Arcade credits can also be purchased in advance on the Cruise Planner, but we recommend buying as you go to avoid any leftover credits at the end of the cruise.
Casino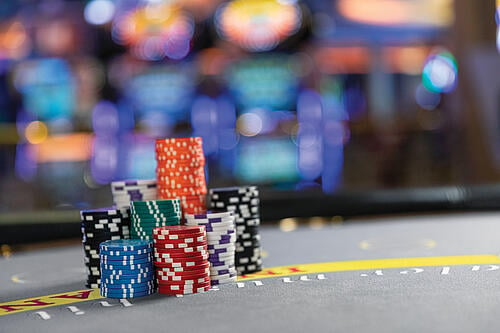 Of course, Casino Royale on Royal Caribbean ships comes at an extra cost. And while there is the possibility of winning big, there's also the (more likely) possibility of losing money, too.
Keep an eye out for the "Learn To Play: Casino Table Games" activity listed in the Cruise Planner. This is a lesson in how to play either Blackjack, Roulette, Three Card Poker, or Ultimate Texas Hold'em.
During this activity, guests will receive step-by-step instructions in these table games. The lesson costs $25 per person, but it includes $25 in FreePlay for casino games and two complimentary drinks.
Members of Royal Caribbean's Crown & Anchor Society receive between $2-6 in free play to be used in the casino throughout the cruise.
The Key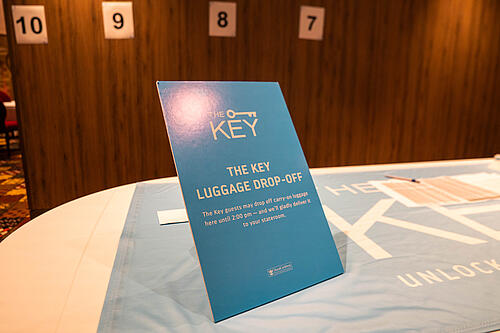 The Key is an upgrade you can purchase before your cruise which is meant to bring exclusive experiences to your cruise vacation. Benefits of The Key include priority check-in at the cruise terminal, a Chops Grille embarkation day lunch, private time at onboard activities, a 1 device VOOM Surf & Stream internet package, priority departure from ship-to-shore at tender ports, and early access to entertainment venues.
The Key is priced per day on a sailing, with daily prices ranging from $25 to $42.
If you are considering purchasing The Key for an upcoming cruise, several members of the Royal Caribbean Blog team have recently reviewed their experience with The Key:
We also have a video sharing our thoughts on The Key on the Royal Caribbean Blog YouTube channel:
All Access Ship Tour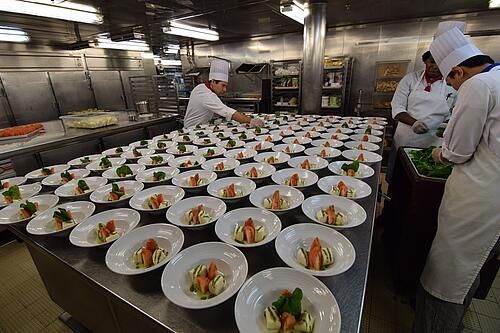 Royal Caribbean offers the All Access Ship Tour, which takes guests "backstage" on a cruise ship to see what happens behind the scenes. Passengers visit the galley to learn about how cruise ships prepare food for thousands of guests, the bridge, the laundry room, engine control room, and more.
The All Access Ship Tour can be reserved on the Cruise Planner website. The cost can vary, but is usually in the ballpark of around $120 per guest.
Gifts and gear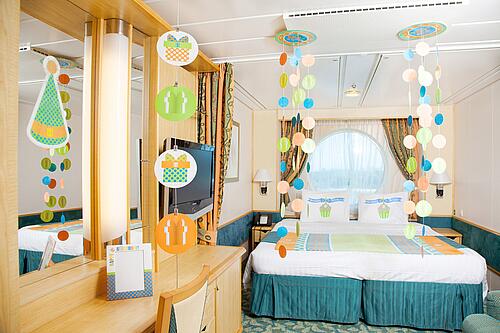 If you're cruising for a special occasion, want to send a gift to someone's stateroom, or are simply looking to enhance your experience in a fun way, you can purchase gifts to be delivered to a cabin onboard.
Gifts include chocolate covered strawberries, Royal Caribbean themed beach towels, and a beach toy set for kids.
There are also plenty of ways to celebrate a special occasion through gifts onboard, from room decor for a birthday or anniversary to a birthday cake and champagne.
Purchasing an item from the Gifts and Gear section of the Cruise Planner will ensure the item or room decor is in your stateroom on the first day of the cruise.
Medical services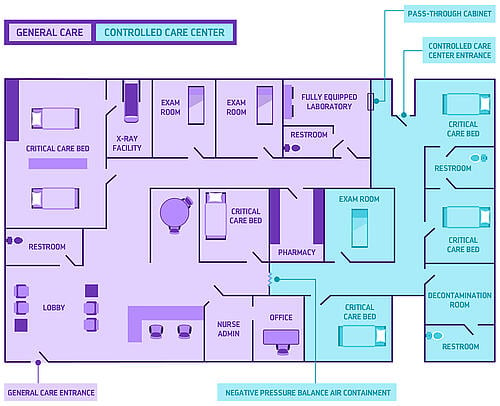 Going to the onboard Medical Center is something no passenger wants to do, but also something you should be prepared for in case of an emergency or unexpected illness.
Treatment at the Medical Center is not included in your cruise fare and all medical expenses incurred will be billed to your SeaPass account. There is no way to avoid the upfront cost at the Medical Center, with or without insurance.
It's possible to get reimbursed for medical expenses through your insurance at home, but it is not guaranteed as Royal Caribbean's Medical Center may be considered out of network. Therefore, purchasing travel/cruise insurance prior to your cruise is recommended to ensure any medical expenses are reimbursed.
Laundry and dry cleaning services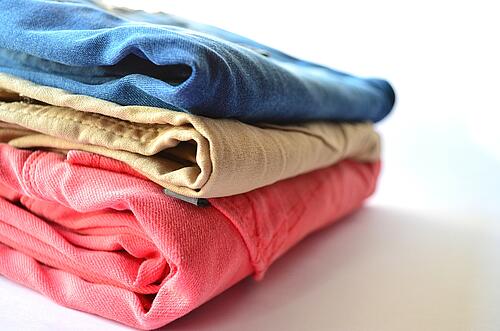 Royal Caribbean offers laundry and dry cleaning services onboard which come at an extra cost. Pricing is dependent on the type of laundry service and item washed. A full list of prices can be found here.
Another popular laundry option is the wash and fold service. For a fixed amount of $34.99 per bag, guests can have their dirty clothes washed, folded, and returned to their stateroom.
Airport or hotel transfers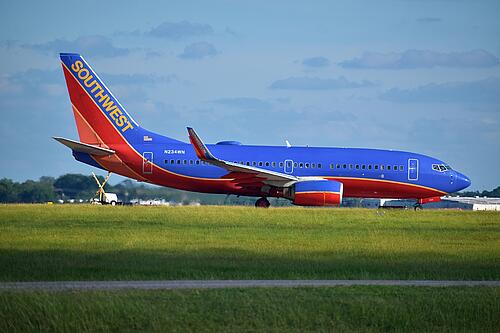 Getting to and from the cruise terminal from the airport or your hotel is not included in your cruise fare. The most common ways of getting to the cruise terminal are rideshare services like Lyft or Uber, an airport shuttle bus service, taxi, or hotel shuttle.
Rideshare services and taxis tend to be the most straightforward option as guests can call a ride at the time that is most convenient for them. Shuttles, however, can be a cost effective option if guests are traveling solo or with just one other person to a cruise terminal further away from the airport (such as from Orlando to Port Canaveral).
The exception to this is for passengers who have purchased an airport-to-pier transfer through Royal Caribbean's Air2Sea program. If this option was purchased when booking a flight, transfer to and from the airport will be provided to guests.
If you have questions about getting to the airport on disembarkation day, contact guest services onboard to learn about your options. They may also have shuttle bus space available which you can purchase for an extra cost.
Your thoughts
Which extra cruise costs do you typically buy? Which do you always skip? Is there a money saving tip you want to share? Post your questions and suggestions in the comments!