In:
Royal Caribbean's unlimited drink packages have never been more popular and you might find yourself considering one for your next cruise.  But if the prospect of drinking enough every day of your cruise to "break even" on your drink package investment leaves you feeling a little overwhelmed, then here are some easy ways to skip the drink packages but still save money on your bar tab.
While Royal Caribbean's drink packages are quite popular with guests, they do require a moderate amount of drinking every day of your cruise to make the investment worthwhile financially. For those that do not want to drink quite that much every day, there are a number of alternative strategies to the drink package that can still save you some money.  Here are our top five ways to skip the Royal Caribbean beverage packages and still enjoy plenty of cocktails on your cruise.
Buy a drink card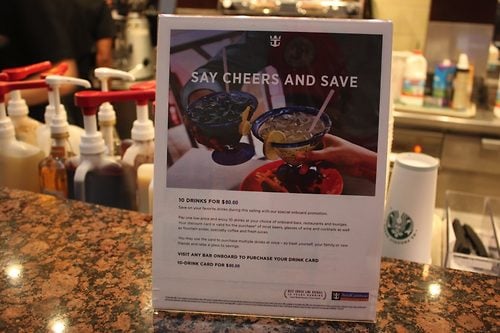 As popular as drink packages have become, the newest unlimited drink package option that has been popping up on Royal Caribbean cruises is the drink card. On many (but not all) sailings, a drink card offer will appear for guests to purchase, which allows them to buy a punch card for 10 beverages at a fixed price.
What is great about the drink cards is that they are shareable with other guests, and can additional cards can be purchased later during the cruise.  Drink cards afford greater flexibility than the drink packages and less of an upfront cost than the drink packages.
The "catch" with the drink cards is you cannot pre-purchase them for your cruise, and there are no guarantees they will be available on any particular sailing.  Generally, it will be offered on the third to fifth day of a 7 night cruise.
Bring 2 bottles of wine onboard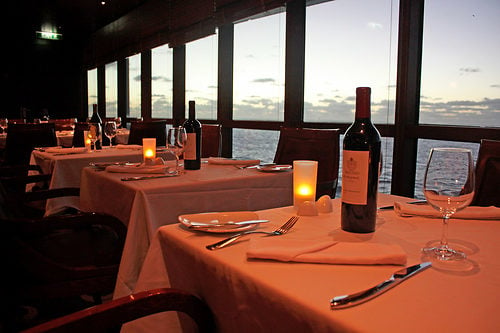 Did you know that Royal Caribbean allows guests to bring up to two bottles of wine per stateroom on their Royal Caribbean cruise?
Each bottle of wine may be up to 750ml in size and should be brought on in your carry-on luggage. Do not put the wine in your checked luggage.
Wine lovers will be able to bring a couple of bottles of their favorite wine on their cruise at a savings compared to purchasing the wine onboard.  Moreover, bringing your own wine means you will save money on your total bar tab during your cruise.
My favorite aspect of bringing your own wine is if you do not finish the bottle of wine, Royal Caribbean can store the wine for you and deliver it another restaurant at that time.
Look for drink specials onboard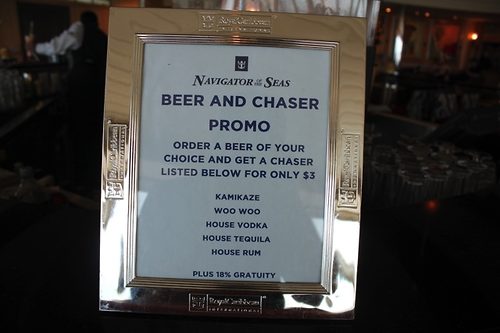 When looking at Royal Caribbean drink prices, many guests base their math of whether a drink package makes sense off the regular price for drinks, but in reality, there are drink specials all around the ship that bring that price down.
One of the best ways to get a deal on a cocktail is to order the drink of the day.  The drink of the day is a select cocktail that changes every day, which has about a 20% discount on it and is available from most bars onboard.  You can just ask the bartender or waiter what the drink of the day is and take advantage of those savings.
In addition, individual ships will run their own bar specials, like 2 for 1 deals, drink combo deals and other happy hour discounts.  The exact details of a drink special will vary from ship to ship, and sailing to sailing, but it is important to understand that they exist.  
To find drink specials, consult the Cruise Compass for some advertised deals, as well as walk around bars and look for posted signs.
Drink in port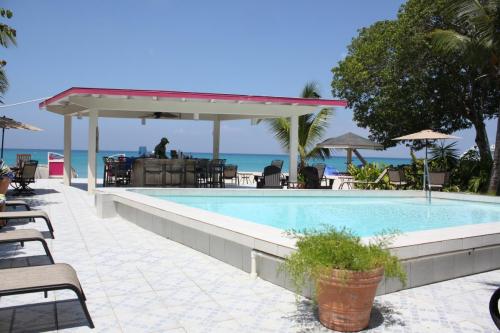 In our experience, Royal Caribbean's drink prices are about what we pay for drinks at many restaurants on land, but there is no question you will save money by drinking at the ports of call you visit compared to onboard.
Bars and restaurants at the ports your Royal Caribbean ship will visit regularly offer cheaper drink prices for beers and cocktails and that can mean big savings if you can wait to enjoy some drinks when on land, compared to on your ship.
Depending on your itinerary, this strategy may be more lucrative than others, but it is a good way to indulge in your favorite mixed drink or cerveza for a lower cost.
Get free drinks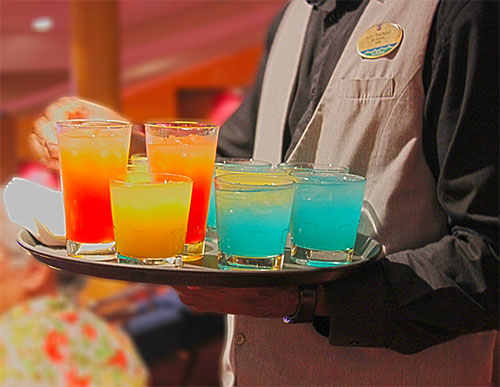 Free drinks on Royal Caribbean? Yes. Seriously!
Believe it or not, there are ways to get free drinks on your Royal Caribbean cruise.  Granted, there is no way to effectively drink all day like this, but any free drinks you can get are less drinks you have to buy!
One of the best ways to get free drinks is by being a Crown and Anchor Society member.  Diamond level and above members are eligible for three free beverages per evening from 4:30 to 8:00pm, in addition to the unlimited complimentary beverages in the Diamond Lounge during those hours.
All Crown and Anchor Society members will have special coupons pre-loaded on their SeaPass account that provide deals like Buy One, Get one beer, wine or soda by the glass.  In addition, Royal Caribbean holds Crown and Anchor Society events onboard for members, with complimentary cocktails served.
Free champagne can also be found at select events, including art auctions, Captain's Welcome and during holiday celebrations.
Your thoughts
What is your best tip for saving money on drinks when not using a drink package? Is there one that we missed? Share your top tips in the comments!