In:
Guests sailing on a Royal Caribbean cruise in 2019 can get an idea of how much they are likely to spend on one of the popular unlimited drink packages with a recent update to Royal Caribbean's web site.
Royal Caribbean posted updated pricing for its three primary drink packages, which will see an increase in price for 2019 sailings when compared to 2018 sailings.
| | | |
| --- | --- | --- |
| PACKAGE | 2018 SAILINGS | 2019 SAILINGS |
| Deluxe | $57 - $63 | $63 - $70 |
| Refreshment | $26 - $29 | $29 |
| Classic Soda | $8.50 - $9.50 | $12.99 |
The Deluxe Beverage Package (commonly referred to as the unlimited alcohol package) has seen the largest jump, with a more than 10% increase from the 2018 price range. The Deluxe Beverage Package includes cocktails, beer, wine, non-alcoholic beverages, premium coffee, tea, fountain soda and bottled water. 
The non-alcoholic Royal Refreshment package will see a slight uptick in 2019 to $29 per person, per day.  The Refreshment Package includes premium coffees and teas, bottled water, fresh-squeezed juices, non-alcoholic cocktails and fountain soda. 
Likewise, the Classic Soda Package, which offers just soft drinks, will move up to $12.99 per person, per day.
How to get a discount on a Royal Caribbean drink package
It is worth noting that these price changes are reflective of the onboard pricing, and many guests are able to take advantage of discounts provided by the cruise line via the Cruise Planner site.
There is no guarantee your sailing will have a discount on drink packages via the Cruise Planner, but the pre-cruise discounts seem to be widely available.
The exact discount will vary, although it is common to see up to a 20% discount off the daily rate. Royal Caribbean has been known to run even more lucrative discounts from time to time. The intriguing aspect to that discount is the daily price for a drink package seems to vary from ship to ship, and sailing to sailing.  If you have more than one cruise booked on different ships, you may find different sale prices.
To find the discounted rates, log into the My Cruises section of the Royal Caribbean web site, and navigate to the Cruise Planner section for the sailing you are interested in.
Once logged in, navigate to the Beverage Packages section and look for advertised rates. You will likely see something similar to this: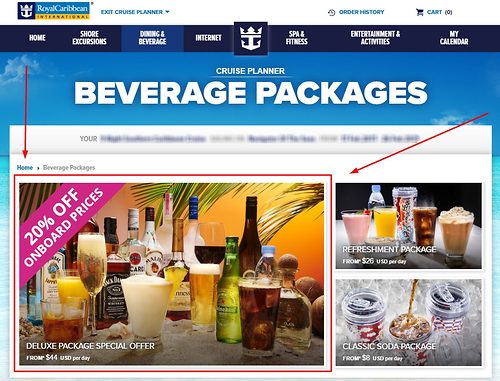 If you are comfortable with the price, you can purchase the drink package.  Keep in mind that you will be charged in full for the drink package at the time of purchase.
It is also worth noting beverage package purchases made online can be canceled and full refunded at any time, up until about 3 days before your sail date.
More drink package info
Are you wondering if a Royal Caribbean drink package is worth it? Want to know what to think about before buying a drink package? Learn about how the drink packages work?  Check out our Royal Caribbean Drink Package Information and planning tips post for more helpful information.