In:
Have you heard about the drink cards Royal Caribbean has offered on select sailings that offer a reduced cost for a select amount of drinks?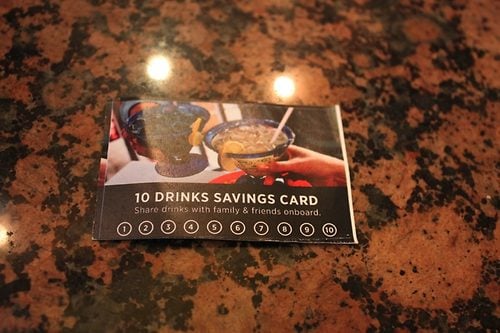 Drink cards started popping up in the last year or so, building on the popularity of Royal Caribbean's beverage packages. Guests like having a predictable and convenient way to enjoy all the drinks they like, and Royal Caribbean likes getting guests spending more money for their cruise.  The thing is, many guests opt not to get a drink package because they do not feel they can drink enough to make the package worthwhile financially.
Drink cards are the alternative to drink packages, where guests pay a fixed-cost for a card that can be used to purchase pretty much any drink that the drink package would cover. 
If you have heard about the drink cards before, or are wondering how to get one and how they work exactly, this will help answer all of your questions.
How does the drink card work?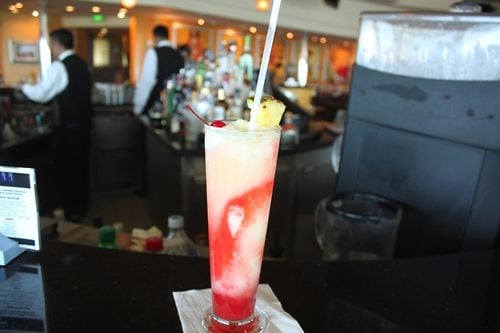 Drink cards can only be purchased on a Royal Caribbean ship from almost any bar or lounge. Each card is good for ordering ten drinks.
At the time of purchase, guests pre-pay the card's full amount and then can use it at any bar, restaurant or lounge onboard to get a drink.  For each drink they order, the waiter or bartender will mark off one of the numbers on the bottom to card to indicate it was used.
The drink cards cover pretty much any drink that a regular drink package covers. This includes most beers, glasses of wine, and cocktails, as well as fountain sodas, specialty coffee and fresh juices.  The drink card also covers the gratuity for the purchase.
One key difference between the drink card and a drink package is the benefits of a drink card are shareable with other guests.  So you can purchase a card and let your spouse, friends or family use the card benefits as well.
What does the drink card not include?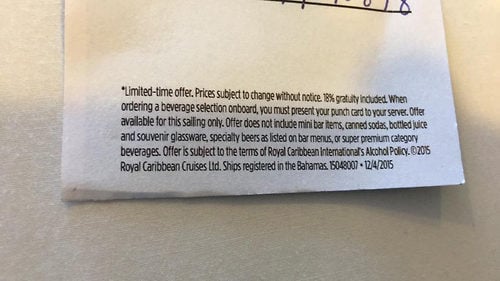 The Royal Caribbean drink card does not include mini bar items, canned sodas, bottled juice and souvenir glassware, specialty beers as listed on bar menus, or super premium category beverages.
How much does a drink card cost?
The price seems to differ from ship to ship and sailing to sailing.  We have heard of the drink card costing somewhere between $70-$90 per card. 
The card cost will be charged to your SeaPass account and is non-refundable.
Can I get a drink card on my upcoming cruise?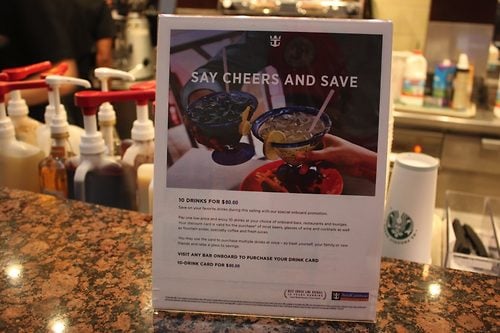 Here is the catch about the drink card: you can never be sure it will be available on your cruise or when on the cruise it will be available.
Even if it is offered, it tends to become available on various days of the sailing.  Some cruises have seen it on day 3 of a seventh night cruise, others on day 5 of a seven night cruise. Other times it was offered on the last day of a 4 night cruise.
Each Royal Caribbean ship has been given the option to test different beverage package offerings onboard. The decision of which program to offer, if any, is made by the ship. That means, there is no guarantee it will be available on your sailing, or when it will be available and for how much.
Essentially, you will not be able to determine if a drink card will be available until you are onboard your Royal Caribbean cruise and well into the sailing.
Are the drink cards a good value?
In all the variations of the drink package we have seen, the drink card makes a lot of financial sense, assuming you can drink the ten drinks allocated and drink cocktails.  If you neglect to consume even one beverage offered by the card by the end of your cruise, it is a poor decision.
Taking the $90 card cost as a "worst case scenario," that means each drink costs you $9, including gratuity. Depending on which drink you buy, most mixed drinks cost between $10-12 (before gratuity).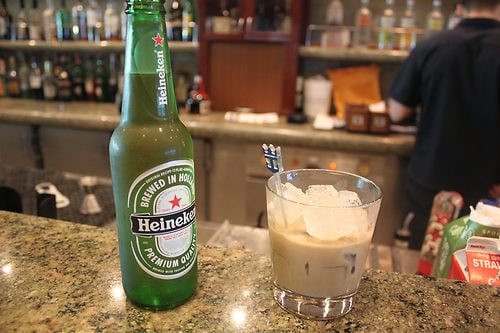 In addition, the drink card can be shared, which makes it a far more powerful value.  It is great for family and friends who cruise together, and can pool together their drinking onto these cards and save everyone money.
The drink card does cover other kinds of beverages other than cocktails, but they are poor choices to use the drink card for.  Assuming each drink is $9 with the drink card, most beers, juices, premium coffees and sodas are well below that $9 value.
If you like mixed drinks and/or wine by the glass, a drink card works quite well financially, given the per-price break down.  The key is to take advantage of drinks that are more expensive than the per-drink card value.  
Would you purchase a drink card if it were offered on your Royal Caribbean cruise? Tell us in the comments!