In:
Royal Caribbean has three drink packages, as well a couple of drink bundles you can buy for your cruise.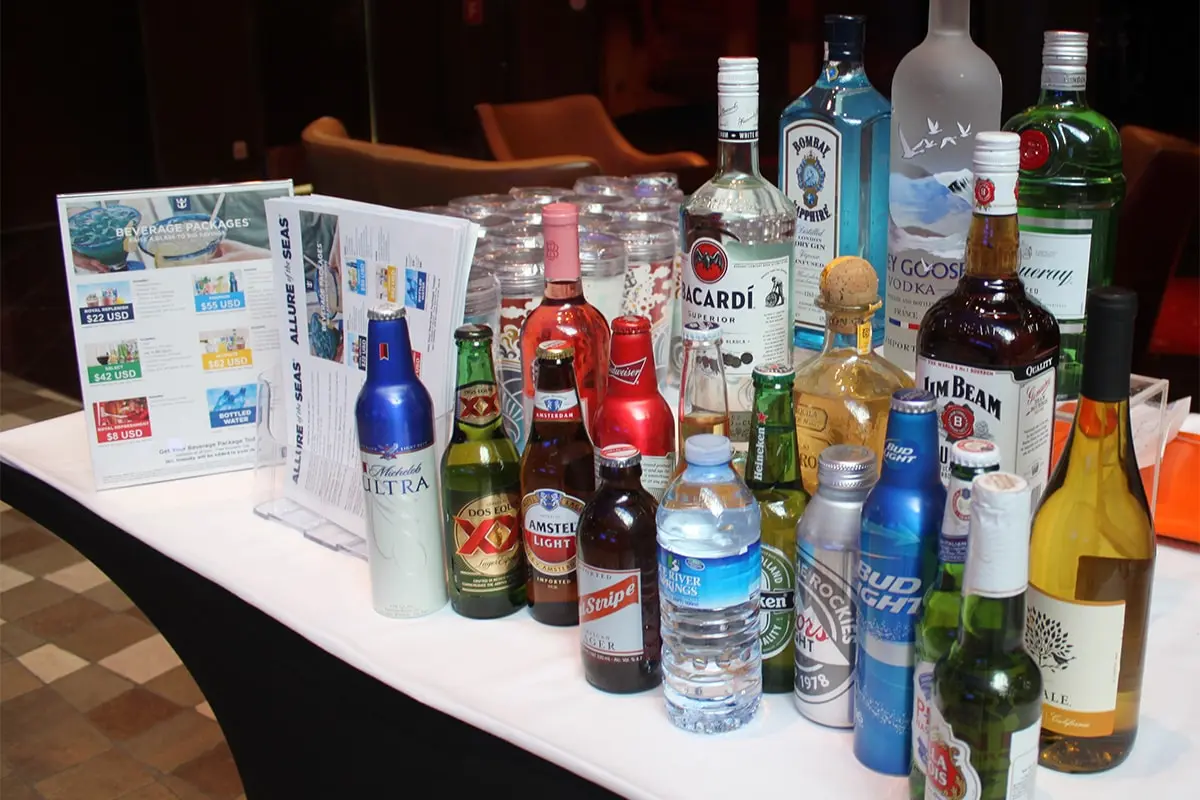 Getting unlimited drinks on a cruise is a very appealing option, given how many people that go on a cruise ship are looking to relax and not worry about bar bills later on. 
They're a popular choice because you can enjoy beers, wine, cocktails, mocktails, and soft drinks for a fixed price, but they aren't cheap either. Demand for drink packages has only sent prices higher over the years, but there are ways to get a better price and ensure you don't overpay.
It's important to understand what the drink package includes for the price, and how to get the best possible deal by finding the lowest prices.
Royal Caribbean drink package prices
Royal Caribbean uses variable pricing for its unlimited drink packages, which means the price will depend on which ship you are sailing on and the sail date.
In general, newer ships have higher prices for drink packages.  Similarly, cruises over a major holiday and/or during a popular time of year for vacations will see higher prices.
Deluxe Beverage Package: $55 to $105 per person per day
Royal Refreshment Package: $29 per person per day
Soda Package: $12.99 per person per day
Water Package: 12 bottles for $39; 24 bottles for $69
Coffee card: $31 per card
There is also a mandatory 18% gratuity added to the cost of a drink package, which you will see referred to as a service fee when purchasing it.  This gratuity covers any drink you order from a waiter or bartender.
By far, the price of the Deluxe Beverage Package has the widest range of possible prices.  That is largely due to how popular this drink package has become, and with so many different cruises to choose from, the cruise line plays with the price to get top dollar for it.
What is a drink package?
Royal Caribbean has two types of drink packages: unlimited packages and prepaid limited amounts.
The most popular are the unlimited drink packages, which offer a flat cost for as many beverages as a passenger would like in one cruise.
The unlimited drink package benefits are only for the person buying it, and it cannot be shared with anyone else.
The three unlimited drink packages include:
Deluxe Beverage Package
The Deluxe Beverage Package includes all alcoholic and non-alcoholic drinks per person for the entire duration of a cruise.
It includes:
✅Cocktails, spirits, liqueurs
✅Beer
✅Wine (by the glass)
✅Mocktails
✅Premium coffees & teas
✅Fountain sodas / Coca-Cola Freestyle beverages
✅Coca-Cola souvenir cup
✅Bottled still and sparkling water
✅Fresh squeezed juices
The only drinks not included in the Deluxe Beverage Package are top shelf liquors, wine by the bottle, or Starbucks drinks from a Starbucks kiosk.
Since it includes pretty much every drink, it's also the most expensive package and is the only one that has a rule that requires if one adult buys the Deluxe Beverage Package, then all the other adults in the same stateroom must purchase it also. This is to prevent sharing the drink package benefits with other guests.
There is a workaround to this rule, if you call Royal Caribbean and ask for the other person in the cabin to get the Royal Refreshment package instead.  
Royal Refreshment Package
If you prefer to have unlimited non-alcoholic drinks, then the Royal Refreshment Package is for you.
It includes everything the Deluxe Beverage Package includes, except for alcohol.
❌Cocktails, spirits, liqueurs
❌Beer
❌Wine (by the glass)
✅Mocktails
✅Premium coffees & teas
✅Fountain sodas / Coca-Cola Freestyle beverages
✅Coca-Cola souvenir cup
✅Bottled still and sparkling water
✅Fresh squeezed juices
This drink package is popular with teens, as well as light drinkers.
Soda Package
For anyone that just wants soft drinks, Royal Caribbean has an unlimited soda package.
This package includes just soft drinks by the glass from any bar, restaurant or lounge.  It also includes the Coca-Cola Freestyle machine on ships that have it.
❌Cocktails, spirits, liqueurs
❌Beer
❌Wine (by the glass)
❌Mocktails
❌Premium coffees & teas
✅Fountain sodas / Coca-Cola Freestyle beverages
✅Coca-Cola souvenir cup
❌Bottled still and sparkling water
❌Fresh squeezed juices
It may be a surprise to hear the soda package does not include bottled water.
Bottled water package
While not unlimited, there is the option to buy a supply of 12 or 24 bottles of Evian water to be delivered to your stateroom.
For someone that prefers bottled water, this is a more cost effective way to have lots of bottled water for a cruise with the convenience of having it delivered to the cabin.
Another advantage of the bottled water package is you can share the bottles of water with anyone.
Coffee punch card
If you love coffee, you can get a punch card good for that sailing with a set amount of premium coffee based drinks.
You can redeem the coffee from Royal Caribbean coffee locations, such as Cafe Promenade, Cafe @ Two70, or Cafe Latte-tudes.
It does not work at freestanding Starbucks kiosks.
Like the bottled water package, you can share the punch card benefits with others if you wish.
Are there discounts on drink packages?
Royal Caribbean always offers a pre-cruise discount on its drink packages.  In short, you'll save money by buying it before the cruise rather than onboard.
You can find the discounted price in the Cruise Planner section of the Royal Caribbean website, or through the Royal Caribbean app.
There are sales nearly all the time, which means the price fluctuates throughout the year.  The price you see today may be different tomorrow, next week, or next year. 
Your best bet is to buy the drink package as early as possible, and then cancel and rebook it if there is a price drop.  It's a mistake to wait to see if the price drops first before buying, because sometimes the price goes up and never comes back down.
Read more: How to avoid the most common cruise drink package mistakes
The Deluxe Beverage Package price tends to change the most, with there occasionally a discount offered on the Royal Refreshment package.
You should not expect to see any discounts for the Soda package or the limited quantity drink packages, although it's not entirely unheard of either.
Periodically check the Cruise Planner for new prices to see if there's a better discount.
Keep in mind what someone else paid for the drink package has no bearing on what you can expect either. The dynamic nature of pricing and the lack of a price match program makes comparing drink package prices to someone else meaningless.
Members of Royal Caribbean's Crown and Anchor Society whom are at least Diamond or higher can get an onboard discount for drink package purchases, but it cannot be used online.
Read more: The Crown and Anchor perks you should use on every Royal Caribbean cruise
The online discount tends to be about the same or better than waiting to book onboard with the Crown and Anchor discount, so I don't recommend waiting to use it.
Read more: Best Time to Buy A Royal Caribbean Drink Package
What is the difference between the Royal Caribbean drink packages?
In short, what's included is the major difference between any drink package.
The soda package only includes soft drinks, and nothing else. The Royal Refreshment Package includes soda, mocktails, bottled water, coffees, and any other beverage onboard that does not include alcohol, but does not include alcoholic drinks.  The Deluxe Beverage Package includes everything the Soda and Royal Refreshment packages include, plus alcohol.
The three main drink packages are unlimited, whereas the coffee card and the bottled water packages are not unlimited and have a fixed amount of beverages. In addition, the three main drink packages cannot be shared with any other guests, but you may share the coffee card or bottled water package with other guests.
How do you buy a Royal Caribbean drink package?
You can buy a drink package online, onboard the cruise ship, or by phone. No matter how you buy it, you will be charged immediately at the time of purchase the full amount at that point.
I think the easiest way to buy a drink package is online before the cruise begins.  
You can do so by going to the Cruise Planner website and booking it there.  You could book it from the Royal Caribbean app as well, but I find the Cruise Planner site easier to track price changes.
If you prefer, you can call Royal Caribbean by calling 1-800-398-9819 and placing an order with a cruise line representative.
Lastly, you could wait to buy a drink package onboard your cruise ship from any bar or restaurant. There's usually tables set up around the ship on embarkation day advertising the drink package too.
Is a Royal Caribbean drink package worth it?
Drink packages are expensive, but they can save you a lot of money if you are the type of person who can drink enough to make it worthwhile.
The convenience of not having to think about racking up a giant bar bill is enough for some people to warrant buying a drink package. 
Most people try to think if they will drink enough every day of the cruise to save them money compared to if they just bought each drink individually.
The bottled water and coffee card are the easiest drink packages to determine their value.  With the bottled water, you could bring home any unused water so there's little risk in wasting it.  Of course, Royal Caribbean provides complimentary water and coffees and teas, which is satisfactory for most people.
The Refreshment Package is worth it if you can mix in enough beverages every day.  
A $5 latte, $2 bottled water, $7 for a mocktail, and $4 soda adds up every day (plus gratuity), and with an unlimited amount, you could grab extra bottled water, or get a second coffee and really take advantage of the package.
When it comes to alcoholic beverages, the more hard liquor you order, the more the Deluxe Beverage Package makes sense.
If you drink 6-8 cocktails per day, it's worth it to get a drink package. Likewise, if you drink 9-11 beers per day, it could be a good idea too.
That may sound excessive, but people tend to drink differently on vacation than at home.  If you were to order a latte and bloody mary in the morning, two beers by the pool in the afternoon, two glasses of wine at dinner, and then a cocktail or two in the evening, you're pretty much breaking even on the Deluxe Beverage Package.
I think a drink package is worth it if you're remotely in the neighborhood of drinking enough every day, coupled with the convenience of having it all prepaid.
In addition, you can buy a drink package many months before the cruise begins and pay it off on different billing cycle than onboard the ship along with all the other purchases you make onboard.
If you're not planning to drink a lot, skip the drink package and save the money for something else.  You can still have enough of the basic drinks and charge a few drinks here and there without breaking your budget.