Royal Caribbean Post Round-Up: April 5, 2020
In:
Despite the fact there are no cruises happening, plenty is happening and I have a wrap-up of everything that occured this past week!
Royal Caribbean announced earlier this week it is extending the ability to cancel a cruise up to 48 hours before it sails.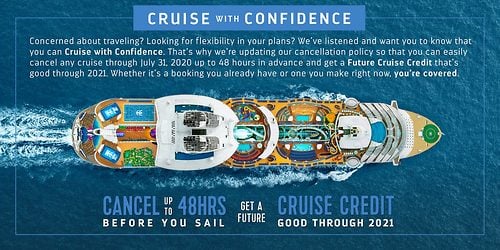 The Cruise with Confidence program will now include sailings through September 1, 2020.
Under this policy, Royal Caribbean is providing guests with the flexibility to cancel a cruise for any reason up to 48 hours before a sailing is scheduled to depart.  
Royal Caribbean News
Royal Caribbean Blog Podcast
The 348th episode of the Royal Caribbean Blog Podcast is now available, with the story of how cruising changed Kat's life.
The world has changed, and so has this podcast. Given the state of affairs, we have a new concept for the podcast to share that provides a glimpse into our listener's past cruises and highlight memorable sailings.
Please feel free to subscribe via iTunes or RSS, and head over to rate and review the podcast on iTunes if you can! We'd appreciate it.
New RCB Video: Latest Royal Caribbean News
Have you subscribed to the Royal Caribbean Blog YouTube Channel? We share some great videos there regularly, all about taking a Royal Caribbean cruise! This week, we are sharing our latest video — Latest Royal Caribbean News — and don't forget to subscribe here.