In:
Did you know Royal Caribbean ships serve Starbucks beverages on some of its cruise ships?  Both companies have teamed up to give Royal Caribbean guests some of the best coffee available and here is what you need to know to enjoy a cup of your favorite latte, frappuccino or dark roast.
Your Royal Caribbean cruise ship will serve Starbucks coffee from one of these locations.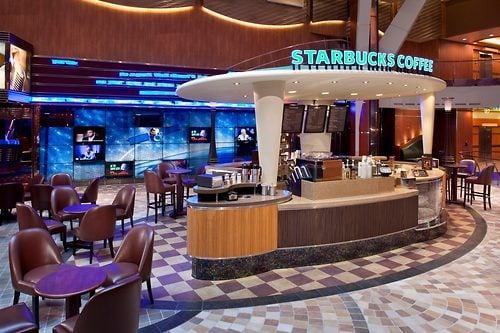 Oasis Class cruise ships (Oasis of the Seas, Harmony of the Seas, Symphony of the Seas and Allure of the Seas) have Starbucks kiosks onboard that are similar to any Starbucks location you have been to on land.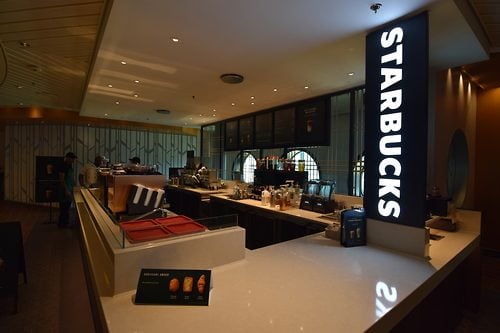 Mariner of the Seas and Navigator of the Seas have a Starbucks kiosk on Deck 4 in the Centrum.
Starbucks coffee prices
Just like your local Starbucks, the prices can change at any time but in general, they have similar pricing to what you find on land.
Paying for your Starbucks beverage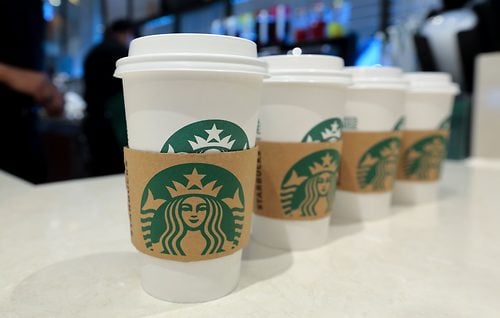 All Starbucks beverages may be charged to your SeaPass account, or alternatively with the Starbucks app.  
Starbucks gift cards can only be used for payment on Royal Caribbean ships that have a freestanding kiosk.
Starbucks purchases made on a Royal Caribbean ship are eligible to earn rewards, however, you may not redeem rewards at a Starbucks kiosk on Royal Caribbean.
Is Starbucks included in Royal Caribbean drink packages?
On Royal Caribbean ships that have a freestanding Starbucks kiosk, the beverage package cannot be used to pay for Starbucks beverages.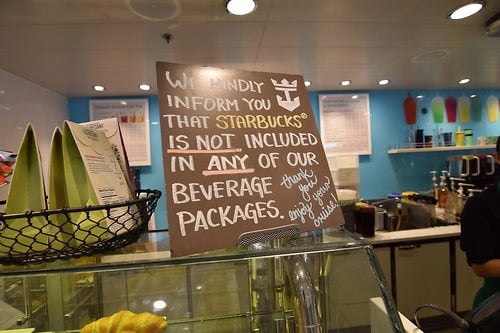 Instead, guests with a beverage package can get their premium coffee and teas from Cafe Promenade or other locations.