In:
It now appears Odyssey of the Seas will begin her journey to the sea this weekend.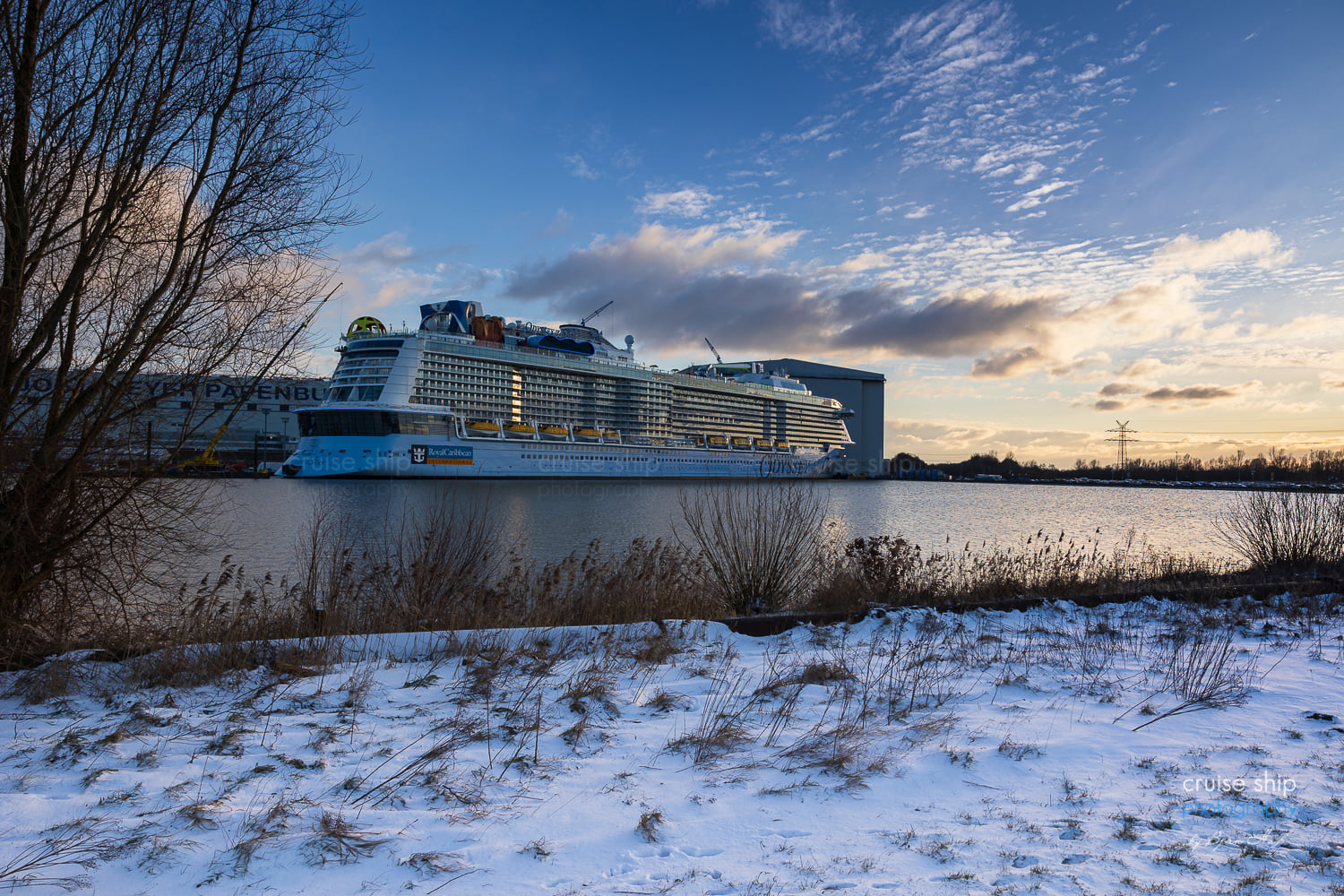 A public notice for sailors in Germany confirms a series of closures to facilitate the transfer of Royal Caribbean's next new cruise ship from her shipyard in Papenburg to the North Sea.
The conveyance will take place on the Ems River beginning at 4am on February 27, 2021. The ship is expected to pass through the Gandersum Ems barrier on February 28, 2021 at around 00:30 a.m.
A conveyance is the process of moving a cruise ship from an inland shipyard to a coastal port.
According to the waterway and shipping administration, the Ems will be dammed from Friday noon to Sunday. Damming the river will raise the water level between Papenburg and Gandersum to assist with the movement.
Neither Meyer Werft nor Royal Caribbean has publicly commented on the conveyance, but it is believed Meyer Werft does not want to make a big deal about the event in order to prevent crowds gathering as the ship passes by.
How Odyssey of the Seas will get to the sea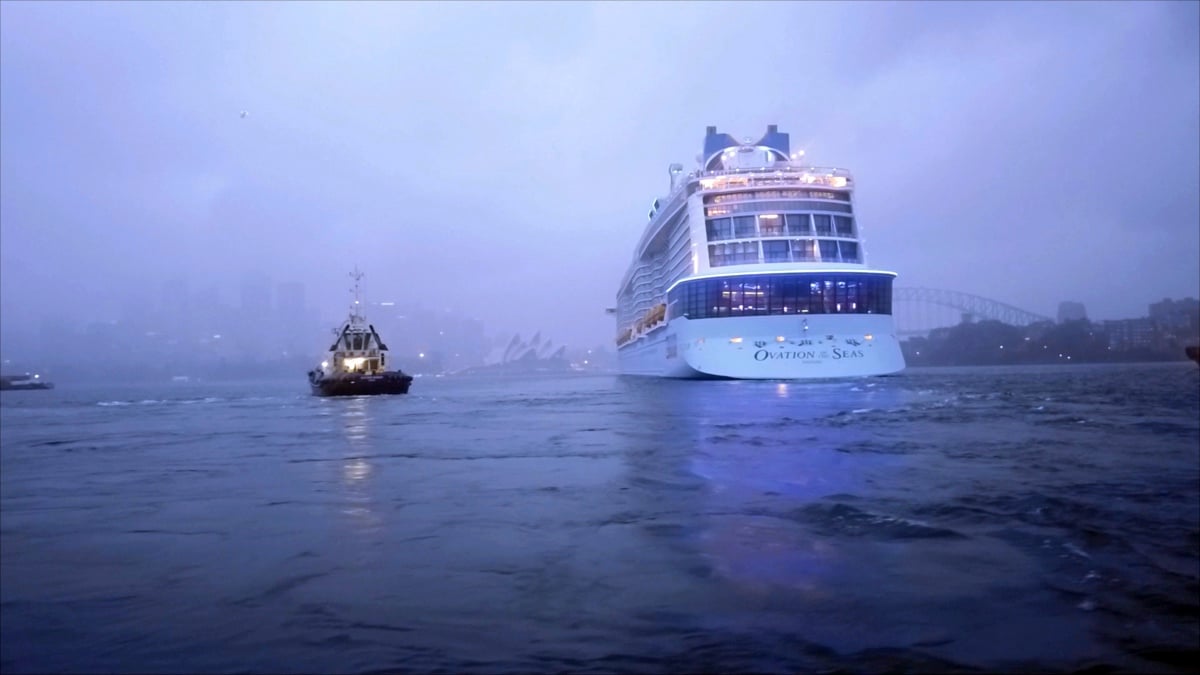 The journey to the sea for Odyssey of the Seas is a mix of engineering, science, and a lot of coordination.
Two tugs will take Odyssey in reverse up the river Ems to the North Sea.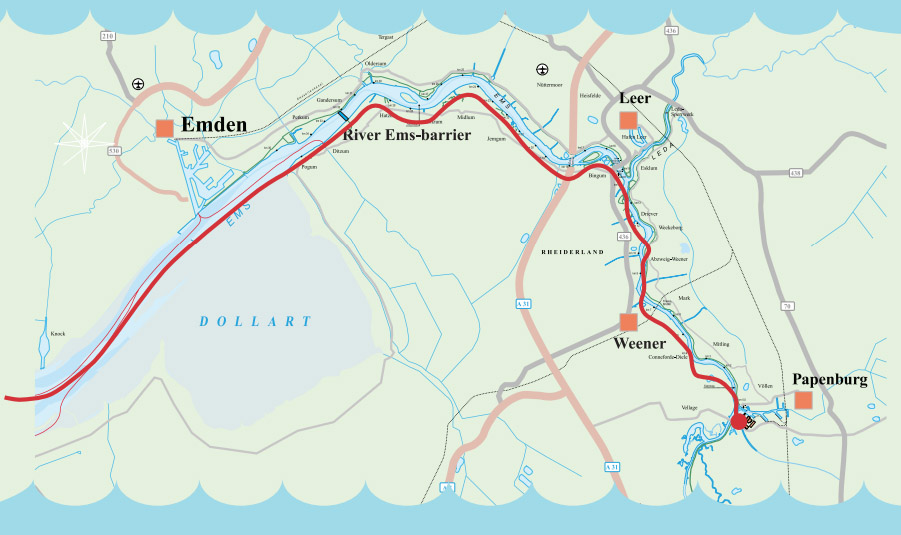 Schedule: February 27, 2021
Approx. 04:00 a.m.: ship passage begins (Papenburg)
Approx. 12:00 p.m.: ship passes the Jann Berghaus bridge (Leer)
Approx.  00:30 a.m.: arrival at the river Ems barrier (Gandersum)
After completing technical and nautical sea trials on the North Sea, the ship will be handed over to Royal Caribbean in April.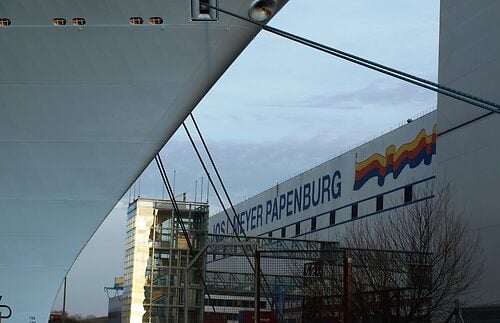 Odyssey of the Seas comes in at 169,000 GT and measures a length of 347.1 meters, and has a capacity of more than 5,000 passengers.
When she joins the fleet, Odyssey of the Seas will be the fifth cruise ship in the Quantum/Quantum Ultra Class to be built at Meyer Werft.