In:
August is a popular month for a summer cruise, with some of the warmest temperatures you'll find anywhere a Royal Caribbean cruise ship sails.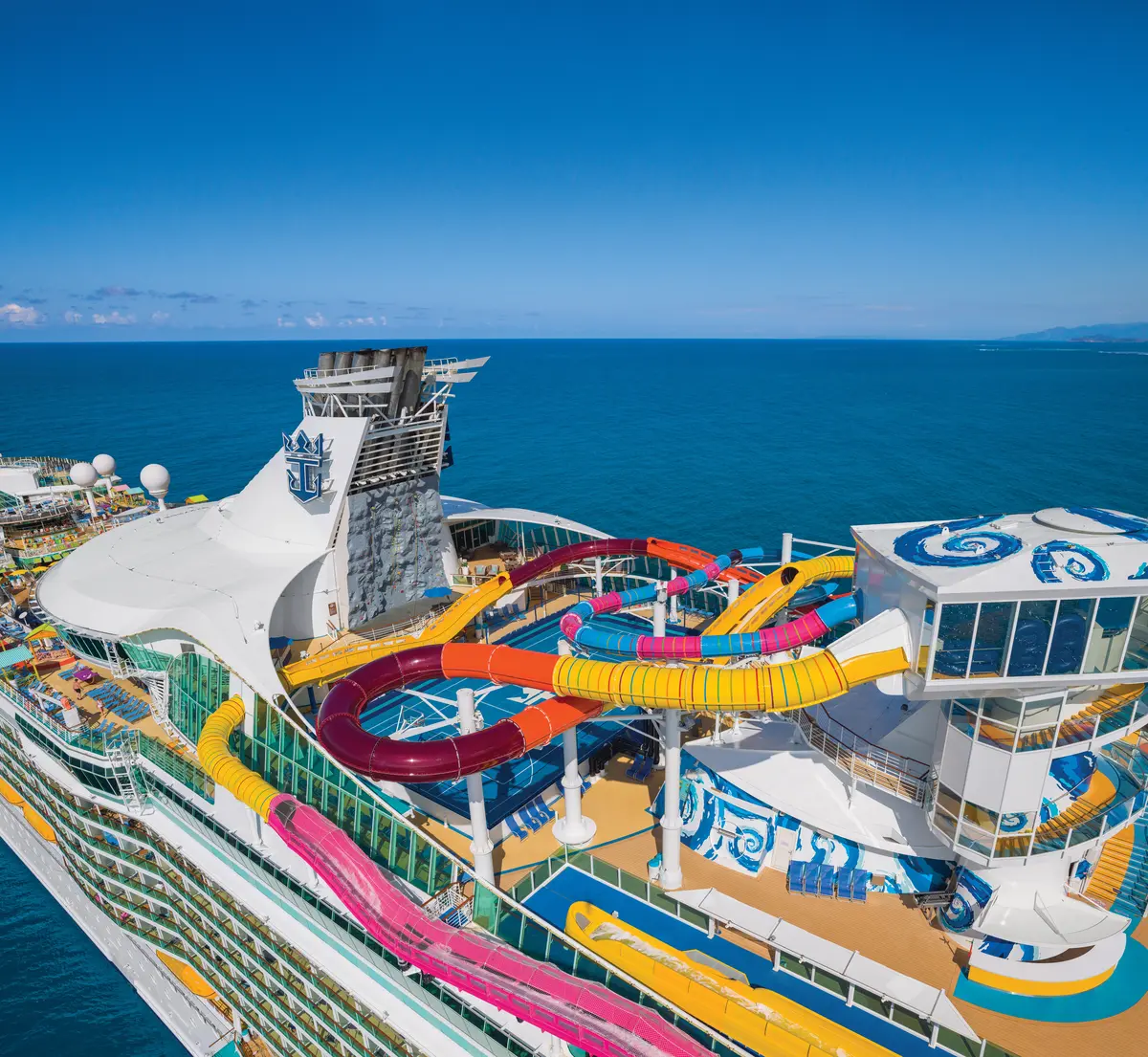 If you're taking a Royal Caribbean cruise in August, expect to find lots of families enjoying their summer break trip. In fact, August is such a popular month for cruises that demand for cruises can be quite high, especially in the first half of the month.
As summer begins its slow fade into fall, August means it will still be plenty warm almost anywhere you sail. 
Europe will be quite warm, and Alaska cruises can enjoy comfortable outdoor temperatures too.
In the Caribbean, August represents the off season as the hurricane season is about to kick up in chances of a storm.
If you have a cruise in August, here's what to expect on your sailing.
Ships sailing in August 2023
Royal Caribbean operates cruises in three markets in August: Caribbean, Alaska, and Europe. You'll also find cruises to Bermuda and Canada too.
Starting in Alaska, you'll find August to be Alaska's peak season because of warm weather and school out of session, which enables families to visit. However, crowds and higher cruise fares are to be expected at this time of year and rain is likely, especially in August. You will want to book well in advance for an Alaska cruise in August, as itineraries tend to sell out quickly.
The Bermuda cruise season is between May and October, with highest demand between June and August.  This makes a Bermuda cruise in August probably more expensive than if you sailed in September or October.
You'll find a smattering of Royal Caribbean ships operating in the Caribbean during the month of August, mostly because a portion of the fleet has is in Europe.
July and August are the most popular months to travel by cruise ship in Europe because of the warmth you'll find around the continent.
August weather on a cruise
Just like July, August is a very warm month for a cruise.
A Mediterranean cruise in August means you could encounter a heatwave, especially in places like Greece.  You can expect normal temperatures to be in the 80 degree range, with overnight lows in the 60's.
One advantage of August in Europe is the optimal weather. Typical August weather on land and at sea are at their best this time of year, so expect smooth sailing into port, and dry, sunny days ashore.
Read more: What is the best time to cruise the Mediterranean?
Alaska cruises in August is when you'll not only find warm weather, but also rain. This means you should expect a washout during your Alaska shore excursions. Daytime average high temperatures are in the low- to mid-60s in August, and lows are in the upper 40s and lower 50s.
Read more: When is the best time to cruise to Alaska?
If you like it hot and humid, then a Caribbean cruise in August is just what you wanted.
The Caribbean may not see the kind of temperature swings you experience across the United States in August, but it will rain every day in the Caribbean. On the plus side, ocean temperatures are at their warmest in August.
If you do select an August cruise in the Caribbean, keep in mind this is the month hurricane season starts to kick up in intensity.
Read more: What to know about cruising during hurricane season in the Caribbean
Is August a good month to cruise?
August tends to have a different sort of feel to it depending if you cruise the first half or second half of the month.
Early August is still very much summer, and more similar to July in terms of weather, crowds, and prices.
Once you get to late August, many kids are back in school, and the weather can also start to cool down in places like Alaska or Europe. In addition, hurricane season in the Caribbean starts becoming more impactful.
Speaking of hurricanes, if you have a Caribbean cruise in August, it's not unheard of for there to be a tropical storm that disrupts your itinerary.  You should be prepared for an itinerary change if a storm does pop up.
Hurricane season lasts from June through the end of November, but most storms occur during August and September.
August isn't a bad month to take a cruise to The Bahamas or Caribbean, but you should be aware of the risks of an itinerary change.  And in case you're wondering, it's unlikely for your cruise to be cancelled due to a hurricane.  The most likely scenario if a tropical storm is projected to be in the path of your ship is for your itinerary to change.  
In terms of prices, you can probably find much better prices for an August cruise in the final two weeks compared to the early part of the week. Someone looking for a last-minute cruise deal could probably have some degree of luck with a late August cruise.
If you dislike large numbers of children, avoid sailing in August because of the fact school is on break for most kids.
For anyone cruising to Europe, keep in mind many Europeans head out for their own vacation during August, so be aware that some businesses might be closed. As crowds thicken over the summer, especially at popular tourist attractions, pickpockets will be on the prowl -- be smart about your belongings.
More information