In:
Stay up-to-date with all the Royal Caribbean news from this week with our roundup of all this week's news.
Could Icon of the Seas be even bigger than the Oasis Class cruise ships?
One Royal Caribbean executive recently said Icon of the Seas will be the largest ship when she debuts next year.
Sean Treacy, Royal Caribbean's Senior Vice President of Hotel Operations, said, "Icon will be the biggest. It launches in the fall of next year."
Royal Caribbean News
Royal Caribbean Blog Podcast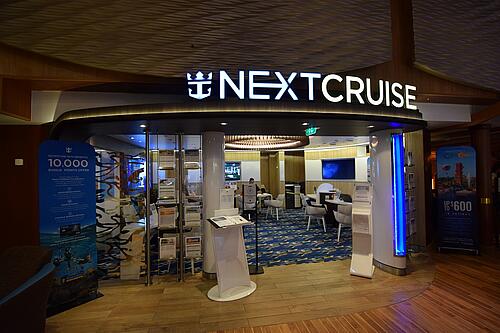 The 454th episode of the Royal Caribbean Blog Podcast is now available, which explains how and why to book a cruise onboard.
NextCruise is where you can go on your ship to book another cruise. Matt details what you need to know about booking a cruise onboard.
Please feel free to subscribe via iTunes or RSS, and head over to rate and review the podcast on iTunes if you can! We'd appreciate it.
15 reasons to book a cruise on Oasis of the Seas
There are a few different Oasis Class cruise ships, but the original is still a great choice to sail on.
Oasis of the Seas was upgraded in 2019 and offers plenty to see and do onboard. In fact, we came up with 15 reasons to book a cruise on Oasis of the Seas.
8 mocktails to try on your next Royal Caribbean cruise
Need a recommendation for a great non-alcoholic drink to try on your cruise?
There are lots of possibilities, but we have a list of 8 must-try mocktails when you go on your next cruise.
Where to eat like a local on your Alaska cruise
Besides seeing the amazing sights of Alaska, there are some great places to eat and have a drink.
Our in-house Alaska expert shares her top picks for food, beers, cocktails, or coffee at each stop along your Alaska cruise.
Why Freedom of the Seas is a great choice for a short cruise
Ever thought about taking a weekend cruise?
Freedom of the Seas sails short 3-night cruises from Miami, and here's why Freedom of the Seas is a great option for a cruise vacation.